Here at Autostraddle, we love stories about Bad Gays™ — especially bad gays in fabulous outfits. So even though we tend to leave the cis queer boys to the other LGBTQ+ publications, we simply must talk about the clothes from Passages.
If you're out of the indie film loop, Ira Sachs' Passages — now streaming on MUBI — stars Franz Rogowski as a bisexual nightmare who wrecks havoc on the lives of his husband, played by Ben Whishaw, and his new lover, played by Adèle Exarchopolous. Bearing witness to toxic relationships has never been more fun due to the beauty of the actors, the perfect sex scenes, and the costume design from Khadija Zeggaï.
The Cut already did a very thorough style guide if your goal is to look like these characters. But since this is Autostraddle — and since I'm me — I got to thinking how likely the clothes from Passages could seduce me into my very own toxic queer relationship.
The clothes from Passages always tell a story. Like sure, yes, the character's fashion isn't what makes him toxic, but clothes can tell you a lot about a person! 
---
The Pink Top — 6/10
What I like about this top is that it shouldn't work. The multiple textures, the quasi pattern, the way it covers her entire body. And yet worn on someone as hot as Adèle Exarchopolous not only does it work but it signals a flamboyancy that starts the entire plot of this movie. Not everyone could ruin my life in this one, but a hot enough toxic beauty would pull me in like a peacock.
The Mesh Top and Striped Pants — 7/10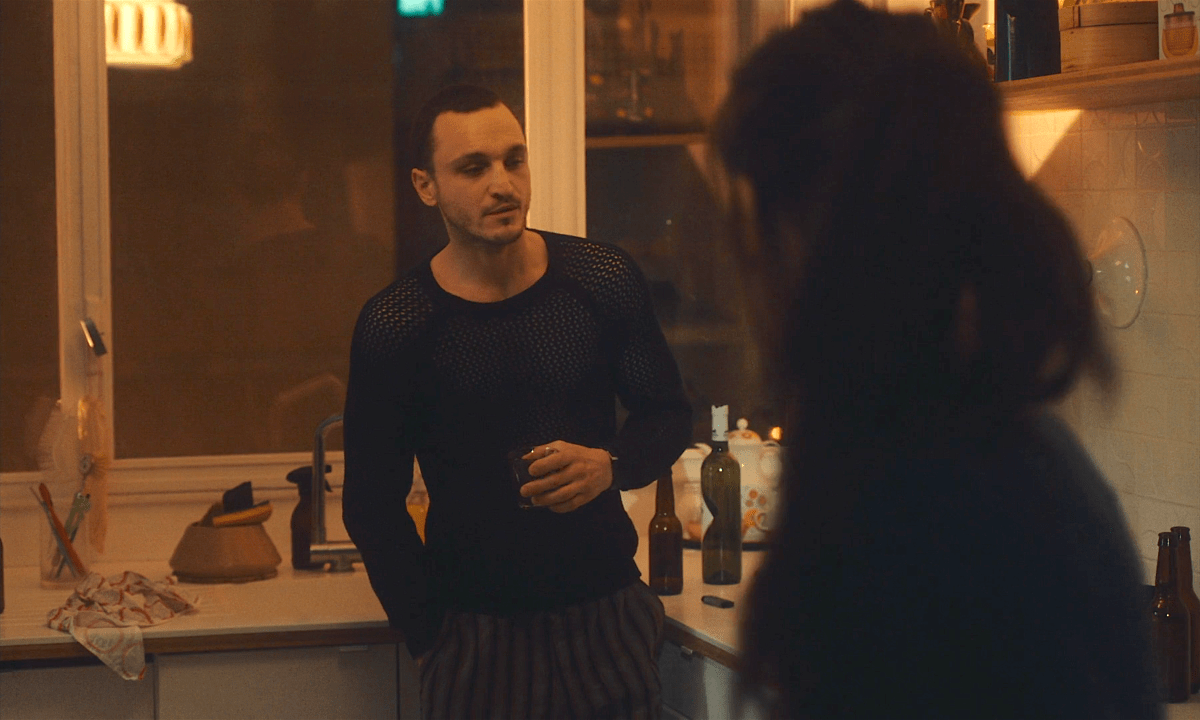 It's the combination of slutty top and casual pant for me. Like he's communicating that he's confident enough to be comfortable but signalling that he's going to fuck you. I can imagine a faggoty masc dyke wearing this exact look and immediately getting my attention.
The Striped Sweater With Mini-Skirt and Jacket — 7/10
I'm not proud of this but the cliché French girl in stripes look still really does it for me. Combine that with a mini-skirt and a red leather jacket (hello femme Rebel Without a Cause) and I am in. This look doesn't have ruin life energy, but sometimes a simply fashionable femme can cause all sorts of damage.
The Rose-Patterned Mini-Dress — 9/10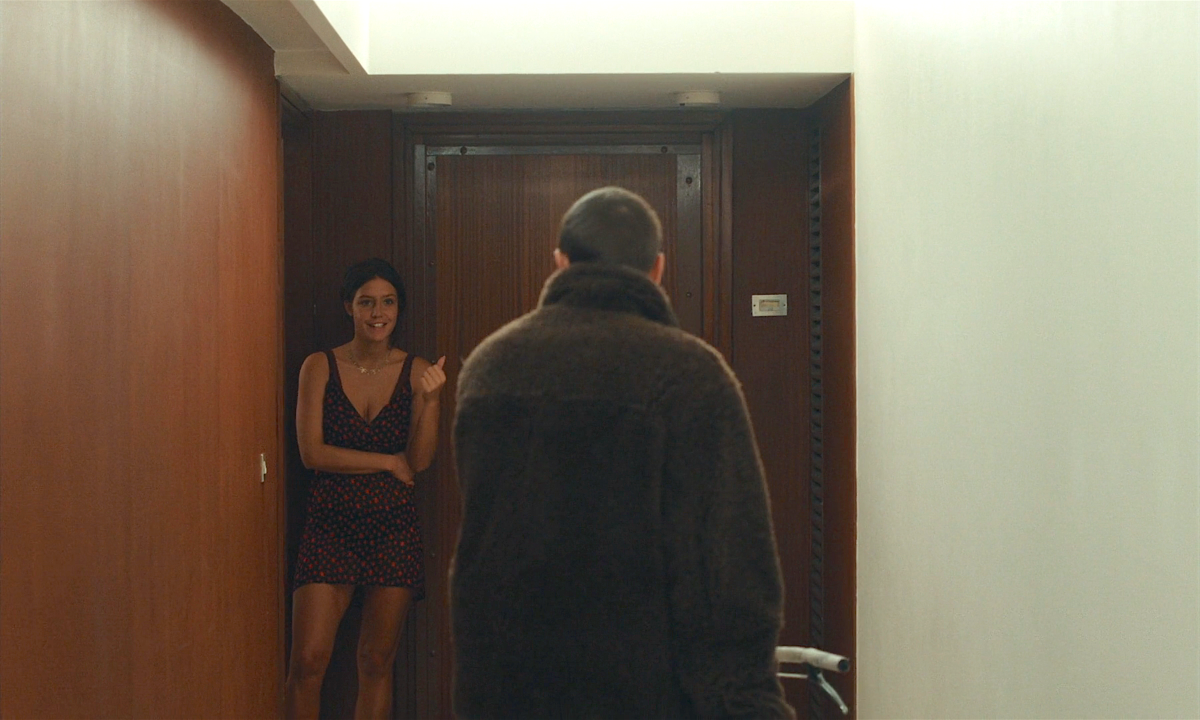 I am once again going to be basic. I love when you can't tell if something is outside clothes or lingerie. Or when lingerie is used as outside clothes. Or, like in this case, someone is wearing a bra and jewelry so you know something is meant to be clothes but it still looks like lingerie. Black with a rose pattern also just SCREAMS sex and seduction.
The Cardigan — 1/10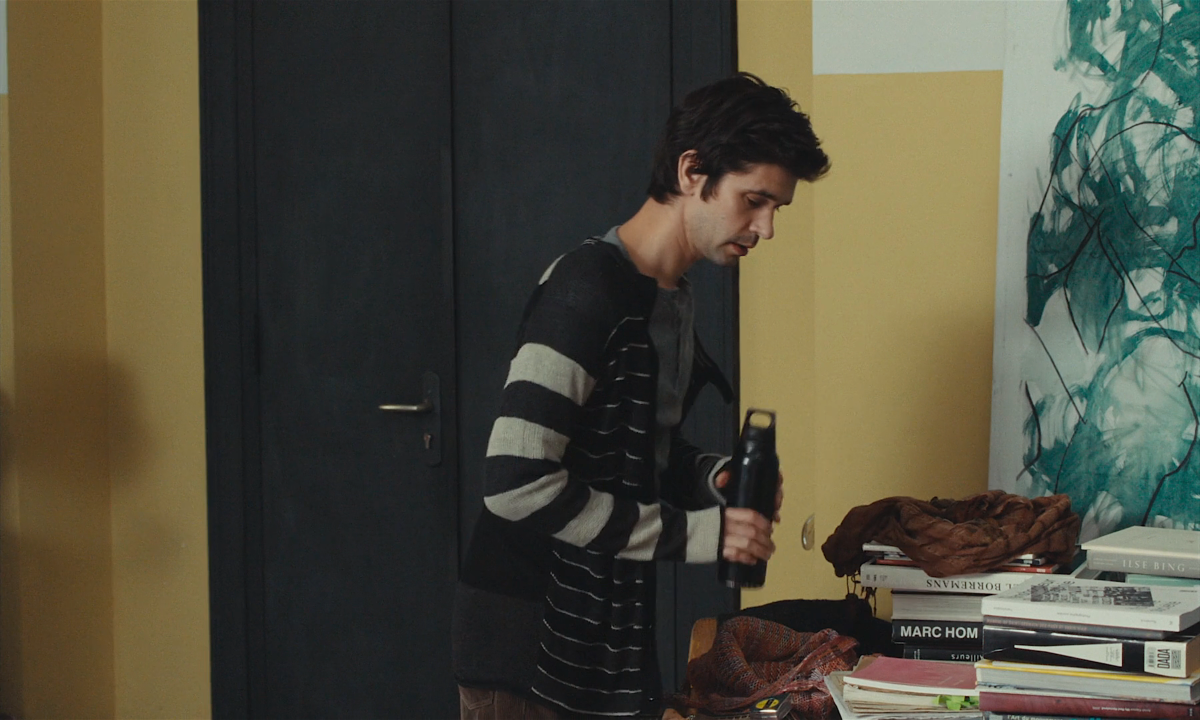 Some of the clothes from Passages are more muted. I'm including this cardigan because it looks exactly like something my real girlfriend would get excited about finding at a thrift store. And, despite her sun and Venus being in Libra and her Mars being in Gemini, she has done the opposite of ruin my life! In fact, watching this movie I was like "wow I'm so glad I decided to stop chasing people like this guy and found my partner."
The Snakeskin Jacket — 3/10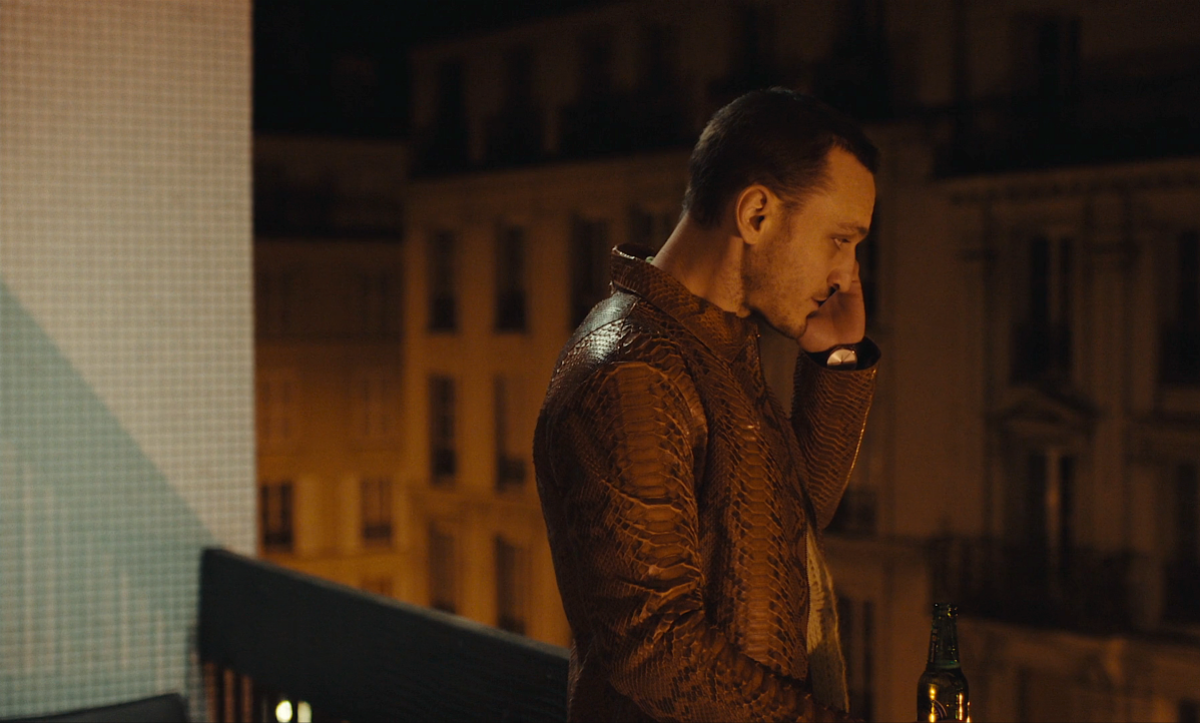 Unlike his previous flamboyant outfits, this jacket feels too try-hard. Because the character has lost his power — he's calling his ex who is in bed with someone else — the outfit reflects that loss of power. His usual cool has been replaced with something forced. A dyke in this outfit might try to ruin my life, but they wouldn't succeed.
The Red Robe — 6/10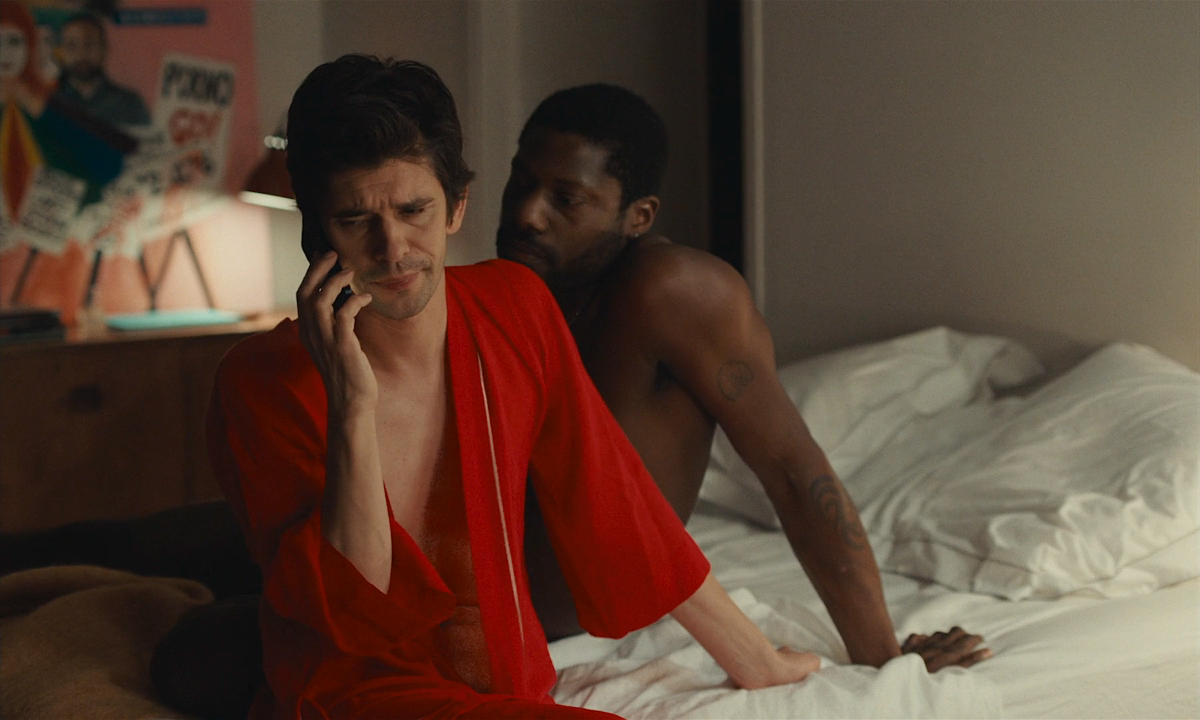 And now to the ex! We've seen this robe briefly in an earlier scene, but it's fitting that our first good look at it is here. The confidence and passion of the red, the soft comfort of the material, and the way he's wearing it open, all point toward someone who is in control of the situation. The only reason this doesn't rate higher is it has more of a loving confidence vibe than a life-ruiner vibe. A dyke could ruin my life in this, but I don't think they'd want to!
The Green Knit Sweater & The Blue Velvet Dress — 9/10 & 8/10
These two outfits have very different types of life-ruiner energy. The sweater succeeds with a nonchalance. The ratty edges show a freedom while the vibrant color shows control. Wearing it as a shirt with nothing underneath is the perfect touch to make this dangerously sexy. There's nothing ratty about the blue dress. It has an elegance to it enhanced by the gold earrings and long nails. Also tight velvet is always going to be seductive because of how much desire it creates to touch. If these two dykes invited me to be their third, not only would they ruin my life, but I'd thank them from beneath the shambles.
The Teacher Look — 7/10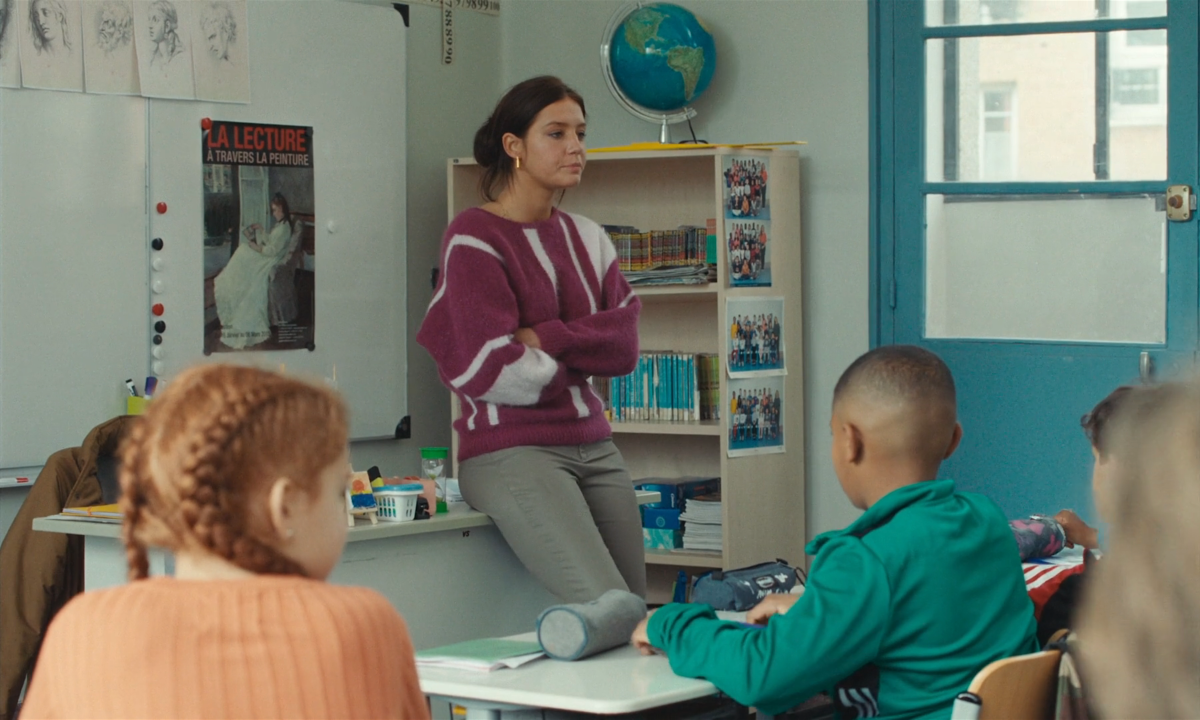 Just in case you doubted that this list was being created by a dyke, I have to include this casual teacher look. Whomst among us wasn't in love with at least one teacher as a gay youth? I know I was! There's nothing particularly sexy about this outfit, because that wouldn't be appropriate for school. But the fun chunky sweater/tight pants combo would have had baby me swooning. This dyke probably couldn't ruin my life now — she still gets points for how completely she would have ruined my life in middle school.
The Crop Top — 10/10
You knew it was coming and now it's here. Any discussion of the clothes from Passages must center The Crop Top. This is worn during two different instances of cheating and when he's meeting his girlfriend's parents after one of those infidelities. Especially with these leopard pants, it's just so queer and confident and HOT. I love a visible nipple. I will always love a visible nipple. The visible nipple paired with the completely bare arms and bare belly? Might as well be shirtless, but this is even better because there's a fun pattern and a bit of tease. This outfit is perfect and terrifying and I want to own it, but also have my life ruined by someone wearing it.
The Tuxedo — 1/10
Oh how the mighty have fallen. I think I finally understand what all those straight girls are talking about when they say something gives them "the ick." This crooked bowtie gives me the ick! On someone else it might be endearing, but on this man — or a dyke equivalent — it reveals a childishness that crumbles his confident veneer. He can't do anything without the help of other people — not just their help but sucking all the life out of them. This is the moment when you realize the toxic queer ruining your life isn't worthy of all the emotions you've given them. This is the moment when you send them off to do their life-ruining far away from you.
Unfortunately, right after this he gets on his little bicycle and I was once again charmed. I'm only human!
---
To see the clothes from Passages in action, stream the movie now on MUBI.