Last-minute baking is one of my superpowers. Many people are very rightfully stressed out by the idea of having to whip up a dessert at the last minute. There's so much room for error! Having plenty of time to work carefully while baking definitely yields the best results and is absolutely my preference, but sometimes life doesn't care about my timelines and preferences. Sometimes I realize an hour before I'm supposed to head out the door that I need a substantial and delicious dessert in my hands when I leave, and it's in those frenzied stressful moments that some of my best magic happens. I don't know what it is about me and pressure but we really get along. I give you this recipe as evidence. I wrote it on the fly after realizing I'd mixed up the date for a dinner party that I volunteered to bring dessert for and had to bake and be dressed in 60 minutes. I ran into the kitchen to see what I had to work with and before I knew it my hands had pulled the ingredients for these brownies off the shelf and started whisking away. I'd just been reading the Kristen Kish cookbook earlier that week, and there's a recipe in it that involves infusing oil with orange zest that I LOVE so I started there and everything else just fell into place. I'd intended to throw walnuts in but realized I didn't have any and before I could think twice I'd grabbed my jar of tahini and dotted some on top. 
I had no idea if orange, tahini and dark chocolate would play nicely together but I have a lot of faith in my baking intuition so I kept my hopes high and hot DAMN these brownies are good! They're a wonderful balance of sweet and savory which is something I love in dessert, and the tahini swirled on top is an unexpected but super delicious touch. The brownies have a deep, warm, inviting and surprising taste that causes people to make that face that says "I love this flavor but can't identify it please help me make sense of this delicious treat I can't stop eating!" Pretty much everyone knows what to expect from a brownie, but add toasted sesame and a little orange to lighten things up and it scrambles taste buds and synapses in the best way possible. One bite took away all of the stress that I needed to create them in the first place. If you're into savory variations on sweet classics and your brownie lineup could use an update, make these as soon as you can. This deeply chocolate orange-kissed tahini-swirled goodness is just what your tastebuds need.
Ingredients:
1/2 cup grapeseed or vegetable oil
1 teaspoon orange zest
2oz dark chocolate (I used a 70% dark chocolate bar but chips work here as well!)
1 cup granulated sugar
1/2 cup brown sugar
3 eggs
1 teaspoon salt
1/2 teaspoon vanilla extract
3/4 cup all purpose flour
1/2 teaspoon baking powder
1 cup chocolate chips
4 tablespoons tahini
1. Preheat oven to 350° F. Oil an 8×8 inch baking dish and set aside.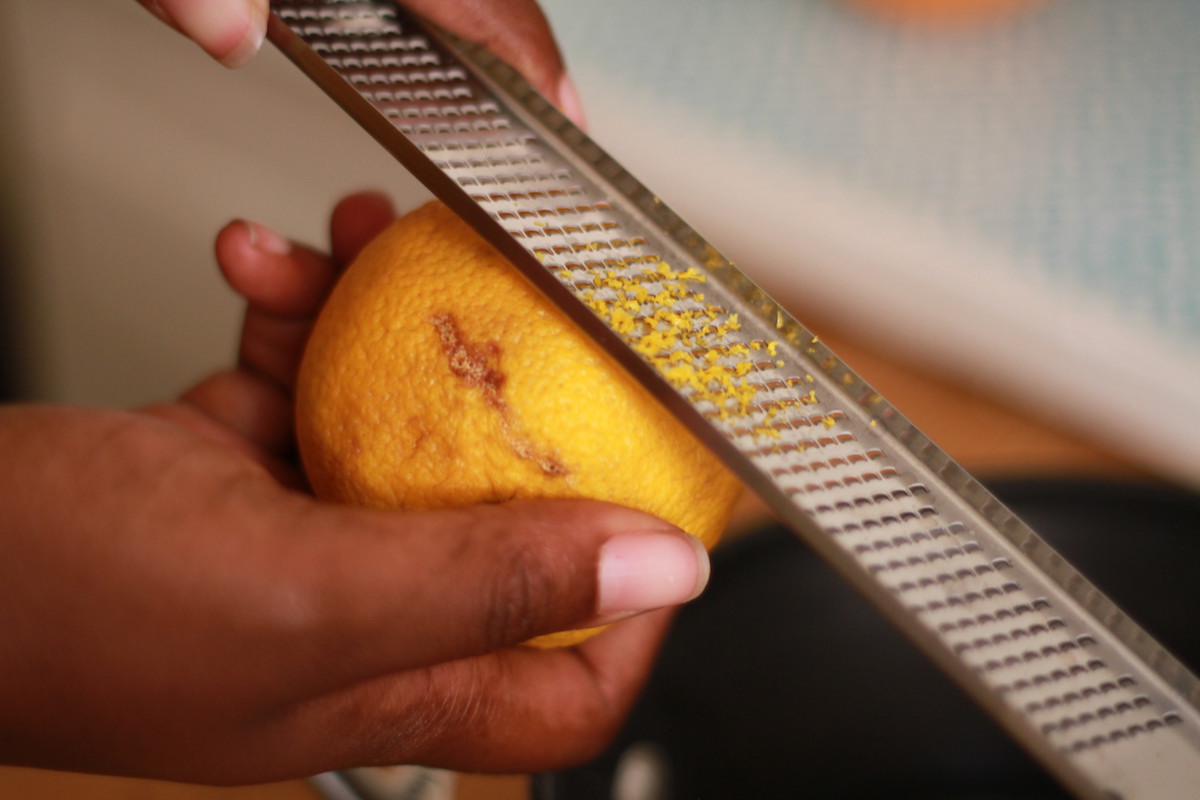 2. Add oil and orange zest to a small sauce pan and heat stirring regularly over medium-low heat for 5-6 minutes. You're infusing the oil with orange flavor here so you don't want high heat that will burn the zest!
3. While the oil is heating place the 2oz dark chocolate in a medium heat proof bowl. Once the infused oil is ready, strain the zest from the oil and pour the hot oil over the chocolate. Let it sit for about a minute to melt the chocolate then whisk together till smooth. Next add the granulated and brown sugar and combine. Follow by adding each egg one at a time and whisking until fully incorporated. Now add in the vanilla and salt, and whisk until everything is smooth and glossy.
4. Sift the flour and baking powder into the batter, and stir to combine then fold in the chocolate chips and pour the batter into your prepared baking pan.
5. Pour one tablespoon of tahini at a time on top of your batter.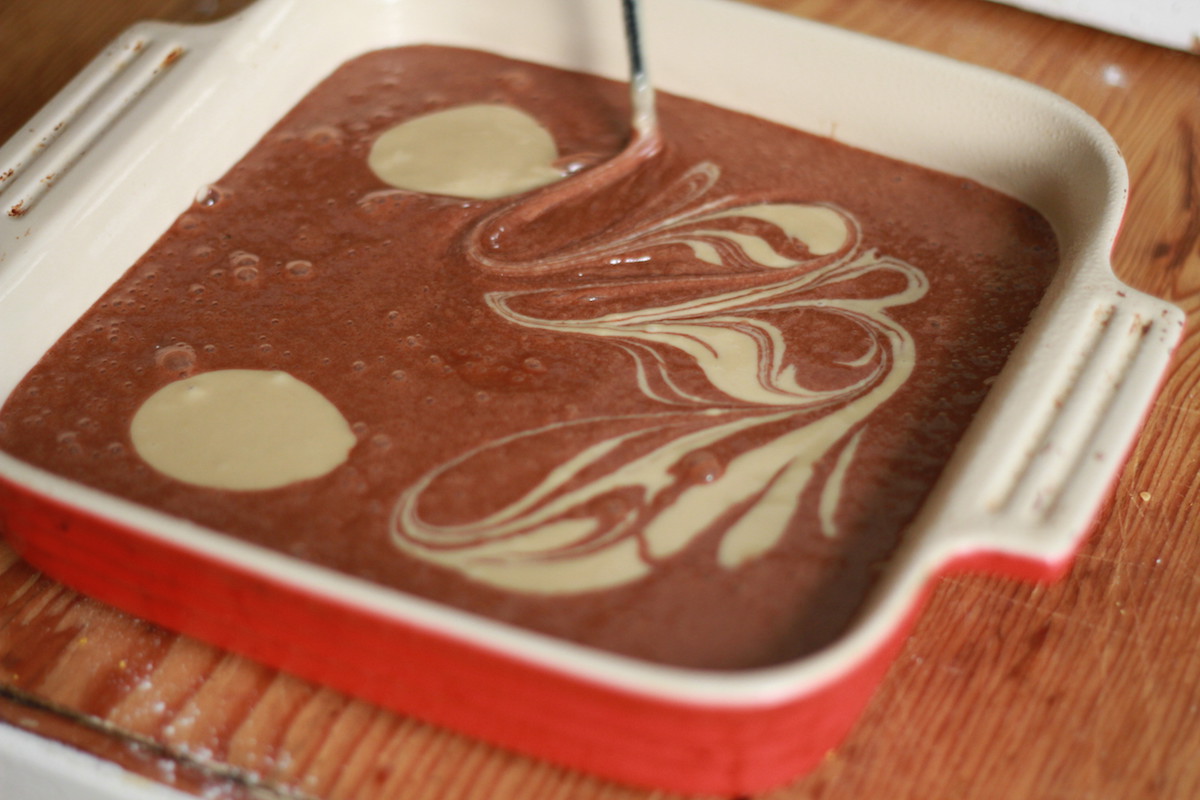 6. Using a chopstick or butter knife, swirl the tahini through the brownie batter till it looks pretty and relatively evenly swirled, but mostly pretty.
7. Bake for 45-50 minutes, rotating halfway for even baking.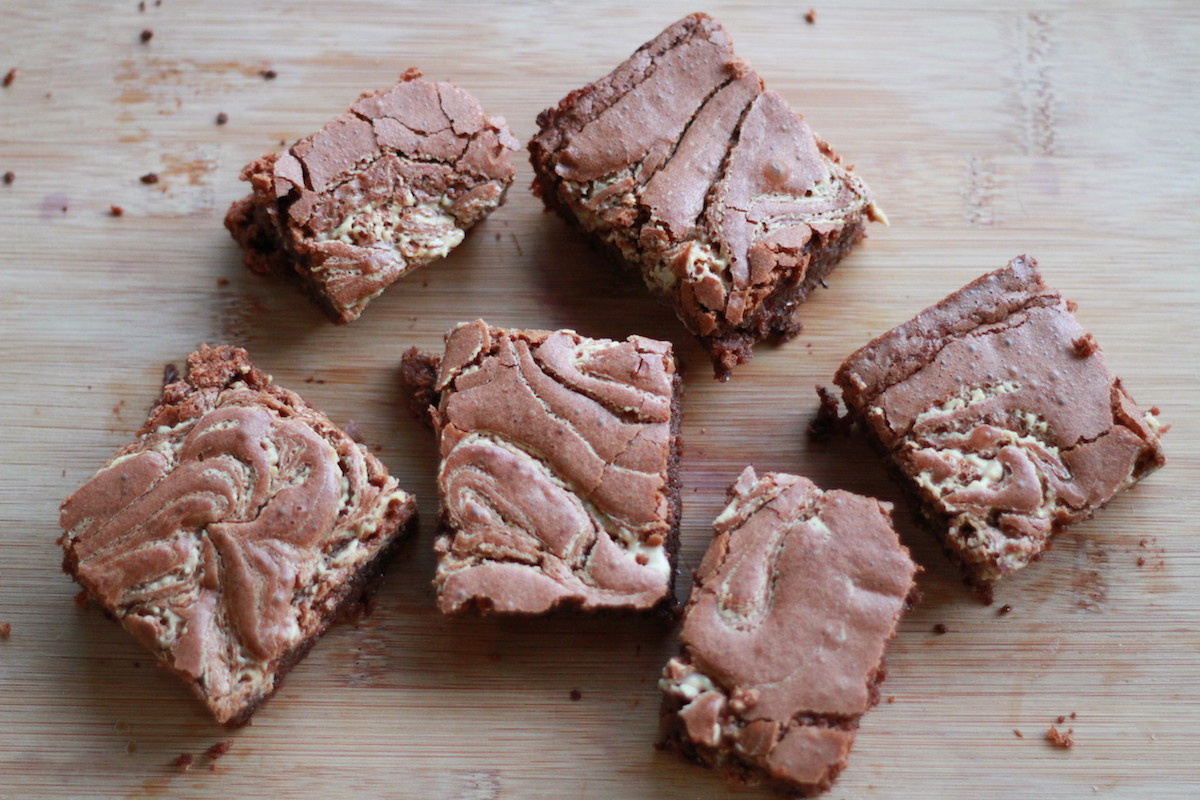 8. Allow to cool for at least 10 minutes before cutting, then dive in.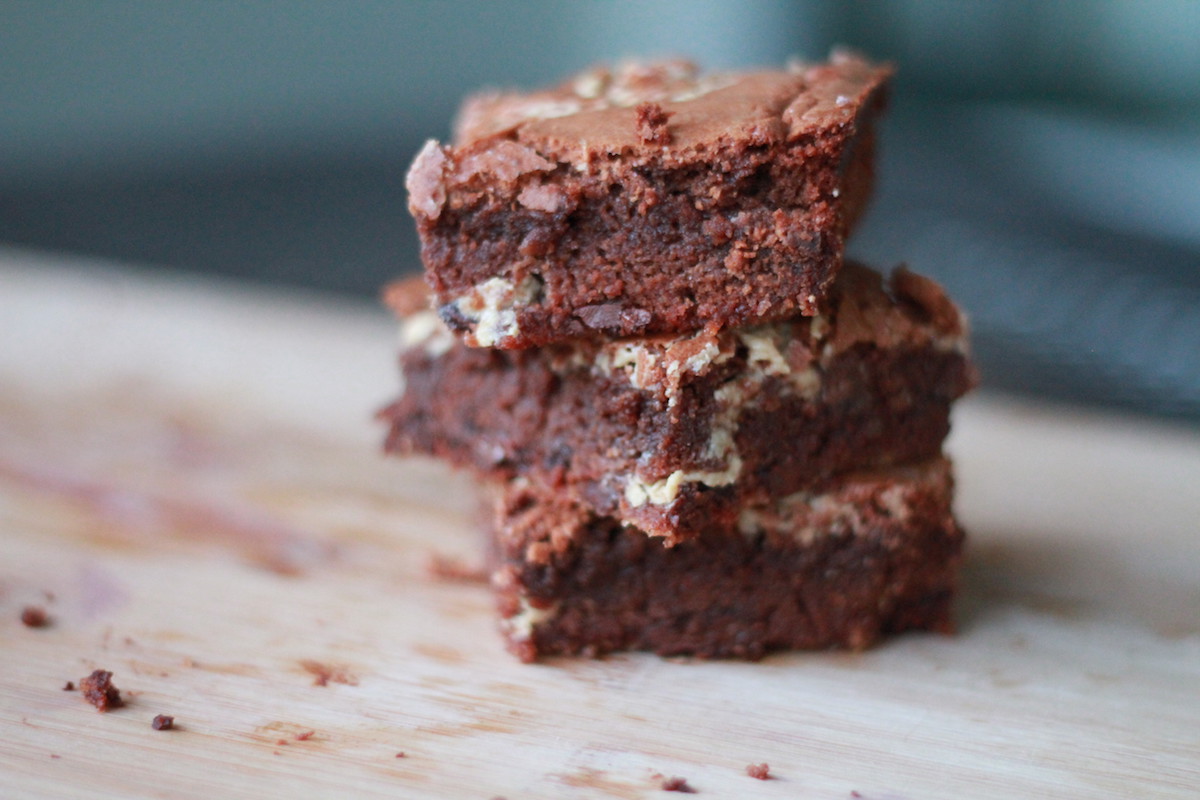 9. As you can see I'm a fan of cutting big pieces. This makes 9 large brownies or you can probably get 12 more reasonably sized ones but I wouldn't know because I'm never reasonable when it comes to these things.
10. It's brownie time! Inviting coffee and/or ice cream to this party is highly recommended.