Kristen Kish, winner of Top Chef Season 10, is back on the scene with her perfect hair and culinary skills that make lesbian knees weak worldwide to woo us all with her new cookbook: Kristen Kish Cooking: Recipes and Techniques. This is Kish's debut cookbook and every recipe in here is genius. I'm in love, which is why I decided to make a three-course Valentine's day meal based solely on recipes from this book and write about in hopes that you will do the same!
Last month I was doing my usual walk through the cooking section of the bookstore pining over all the cookbooks I aspire to one day own when this caught my eye.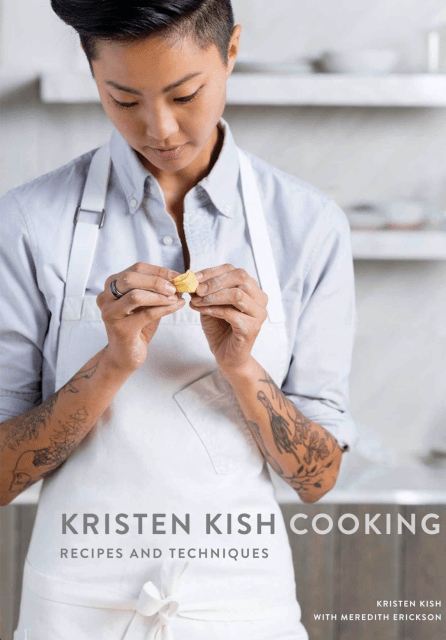 Have you ever been turned on by a cookbook cover? It's wild. Naturally my little femme heart couldn't help itself. I snatched the book off the shelf and flipped through the pages to see what this gorgeous book of recipes had inside, and figure out whether or not I could actually successfully cook any of it. This is always my struggle with books written by professionally trained chefs; I want to buy them so desperately but the skill level required to recreate their culinary masterpieces far exceeds my abilities, so I inevitably place the book back on the shelf in defeat. I'll be honest, I was prepared to buy this book for the photos of Kristen Kish alone even if it was out of my league. But as I scanned, I realized that Kish had done what so few chefs before her have and made her recipes complex yet totally accessible to home cooks. This made me very, very excited, especially given the approach of Valentine's day and my desire to make a fancy meal for my girlfriend and I to celebrate at home. What better way to avoid getting caught up in cupid's restaurant shuffle but still honor our super queer love than with a three course meal curated from a celesbian of color's cookbook!
After Kish's heartfelt introduction about her life and the events that brought her to her career and writing this book (that had me in tears), I moved on to the glossary. Here Kish explains very clearly every fancy culinary term and technique used in the book, covering not only what they mean but how to execute them so that nothing goes over your head. I cannot express enough how useful and approachable this is! After reading it, all my fears of jumping into a recipe and ending up with an epic failure were erased. On top of the glossary, there are also notes throughout the book on recipes that call for artisan ingredients that may be hard to find, and recommend substitutions if you can't find them. Now feeling confident in the book and my cooking abilities, I made my menu, gathered my ingredients and got started with the first recipe: an epic tomato salad with wild poppy vinegar, orange oil, and garlic caramel. Hell yes.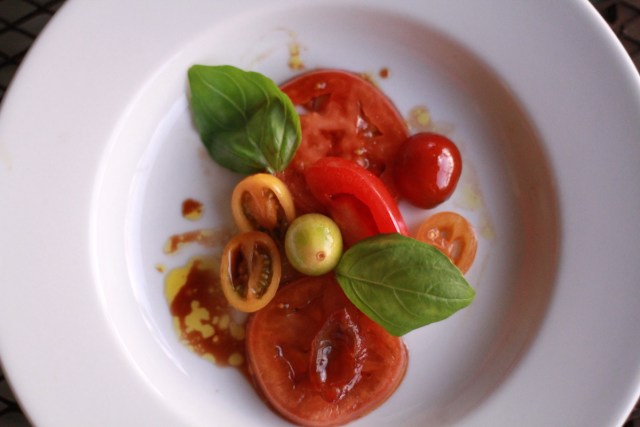 This was hands down the best tomato anything I have ever eaten. The orange oil was out of this world. I want to put it on every salad ever. I did mess up the caramel because I didn't have a pan small enough to make it without everything evaporating too quickly. I ended up with what I'd like to call a roasted garlic paste instead, but IT WAS STILL DELICIOUS. I also couldn't find wild poppy vinegar so used a suggested substitution. After my girlfriend, Tara, took a bite she just said "oh damn" then immediately went in for more. She followed that up with "this garlic goo is SO GOOD." That's a win. I am going to make this every week when tomato season rolls back around.
For the main course I chose a recipe for fried chicken thighs with a honey & chile glaze served over labneh, a thick creamy yogurt, drizzled with more chile oil.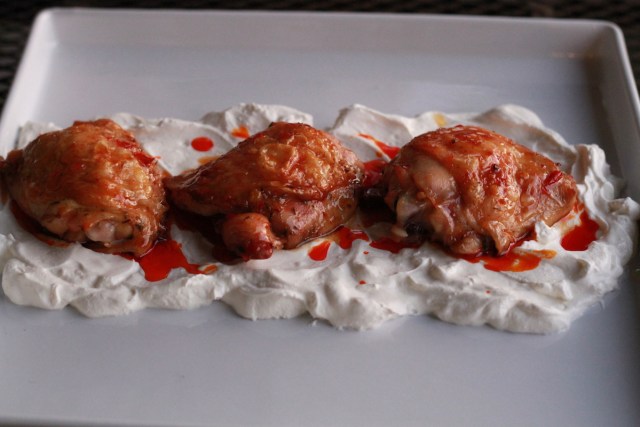 This recipe caused all manners to fly out the window. Tara took one bite then picked up her chicken thigh and ate it with her hands like it was a leg. When I looked up she was licking her fingers and I was jealous so followed suit. She couldn't say anything besides "oh my god" for a few minutes and then went on a very long very adorable rant that started off about how crazy delicious the chicken was and a request to put the sauce on everything, but ended with her admission of now having a giant crush on Kristen Kish, wanting to meet her, gushing about how cute she is, then asking about her height. Fair warning, if you make this chicken for someone you like or love, they may fall in love with Kristen Kish instead. It's that good. I couldn't blame her cause I was falling hard too. The flavor combinations in these recipes will make you feel things that cupid can't possibly compete with.
Despite being incredibly and happily full at this point, we still had the dessert round: sour cream cake with pecan crumble topping.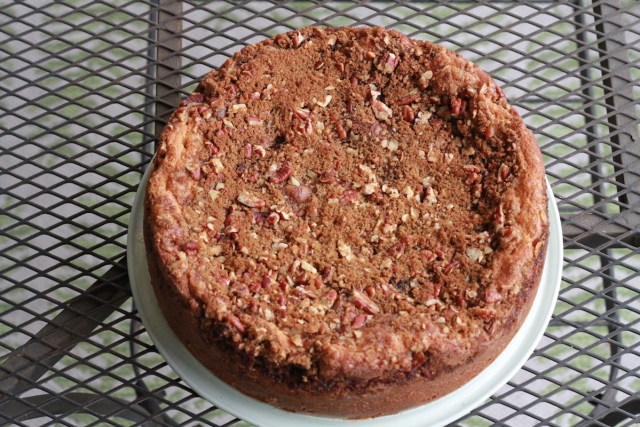 When I pulled this out of the oven Tara audibly gasped and said "what is that!" I then had to bat her away from cake while it cooled because she kept pulling pieces off then closing her eyes and nodding her head in a "yes" motion or moaning then saying "I really, really like this." I really really liked it too. It's buttery and light and melts in your mouth, and the pecans and caramelized sugar on top just take it over the edge. This cake is dangerously delicious. I will not admit how much of it we ate, but I will say I started making a second cake before the first one was gone. I regret nothing. Not pictured because I forgot to add it to the photos in all the food induced bliss is a malted whipped cream that goes on top. I almost fainted when I tasted it. Do I really need to say more? Go get this book, make everything in it, and proudly display your new membership to the Kristen Kish fan club this Valentine's Day.