I love a retro dessert.
So much so that I spent years hoping that tiramisù would be the perfect sweet to impress girls. But I soon learned that tiramisù is most seductive when your partner sees the effort it takes —and then has to wait a day of shivering anticipation to eat it.
"It has enough coffee to keep her up all night," I exclaimed at a friend's dinner party, in an attempt to persuade her to make the no-bake dessert. Our partners were mixing drinks across the room but my wife has excellent hearing. My boast that tiramisù used to be my signature seduction dish prompted a pointed reaction.
"Why am I just hearing this now, and more importantly, why have you never made tiramisù for me?"
"Baby, I'm sure I made it for you,' I squeaked out. My friends made exaggerated appalled faces and mouthed "NO" before I could place my foot any further in my mouth. I quickly agreed to make my wife tiramisù soon. Very soon. Extremely soon.
This is how I ended up spending Saturday morning searching for Savoiardi —the crunchy, sugar-coated Italian ladyfingers— that transform into pillowy layers of cake once you soak them in hot coffee.
Yes, I said ladyfingers. See, this is why you need to make your boo some tiramisù. Flirting is easy when you're waiting for the coffee to slowly penetrate the Savoiardi overnight.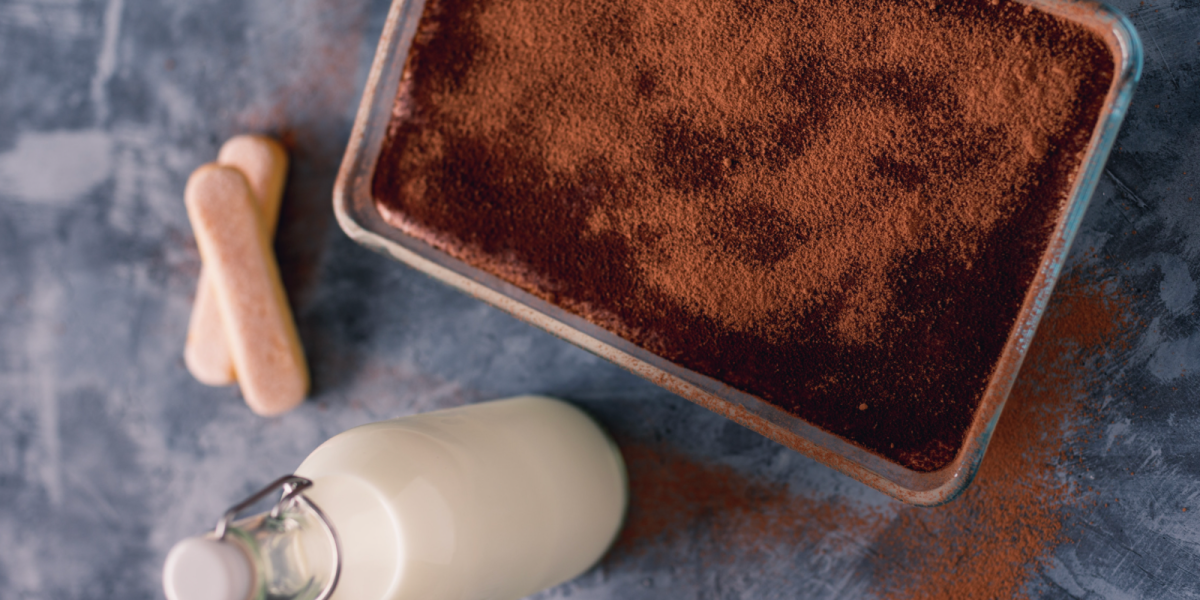 ---
Tiramisù is one of those intimidating desserts I associate with Italian restaurants in the 80s and 90s. I grew up watching the adults in my life order these creamy, coffee-flavored squares dusted with cocoa powder. Any coffee dessert is cosmopolitan to a 10-year-old, and tiramisù's perfectly even layers of moist brown cake and whipped cheesecake-adjacent filling were nothing like the rustic pies we baked at home. It seemed like the height of sophistication. Even when grown-ups were too full of pasta, they managed to share a slab. And like coffee and Tab soda, tiramisù was completely off-limits to the kids.
I first tried eating tiramisù in college, on a date with a disapproving vegan with a shaved head. The dessert was less chocolatey than I expected, the layers of intensely coffee-flavored cake and creamy mascarpone cheese had only a hint of grated chocolate. It felt decadent, not too sweet, and decidedly sexy. As I spooned the dessert into my mouth, I was happy I didn't have to share. My love for the dessert would last much longer than the vegan, and it didn't take long to start imagining that my perfect partner would appreciate it too.
This dessert involves getting ladyfingers wet, eating it is messy and can even require licking cream off your fingers. Of course I tried to use tiramisù to make women fall in love with me —the pick-up lines practically wrote themselves.
When I found my celebrity baker crush Joanne Chang's tiramisu recipe in an old Fine Cooking magazine, it felt like fate. I first made it for a librarian with a pixie cut, inviting her back to my apartment after a date, and presenting the dish with a flourish. She loved the slightly bitter taste and I shared how I'd brushed each layer of cake with hot espresso and murmured about the unsweetened chocolate I grated on top. She took home the leftovers but expressed no interest in a second date.
I tried again with a bespectacled butch, carefully explaining the hour I'd spent whisking together the egg yolks, sugar, kalua, and salt over a pan of simmering water until it thickened into sabayon, the bright yellow custard that gives the filling of tiramisù its sweetness. I told her how some recipes call for raw egg yolks but not to worry, I wouldn't risk her health. She ate two slices and went on to date my best friend instead.
This pattern repeated itself in my early 20s. It might have been faster to stamp "Tries too Hard" on my forehead. I would over-explain the details of making it to my dates, sure that any woman would swoon when she heard how much effort I'd taken. By the time my wife and I met, I'd given up trying to bake my way into someone's heart. Which is how I found out that tiramisù is the perfect seduction dessert when you've already gotten the girl. It turns out tiramisù is best appreciated by a partner who watches you spend the day making it for her.
---
When you cook in front of your partner, she has an opportunity to appreciate your biceps as you plunge a bowl of hot custard onto a bucket of ice, whisking it vigorously until it cools down enough to fold it into mascarpone whipped with half a cup of cream. I even recommend flexing just a little while you fold the two together.
The version of tiramisù I make now feels easier than when I was single and looking. My wife and I spent a Saturday evening layering the tiramisù in my favorite mid-century casserole pan. Ladyfingers, mascarpone, and chocolate —repeat. She admired my knife skills as I shaved off paper-thin curls of chocolate to sprinkle between layers and shower on top of the dessert. Then we tucked the pan into the fridge overnight, so we could eat it all day Sunday.
Tiramisù for breakfast in bed….tiramisù for afternoon delight….and just as I'd always imagined — tiramisù for the late nights too.