Hello beautiful, and welcome to How To Own It, where store-bought fashion meets DIY crafts.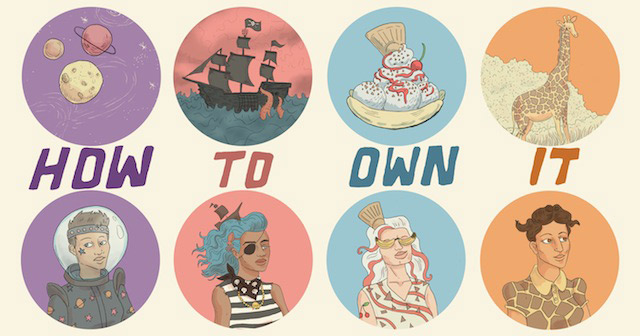 ---
So far every week for this column I've been focusing in on one look or trend, when really if you could see inside my heart you would find a very long and disorganized list of styles that I'm currently obsessing over and projects that I'm itching to try. I thought that today I would tell you about a few of these things, before I explode from holding it all in. Maybe one of these will end up on your to-do list as well!
 My To Do List
+DIY Pressed Flower Iphone Case, on The Etsy Blog
Um, hello, I don't know why I didn't think of this but it's one of the most perfect things I've ever seen. I'm also really bad at keeping my tech clean, for example my computer looks like I work at a construction site and my phone screen chronically has foundation smudged on it, so I feel like making my own case would really motivate me to get my shit together.
+DIY Stone Cap Ring, from Studs and Pearls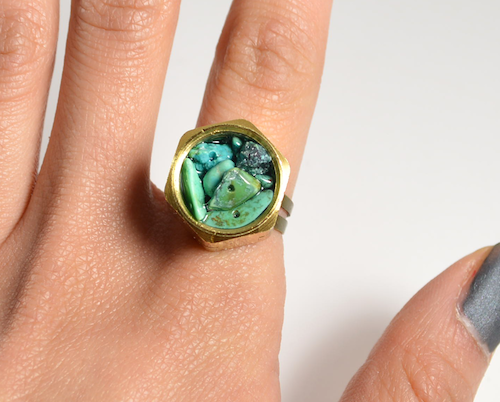 This ring is secretly a compression cap filled with pretty rocks. How cool is that? It opens up a million possibilities. I think if I do this I will probably take tiny pebbles from my yard and paint them fun colors. You could also fill it with beads! Or you could glue a silk flower in there! Basically, the world is your compression cap.
+DIY Striped Pants
You guys don't need me to tell you how to paint white stripes on black pants (or vice versa) which is why I haven't done a post about this, but that doesn't mean I'm not obsessed with how it looks. This trend makes for a perfect DIY because it probably won't last very long, so I don't want to spend a lot of money getting something new, but it's a great way to put some life back into neglected pants.
+DIY Wire Fabric Headband
A couple of months ago I got a free wire fabric headband from Modcloth and while I love the idea of it, the red and white polka dot fabric is a little too Rosie the Riveter for me. I've been meaning to make one out of a less noisy pattern. There are plenty of great tutorials that already exist for this, and the only thing stopping me is that I kind of hate sewing. If you have no idea what I'm talking about, Modcloth also has a handy tutorial for how to style these bendy little guys.
+Revisit Brooklyn Charm Shop 
So, Brooklyn Charm Shop is this special magical store in Williamsburg where they sell everything you could ever want to put on a necklace for way cheaper than it would be if you bought any of it on an actual necklace. I keep accidentally calling it "Brooklyn Sparkles Farm" but it's definitely not called that. Anyway, you know those crystal necklaces on Etsy that are like $60? You can buy those crystals for only a few dollars. Also, golden arrows, vintage treasures, all the gem stones, chains of all kinds, and basically everything else in the universe. I have only been once and was so overwhelmed that I spent an hour touching everything and then left without buying a single item, so going here and buying things to make other things is a really important goal of mine. And I recommend you all check it out.
What's on your crafty to-do list?
---
Want to know how to own a look? Email gabrielle@autostraddle.com or tweet to @Gabrielle_Korn.
Header by Rosa Middleton