Hello beautiful, and welcome to How To Own It, where store-bought fashion meets DIY crafts. Each week I'll be exploring an aesthetic theme, showing you some of the best ways to wear it and how to make it for yourself.
Want to know how to own a look?
Email gabrielle@autostraddle.com or tweet to @Gabrielle_Korn.
Header by Rory Midhani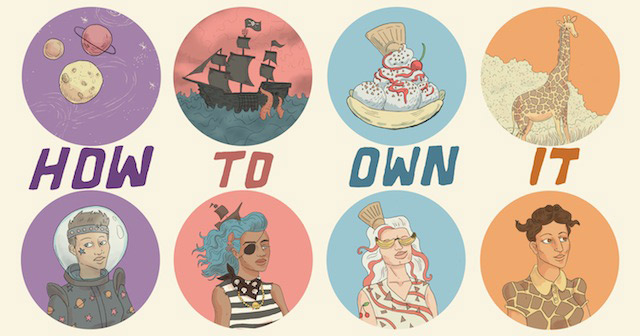 ---
You guys, I have a problem. It's about this column. You see, every week I spend hours making something to tell you about, and sometimes it's an article of clothing which is great because it can fit in my closet, but other times it's a huge necklace or a pin or a collar and I have no idea where to put it afterwards. Every miscellaneous accessory I've made so far is just kind of perched wherever I can fit it, which makes me sad because I don't want to leave things laying around after putting so much feeling into them. Do you have this problem too? Not that I would wish it on you, but hopefully this will be relevant to your needs in some way. I mean unless you've been following Apartment Therapy's January Cure, as per Laneia's recommendation, in which case by now you probably have unlocked the secrets to organizing everything in the universe.
Anyway, I need a solution, fast. I already have a jewelry box, but my miscellaneous items are too bulky to fit in it. Ideally I would get something durable that I can hang things on but that won't take up a lot of room. Something like, oh I don't know, a tiny tree? One of these maybe:
I think these are all really cute, but I can't bring myself to buy something that looks like a tree when there are actual trees with spare branches up for grabs (this was the same feeling that inspired me to make a twig collar pin). Plus if I'm being honest with you there's not really room on my dresser for something free-standing, so I'm going to make a a version of a jewelry tree stand that can hang from the wall. For more ideas on where to put your sparkly surplus, there's a good list of inspiration on Broke and Healthy.
DIY Wall Jewelry Branch
You will need:
A Y-shaped branch that strikes your fancy
Acrylic paint
Sand paper (optional)
Twine
Semi-bulky miscellaneous items to hang up
1. Go find a Y-shaped branch. It should be thick enough so that it's not easy to pull off the tree, but you shouldn't need to use something serious like a saw. I'm using my meat cutting scissors because I don't use them for meat anyway. Now apologize to the tree. If your branch is dirty, sand it down a little bit. Depending on how smooth you want it to be, you can sand most of the bark away, or leave it as it. I'm actually not going to sand mine at all because I like all the nooks and crannies the bark provides.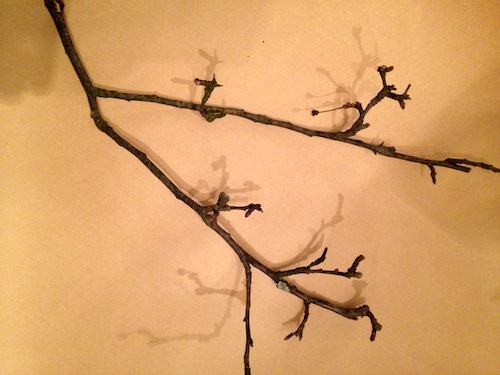 2. If the branch has twigs sticking out of it that aren't sturdy, trim them down to just the nub. Those nubs are going to serve as your hooks, so make them big enough to hang something from. Now paint it! I mixed gold and white acrylic paint because I wanted it to be sparkly without taking attention away from the things hanging on it.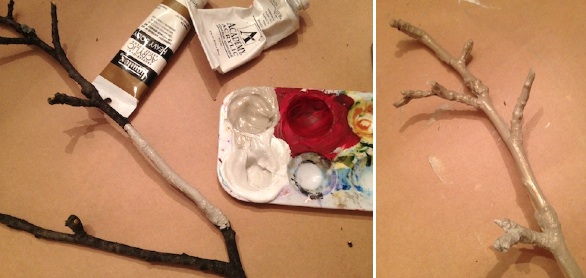 3. Securely tie piece of twine to one of the Y's legs, about an inch or two up from the base. Then thread it like a figure eight between the two legs, repeating five times. Tie it down securely to the opposite branch. This is where you'll be hanging it from, so make sure you knot it like you mean it.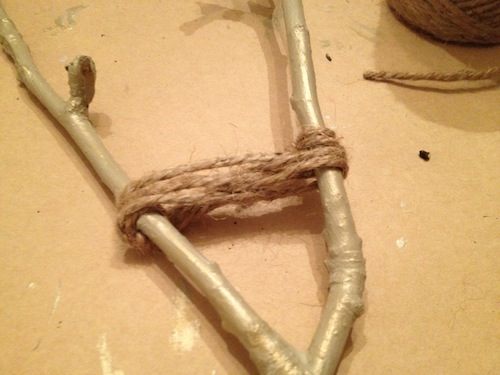 4. Now all that's left is to hang it up and get organized.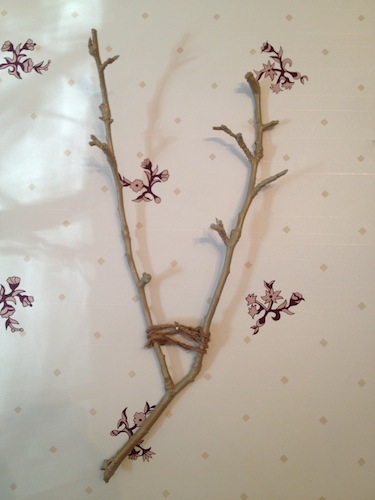 What a relief!