First of all, huge shout-out to the super incredible folks who make Bomb Girls. I'm obsessed with your show, and I'm glad that you're at least nominally comfortable with my obsession. Now that I know you read my recaps, I'm going to stop making so many lewd clitoris jokes.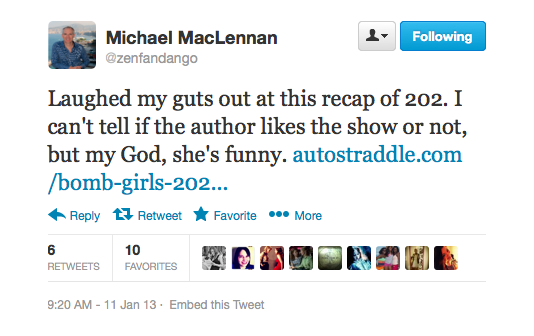 Kidding! All of the clitoris jokes. All of them.
In this week's episode, even more people got lucky than last time, and I had to get up and vomit at not one, but two points in the narrative! Also, there is a lot of talk about following one's heart and I cried like the 5'8″ infant I am. This show has taken over my life, okay? I look forward to it all week and then I spend an hour crying and eating my feelings and saying things like "YOU LOVE HER JUST TELL HER YOU LOVE HER YOU BIG STUPID LESBIAN GOD YOU ARE BOTH SO PERFECT" at my computer screen, and then I have to take an angry nap because I can't deal with my emotions. This is why this recap took so long. Because feelings.
The girls arrive at the factory on a parade float. Between a company parade float and the Valentine's Day decorations, the VicMu accountants' blood pressure continues to rise at a dangerous rate. The girls are supposed to be boosting wartime morale, but we all know there's a much more appropriate use for that float.
Since everyone is in Super Canada Wartime Pride Mode, Marco is across town trying to sign his perfect ass up for war. Unfortunately they have a strict No Italian Pastry Policy, and have deduced that he is not just excited to see them, but that is, in fact, a biscotti in his pocket.
Lorna is holding an after-school cooking seminar for her Brownie troop, aka Troop VicMu Blue Shift. They are going to earn their Rice Krispie Treat Badge or something. Is that a badge you can earn? I lasted a week in Brownies, and then they asked me to leave because I kept eating the activity supplies.
Back at the ranch, Gladys asks Marco to pass out some enlistment flyers to his buddies. Marco says he doesn't want to pass out her stupid flyers because he is dealing with some stuff right now, okay Gladys?! Vera says he is just peeved because of the army's Anti-Spaghetti Sentiments. Gladys decides that she is going to make him her pet project because she is the Cher Horowitz of this munitions factory.
Betty's sad because Kate wasn't in a rainbow bikini on the float this morning, and Kate says she was sleeping in after partying hard with her hockey buddies. Kate says a "soldier boy" bought all the drinks and um is that a hint of a challenge I hear in her beautiful Disney voice and see in her beautiful Disney face?
Betty says to pace herself because the Maple Leafs might actually have a decent season and pigs are flying across the sky in droves. Actually, I should clarify that at one point in history Toronto did actually have a decent hockey team and this is not just a raving fever dream from the Leafs fans in the writers' room. And since nothing puts Canadians in the mood like hockey and being considerate, you can bet this episode promises some sweet, sweet lovin' for all consenting participants.
Gladys tells Marco she is about to give his life a total makeover, aka he can now sit at their table at lunch, pick out new hot outfits in a shopping montage set to "Girls Just Wanna Have Fun," and maybe get his father out of internment camp. Marco says that springing his dad and trying to find a cute bag that will match his eyes is a lost cause.
Down at Ye Olde Canteene, Betty is explaining why she doesn't need to attend a cooking class, aka achieve her Rice Krispies Treat Badge, by speaking only in lesbian sex innuendo. Right? Please tell me I'm not the only one who heard that.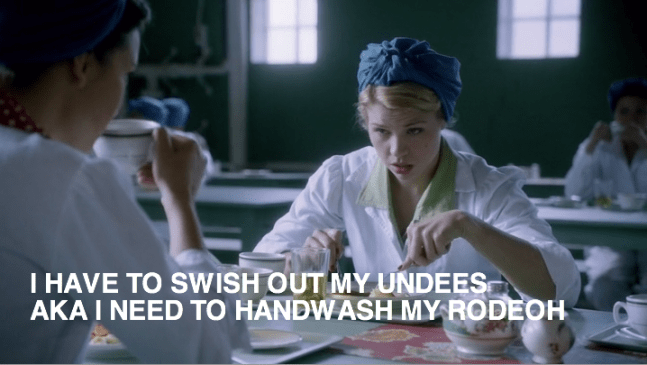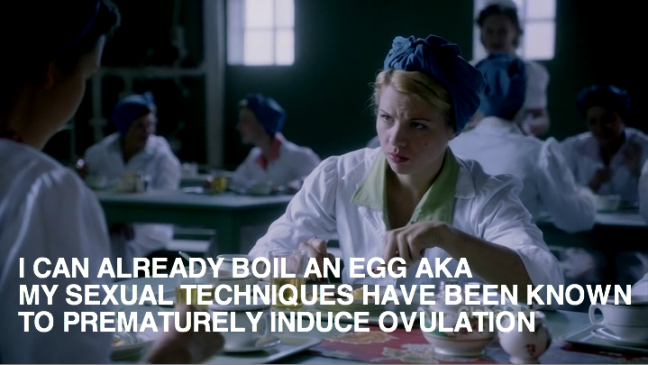 Kate is experiencing some shaky finger issues because hey girl, we've all been there the morning after. Lorna notices the Lesbian Version of Morning Wood and calls foul. She assigns Kate to inventory because she can't have a drunk on the assembly line. That would be as crazy as a fully grown man busting through a gigantic heart in a toga! Crazy, I tell you!
Kate goes down to the warehouse to take care of her duties, which actually means she is going at the secret stash of booze pretty hard. Leon tries to heal her with song, but when this doesn't work he goes for nostalgia and calls her a church mouse. Kate makes it clear she is no church mouse.
Brownie Troop Blue Shift is about to earn their Rice Krispie Treat Badge. Kidding! They're earning a Cow Tongue Badge! God bless Meg Tilly in her infinite wonderfulness for handling this situation. I myself had to leave the room and listen from my kitchen while I contemplated letting my recently digested meal of Oreo Fudge Cremes have a visit with the sink.
Everyone's priceless faces look like that time I accidentally downloaded hetero porn.
Needless to say, only a few people earned their badges that day as most of the girls had their moms pick them up early. Lorna is discouraged by her Brownie Troop's serious disinterest in the tongues of dead cattle. I can't post any more screencaps of this situation because I cannot revisit this cow tongue situation for at least a few days, or at least when I am able to hold down more than ginger ale and crackers.
Gladys meets her father for her mother's birthday dinner, even though she has been working really hard on this whole Independent Woman thing. She uses this time to get him to help her with Celebrity Makeover: Marco Edition. Unfortunately, even the inventor of Toaster Strudel has his mortal limits. Gladys is not to be discouraged though because she is like 94% sure she can make Marco over in time to get him a homecoming date and get his dad back.
Over at Ye Olde Hockey Bar, the Leafs are continuing this extra special winning streak. Everyone is getting touchy-feely with news of the victory and Kate, yes, that precious angel, HIGH FIVES HER DATE. Shoutout to every closeted queermo who has ever avoided physical contact with handshakes, high fives, and other incredibly awkward ways to touch a person without encouraging hugs or kisses. A gif is the only way to show this.
Betty and Ivan have a conversation about Ivan wanting to finally get lucky because according to all the straight guys with neckbeards on Okcupid, he has "put in the time" and "deserves to finally get out of the friendzone" because he is a "nice guy." You know, because women are actually Sex Machines and if you put enough Niceness Tokens in them, eventually they will have sex with you. Betty compares Ivan to Hitler, and says she needs to go hit the hay. It's the most beautiful beard avoidance I've ever seen.
Leafs won today, babe. It's a damn wonder. Enough to make a guy think anything can happen.

Yeah, it's like Hitler. He thinks he's won but the series isn't over. I better go.

I wasn't talking about Hitler.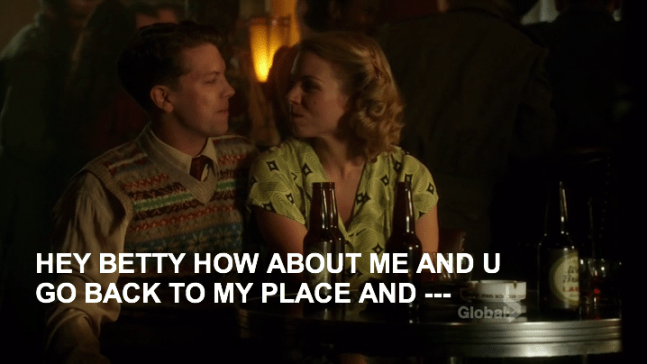 Over at Joyless Junction, Lorna tricks Bob into eating the cow tongue. It is sweet, sweet vengeance since he is the human form of Grumpy Cat.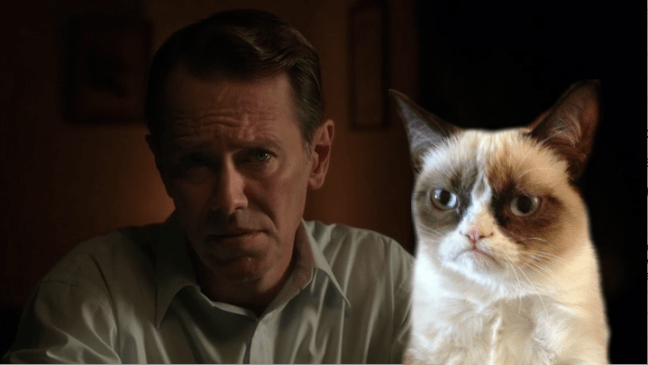 Gladys goes to Casa Marco to tell him she's gotten a hearing for his father, and, like, the cutest fucking skirt at Forever 21, he is literally gonna die when he sees it. Marco doesn't think it'll work with his skin tone, plus his dad is super stubborn, and tells his mother that they should "postare." From this word, Gladys understands they are going to postpone the hearing, which is hilarious because my first thought would have been "send him some mail."
Betty finds Kate passed out on the couch. It looks like Kate is experiencing my sophomore year in college, when I was often woken up by lesbians who had found me sleeping naked on their couch. Betty, overcome with LoveforKate-itis, is starting to get super concerned about Kate's behavior. Kate says she's just trying to have a normal life, which requires her to push away her memories.
I'm having a good time. It keeps me from remembering things I wanna forget.

Running away won't fix it. Your dad is dead.

We agreed, Betty, a normal life from here on in. That's what I want, just like you. A good job, a guy like Ivan.
Betty makes her typically heart-breaking face. It's like someone is ripping out my feelings and individually stomping and then drowning all of them.
Pages: 1 2See entire article on one page