A Prairie Homo Companion is a regular column that celebrates the Canadian prairies, canola fields and big skies, and the paradoxes of being a fine-ass lady prairie homo.
Header by Rory Midhani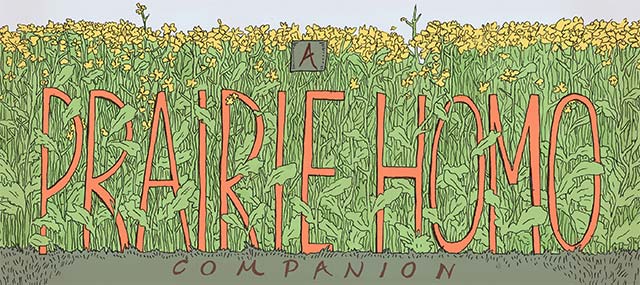 ---
The theme of this week in Western Canada has been protest on the prairies. There have been road blockades, round dances in shopping malls, and marches. As the movement grows, "protesting Conservative government bills beginning with Bill C-45 [that] threaten Treaties and [an] Indigenous vision of sovereignty" it's simply something that can't be ignored. A recent Tyee article called Idle No More the "biggest and most important national outpouring of grassroots aboriginal anger ever seen in Canada," and as I tried to find my friend in a large crowd of dancers and speakers in -30 with windchill weather last week, I could believe it. I couldn't believe that a protest this big was happening in Alberta.
The prairies are too often stereotyped as backwards and conservative, resistant to change. This stereotype comes partly from politics – though Manitoba has elected the socially progressive NDP, Alberta and Saskatchewan both have conservative governments. The prominence of farming and the oil industry in the prairies also doesn't do much to dismantle our redneck reputation. It's unfortunate that this "redneck reputation" often makes others, and even ourselves, forget that many rights which we now take for granted – like free, universal healthcare and women's right to vote – originated right here in the prairies. Though when first introduced, these rights were seen as radical, unnecessary, and inconvenient, we now take them for granted. As socially progressive and environmentally conscious prairie homos, we sometimes feel isolated and like we're fighting an uphill battle. This is why it's so important that we remember our radical prairie history. From free healthcare to the suffragette movement to Idle No More, there's plenty worth reminding ourselves of about radical prairie activism.
FREE HEALTHCARE FOR EVERYONE
Prairie farming helped Tommy Douglas, the preacher turned politician and Canada's Father of Medicare, see the devastating effects of actually having to pay for healthcare. During the Great Depression, if a farmer had an expensive doctor's visit, it took away his valuable time, energy, and money, and could completely ruin his farm. This would add to the shortages of an already short food supply and didn't do anybody any favours. As a preacher, Tommy Douglas had firsthand experience witnessing the suffering in his community:
"Again and again we would leave some sitting in the hospital waiting room while we went out and borrowed or begged a few dollars here and there till we'd make up enough to pay the bill. In some cases I knew people who simply died. I remember burying a girl fourteen years of age who had died with a ruptured appendix … I buried a good many people that I knew, some of whom I loved. "
In fact, Tommy Douglas himself almost lost his life because of inadequate healthcare funds. As a boy in Manitoba, he contracted a bone infection and underwent several unsuccessful leg surgeries. His parents didn't have more money to pay for a specialist, and Douglas was about to have his leg amputated when an altruistic doctor offered to take a look at him for free. This doctor not only cured his infection and saved his leg, but taught a young Tommy Douglas what a difference free healthcare can make. Douglas swore that if he were ever able to, he would change the system:
"In was in those days I made up my mind that if ever I had the power I would, if it were humanly possible, see that the financial barrier between those who needed health services and those who gave health services was forever removed."
In 1944, Tommy Douglas ran to be Premier of Saskatchewan under the CCF party (now the NDP). He ran a strong campaign, using his background as a minister to preach his vision for healthcare; but he was met with vicious and unprecedented attacks. Canada's leading businesses, such as Imperial Oil and Noranda Mines, were threatened by the CCF's socialism. The department store Simpsons used its catalogue to mail-out anti CCF propaganda. Canadians were poor from the Great Depression, dying in World War Two, and more than a little suspicious of new ideas and anything having to do with socialism. One opponent even said, "The only thing that separates the CCF from Hitler's National Socialists is its lack of the swastika." Despite the attacks, a poll reported a Douglas win, but the Saskatchewan newspapers refused to print it. But on June 15, 1944, the province of Saskatchewan made history by electing the first socialist government in Canada. Tommy Douglas quickly brought in free medical and hospital care for pensioners, those on governments support, and cancer patients. By 1962, he had expanded free medical care to, well, everyone, and Saskatchewan enacted the first universal publicly funded medical insurance medicare plan in North America. Saskatchewan set a precedent for the rest of the country. Seeing how well Douglas's plan worked, then Prime Minister Lester B. Pearson adopted federal universal health insurance in 1966.
Tommy Douglas didn't let his prairie idea die at the hands of good-old-fashioned prairie conservatism. Instead,he used his prairie persistence and got shit done.
"Social justice is like taking a bath," he famously said. "You have to do it every day or pretty soon you start to stink."
WOMEN ARE PEOPLE TOO! WOMEN GET TO VOTE!
Women's suffrage was first proposed in Manitoba way, way, back in 1870 by the Icelandic settlers, but the men in power said no, and there was nothing much Manitoban women could do, so they focused on their work with the Women's Christian Temperance Union (WCTU) and petitioned to end the "evils of alcohol." Personally, I quite like alcohol, but had I been living in the late 1800s with 5 kids to support, a husband who spent most of his income on alcohol, no power to go out and earn my own income, no access to birth control to stop having more kids, and not much power to get divorced, I might have felt differently! The WCTU held meetings, protests, and teach-ins about prohibition, and in fighting together for a cause they believed in, they realized they had real power that should be translated into political power.
Nellie McClung, the daughter-in-law of Mrs. J.A. McClung, one of the early WCTU activists, led a strong campaign for women's suffrage between 1912 and 1915. If you've ever watched the film Iron Jawed Angels, about the American suffrage movement, you'll know that it was fought with hunger strikes and even jail time. In France and England, the suffrage movements sometimes got violent. But in Canada, suffrage was won in typical Canadian style – with politeness, persistence, and even humour. For example, Nellie McClung rented the Walker Theatre in Winnipeg to set up a mock parliament in which she was the Prime Minister and men had to beg her for votes. On January 28, 1916, Manitoban women (excluding First Nations women) became the first in Canada to win the right to vote and hold provincial office. They were followed by Saskatchewan on March 14th and Alberta on April 19th. In 1918, women were granted the federal right to vote, but it wasn't until 1940 that Ontario women could vote provincially, and it wasn't until 1960 that First Nations women and men were given the full right to vote!
Unfortunately, winning the right to vote did not guarantee women full executive power, as Edmonton woman Emily Murphy found out when her appointment as judge came under fire. Under the British North America Act (BNA Act), only a person could participate fully in politics and affairs of the state, and women were not considered "persons." Murphy banded together with suffragette Nellie McClung and four other prairie women (Louise McKinney, Henrietta Muir Edwards, and Irene Parlby) to appeal the BNA Act's definition of person at the Supreme Court. Both the court and Sir. Robert Borden, Canada's Prime Minister at the time, did not see the need for women to be considered persons under the law, so the five women, now known as the Famous Five, grew fed up with Canada and took a ship to England where they appealed to the Judicial Committee of the Privy Council in London. They returned to Canada successful, and women were finally considered persons under the law in 1929.
THE FIGHT TO END CANADA'S RACISM AGAINST INDIGENOUS PEOPLE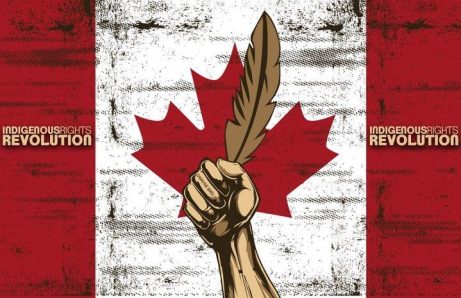 The Idle No More movement is gaining momentum as news of First Nations' protest against Bill C-45 and the removal of their treaty rights spreads both nationally and internationally; but what many don't know is that the movement was started by women – prairie women. Saskatoon-based activists Sheela McLean, Sylvia McAdams, Nina Wilson, and Jessica Gordon came up with slogan Idle No More and are responsible for taking it from a Twitter hashtag to the name and rallying cry of First Nations and non-First Nations alike who are sick and tired of Harper's undemocratic policies and the ongoing racism towards Indigenous Canadians. Jessica Gordon says, "These colonial forms of legislation that the government expects to unilaterally impose on us has brought us together, to stand together." The Idle No More movement has just begun, so it's hard to say how it will be remembered. What I know right now is that I'm proud that yet another fight for equality has begun right here in the prairies.
WHAT PROTEST MEANS TO PRAIRIE HOMOS AND QUEERS EVERYWHERE
As prairie homos and queer people as a whole, we know firsthand that our voices and our struggles are often not heard and recognized. The fight for universal healthcare, for suffrage, and for First Nations' rights are three examples in which a group of people whose voices have also been dismissed, whose concerns have also been pushed aside and mocked by the mainstream media, peacefully but persistently fight back and assert their right to be treated equally. I hope that as queer people, we understand the need for equality and that this understanding can help us relate to other oppressed groups, such as Canada's First Nations. And if past prairie movements can give a clue to the future of the Idle No More movement, I'll say that like the fight for universal health care and for women's rights, the struggle against Harper and centuries of racism will be won (even in the face of adversity) with courage, persistence, and humour.