We all have needs. Food, shelter, and maybe a little bit of cleanliness. Even if you've got an on-point hygiene regiment, a change in your romantic status may throw it all to the wind! Carrying around a Whole Food's tote stuffed with a change of undies and a toothbrush won't last forever. You deserve better. What you really need is a Dopp kit to keep all the essentials on hand to keep you lookin' your best for that new babe. Plus, they are really square and cute.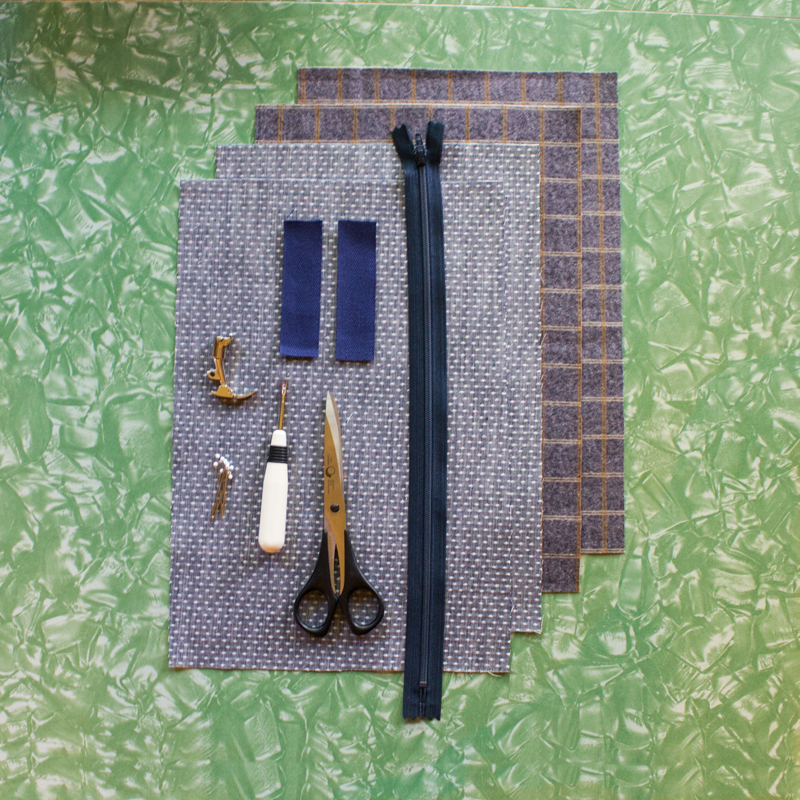 Supplies:
13″ x 9″ Outside Fabric
13″ x 9″ Lining Fabric
14″ zipper
2- 3.5"x 1″ twill tape or leather strapping
Sewing Machine
Thread
Zipper Foot
Pins
Scissors
Iron
Ironing Board

If you fabric is lighter weight, you can give it a bit more oomph by adding some fusible fleece to your outer fabric. If you choose to stabilize your fabric, you'll need two pieces of 13 x 9 ½, Fusible Fleece. Follow the package's instructions for attaching it to your outer fabric.
---
Sew the Zipper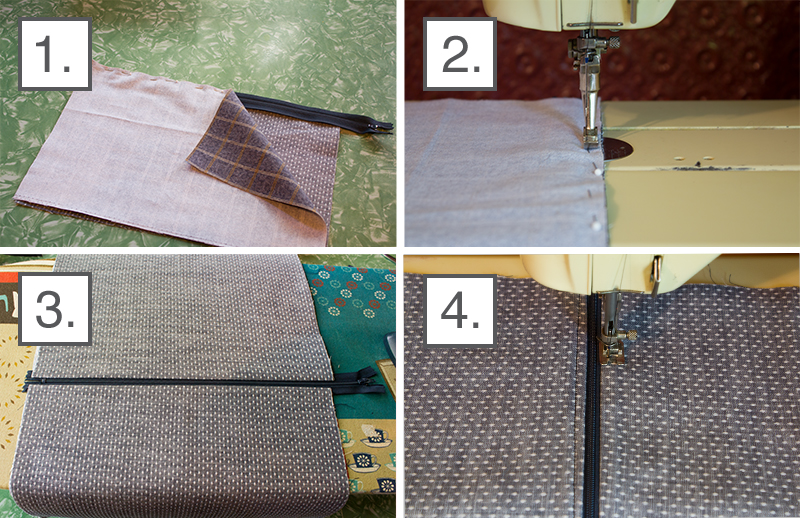 1. With right sides together, line up the zipper tape with one of the 13″ edges of your outside fabric. Place your lining fabric, right side down, along the 13″ edge on top of the zipper, making a zipper sandwich. Pin in place.
2. Attach a zipper foot to your machine. Sew along the 13″ edge at a ½" seam allowance. Backstitch at the start and end of your seam to secure in place.
3. After sewing, reverse the sandwich to have right sides facing out and press the seam flat and away from the zipper. Repeat steps 1-3 for the other side of the pouch.
4. On the right side, topstitch your zipper seam at ¼" away from the folded edge on either side of the zipper.
---
Sew the Pull Tabs

Now is time to put the pulls in place. These help to make the zipper easier to open and close and overall make the pouch more functional (in my humble opinion).
Open your zipper halfway. Fold the leather strapping/twill tape in half widthwise and pin the raw edges to the raw edge at the end of the zipper. Sew the pulls in place at ¼" seam allowance.
(Keep the zipper half-way open for the rest of construction)
---
Sew the Outside and Lining

1. With right sides together, pin and sew the bottom edges of the outer fabric together at ½".
2. Pin the bottom edges of the lining fabric right sides together. Sew this seam at ½" seam allowance, leaving a 4″ gap, unsewn, in the middle. See photo for reference.
3. Aline both side edges of your Dopp kit, with the bottom edge seams meeting up with the zipper, pin in place. Sew this seam at ½" seam allowance.
---
Box Those Corners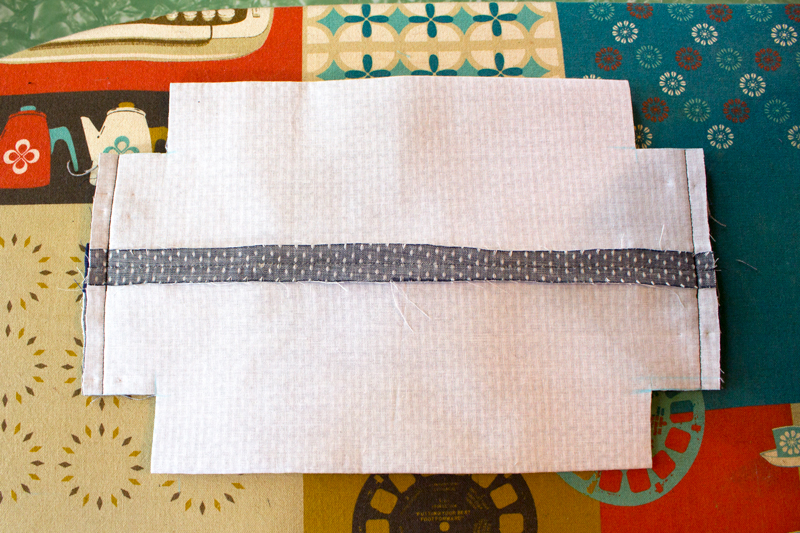 This is the trickiest part of this whole process. I promise you are a smart, capable, charming-as-hell human, you got this.
1. To create the lovely boxy shape of your Dopp kit, first, cut a 1 ½" square out of each corner of your pouch.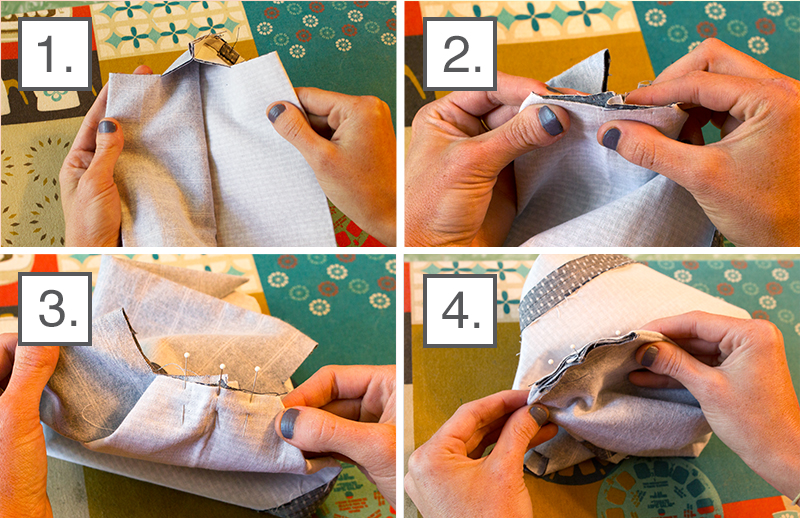 2. Pinch the lining fabric box open, bringing the outside corner to the seam. Repeat this step with the outside fabric and sandwich the lining and outer fabric together and pin. If you edges don't line up perfectly, it's okay as long as your stitching is moderately straight. Sew this seam at ½" and repeat for all 4 corners.
Now, for some sorcery. Find the hole you left in your lining and pull your bag right side out.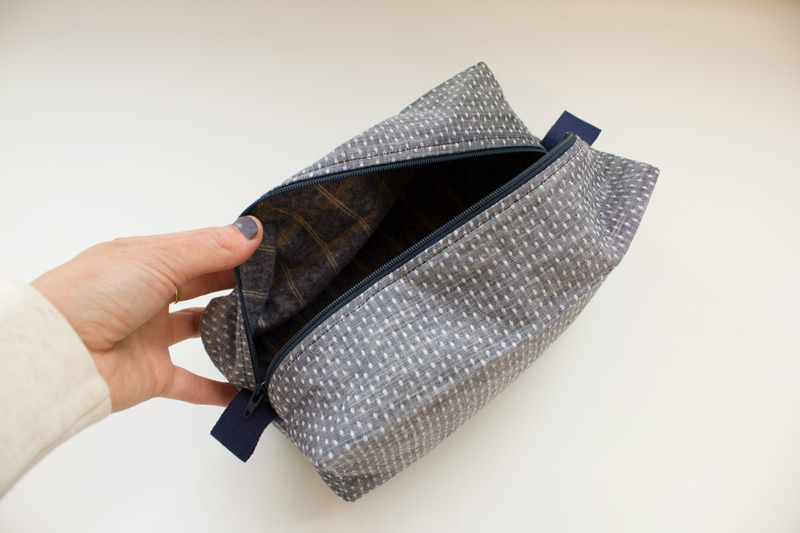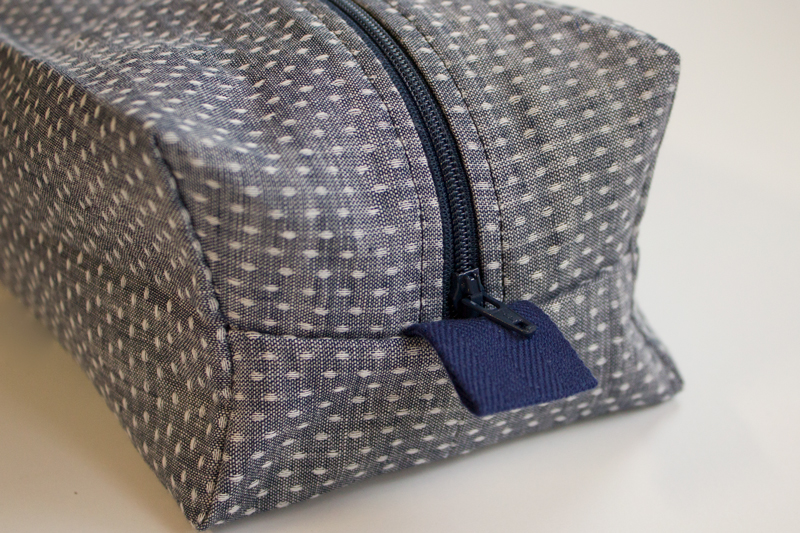 And voilà! It's a Dopp kit! Now all you've got to do is hand stitch the lining hole up, I recommend using a blindstitch.
---
Helpful Resources, just in case.