Feature image from have a banner day!
Sometimes really late at night or early in the morning, when your subconscious is creeping into the periphery, you find yourself thinking, "Who the hell are these people I'm living with? They could be anyone. They'll be old one day, with pants they paid for themselves. Jesus what is happening. How did I get here.wp_postsAnd you'll think those things because honestly, living with kids is weird.
There are workarounds to these potential frustrations and jarring moments of clarity. We'll go over a few of them and hopefully you'll share some of your own and everyone will feel much better about the smears all over the glass doors.
Previously:
How to Live With Kids: Toys & Entertainment
How to Live with Kids: Food & Cooking
Chores & Responsibilities
Living with kids means setting an example. You have to be the you that you want them to think you are and remember you as. You have to think ahead to how your current actions will bubble to the surface in their future. Because years from now, when you're busy listening to Das Racist's Greatest Hits, this kid will be subconsciously reinacting something from their past existence with you, and they'll either put the plate in the dishwasher or leave it on the countertop, depending on what you drilled into their skulls when they were young.
This is the source of much anxiety.
Their eventual partners / friends / children will either curse or praise you, depending on this future adult's ability to fold and put away their own shirts, among other things. This won't always be fair to you, but that's the price of receiving such large tax deductions.
Chores are one way to come out of this on top! All at once — practically without lifting a finger — you're setting a good example, cultivating their work ethic, teaching responsibility and money management, and AND! enjoying a clean house. You're the best parent ever. You are the winner.
Don't Underestimate:
+
Starting Young
As soon as these beasts can walk across the room without falling over, you have to make them do chores. You should even call them "chores" so there's no ambiguity later. Start them out with small things — picking up toys, putting away groceries — but don't stop there. There are some lovely stepstools at Ikea and the sooner these children know how to properly wash a plate, the better.
Having a Plan
You're gonna need a chore chart. Kids have selective hearing and memory loss, so the chore chart is essential. (More on chore charts below!)
The Barter System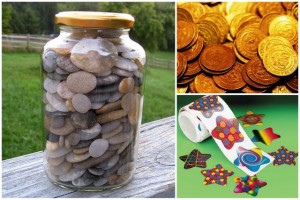 These short people are probably going to want money from you, and that's valid, but maybe it's not always an option. If we've learned anything from the esteemed Chuck E. Cheese, it's that a non-monetary payout can be more rewarding than dollars. This is especially true for the smallest of smalls, who have yet to grasp the concept of money.
Kids earn something — stickers, rocks in a jar (Riese got poker chips) — for each completed chore. Have a variety of activities, small to large, that they can trade their tokens for.
This system is a good way to squeeze in the activities your kids really love but you don't always have the time or energy for, like Nerf wars or backyard picnics. You'll definitely need to include a couple of grand prizes — something they can save up for — like an actual food fight or letting them drive your car around the parking lot. That's legal, I think.
Respite
Those poor overworked children would really appreciate a break. I recommend not giving them scheduled days off and surprising them instead. Have you ever seen a very young person be excited because you dusted the bookshelves? Now you will.
Advanced Chore Charting for Teenagers
with Special Guest Fit For A Femme
+
It's important to teach your kids the importance of earning their own rewards. I think it's equally important to teach them gratitude, because there's nothing worse than a spoiled, ungrateful brat, no matter what age you are. Also? Kids are messy, but thankfully – as discussed in the Food & Cooking edition of How to Live with Kids – they're also inclined to help.
My focus is on Advanced Chore Charting for Teenagers. Fair trade. Good old slave labor, like they used to have in The Baby-sitter's Club. We're lucky, she approached us for additional chores to earn more money for the stuff she wants (music for her iPod, sparkly oxfords, mint lip balm), so it was technically her idea. Maybe that's a strategy. Let's pretend it is.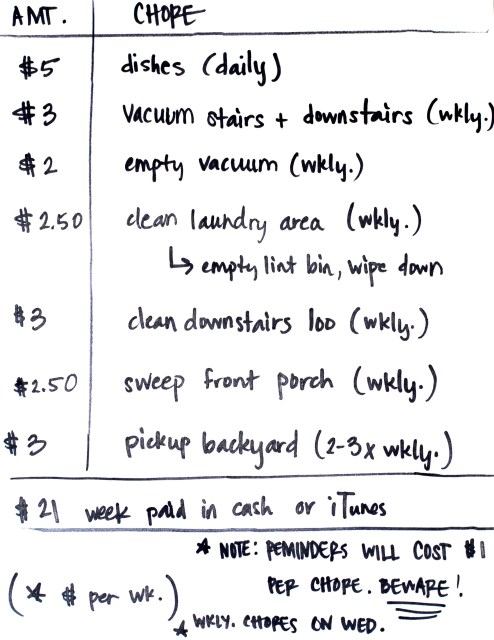 The key here is balance. There are a few really crappy jobs here. Nobody in this household wants to do them. Vacuuming, picking up after the dogs in the backyard, cleaning the guest bath. Those things SUCK, so they're worth a bit more. There are a few easier ones thrown in – the laundry room, sweeping the front porch, loading/unloading the dishwasher – and they garner a little less cash. For clarity, these aren't a la carte chores – payment's made when they're all done.
What does this mean for us? We supervise, execute on clutter reduction, and congratulate ourselves because it's way cheaper than weekly maid service. KIDDING! Sort of.
We do not police her bedroom or bathroom. It's her space and we generally let her do as she pleases until we can no longer contain our disgust or are entertaining guests. This is probably more of a private parenting decision rather than basic chore assignment and completion, but it's worth mentioning that if she wants to have a friend over or go see a movie, that room had better be reasonably presentable and her chores done.
Fun stuff: Let's say your kid wants a ukulele for fun (mine does). They're expensive! A nice one can run you close to $200. That could take 10 weeks! Let's say Christmas is months and months and damn months away. As a parent, you want to encourage your child's creativity and possible hidden ukulele talent, so we'd offer to match her savings. That's how she got her first iPod (until she lost it, then she was on her own and saved up for half a year to replace it)!
Tip: Nobody likes a nag. The $1 charge per chore reminder is like built-in nagging and it totally works. It saves time and keeps me sane and nag-free. Probably too harsh for the wee ones, but fair game for teens. (We can be extra fancy and call it Priority & Time Management if you want to.)
What kind of chore system has worked for you? Can you think of one thing that you wouldn't have your kids do? Because I can't. Have you ever had a food fight?
Next week we'll talk about how kids have to ride in your car sometimes and what to do about that.