And a happy Festivus to you! Are you the proud caretaker of a small, young human? Perhaps you'll be traveling with them to a holiday destination in the near future? Or, if you don't have a small person of your own, maybe you will soon find yourself in the company of several children who don't belong to you but are nonetheless blocking your view of the television and scheming to eat the last roll.
What will you do?? First you will make a nice cup of tea and take a deep breath. Ok now you're ready.
MOST SPECIAL NOTE OF ALL NOTES
This is your greatest opportunity to create real, lasting, totally insane holiday traditions that these kids will remember forever and possibly pass on to their future friends/families. You don't even have to be their parents — as long as the tradition is ridiculously fun or weird, they'll appreciate it. This is absolutely not the time for unoriginality.
TRAVELING WITH KIDS
Everyone wants to look at and interact with the young people you're in charge of. They'll have you believe it's because they love these children and want to get to know them better — and that's probably true — but it's mostly about checking up on your parenting skills and judging your work. That's fine; you've likely done an excellent job and should have nothing to worry about. However, everyone knows that children can be rogue, unpredictable little things, capable of embarrassing the holy living hell out of you at any moment.
That prospect is terrifying. As with all parenting endeavors, you will need a strategic plan and a small arsenal of bribes.
Prep
For shy children, it's imperative that they be given the proper tools for interacting with strange, older people. Explain that you will be visiting some folks who might be loud, tall and wearing lots of perfume, and that these people will have a great interest in the child. This will make the child uncomfortable. Tell the child it's perfectly normal; that the same thing happened to you. Have the  child practice acceptable responses via role play.
You: HI SMALL PERSON!! I HAVEN'T SEEN YOU IN [TIME]!! What grade are you in??? Look at your hair!! Oh you are just THE CUTEST THING.
Child: (smiling) Hello, thank you. I am in [grade]. It is nice to see you again. I like your [something, anything].

You: OH THANK YOU! WHAT A PRECIOUS ADORABLE CHILD! Do you like [grade]? Do you have a [girl/boyfriend]??? I BET YOU DO! OHHHHH!

Child: (smiling) Thank you. No, I do not currently have a [girl/boyfriend], as I've chosen to focus solely on my studies and future career. I hope to be involved with the local [shelter/co-op/community theater] next summer. I have a [GPA]. It was so nice to talk to you. I'm going to get some water now. Excuse me.
Bribe
People need incentives — it's nothing to be ashamed of. Be frank: "If you embarrass me, I will take away [prized possession(s)] for [outrageous length of time]. If you do not embarrass me and instead make me look awesome, I will give you [money/days off from chores/a puppy?]. The end."
Above all, remind the child that no matter what happens at this holiday function, they will be returning with you to your house, where they will stay for several years to come, and that you have a pristine memory and very little interest in granting amnesty.
Pack
I just needed an excuse to show you these suitcases.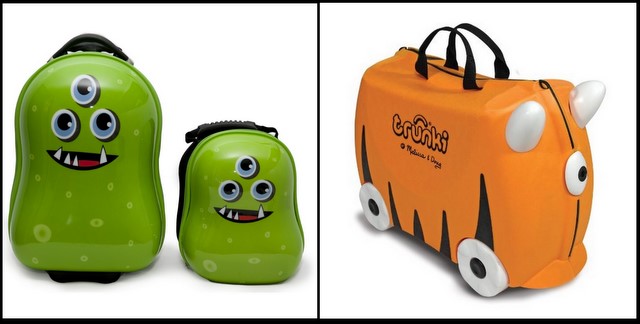 1. Travel Buddies Archie the Alien
2. Melissa & Doug Trunki in Sunny Orange look at this fucking cute wtfery
Charge
Charge every device. If it has batteries, charge them. If it will need batteries, bring them. Bring more than you think you need, then bring more.
For Your Ears
For some reason, short young humans don't like listening to NPR for hours on end. I know, it's so weird. I think you should make a mix CD to bring along. Because it's the holidays, you're allowed to add as many obnoxious holiday songs as you'd like and you're encouraged to sing along enthusiastically. They'll love you for this later, when they have something to complain about to their friends.
The Trip
Whether the travel time is 20 mins or two days, being prepared is crucial. Anything from a splinter to a mini-famine could occur before you're even out of the driveway. Aside from the obvious supplies — like band-aids, PSPs, headphones, a deck of cards, etc. — don't forget the Please Shut Up Lollipops, the Stop Complaining Gum, and the I Cannot Possibly Answer Another Inane Question Fruit Leather. If you'll be traveling for an extended period of time, I highly recommend the I Will Only Love You if I Can't Hear You String Cheese.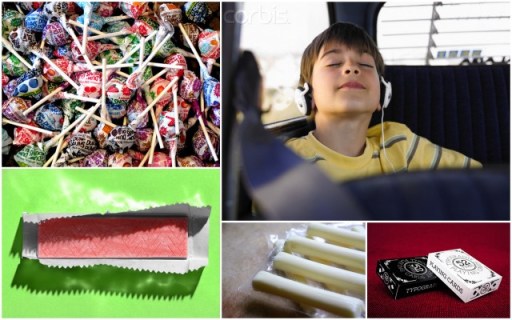 NEXT PAGE: Holiday Gatherings With Kids – A Guide For Childless Humans — including a fantastic guide on how to give gifts to people younger than you!
Pages: 1 2See entire article on one page