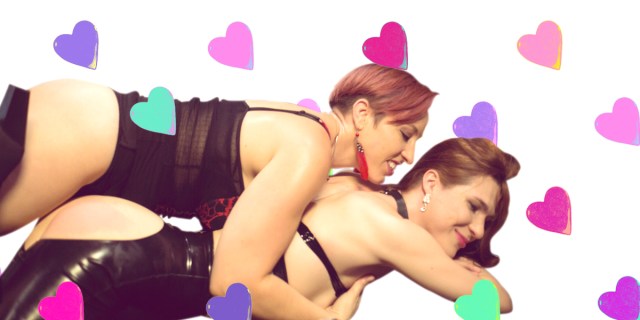 Feature image of Mistress Kara and Stefani Special in Crash Pad Series episode 220, collaged by Sarah Sarwar.
---
Some lesbian, bisexual and queer women have penises. Trans women come all sorts of ways, and some of us haven't had surgery yet or don't want to. Also some trans women are queer! The conversation about trans lesbian sex often focuses on anal, or on using the non-trans partner's genitals — but that's not all there is. Trans lesbians and their partners can have sex in so many fun ways that do involve their penis and testicles, but don't necessarily trigger dysphoria. There's a lot of fun you can have, and while sex between someone with a penis and someone with a vagina is the norm of what we're presented in society, not many of those tips deal with the fact that maybe one of those people is a woman. So I'm here to help you have the best girl-on-girl sex you've ever had as or with a trans woman.
These tips focus on sex with hands and mouths, since personally PIV sex is much harder on my dysphoria. And I know that not all trans women have penises, and that queer women can have sex with people with penises who aren't trans women, but here I'll be referring to women (trans or cis) having non-PIV sex with a trans women with a penis.
Figure out what you want.
The first step in great trans lesbian sex is actually figuring out what you like yourself. If you want to tell your partner what words and actions you want, you need to know them first, you know? Reading erotica or watching trans porn (I'd recommend sticking to feminist porn, like the Crash Pad Series, and avoiding trans porn made by cis men) can help you figure out what you find sexy about your body, and what you want to do with that body. It can also help you figure out what language you like.
Try different ways of masturbating. Instead of a "jerking" motion, explore different parts of your genitals. Whether or not "traditional" masturbation causes you dysphoria, there are so many ways to feel yourself. Try using a vibrator or removable shower head. You can also use your fingers to explore your perineum and testicles. Try different pressures, speeds and intensities on different points and see what feels good.
By exploring with yourself, you might learn that maybe you like dirty talk; maybe the idea of your girlfriend going down on you seems really great; maybe you love toys, maybe it's something else! The key is to get in touch with yourself to figure out what you want. And remember, it's okay to think you like something and change your mind.

Talk about what you want.
Just like with any kind of sex, communication is key. Start by talking about what words you want to use for your genitals — some words might turn you or your partner on, others might cause dysphoria, and others might just do nothing for you. I know t-girls who use words like penis, clit, girldick, sexy bits, lady parts and a lot of others. Instead of saying "blow job," try talking about "going down" or "eating out." Explore what feels sexy and good to you, and then communicate that to your partners. And if you aren't totally sure what words a partner uses, ask!
Next, talk about safer sex. Trans women who haven't had surgery have a chance of getting their partners pregnant, so keep that in mind. And regardless of pregnancy-related protection, if you aren't fluid bonded with your partner, wear a condom, and use a dental dam for any oral on anyone's anus or vulva.
Then, talk about what you actually want to do. Some techniques might work better for you than others, some might not work at all, and the only way for your partner to know is if you tell her. Be specific; it's okay and hot to show her, too. It's also okay to not be sure about what you like or what you're into, and to want to explore together. If that's the case, go slow, check in every step of the way, and remember that it's okay to ask each other questions, try things out together, and figure out what ways of having sex together feel good to both of you.

Think about types of touch.
In terms of tissue structure and sensitivity, penises are basically just like clits, but bigger. This means that a lot of the types of touch that would feel good to a clit might feel good to a penis — and those same types of touch can help avoid triggering dysphoria.
The default model of pleasuring a penis involves an up-and-down motion, whether with hands or a mouth or other types of penetration. But there are lots of things to try beyond that! We'll get to those in a second.
The default model of pleasuring a penis also assumes that the penis is hard. Many trans women on hormones don't get as hard as they did before hormones, or don't get hard at all. But sex is so much more than a hard penis, and soft penises are sexy. You can play with them in all the same ways you would with a hard penis, but think more about specific erogenous zones and finding the sensitive spots, and remember that touch can feel deeper (because there isn't a lot of blood-filled tissue in the way).
Use your hands.
If you're going to have handsex, get out some lube. Water- and silicone-based lubes work great, as does coconut oil. A non-irritating lotion will work in a pinch, but since it's not designed for handsex, you'll probably have to reapply. (If safer sex is a concern, stick to water- or silicone-based lube.)
If your partner is a trans woman, one way to start is to cup her whole penis and scrotum in your hand and massage them like you would a vulva. If she's soft, try curving her shaft towards her belly and cupping her that way, holding her testicles and penis so that the penis is pointing up and the sensitive underside is exposed for your lubey fingers to explore. Or cup her testicles and use your thumb to massage the head.
The tip of the penis is one more sensitive area, especially at the point where the tip meets the shaft. Grip the shaft of the penis and using your thumb or thumb and a finger to play with the head. Try making an "o" with thumb and ring finger, and use small, firm motions on the tip. Consistent pressure, especially on the tip, is key. If the penis has a foreskin, a partner can stick her finger between the foreskin and penis. (If there's no foreskin, be extra sure to use enough lube.) Also pay attention to the base — it has a lot of nerve endings, and pinching it, pressing on it or massaging it can create some wonderful sensations. Like with oral sex, use pressure that's harder than you think it should be. And again, communicate! Ask your partner what she's feeling and what types of touches she's into. And if you want to be squeezed harder or gentler, let your partner know, and if they're doing a great job, let them know even more.
Squeezing and pulling on the testicles can also produce some really wonderful sensations, and the same goes for pressing on the perineum. Vibrators can be especially fun on the perineum and testicles. Continuing to treat trans penises like a clit, pressing a vibrator against the base of the penis or underside of the tip is a great way to create a sexy sensation. Generally speaking, stronger vibrators are better.

Use your mouth.
Like with handsex, oral sex on a trans woman's penis looks different from oral sex on a cis penis. Some similar techniques might work really well for the specific trans woman you're sleeping with, and if so, that's great! If not, here are some things that I've found helpful. Instead of making head-bobbing motions, try to focus on the erogenous zones with your tongue and suction. The tip of the penis is extremely sensitive, and a good strategy is to spend a lot of time there. Try using your tongue on the underside of the tip. Try moving your tongue in circles or figure eights around the tip. Try putting your mouth around the tip with your tongue cupping the bottom of it. Now suck.
You can also give the base attention. Try pressing your tongue down against it. Try alternating between the base and the tip with a little time spent on other areas and the testicles. Try suction and friction, it's this resistance that's going to cause the most pleasure. No matter the type of touch, remember to press harder with your tongue and lips than you think you should. This applies to both the tip and the base and to hard and soft penises. That pressure is a good thing. So is enthusiasm.

Try external prostate stimulation.
External prostate stimulation might be something you aren't familiar with, but it's honestly one of my favorite things. The prostate is located inside the groin, pretty much right between the end of the testicles and the anus, and it's just a ball of nerves that operates a lot like the g-spot. A common way to stimulate it is with anal sex, but you can also press your finger or tongue on the perineum (the space between genitals and the anus) right up through there and apply pressure on the "p-spot" as it's sometimes called. These orgasms are powerful and long and, for a lot of people, it's easier to have more of them then other kinds of orgasms. Try starting with one or two fingers and pressing up and in just below the testicles. You'll probably have to adjust your angle and pressure to find the prostate depending on the person.
The other great thing about external prostate stimulation is the way it fights dysphoria. When my prostate is stimulated this way, I don't feel like I have a penis anymore. It can produce a sensation of being penetrated, but in the genital area rather than the anus, making a feeling of gender euphoria. The prostate can be in there a bit and behind muscle, so don't be afraid to push to find it. Small circles and repeated up and down motion, like a massage, work well. Doing this all with a vibrator works even better.
---
Lesbian Sex 101 is Autostraddle's series on how to have lesbian sex for queer women and anyone who finds this information applicable to their bodies or sexual activities. Employment of the term "lesbian sex" in this post uses "lesbian" as an adjective to describe sex between two women or people who identify with that experience, regardless of the sexual orientation of the two people involved.
Sex ed almost never includes queer women or our experiences, so we're exploring pleasure, safety, relationships and more to make that information more accessible. A lot of the language in these posts is intended to make them easy to find on search engines.
Some of the body parts we talk about will be yours or your partners' and some won't. Some of the pronouns will be yours or your partners' and some won't. Some of the sexualities will be yours or your partners' and some won't. Some of the language will be yours or your partners' and some won't. Take what you want and what applies to you or what you can make apply to you and your partners and your experiences, and leave the rest!