Feature image via shutterstock.
---
Using all of my will
To keep very still
Still even on the inside.
—Ani Difranco, "Studying Stones," from Knuckle Down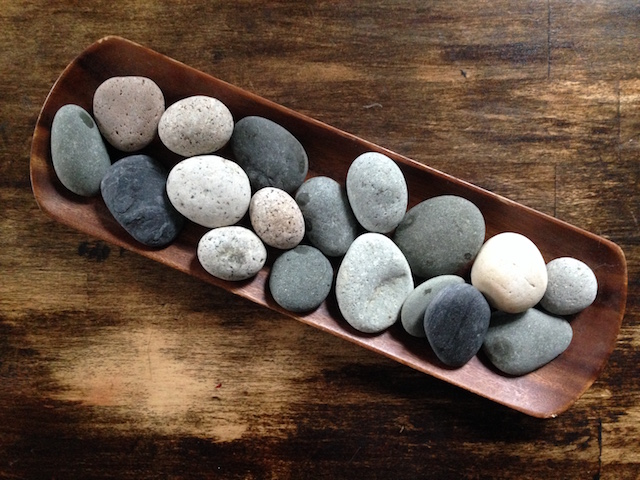 When I think of stone, I think of an Alaskan beach rock, smoothed down by glaciers and lapping waves, the kind of consistent gentle pressure that can break down mountains. I think of sitting on the pebbled beach for hours, sorting through rocks with my gaze and fingers, stashing dozens in all the pockets in my clothes. I think of keeping one with me at all times, smoothed further by the oils of my skin. My mom said it made sense for me to carry around rocks, since in my astrological chart I have no planets or aspects in earth signs.
By the time I was out as queer and crafting my erotic life, I identified as stone. It was a badge of honor I wore for my gender, declaring my level of body dysphoria. It was a shorthand way of telling dykes on first dates that I wanted to be the only one doing the actions in bed. On the cusp of claiming I was a top, claiming stone was personal and indisputable, so it was easier to claim than topping was. In queer communities, stone is often perceived to be based in trauma, in gender dysphoria, in self-protection — something no one would dare challenge or judge.
Stone is different for me now. Ten years later, the access to tools for changing one's body to alter gender dysphoria is different, and the knowledge of dysphoria is different, so we need not stay so still inside. Stone is a legitimate and real identity, don't get me wrong — but there are more options for healing and change for genderqueer and trans folks than there have ever been. So things are changing: me, and the queer communities' relationships with stone.
In 2008, my period of slutty play, copious casual dates, and learning to top was starting to slow down. I craved having a long-term partner, going deeper, doing the more intense play that only came with longer-term trust and intimacy. The thrill of topping was fading. It still honored me and floored me and got me hard and wet that beautiful, powerful, badass women would tell me what they wanted and let me do dirty, vulnerable things to them, but I was starting to feel completely drained and exhausted after dates and BDSM scenes, rather than elated and giddy. I wanted more… something, but I wasn't sure what.
That was about when I learned the definition of service topping — topping based on the bottom's wants, desires, pleasures. Topping as service. I had been service topping for years, I realized. There's nothing wrong with it — I still service top, more than occasionally — but I started uncovering a deeper craving, a new hungry mouth that demanded something new to satiate it. I wanted to have that elated, floaty feeling after sex and scenes, that feeling like at the end of a yoga class where all my limbs feel lighter and my core feels stronger and my head feels clearer. That still happened, with a particularly good scene or with someone new and thrilling, or when I was learning a fresh skill. But after a bit of time with someone, no matter how much I liked them, something was still missing.
In a conversation with a mentor of mine, where I lamented my lack of energy and my desire for "more, something, I don't know what," they casually said: "Maybe you're just a dominant."
I blinked. "What's the difference?" Even though I thought of myself as knowledgeable about power dynamics, I tended to use top and dominant somewhat interchangeably, and the erotica short stories I obsessively consumed did, too. I asked all the friends I could about their understanding, and most seemed to divide it into some sort of physical act verses psychological act thing — that topping was about doing something, and dominance was about being in control.
Around the same time, I dated a girl for about three months, and we played with all sorts of SM: slapping, flogging, sensation play, rough sex. But when I asked her (ahem, told her, in the most dominating voice I could muster) to crawl across the floor, she looked at me, puzzled. "Why?"
The confusion in her voice was enough to make my body lock up tight — caught in the headlights kind of tight. I hadn't realized that what I was requesting was out of the realm of what we'd already been doing, but as soon as I asked for it, I knew I wanted it. I wanted to be in control of her body in ways beyond just sensation or rough sex. I wanted her to crawl over to the toy box and fetch the cane, then bring it back to me in her mouth. I wanted her to crawl over to where I was sitting and service me, get me off.
I wanted to tell her what to do. And I wanted it to be for my body's direct pleasure.
I couldn't handle explaining all of this to her, so I gulped, mumbled some excuse, and we went back to playing. I felt the stone in me sink down, down, down and settle in my pelvis, and a new sort of desire was born.