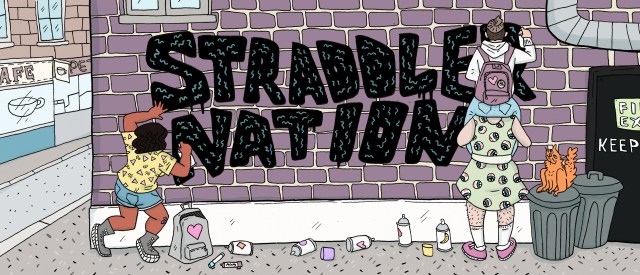 Autostraddle's community members are all one in a million special snowflakes, and the only thing even better than @-replying their avatars is meeting them face-to-face. Claire and Whitney, rockstar Autostraddle meet-up group captains, know this for a fact. That's why they're going to spend the next few months hosting conversations with lots of different folks who are parts of 'straddler communities IRL in this very series!
These posts are organized and put together by Claire and Whitney, although I am proud to present them! Come on in, join the conversation, and take away some inspiration for meet-ups of your own! Together, we'll build the 'straddler nation.
For their second installment, Claire and Whitney talked to folks who have planned or hosted meet-ups and ask them for tips and tricks they'd pass along to others. Also, everyone dreamed big and it was amazing.
---
UPDATE: Before we dig in, I wanted to let y'all know that since last time we saw you around these here posts we created a super duper Autostraddle Events & Meet-Ups Portal! There's resources from Claire and Whitney themselves, easy-to-navigate links to our meet-up submissions page, a meet-up group directory, and more!
---
Meet the Crew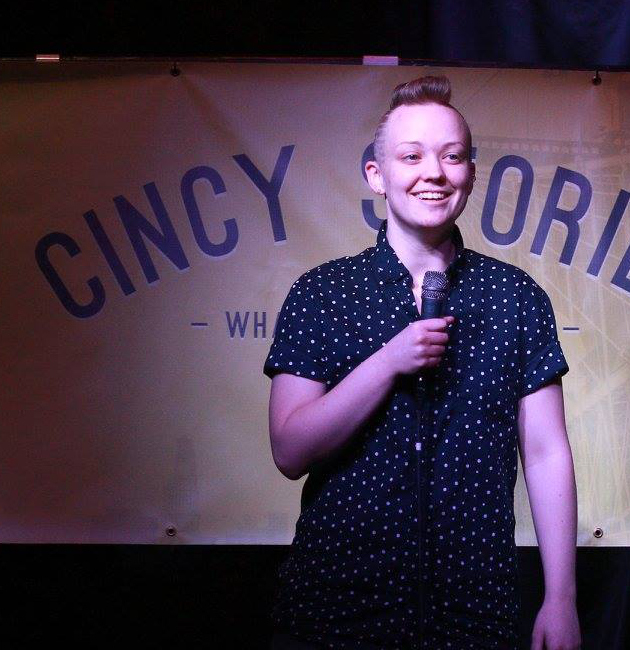 I live in Cincinnati, where I co-founded our 'straddler group in February 2014 and still do a lot of meet-up-planning and general organizing of the group. I've also been to A-Camp three times and could talk about it for hours on end! Here in Cincinnati, I work at a publishing company and do lots of creative endeavors (painting, poetry, writing a hella queer novel, etc.).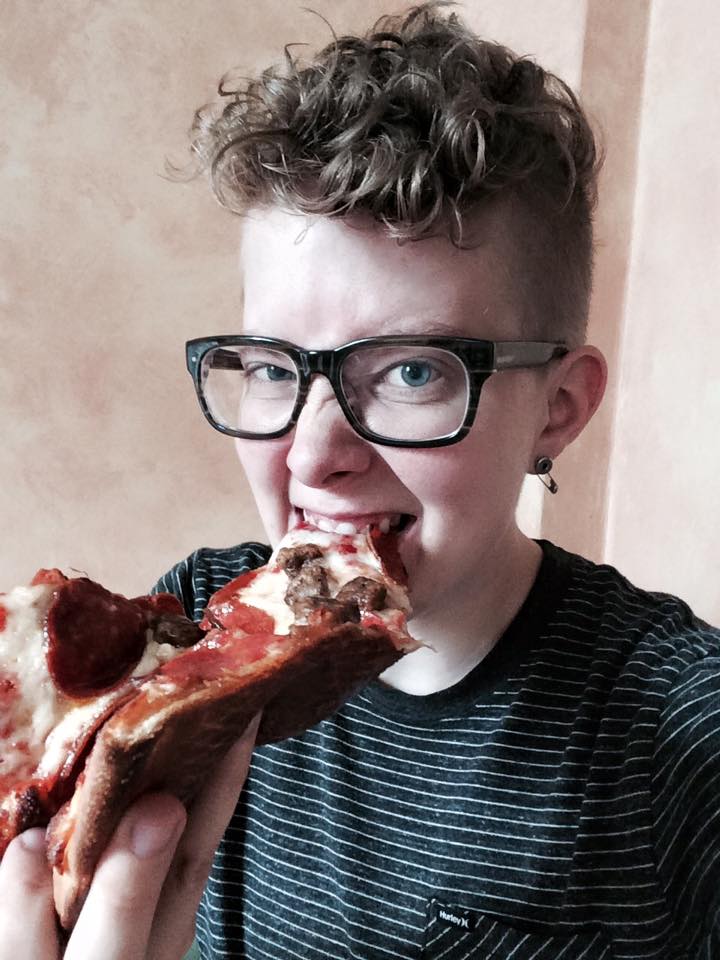 I work for a company that makes and sells sport containment systems. So basically hockey, soccer, lacrosse etc. walls. I wear a lot of hats as it's a family owned company with three employees and an office dog and I dig it. I created the Twin Cities Autostraddlers Facebook group back in the summer of 2013 to make some rad friends and it has grown to over 1,000 humans! Besides Autostraddle, I'm passionate about a quarterly event I organize in Minneapolis called Queer Cuts for a Cause. We give sliding scale haircuts that benefit local LGBTQ non-profits. Super fun!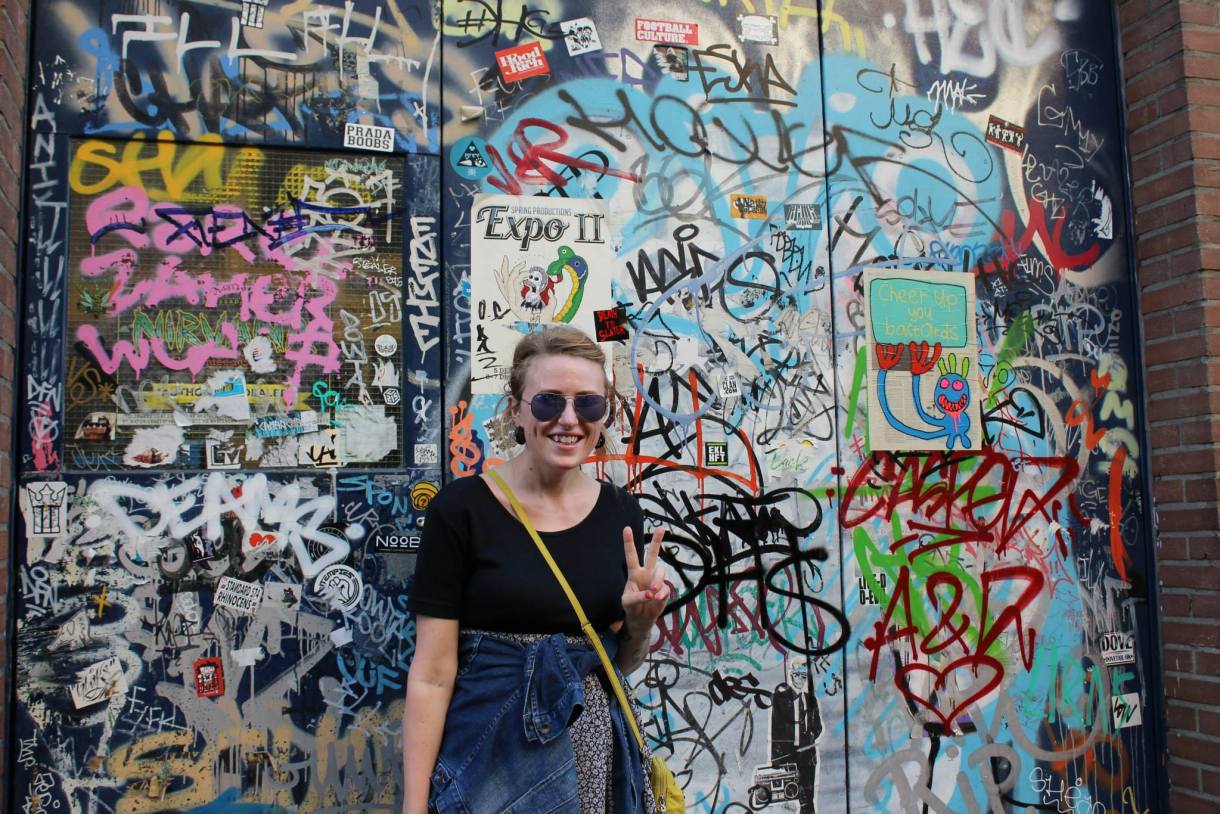 Last year I re-located to the New Hampshire Seacoast and scoured Facebook for an Autostraddle group.. luckily I landed upon the 'Straddlers in/around New Hampshire' page, started by a wonderful human named Linds! Aside from me hosting a Babe-B-Q, we have gathered for Holigay parties, open mic meet-ups, community art space get-togethers, etc. I work in a special education school and am super passionate about recovery and the opiod addiction crisis.
Emily Johnson (@Mejay90)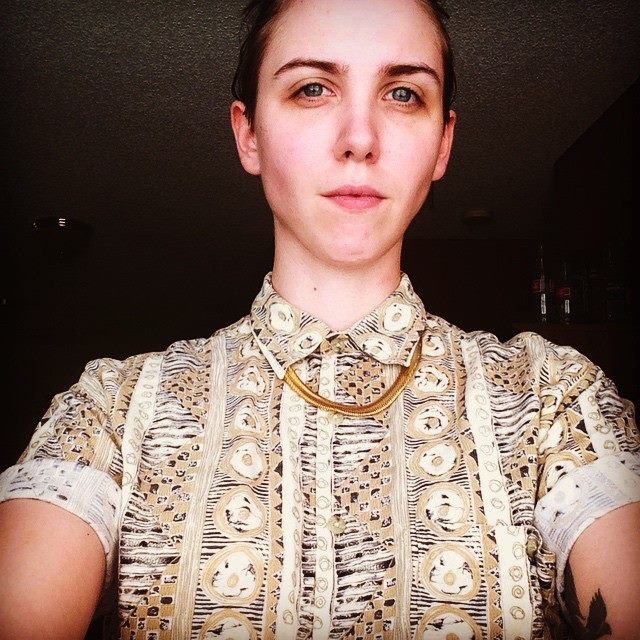 I live in Big Lake, MN (part of the non-metro area). I work for a printing company, tinkering with machines and computers all day. Usually when I plan Autostraddle events, I try to pick some things outside of the Metro Area. I hope that some people from all areas can hopefully catch wind and join in, and the community can grow! As far as my passions go, I have the biggest heart for any and all animals. I also love to draw, read fantasy/graphic novels, and play video games.
I live in London and I organise low-key events for the London 'straddlers group (this weekend we're going to a board game cafe!). I try to keep them accessible in terms of price as well as for anyone with mobility issues. Recently I've been made a mod of the group by the original creator as they're taking a step back. I also mod for a queer housing group and a Fat positive group. I work for a Theatre and it's the absolute best — I get to see so much amazing work for free. I'm femmity femme femme femme and am passionate about matte liquid lipstick and really good coffee.
---
The Whole Shebang
Whitney: Alright! Let's kick off interview #2 about meet-up planning — tips and tricks! Our first question is, was there already an Autostraddler group in your city? How did you find it, if so?
Hattie: I first came across the group by planning the International Brunch Weekend in 2013 – because I really wanted to go to one and none seemed to be organised in London, so I bit the bullet and organised it myself. I was really worried no one would turn up, but loads of people did and it was awesome. During that day someone told me about the Facebook group where people stay connected and organize some stuff through. It was set up by another person but they made me an admin after a bit because they were taking a bit of a step back and I starting to plan more and more meet-ups!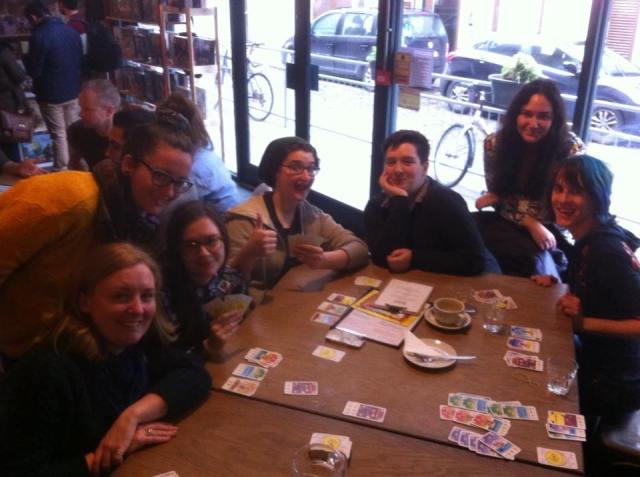 Catherine: To be honest, finding the group was rather difficult – I couldn't find any nearby listed on Autostraddle, and on Facebook the search wording had to be exact. I kept searching "Autostraddle Social Club" and adding various words like Dover, Portsmouth, New England, Seacoast and wound up joining the Boston group and luckily, someone there mentioned the Autostraddlers in/around New Hampshire group! We all later found out that there was a previously established group called Seacoast 'Straddlers as well! I joined a little over a year ago and have met some awesome people throughout the state.
Hattie: We have such an issue with people finding the Facebook group as well! We've talked about it as a group and can't decide if it'd be good to change the name and make it more linked to Autostraddle (currently named AS London) but some people from different backgrounds have pointed out that families check their groups on Facebook and it might deter members who want the anonymity.
Claire: Catherine and Hattie, that's a real difficulty that a lot of people have had that we're working to solve right now – starting with a directory of groups so people can find things more easily!
Catherine: Awesome! That will be rad!
Emily: Yes. I found the Twin City Autostraddle Group on the actual Autostraddle site, and found there was a link to a TC Straddler Facebook page, so I went and joined that. I saw a few people talking about a board game meet-up which I decided to go to, and met some great people. As far as my role sort of goes, it's sort of formulated out of the fact that I do not live in the metro area, so I try to do some things out of the metro in hopes that more people from Greater Minnesota (like me!) will find out about us and this can spread!
Whitney: Why do you all like planning meet-up events for Autostraddlers? Do you all have specific goals in mind?
Hattie: I genuinely think 'straddlers are just the nicest people within the queer community. Or I guess I just click best with them? I've been to other meet-up type things and events in London but whenever it's a 'straddle-specific-organised event there's always cool people that come, even though it's usually different people each time, and everyone just seems genuinely interested in having a fun time. Sometimes other events can feel a bit like – if you don't know the people, you're the outsider? But with AS stuff everyone is really welcoming to new people who come, and we also really try to encourage it.
Whitney: I've had the same experience, Hattie! Like how many rad humans are there in the world?! So many!
Catherine: Linds, the super awesome person who started our group, said they were looking to organize the Autostraddle community in the area and generally just get everyone together for a good time. They hosted the Holiday party in 2014 and 2015, and often posted encouraging others to host other Autostraddle events – brunches, Babe-B-Qs, and so on. I personally love planning and organizing because I am so Type A, but I had been too nervous to suggest or host one of my own. I decided to take on the Babe-B-Q event because, one, I had no excuse not to, and two, I needed to get out of my comfort zone. My only goal was for everyone to have fun and be well-fed.
Emily: Well at first, mine were built out of a goal to make friends that shared my interests.
Hattie: I'm kind of selfish as well because a lot of the time I organise events for things I just wanna do?
Claire: Yes, that's the best.
Whitney: Oh I do that a ton too, Hattie! haha No worries there at all!
Hattie: And it's nice when other people are like OMG, that sounds fun! 
Emily: I joined with some others to make a video game meet-up, since I hadn't noticed any gamers out front. That has sort of translated into a goal of finding things we as a group have not really done,in order to try to reach out to as many as possible. I have some ideas rolling around that I plan on setting through once the weather improves. Also, still a major goal is trying to reach out to the non-metro area in some way.
Whitney: I'm so grateful for you Emily! You plan rad such rad stuff!
Claire: Heck yes! This is a tangent but – one thing I want more groups to do is just go around and do self-affirming photoshoots. You go to a place like a parking lot or somewhere with a brick wall, and take all the hipster photos. Because everyone needs a new OK Cupid profile pic, and it's so fun!
Catherine: Posting this idea ASAP…
Whitney: YES! I tried to organize one of those last summer after you told me about it, Claire – and it was me, myself, and I. D'oh! I'll try again this year.
Emily: Aww, I remember that! I wish I wasn't out of town then. I think photoshoots sound fabulous.
Claire: Good luck Whit! Sometimes it takes a try or two!
Whitney: Exactly. No matter how long you've been organizing events, it's not always a guaranteed turnout. I think that's an important note for sure. And numbers don't necessarily mean success.
Claire: Totally. Some of the best meet-ups I've been to have had only two or three other people besides myself. And we've had a blast. These are such awesome thoughts, everyone! Meeting new friends, pulling in people with different interests, growing as individuals. I have all the warm fuzzies. So here's another Q: What's one of the more involved – complicated or risky or whatever – events that you've planned? What did you learn?
Emily: I planned an apple-picking meet-up at an Apple Orchard like 30 miles out of the city. It wound up being a little hectic for me because I wasn't the clearest on where to meet and there was no phone service out there, and people showed up at different times, with different energy levels, and different interests. I have some troubles getting over my major Type B personality, which combats with my desire for everyone to have fun and do exactly what they want to do 100% of the time, so it leads to me to have things not as structured as my hindsight tells me.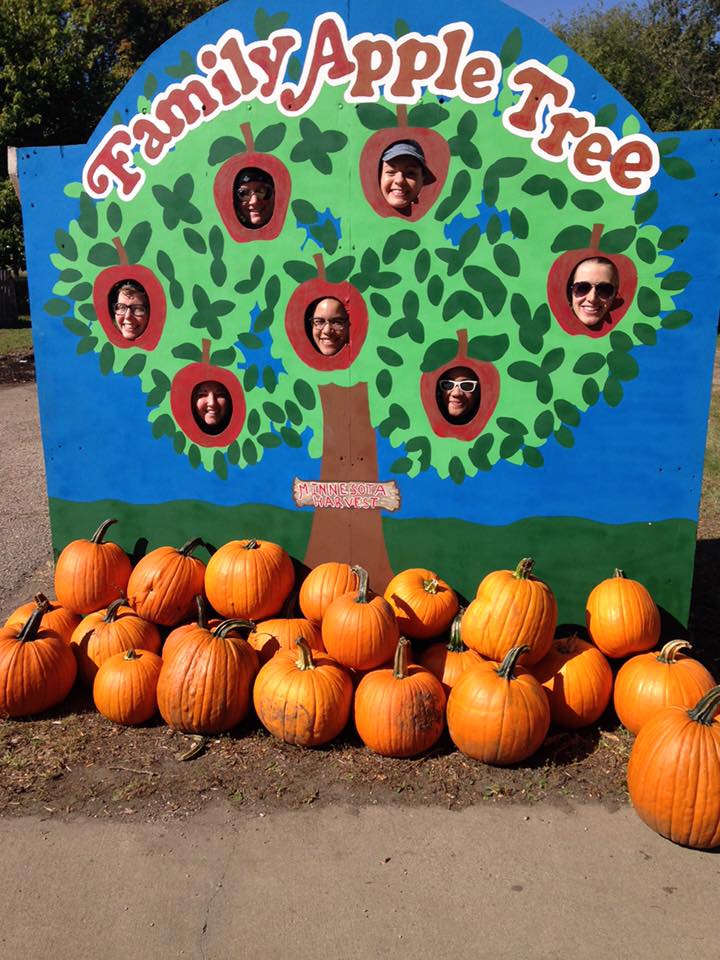 Whitney: THAT WAS SUCH A FUN MEET-UP! For the record, I thought you did really well and people had a blast!
Catherine: Before hosting the Babe-B-Q, I attempted to gather a meet-up at the state's first Pride event this past summer — Portsmouth Pride. I didn't make a separate meet-up event page, or really post any details, I just "threw it out there." This parade was not very organized or similar to other, larger Pride events in the first place, so it was all very confusing, and yeah, that was one event that I wound up moseying about all alone! I think that event also meant a lot of different things to different people who went with different intentions and goals, so perhaps I should have organized dinner or drinks afterward instead. I learned about better ways to get the word out and be more forward, though!
Claire: These are great stories. Sometimes, though, less structured can work out great! It sounds like you all had good times at these meet-ups! Though of course, a clear meet-up point and a list of two or three things you plan to do can save a lot of headaches.
Hattie: Sometimes I get a bit stressed organizing stuff because so many places in London don't let you book tables – so you just have to turn up and grab space so I always try and get there early and hold enough seats and I have to do my best ice queen stuff to keep people from kicking me out before everyone has arrived – in dribs and drabs as they tend to do.
Whitney: That does sound tricky. But right on for you holding it down so everyone can sit together!
Hattie: I also think accessibility is something I'm always trying to think about and constantly learning from. I try and either pick places that are wheelchair accessible for people with mobility requirements, but then also either as cheap as possible or something where people can choose not to spend money if they can't. But the other day I suggested a pub for a book club thing, and someone mentioned that that is not accessible for people who don't drink, and I was like oh shit I hadn't even thought of that, and there must be so many things like that I don't consider.
Claire: Yes! Accessibility and affordability are major factors to consider.
Emily: All those thoughts on accessibility are on point.
Whitney: YES.
Catherine: Hattie, great points!
Claire: We definitely try to do as many free and non-drinking activities here in Cincy as possible. But I know we could do even better at welcoming various people!
Whitney: Have any of you ever co-hosted an event? If so, what was that like? If not, how would you see it being different than hosting alone? For me, co-hosting has happened with bigger meet-ups. Like a genderfuck meet-up where we messed with gender presentation and then all went out dancing. And TC Camp was like half a dozen of us planning and organizing and putting it on based off an idea Jayden Thunberg proposed to the group!
Hattie: Welllll, sometimes I kind of drag my partner into helping me? Because they are quite confident talking to people and it's good to have more people acting a bit hosty with the shy people that come. Also more bodies for holding tables is always appreciated. I am mostly the only person that ever organizes stuff in the group so when other people do suggest things, I want to take a step back and let them get on with it — I don't want people to feel like it's my group when it definitely isn't. Also, TC camp sounded so amazing, Whitney.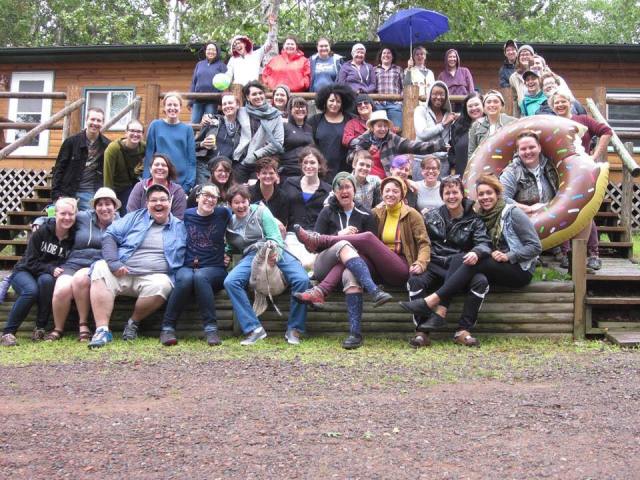 Catherine: I've never co-hosted an event, but I think it would be great! I imagine that having someone to share or split the duties with can take away a lot of the pressures of planning. Granted, our meet-ups are rather small – usually a dozen Autostraddlers at the most! – but still, an awesome idea, and more brain power!
Emily: I co-hosted a video game meet-up with another 'straddler. They pretty much 'hosted' it. It was at their house, with their video game systems, etc., but I initially threw the idea out and set up the event. Some of my future ideas will take place in bigger places where I think co-hosting would be excellent, that way we can split off in different groups or energy levels or what have you.
Whitney: Plus, if there are 2+ organizers, if no one else shows, at least you've got each other!
Claire: I sometimes throw out ideas that someone else latches onto, as well. I've co-hosted a number of things. In particular, I started organizing our book club, but my wonderful friend Bhumika has stepped up and been leading it recently, which has been amazing. But having a two-person team when throwing a party, organizing an all-day outing, etc., is also so so helpful. Especially if anything goes unexpectedly, you can work together to figure out what to do — instead of panicking!
Catherine: Book club! Jotting these ideas down.
Claire: Oh yes, book club has been amazingly successful, I highly recommend.
Emily: That's great! There's a lot of ideas I have too, but since I don't live by the majority of the members I sometimes hope things I throw out there will be latched by someone with lots of rad friend neighbors.
Whitney: If money and resources were no issue, what kind of meet-up would you host? Dream big, people! Dream BIG!
Claire: I love this question.
Emily: OOH HARRY POTTER UNIVERSE! Followed by epic Harry Potter bake-off and trivia contest. Trivia and bake-off may already be in the works, full disclosure.
Whitney: Don't tease me Emily! I cannot wait!
Hattie: I'd rent a cinema and have a regular film night screening. I sometimes host movie nights at my house but space is limited so I have to put a limit on the amount of people that can come. A whole queerinema to ourselves would be awesome.
Emily: YUS!
Whitney: Oh dang! That cinema idea!
Claire: You all are so amazing, holy moley.
Catherine: I've really wanted to have a cool camping experience. I'd want us all go up north to Pittsburg, New Hampshire (which borders Canada) and camp out or rent a cabin for a week! There'd be crafts and food everywhere. And a lot of music and dancing and the like. Endless fun to be had!
Emily: Yeah!
Claire: YOU CAN DO THAT!
Whitney: Absolutely, 100%!
Claire: Eight Cincy Straddlers have rented a cabin for a weekend in April! We're so excited. Hot tub! And camping definitely requires a bit more organization and planning, but we'd love to do that too.
Whitney: That is going to be so fun! What a great way to bring in spring!
Catherine: Hot tub – my mind hadn't even wandered there yet. I imagine I'm more of a "glamping" person in real life so I probably just need to get over myself and try to make it happen.
Hattie: The camping thing is such a good idea! It wasn't hosted by me, but I attended this awesome (very low-key) queer camp situation near London last summer and we had such a good time. Just sat in a field with a fire.
Catherine: Hattie, that sounds awesome! Even just suggesting a beach bonfire would be cool.
Claire: Whitney's told me enough about TC Camp to make me very jealous.
Whitney: It's a buttload of work but WORTH IT.
Claire: This is all so stellar. My dream of the last year or so — this goes a bit beyond meetups — would be to have the funds to make a really dynamic, spacious and resource-rich LGBT center in my city. With hella Autostraddle programming, of course.
Hattie: Ooooooooooooh!
Whitney: Yussssssss.
Claire: But obviously, that would include bake-offs, movies, and Harry Potter, so we are all on the same page here.
Catherine: Whoa. Props! Much needed! And fundraising as a group for the community, yes. Yes!
Claire: But as far as meet-ups go, I'm very excited: I believe the Columbus, Cleveland, and Cincinnati groups are going to have an all-Ohio meet-up sometime this summer.
Whitney: That's so rad!
Hattie: There is definitely something magical about when it's all happening at the same time – like you feel connected with the wider world.
Catherine: Definitely! Our group is rather small, so connecting with the Boston group would be super beneficial. They seem super active and established!
Claire: Awesome. You all are so rad. I think we're down to one last question: What advice would you give to someone planning a meet-up?
Whitney: Communicate! With the group to gain interest, in the event page to keep interest there, on the day of as a reminder, and afterwards to thank everyone for coming. I may be an over-communicator sometimes, but I've also gotten a lot of good feedback about how easy it was to attend a meet-up based on everything I had explained beforehand.
Hattie: DON'T BE SCARED. Or at least don't let the fear stop you from trying? Whatever you wanna plan slash host — I guarantee there will usually be more than one person who also wants to do that thing and will be excited to do it with you.
Emily: If it's your first meet-up, pick something you are genuinely interested in! You'll feel more comfortable, and even if there are hiccups, you will still be having fun! You will also infect people with your fun and joy. You will also make and strengthen friendships in bonding over a shared interest.
Catherine: Hmm, as a first-timer, I really leaned on utilizing all Autostraddle had to offer. They posted recipes and playlists and activities related to the event, and it was all so super helpful! Don't be afraid to ask for help — I suggested that everyone bring a dish to contribute. Most importantly, relax and have fun meeting awesome people!
Hattie: Also – if a big group of people say yes online, anticipate a drop out rate of a third of them. Also, an activity is a really good icebreaker. Some of the best meet-ups I've hosted or been to have been around a task like screen printing or pumpkin carving or board games. It can be a little more daunting — but not impossible! — to create conversations out of only coffee.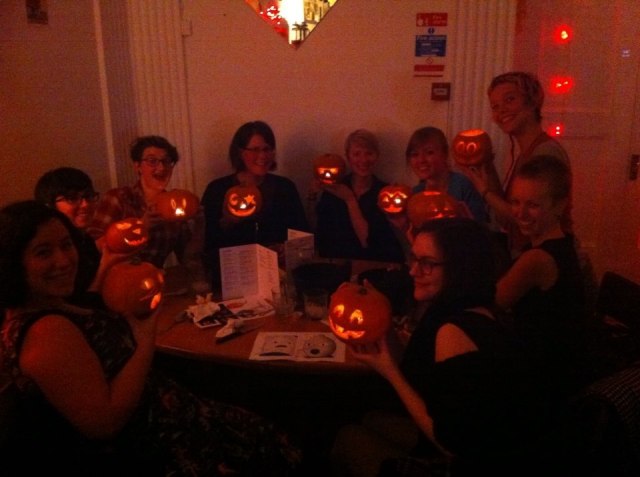 Catherine: I agree!
Claire: Oh yeah, totally. Excellent suggestion Hattie.
Whitney: So good. I've even done ice-breakers before, with the option to not participate if it's nerve racking, and that has gone over fairly well.
Emily: We all seem to agree that even globally, 'straddlers are super welcoming, rad, awesome people that will be a joy to hangout with and meet!
Catherine: Truth!
Whitney: For sure!
Claire: Couldn't have put it better myself. And you all are included in that — you're so rad. Thanks so much for joining us for this conversation.
Emily: Thank you!I feel really energized and inspired by this!
Hattie: Yay! Go team!
Whitney: THANK YOU! For agreeing to chat and adding such good ideas and insight.
Catherine: Thank you both! This has been super inspiring. I think it's time for another meetup. Can't wait to forward some of these suggestions and ideas to the group!
---
Are you a meet-up host or the person in charge of your local meet-up group? Would you like to be? Then come join the 'Straddler Nation ASS group!