1. Begin, as all couples do, with optimism.
How long do you think it will take? It will take years longer.
You have not even begun to plunge the depths of simultaneous strength and despair that lie ahead. I'm not sure if it would have been better to start with more pessimism, but the thing is — it's actually, factually impossible to start with the correct amount of negativity because the house is going to challenge everything you ever believed about just how wrong something can go.
But sure, buy a house! The mortgage might be cheaper than rent would have been, but you will pay the difference in BLOOD.
2. Accept that Home Depot* is now your PRIMARY RESIDENCE and get really friendly with any local re-use locations.
You could go to Lowe's. They do have that paint color you want, and it's not available at Home Depot, but the thing is that when you get there, the cashier with the Hell's Angels tattoos is going to stare you both down as you wander the aisles, and then leave the only open register when you try to checkout, forcing a very annoyed colleague to come check you out instead. (This is because you are queer, FYI.)
For whatever reason, the local Home Depot employs a lot of older women who are puzzled by you two undertaking projects, but they're not overtly threatening, similar to the neighbor who stops by once in a while when you're working outside to exclaim, hands on his hips while his kids run around him, "No man!"
You will not be able to avoid spending money with a company that donated to the Trump campaign. There is no winning when you need drywall. They have a chokehold on building supplies. We should probably think about that.
It helps if you put on your dirty work clothes before going to Home Depot, also — a hot tip from me to you. Also, unofficially, you can bring your dog with you into Home Depot and this will make everyone be nice to you because who doesn't love dogs? (And they also often have a secret stash of dog treats and will ask if they can give your dog a treat.)*
*This may just be about the dynamic between our local Pittsburgh Lowe's and local Home Depot…YMMV.
3. Try to scream or yell in surprise at only appropriate times. If you are working on something and you drop something off a ladder and no one is hurt…should you yell in frustration? ONLY IF YOU WANT YOUR PARTNER TO THINK YOU HAVE FALLEN OFF THE LADDER AND IMPALED YOUR LEG ON A PIECE OF LATH.
Discuss this many times. Never manage to get ahold of it. Hurt yourself for real at some point, curl up into a ball on the floor and say nothing about it, even, just for good, contradictory measure.
Then, stub your toe, graze yourself with a nail, or just drop something while on a ladder in an annoying but not life-threatening way. Of course NOW you are going to scream your lungs out.
4. Okay, there is at least one ghost, now. You are going to need to reconcile with being haunted. Depending on your existing beliefs, this may range from run-of-the-mill to existential crisis. The creepy shapes painted on the walls won't help your unease.
Why.
Is.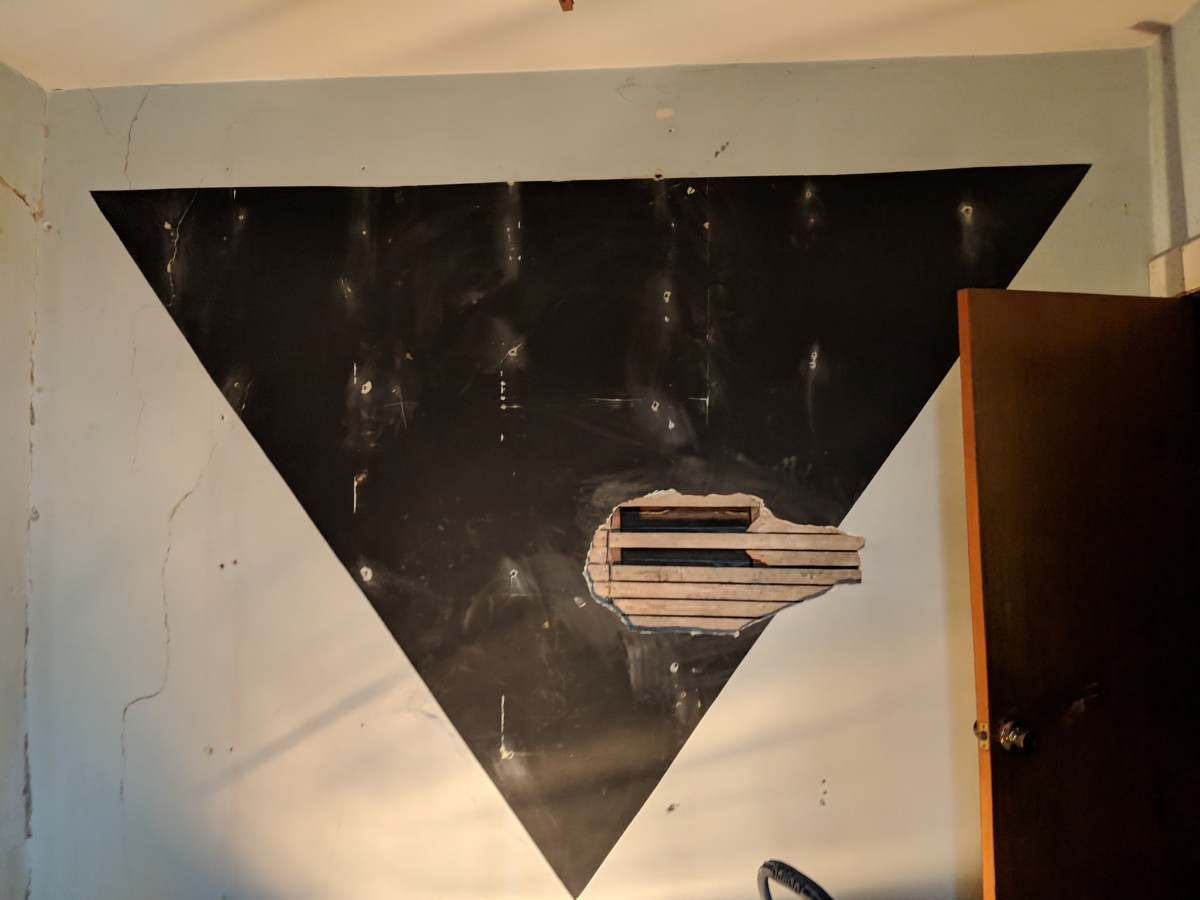 It.
Like.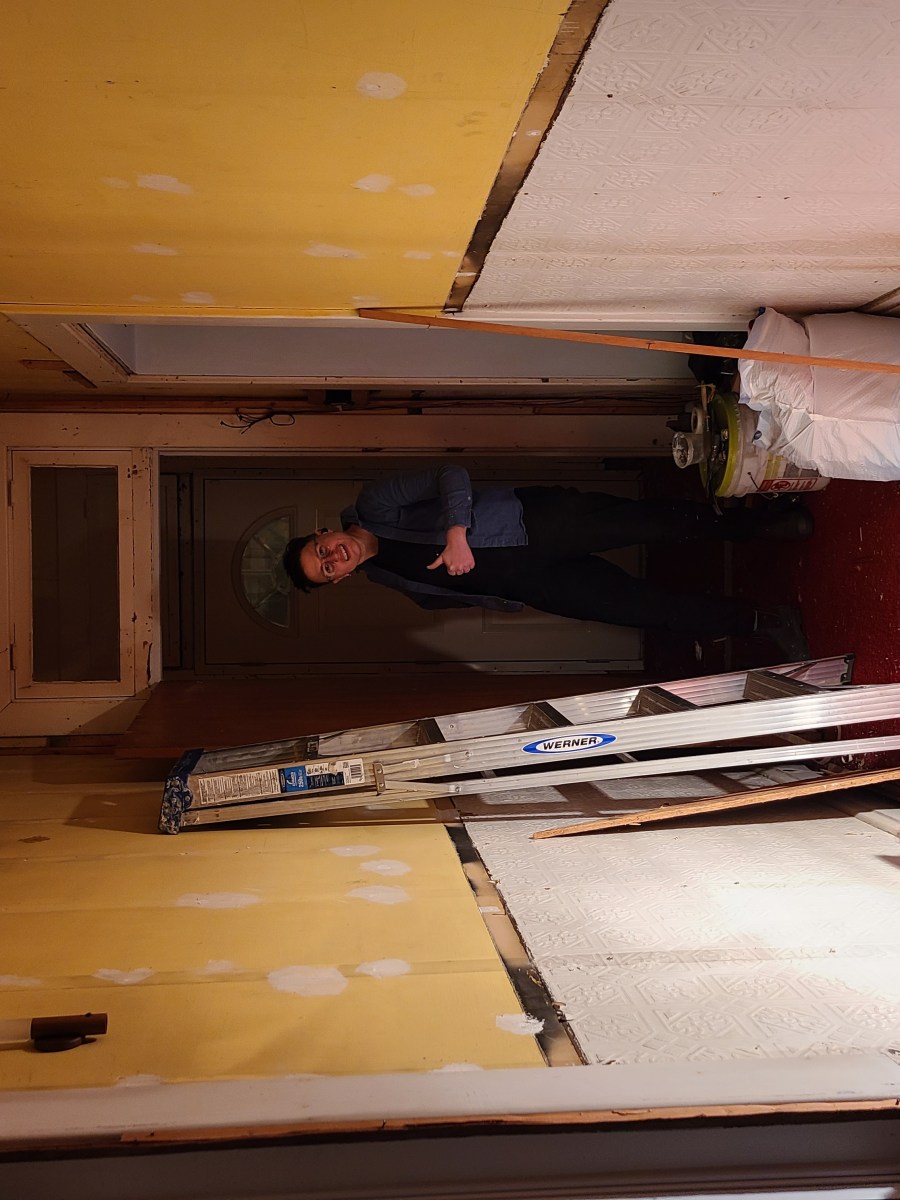 This.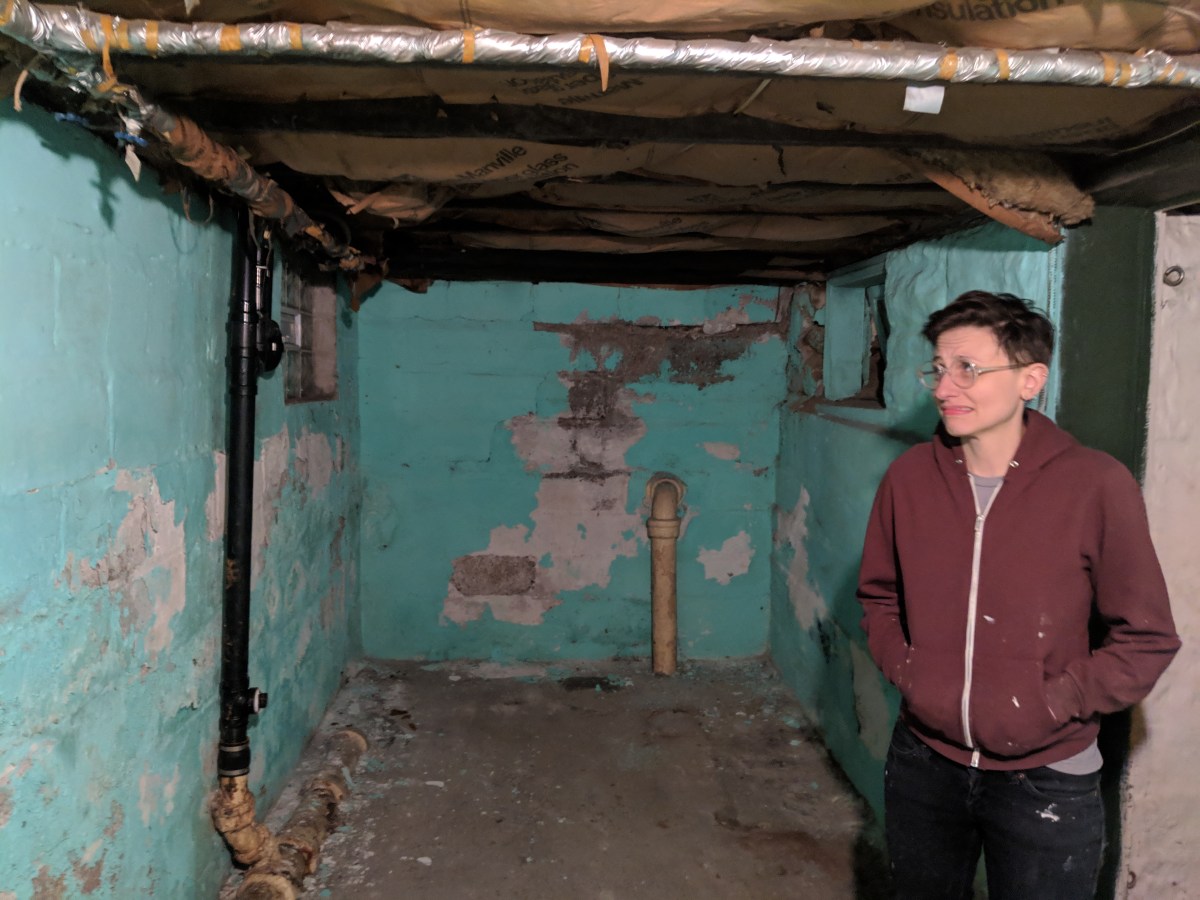 5. But what you will be most haunted by is the fact that they decided to wallpaper the bathroom.
6. Have an ice cold beverage waiting for you upon completion of a She-Hulk-Level task.
There will be so many devastatingly onerous items on your to-do list ahead.
It helps to pretend like you will be able to partake of a reward…two hours from now…okay…six hours from now. Okay, listen, if you don't finish it's not like this is a job you can leave at the end of the day you will have to stare at the unfinished project for weeks because you only have THIS SUNDAY and then you are booked for like fourteen days so just GET IT DONE.
7. Sometimes you are going to have to undertake a project during which it will be inevitable that you will scream at each other. My advice is to just kind of pretend it didn't happen.
The only thing you can do is prepare for this and engage in after-care. You both might have to hold a heavy object above your heads while standing on ladders for an extended period of time. This could be a ceiling fan. You might have to haul a 200lb insulation machine from the sidewalk up 27 concrete stairs to your back patio, certain that if you let go of it, you will die. You will scream, you will cry, you will fight about how to survive whatever you've gotten yourself into today. This is your fate.
8. Never give up hope…that you'll find secret money!
Things we've found include: a fireplace hidden behind wood panelling that gave me major House of Leaves vibes at first. We couldn't see the fireplace. It looked like there was a closet. I kept walking from the hallway into the bedroom and back, measuring with my arms. The measurements didn't make sense. We started tearing.
Other things we've found in no particular order include bonus closets, the tops of windows, a popcorn maker, a box of matchbooks collected over decades, an entire drawer of odds and ends and tools, a knife engraved with "Old Timer," a bowling ball, a cigarette beneath a floorboard (as well as a removable floor board), a 1965 poster of the Pittsburgh Steelers, a refrigeration well in the basement, and a card table I currently use to pack A+ perks on.
We prize each of our finds, and though the attic was ALSO seriously lacking in cash, we're still holding a candle for a coin collection or something.
9. Take pictures and videos of each other during silly moments because, eventually, this is what you will remember most.
Look at those cute butch lesbian legs!
I have no excuse except delirium.
Are you ever just…tired?
Choices have been made in this house.
The theme is "tired."
10. Get away.
Camp, visit friends, get the fuck away from the devil on your back that is your home reno project. Your relationship will thank you. I swear the only time I am ever actually relaxed is in the woods. (Except for that one time I left the tent at night to pee and a bear growled at me. That was stressful.)
11. Have at least one room that is a sanctuary as soon as you can.
We did not do this and wound up living in "The Creepy Room" for two years, including the start of the pandemic.
12. Remember that you're a team but also that your girlfriend is very special because she is doing most of the work while you work tons and tons of hours for Autostraddle. Hug her even when she's covered in dust. DO IT.
Especially if your butch girlfriend has experience working in home reno and the repair of Victorian homes and horeshair plaster…she will be taking the lead here.
13. If you can't fix it right now, make it fun.
I just gave up on our bathroom so hard I bought a clown print, framed it and hung it up because we lean into vibes around here okay? We do not look away. That's just where we're at, energy-wise, time-wise, money-wise, penny-wise.