If there's someone in your life who has a cat, there's a great chance that any gift you give them will also become a gift for their cat. Since becoming a cat parent three years ago, nothing is just mine anymore. I no longer have solo ownership of anything; instead, three soft fat blobs who don't pay any bills have laid claim to anything of mine that they want. It's a great situation we've got worked out.
When shopping for gifts for your cat-loving friends, it's best to keep that idea in mind and buy things that not only are for the cat-lover but are also for the cat. Some of my favorite gifts have been cat-themed and also actual gifts for my cat. I once received a gift at a secret Santa party and before I even opened it, I knew it was catnip and I was immediately excited. Fill their hearts with joy, and their cats' hearts with delight.
---
Cat Toys
This is an entire stocking full of cat toys! It'll be lost within two weeks, max. Every single one of these small toys will end up under the covers, under the bed, under the fridge, or under the stove. But for two weeks, your friend will be able to throw one of these across the room when she wants to distract the cat long enough to pee.
These sort of small, throwaway toys are the best, especially for busy, guilty pet parents. They're easily replenishable and cats really will lose their shit over them. You can also get themed packs that are just crinkly toys, or toys with feathers, or even a pack that's just those weird fuzzy mice toys (I hate those toys).
---
Catnip
Catnip! It's the greatest herb in the world. You can make tea out of it, or even put it in your bath, and it gets your cats high! There are so many ways you can buy catnip. If you get your pal a packet of seeds, it's a super easy herb to grow and she can add some kitty-safe greenery to her home. You can also get already dried catnip. For the holidays, be a little fancy and get your pal some organic, small-batch catnip, maybe? Luxury all around!
There's also an abundance of catnip themed accessories and decor. Ecobota on Etsy sells really beautiful prints of catnip plants, if your cat-loving friend is also artsy as hell and needs some art to adorn their wall. Carry around a piece of your cats' heart close to your heart by either wearing this pendant literally filled with catnip or this one that lets the world know you're your cats' favorite trap queen. There's also some catnip preserved in resin and a catnip molecule necklace if you need even more options.
But one of the best ways to give a catnip gift is a catnip filled felt toy. These are hilarious and whimsical and every time I find a new one, I can't help but buy them! There's nothing quite like watching my fat feline son roll around losing his mind over a pop tart that's filled with catnip. You can also get a few loaves of bread, some sardines, or a taco to give your cats a nice dinner. Follow it up with a fortune cookie to remind them of how special they are. It's all so cute! And filled with herbs!!
---
Yes Cats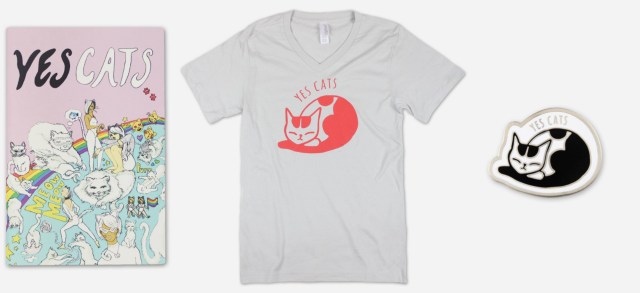 Get these gifts for your friend to be a good wing person. Science says those who love cats want to smooch up on other people who like cats, and with the gift of a zine, a tee-shirt, or an attractive enamel pin, you can help your friends (or yourself) become immediate babe magnets. Also, people in the know will see these gifts and connect them to Autostraddle dot com the website, immediately sparking a conversation.
---
Laser Pointer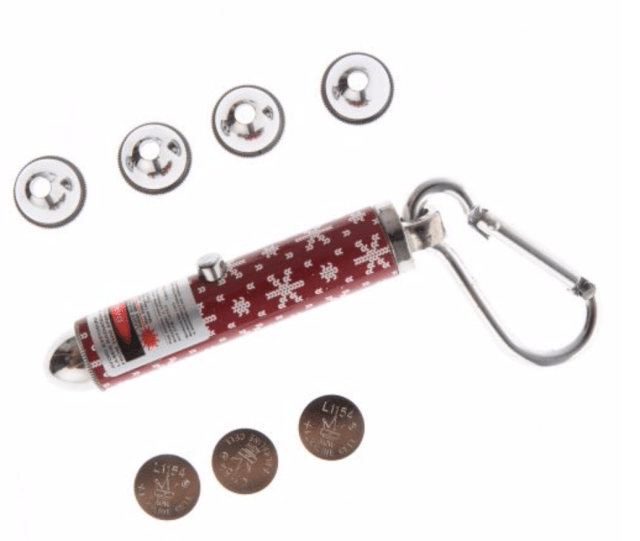 It's a key ring, it's a toy, and it's and always needed gift because those damn batteries always die. Every cat owner could use another laser pointer and they're the perfect gift because there's literally no such thing as having too many. The laser pointer really is one of the easiest and most fulfilling gifts ever because it's multifunctional and almost every (indoor) cat will completely go bananas over the site of that red dot. Some pointers even have replaceable tips, so picky cats can chase also chase around a star, a heart, and other exciting shapes. While you're stocking up on stocking stuffers, you might as well also get some batteries.
---
Bring Your Cat to Work
Maybe your friend really misses their cats while they're out all day and want a way to think about them and remember them. You can do your part and help to make their office as cat themed as business casually possible. First things first, get them this desk plaque to make sure that they get as many opportunities as possible to talk about their cats in public. It's one of a cat person's favorite pastimes. These casual cats will help her to keep track of the date throughout 2017. Grad student offices have mini fridges because writing alone in the dark is sad and snacks make it better. I assume everyone's office has a fridge for the same reason, so these sweet magnets will remind them to keep pushing through for the kitties when times get hard. A hamburger and cat cosmic themed mug can be their constant companion (and maybe if it's that kind of office, this flask can be too).
---
Cats: The Musical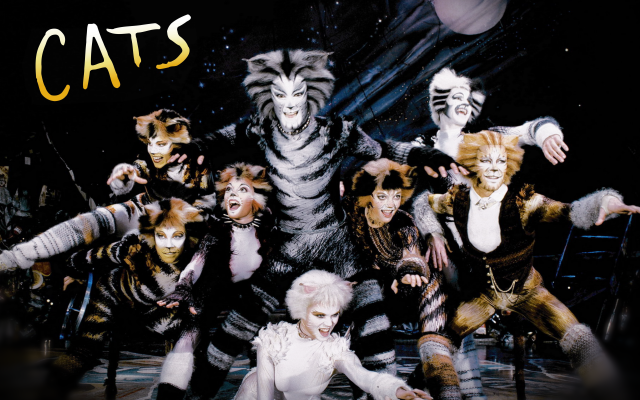 Sometimes, your cat-loving friend is also your Andrew Lloyd Webber-loving friend and there's a gift that was made for them. Now's the perfect time to remind them of all of the memories you all have together and get nostalgic with the creepiest musical you've ever seen performed at a public high school. If you're rolling in dough, you could also just buy them tickets to see it on Broadway. I'm not really sure if that's a good gift or what; but trust your heart. Also maybe get them the cast recording so they can play it loudly on their road trip to NYC; Cats makes for great driving company, unlike the actual animals. I'd suggest this more as a gag gift more than something serious, but you know your friends better than me. Maybe this is exactly what they want.