One of the funny things about writing queer TV reviews is that they should be accessible to super fans who've seen every episode, and also people who don't watch the show but are curious about the LGBTQs. That first thing's no problem, usually, because I am also a classic super fan. But the second thing can be trickier, especially for a show like High School Musical: The Musical: The Series, which is somehow even more complicated than the name implies! But I'll try!
Disney+'s HSM TV series is set in a fictionalized version of our own world, where the actual High School Musical movies are just that: movies. Like, there's no Troy and Gabriella in the TV show. Zac Effron and Vanessa Hudgens are the real people and Troy and Gabriella are the characters they play. It's just that the students on the HSM series go to the high school where the movies were filmed, so the theater kids have a special attachment to them, especially because their drama teacher, Ms. Jenn, was an extra in the movies. In this, the final season, the drama kids of East High ("it's practically a national landmark") are planning a stage production of High School Musical 3 ("a complicated 2008 period piece"), while a (fictional) reunion movie, High School Musical 4, is filming at their school. Does that make any sense? To you, I mean? I've seen the whole season, so it makes perfect sense to me. Mostly.
The major difference between the HSM TV show and the HSM movies is that the series is absolutely bursting with actual queer characters, not just queer-coded characters. Last season, when the East High kids went to drama camp in the woods to preform Frozen: The Musical, we got even more gays. There was Maddox, Camp Counselor and Tech Crew Chief. There was her girlfriend, JoJo "Madison" Siwa, who showed up to the camp dance in a sparkly rainbow tux that made her look like a holographic Pokemon card (a compliment). And then there was our longtime thespian pal Ashlyn, played by Tony Award nominee / friend of Milky White Julia Lester, who realized she's bisexual when she developed a crush on Maddox. Her boyfriend, Big Red, realized he was bi at the same time — which kept Ashlyn from coming out, because she didn't want to steal his Big Bi Thunder.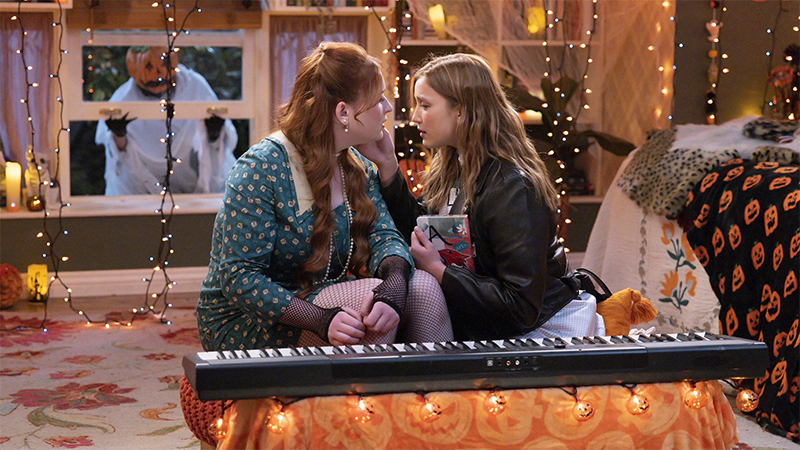 This season kicks off with Big Red and Ashyln still together, but Ashylyn and Maddox cannot stop texting every second of every day, all the tiny details and major moments of their lives. It becomes pretty clear to her pals that Ashylyn's got a major crush. In true HSM fashion, Maddox arrives with her brother, Jet, as a surprise, to work as a PA on the set of High School Musical 4, which is just East High. It's obvious their chemistry is still sizzling, even though Ashlyn tries to play it cool. Of course, Ashlyn is a teenage thespian, so that means shouting "I'LL GIVE HER MOUTH-TO-MOUTH — AS A FRIEND!" when Maddox does a gag like she got electrocuted during a Halloween party. The flirting gives way to a duet about crushing and first loves, which is the first sapphic duet I think we've ever had in this franchise. It's so lovely. Big Red and Ashlyn have the most amicable break-up in history, when he reveals that he cheated on her while she was at camp.
And it all leads to a rom-com-worthy finale where Ashlyn finally confesses to Maddox, "I have feelings for you! I have every feeling for you!" And then the music goes berserk as they kiss and kiss!
Maybe it's because I, too, am a complicated 2008 period piece, but I'm just never going to grow tired of sweet queer love stories aimed at younger audiences. I know some people want me to critique them like they're experimental erotic queer French cinema or whatever, but I'm never going to do that because that's not the world I live in. I live in the world where a third of the country still supports Donald Trump, including many people in my own family, and where queer and trans kids are under attack by everyone from the church to the state. An endgame queer women couple in the series finale of one of the most iconic Disney properties of all time? That's a big dang deal and I'm not ashamed to admit that I cried watching it. For grown-up me in this often cruel world, and the closeted lesbian little girl who still lives inside my heart; and for all the kids who need these triumphant stories more than ever. Bet on it.