9feature image via shutterstock
Calling all Homoganjas! Let's talk about anything and everything marijuana related, from legalization to pop culture to how to make your own bong using a box of Diva cups and a broken lamp.
Whether you're a newbie who doesn't know a blunt from a joint, or you're planning your gay dream wedding to Mary Jane, this column is for you. Puff, Puff, Pass.
---
Homoganjas, I'm back! Did you miss me? I missed you so much. So many things have happened since I was gone: I got engaged, I started writing for AfterEllen, I got married, AfterEllen got sucked into the Hellmouth and fired everyone, I got a great new job where literally everyone is queer, and I got an oil vape pen. Even though my last High Femme column was three years ago (we were ever so young?!) I still get messages and shoutouts from you beautiful crystallized buds of humanity. So let's spark one up, shall we?
Like all of you, I've been working my way through the Kubler-Ross stages of grief over the 2016 election. Every tweet, every think piece, and every new hideous government appointee has created oceans of sadness and rage within me. Some days it's really fucking hard just to get out of bed. A big part of my self-care has been medicating with marijuana, which I already use to handle anxiety and depression. But weed alone isn't enough (there's a sentence I never thought I'd write. Is this what growing up feels like?) It's all too easy to sink into a cloud of depression/smoke, and stew in your bad feelings and paranoia. To combat that, I've come up with a list of activities and strains paired to make your life a little bit better.
---
1. Smoke Tangie and Send Letters
This year, I've been spending a lot of time enjoying Tangie, a Sativa with a strong citrus aroma and a pleasant, uplifting high. Basically, it's the weed equivalent of the Soarin' Over California ride at Disney's California Adventure, when you fly over orange groves and get spritzed with citrus smells.
Fun Fact About Soarin': you're held in by a seat belt that goes through your legs, so when the ride tilts you forward you are literally hanging by your vagina! Fun! While you're enjoying the sweet smooth taste of Tangie, you can finally tackle all those petitions that are filling up your inbox. Set up a monthly donation to your favorite charity, like Planned Parenthood or the Southern Poverty Law Center. Write a letter to your congressperson telling them your concerns. Phone the Department of Justice until their voicemail box is full. Fill a box with used tampons and put them in Mike Pence's mailbox! Make your voice heard, and not just on social media: we now know that real letters and phone calls are the best way to reach the powers that be. Let your voice be heard.
---
2. Thin Mint Girl Scout Cookies and Kite Flying
Real talk: when was the last time you flew a kite? If you can't remember, it's been too long. There's something so simple yet satisfying about watching an inanimate piece of paper or plastic catch the wind and ascend into the sky. It is the cheapest of thrills, especially if you buy your kite at Rite-Aid for $2. Pair your kite date with the hybrid Thin Mint Girl Scout Cookies. This potent blend of Durban Poison and OG Kush offers a relaxed and euphoric high with a sweet minty flavor. Until you can smoke actual Peppermint Bark, enjoy this hybrid and let your spirit soar.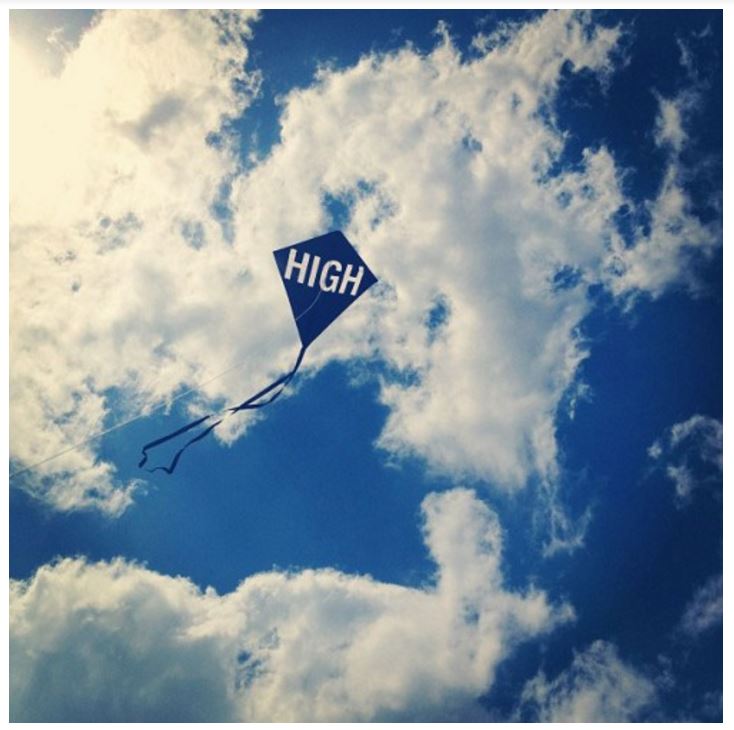 ---
3. Gorilla Glue #4 and Animal Cuddling
What did we ever do to deserve animals? Not a goddamn thing, but they love us anyway. In these trying times, there's nothing better than curling up with your very own fuzzy buddy: animals don't care who we love, and couldn't give less of a shit which bathroom we use (except for my mom's Maltese, who will stick her tiny arms under the bathroom door and demand unwavering eye contact while you pee). More importantly, having a pet makes you responsible for another living being, and care for them is not only an act of love, but also a great way to get out of your own head. So why not head on down to your local animal shelter and adopt your new BFF? Can't afford/house an animal? Volunteer with your local shelters and rescue groups. Or maybe get a goldfish if you're afraid of commitment. Baby steps. Enjoy a chill evening with your furry loved one and some Gorilla Glue #4: this hybrid, earthy strain promotes epic couch potatoing, which is perfect for long cuddle sessions with your familiar.
---
4. Blueberry Dream and Feminist Potluck Parties
As a Cancer with a history of anxiety and depression, I'm intimately familiar with self-isolating and refusing to leave the house. Believe me, if I could spend 2017 wrapped in a blanket and a supply of endless dumplings, I would. While alone time is crucial to rest and recharge, no one is an island. And if you don't like going out, bring the party to you by hosting a feminist queer potluck! Invite friends over for a literal potluck party: have everyone bring their favorite strain and share. It also helps to have everyone bring something to snack on, because munchies. Pair the evening with a craft project. Make it a standing monthly date. Smoke some Blueberry Dream to boost your creativity and happiness while you crossstitch your favorite Audre Lorde quotes. Look at you, creating a queer safe space!