Back in January, the Discovery network launched Discovery+, a streaming service for the bevy of networks under its media umbrella. The service has something for every type of gay. Are you a chef-y gay? Discovery+ offers you all your favorite shows from Food Network and the Cooking Channel. A true crime gay? You've got Investigation Discovery's entire library at your fingertips. An adventurous gay? Visit every corner of the world from the comforts of your couch with the Travel Channel or or Discovery. Are you a gay who's unsure of where they stand on the question of "is love a lie?" Shows like 90 Day Fiance and Say Yes to the Dress will help you figure out where your allegiances lie.
For me, though, I'm a home improvement gay, determined to watch enough HGTV to one day level up to the DIY gay status. Thus far my love for HGTV just leaves me with a lot of ideas but lacking the capacity to bring any of them to fruition. I can talk a good game, though!
While I love watching HGTV, the network is definitely lacking when it comes to diversity. Its talent is disproportionately white and its out queer talent is disproportionately male. As far as I can tell, the only lady gay to ever host a show on HGTV is Ellen DeGeneres. Those same skewed demographics are reflected in the participants in their shows too. Some of that is the nature of home ownership which is almost inherently discriminatory — only about half of LGBT adults own their homes, compared to 70.1% of non-LGBT adults — but there's a casting issue too: in a 2017 analysis of House Hunters episodes by the USC Annenberg Norman Lear Center, just 68 of 1,565 episodes featured gay or lesbian real estate seekers. Of those, only nine featured lesbian couples.
But HGTV is trying to do better…so if you're looking for something to mindless to binge, and want to see some queer ladies while doing it, here's a quick list of 11 of HGTV's best (and queerest) episodes.
---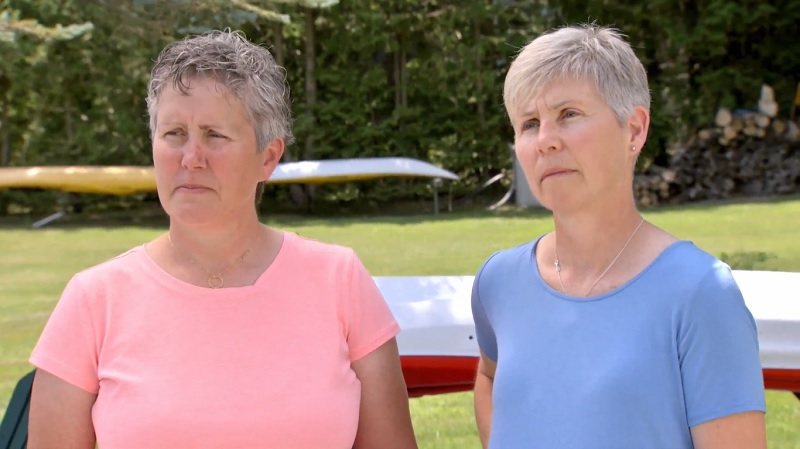 Jackie and Teresa have recently purchased a lakefront cottage in hopes of eventually retiring there. In the interim, though, they want to use their new property to generate income… and they call in Scott McGillivray to help them maximize the cottage's rental potential. Scott seizes upon Jackie and Teresa's ultra-competitiveness and turns their cottage into a family retreat, perfect for gamers.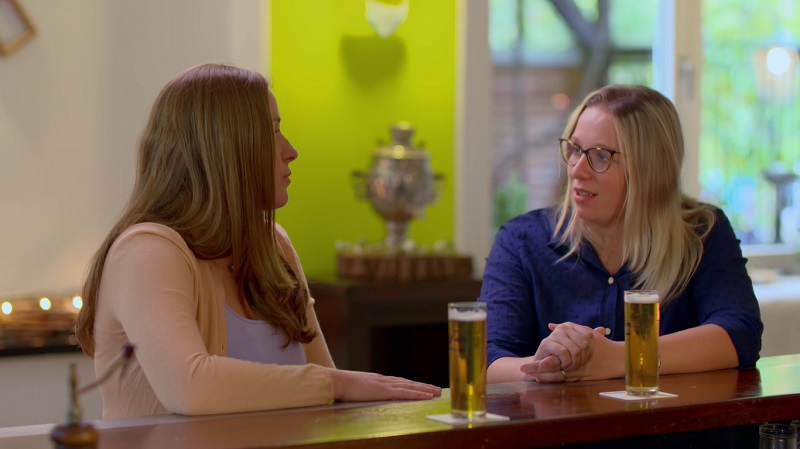 Watching HHI is a trade-off: there's a high probability you'll stumble on an episode where some obnoxious American moves overseas and can't fathom why they can't have all the conveniences of home. That is annoying. But, there's also the opportunity to play the my favorite House Hunters game: "will this couple survive this move?" Conversations about a rental between one person who wants to be close to work and the other, who begrudgingly gave everything up to move across an ocean, are always especially tense…and it's not hard to imagine relationships hinging on their outcome.
That said, I think Lydia and Melissa Hartung are safe. Lydia's new job marks a return to her home country of Germany, only this time its with a new wife and two dogs in tow.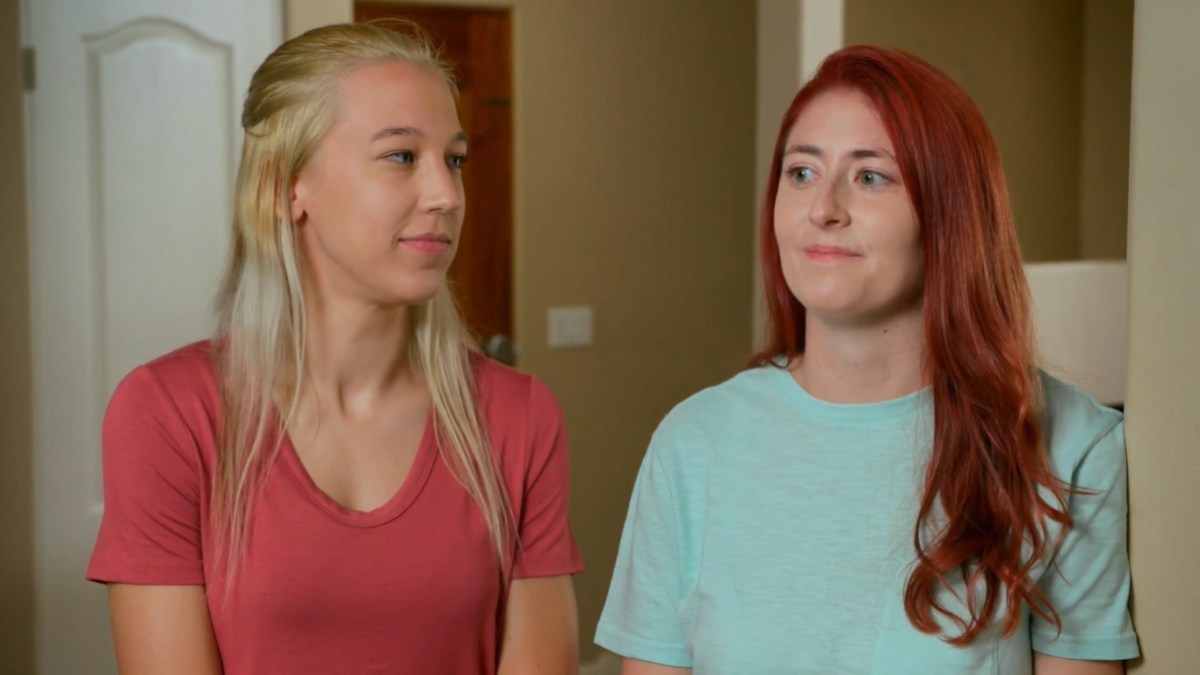 House Hunters episodes themselves are a bit more difficult to watch on the Discovery+ app. Instead of letting you select individual episodes, the app has a channel devoted exclusively to running HH episodes on a perpetual loop. Perfect if you're looking for background noise to soundtrack your work days, less helpful if you're on the search for lady gays. But if you're fortunate, you might happen upon this episode featuring Sophie and Jeannie, a young married couple who are looking to purchase their first condo. The former collegiate rugby players disagree on almost everything: Spanish or contemporary, move-in-ready or fixer upper, city or suburbs and starter or long-term home.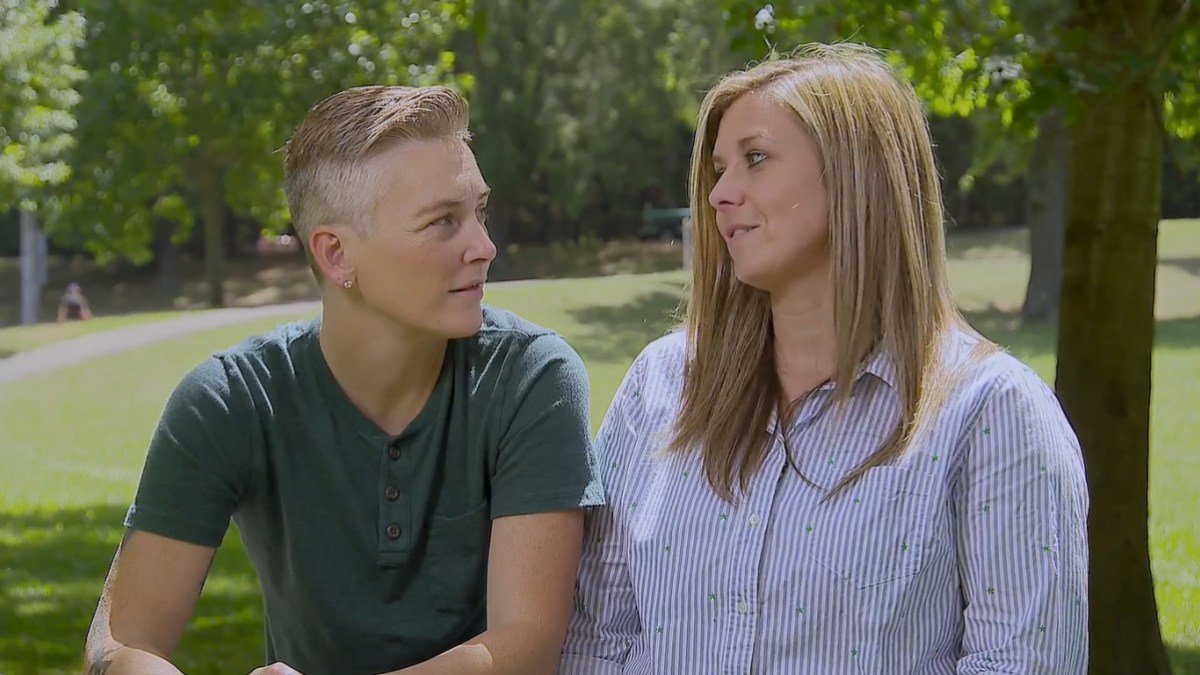 Heather and her wife, Kristyn, are looking for a new home in the Knoxville suburbs. Heather's a real life Maya Bishop/Hen Wilson: a firefighter in Maryville who's looking to stay close to work, lest she have to repeat her training in a new county. Kristyn, though, is tired of the long commute to the kids' school in Knoxville and is looking for something to shorten their morning routine.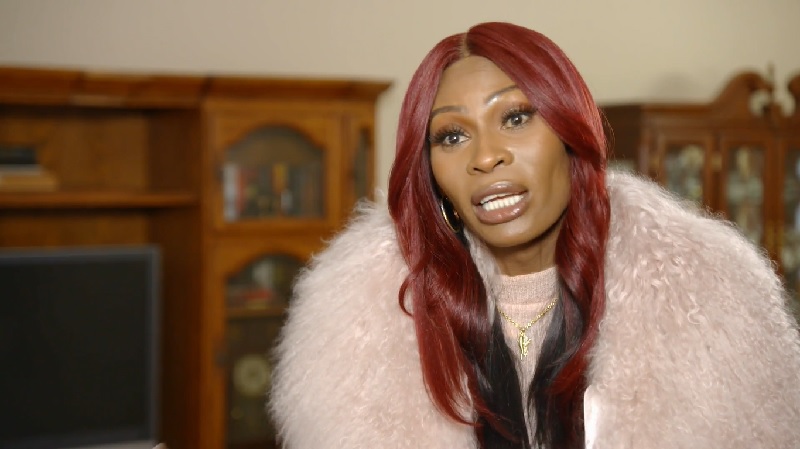 What better way to kick of Pride 2021 than with the debut of a House Hunters episode featuring Dominique Jackson, one of the stars behind the acclaimed series Pose. Elektra Abundance Evangelista's portrayer is on the hunt for a two-story colonial with a pool with an easy commute to New York City. Her fiancé, Edwin, is after a different style of life, though: he wants a farmhouse with some acreage.
I love this episode so, so much. Both Edwin and Dominique have known homelessness so the significance of this purchase isn't lost on them. As the episode closes, Dominique says, "As a black trans woman, this is something that is absolutely amazing — home ownership is something that my community is not really accustomed to — this shows my sisters that we can own houses, we can be whatever we desire to be."
Keri and Laekin are a newly engaged couple who first met in high school and reach out to Home Town's Ben and Erin Napier to find their first house together. They're both just 21 so I spend the entire episode marvelling (or worrying?) that they're getting married and buying a house so young. Thankfully, they've got a reasonable wish list: a master bathroom with a separate shower and tub and a book nook for them to read and study. And, much to my surprise, beneath Keri and Laekin's genial exterior are two savage negotiators who get the Craftsman cottage under list price.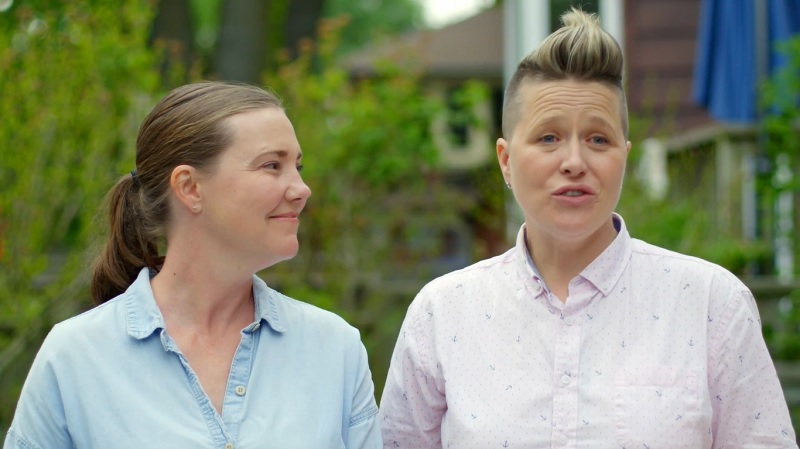 When Drew and Jonathan pull up to Kate and Amy's vintage Toronto home, Amy and her son Edgar are sporting matching walking boots: him, after having broken his leg on a trampoline, and her, after breaking her ankle while carrying Edgar down the stairs. But even with the walking boot, when it comes time for demolition, Amy is gung-ho, ready to turn their main floor into an efficient space to host friends and family. See, this is the kind of lesbian energy that HGTV needs more of.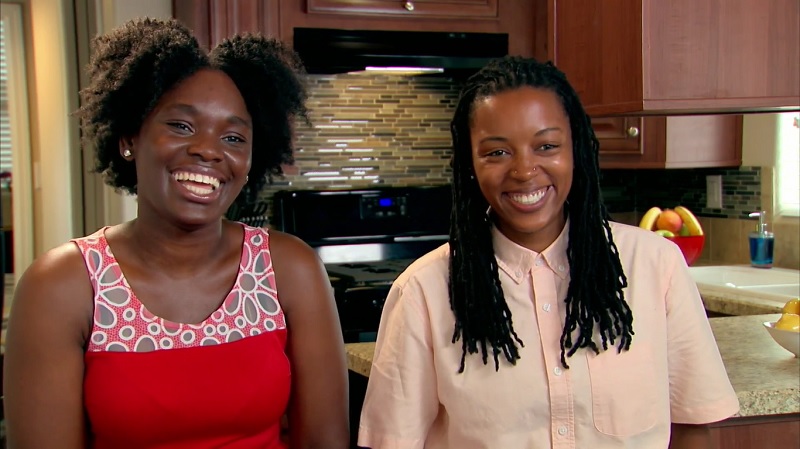 As much as I lament HGTV's lack of diversity, the one place I didn't expect black people or lesbians to show up is on Tiny House Hunters. Like Roxane Gay, "I thought this fixation was primarily a 'white people thing,'" until this particular episode which features an adorable black lesbian couple. Joy is fresh off her service in the Air Force and is moving to California to start school, while her new wife, LaToya, is transitioning into a new career as a blogger. With hopes of achieving financial freedom, the newlyweds look at three tiny houses, each less than 400 square feet.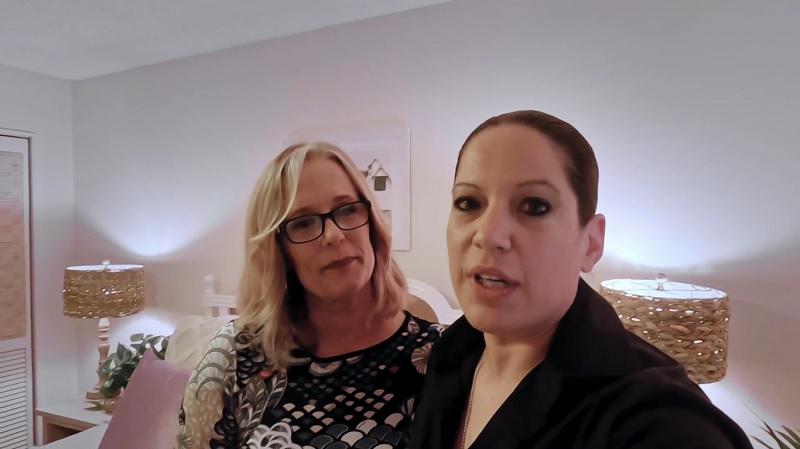 Design at Your Door was one of HGTV's first swings at producing new content during the pandemic. The premise is simple: couples seeking to improve some part of their home gets a virtual consultation from an HGTV designer. The catch? After being sent all the materials they need, the couple is responsible for bringing the designer's vision to fruition. It literally forces home improvement gays to become DIY gays… or at least it does in this episode. Gina and Denise do a great job bring the ideas of designer Tiffany Brooks to fruition, creating a beautiful guest space for their mom.
I am, admittedly, partial to Love It or List It because in 2014, the show lefts its roots in Canada and began taping episodes in my home state of North Carolina. Now, when I watch, I get to see cutaways to familiar landmarks and, in a few instances, even some familiar faces. Now, finally, an episode with some North Carolina gays! I was thrilled.
Jody's a talented contractor who's done an incredible job renovating the main floor of their Durham home but her wife, Emilee, is (understandably) tired of living in the middle of a renovation. Emilee wants to move to a new space — with ample space to grow their family and host her mother — and Jody wants to see the project that she started through to the end.
It was love at first sight Jamelle and Lauren when saw their 2400 square foot home but after a few years of dealing with a lack of closet space, falling pieces of ceiling and no space to write without distraction, Lauren's ready to look elsewhere. Finding a new space for their couple and their daughter is no easy feat, though: Jamelle's got an exhaustive list of wants, including — oddly — a stove facing the dining area.
Beachfront Bargain Hunt Renovation combines two of my favorite things in one show: the beach and a bargain. Couples and families search for a fixer-upper and use the balance of their home-buying budget to bring their dreams to life. In this episode, Stephanie and Virginia are looking for vacation home on Galveston Island (TX) where they can relax and entertain family and friends. Renovations are tough on any couple but, for Stephanie and Virginia, the process brings them closer together and by the end of the episode, they announce their engagement!