Friendship is truly one of the most important things in life. Your friends are there for you when no one else is with a sympathetic ear and an open heart. That's probably why so many television shows are focused on friendship. In my humble opinion, some of the best friendships on television are on shows that feature Black female friendships. If you go back and watch Living Single, it's STILL a pretty perfect show.
When Harlem premiered in 2021, it joined the pantheon of Black women friendships on television. No matter what happens in their personal lives, the four friends at the heart of the show — Camille, Tye, Angie, and Quinn — always have each other's backs. Their friendship is what drives the show forward, and it's what keeps it grounded. Season two is no different; in fact, the theme of friendship is ramped up as each woman discovers that when you need them, your girls will ALWAYS be there for you.
Harlem season two started airing this weekend on Prime Video. I had the immense pleasure of talking to Jerrie Johnson (Tye) and Meagan Good (Camille) ahead of the season premiere. They are both incredibly talented and freaking GORGEOUS with the kindest hearts. See what they had to say about the power of Black female friendship, Black joy, and making the queer best friend a part of the everyday television landscape.
This interview was lightly edited and condensed for clarity.
---
Sa'iyda: I got to watch the season early and it was awesome, so congrats on an amazing season two. My first question is for Meagan. Why do you think it's important to portray women's friendships on television, more specifically, Black women's friendships on television? Because that was such a big part of the season.
Meagan Good: For a lot of reasons. One, I feel like it's such a gift. It really is one of the best things that God has given us on the planet, and I think that when Tracy talked about originally taking this show out, she had created this show before Girls Trip and she took it around town and everyone was like, "Yeah, but is Black women friendships really a thing that people are going to want to watch?" And she's like, "Yeah, but what about Girlfriends and Living Single and blah, blah, blah?" And it wasn't until Girls Trip made 150 million that they were like, okay, what's that show you had again? I think that it's really important that we celebrate each other, we celebrate each other's wins, that we're able to cover each other, pray for each other, not be jealous of each other, be there at our darkest moments to lift each other up, all the things that friendship is.
But I think what's unique to Black women is what we experience in the world as Black women, whether it's something that we're dealing with in the show where you're not getting the same medical care… There's a young woman who just passed away who was like, I want to say she was like 27, and it was her second baby. She kept saying that something's wrong, something's wrong. They're like, you're fine, you're fine. You're strong. She passed away. So looking at the things that happen specifically in our experience, not to say that they couldn't happen to someone else, but just at the same rate that young Black men are dying on the street from police brutality, there are things that are specific and unique to our experiences in life.
Celebrating our strength, celebrating our moments where it's okay to be weak and lean on each other, celebrating all the things that are very specific and unique to us, I think, is important not just to us, but for other people to see as well because I think it strengthens us all and it lets us know how truly capable we are and how amazing we are and how much endurance we have, but it also gives us the permission to not have to work that hard. We should be also covering each other, not just Black women, but all women.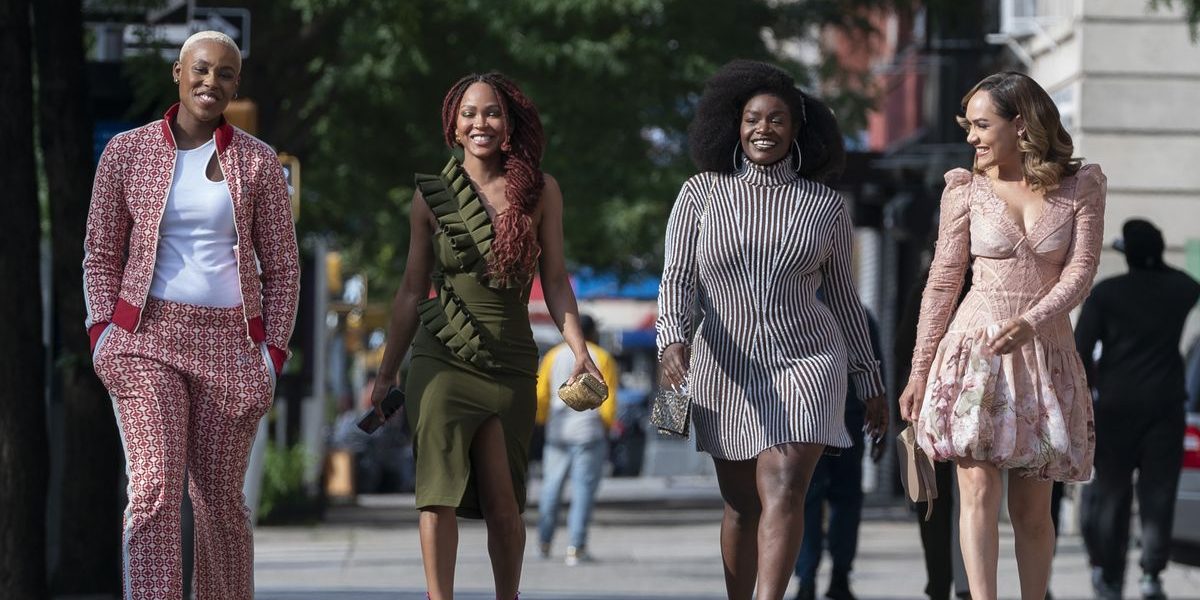 Sa'iyda: Yeah, for sure. And Jerrie, one of the things that I love so much about this show is that the queer best friend is a part of the friend group and not just the designated best friend, because I feel like that's a truth that we've seen so many times.
Jerrie Johnson: Yes.
Sa'iyda: And there's always the sassy black friend and the sassy queer friend. But in this show, Tye is just one of the girls. How does it feel to get to play not only the best friend, but one of the main four characters?
Jerrie: I feel like I give main character energy, so there's no way that I was going to be anything else. I mean, they would've had to rewrite the script, and I'm being quite honest about that. So I feel like, I don't know, it's like when you're in a house, that's your house. You're not excited to be in the house because it's just your house. That's where you live. I mean, there can be excitement around it, but that's just where you live. So I just feel like it's the natural way that things are supposed to be. I'm just happy that I get to be in this seat for such a pivotal moment in TV history.
Meagan: And I'd like to add to that, too. I think at the end of the day, these women are very specific and they're very fully formed human beings. The same way that you get to see Camille explore her love life, or Quinn explore her love life, or Angie explore her love life, I don't think it's about the love life and who you're dating. I think it's about the individual and what their experience is in dating and what are they struggling with. What is their trauma? What is their day to day? What are they doing at work? What's their situation with this or that? I think it's about exploring the characters, and that's a part of it. [When] you are a part of the friend group, you my girlfriend, you my homegirl. Who you date has nothing to do with it and so I love that.
Sa'iyda: This is one of the first shows where the best friend is… in the main core characters of Insecure, there was no queer character. There was no queer character on Living Single.
Sorry, my cat has decided she wants to say hi.
Meagan: Hi, baby.
Sa'iyda: So Harlem is really kind of the first, if not one of the first where it doesn't matter, but it matters.
Jerrie: And I think there is a layer of… It's a microaggression of homophobia that can happen when you have a queer person, for me as a queer woman, entering into groups of straight friends where people are skeptical of like, "Oh, do you like me because you like women and I'm a woman." Right? The fact that that's not a thing, that nobody's skeptical of "whether or not you are attracted to me because you are into women." Which is a horrible assumption that people make, which is why then when you see either the queer person is in the back of the storyline, or it has to be that the queer people are together because queer people and straight people don't mingle in real life. And it's like, what? That is silly.
But that's why I think it is, as you said, such a pivotal moment because it's just like, oh yeah, we're together and nobody has an air of skepticism around anybody else. It just is what it is.
I think there was such a taste and a hunger for the show because it was the first time. I mean, that's one of the reasons I was like, oh my God, the queer best friend is 1, 2, 3, 4, not 5. Her love life is just, her very messy love life, is—
Jerrie: Don't talk trash about Tye. Thank you.
Sa'iyda: But it's allowed to be messy in a way that usually on a different show, whether it's white, Black or anything else. Camille's love life would be allowed to be messy, but Tye would have to be perfect.
Jerrie: Right.
Sa'iyda: We get to have the queer character that has the messiest love life of the bunch, which makes for more fun, in my opinion! And the character doesn't fall into those tropes of just being there for the comic relief moment.
I've noticed that as a group, you all have become very close, and there's something palpable about the joy that you all bring to the characters. A season so focused on joy, how did that feel? Especially when we live in such a precarious time of television, when we don't know if there's going to be a next season just because of the way things are going. Would you feel settled if this was it?
Meagan: If this was it? No, I wouldn't feel settled. I would feel settled that we made something that we're all really, really proud of and we played characters that we've really wanted to play, and we've brought things into questions across the board that haven't been discussed traditionally and have been glazed over or made caricatures or just touched on the tip, but not really gone down the path.
Jerrie: Just the tip. (laughs)
Meagan: I think that, just the tip, but I think in that sense, I would feel settled and proud, but I wouldn't feel settled in the sense of, I think we have a lot more to do and I think we found a unique way of addressing and going into these spaces with disarming people and making them say like, oh yeah, we should be talking about this. I think we found a really unique way to have a lot of fun and to have a lot of heart and to have impactful conversations that create safe spaces for other women to feel seen and heard, and they should be.
Jerrie: I feel like I wouldn't feel settled if this is a last season. I think the questions that you're asking about Tye being such an amazing character in this time of television, I think what I love about the character is that we didn't start off with, life was so hard and now she's gay because everything was just horrible. You get to know her first, which is something that we don't usually do with characters like this, if ever. So I think that it would be important for people to now dig into what is that life that Tye was running away from in Georgia?
And so I would feel like Tye was left hanging, if this was the last season. I would feel like for just the conversation as a whole… it's like, yeah, we knocked on the door and we're like, oh my God, hey, this character is here, but we didn't get the house tour.
I want us to have the house tour.