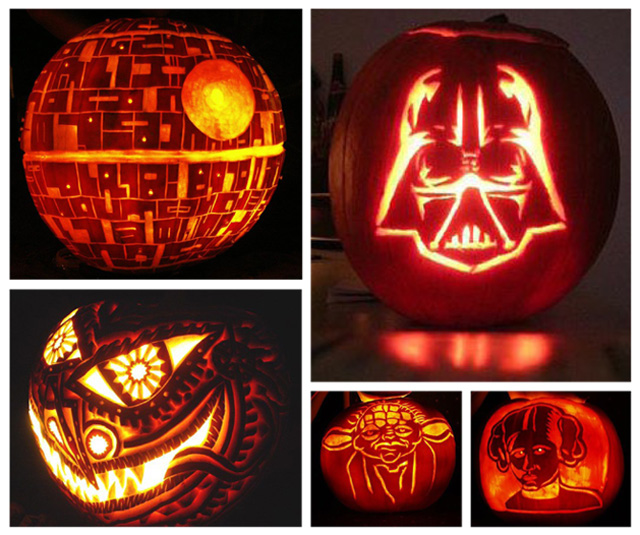 Are you a Halloween Person? Do you wait with more excitement and glee for the Halloween episodes of your favorite show than the Christmas ones or even the finales? Do you still to this day think back fondly on the Zombie Bride from Mean Girls? Are your costumes so elaborate that they have to pass building code? Well then, maybe you are the sort who enjoys carving pumpkins.
This is for you, Pumpkin Carving Enthusiast: in our tradition of last-minute ideas whose belatedness is made up for by awesomeness, we're going to have a pumpkin carving contest! Get out your carving knives and your paper patterns that you try to tape to the pumpkin when you're like six but it never really works because pumpkins are round and paper is flat. Your assignment: carve an awesome pumpkin, and send it to us so we can see how awesome it is, and judge it against other pumpkins. Between now and Oct. 30, send 1-2 photos of your superfly pumpkins in .jpeg format to rachel [at] autostraddle [dot] com, and you'll be entered into the running for a prize consisting largely of internet fame and recognition but maybe also You Do You stickers and a heartfelt handwritten note of pumpkin appreciation.
Your pumpkin does not have to be homosexually inclined, although I feel like I should point out that a google image search for "Rachel Maddow pumpkin" yields only one (kind of mediocre) result, which seems like a real shame. Your pumpkin does have to be fantastic. If you know already that you are not pumpkin-carving-inclined, step up and be a pumpkin carving ally and suggest some ideas in the comments!
feature image via http://a-u-t-u-m-n-love.tumblr.com/