Sometimes I think about how, when I was in elementary school, my class only ever went on field trips to the state capital and the zoo and one time to this dairy where they show you how they make ice cream, and not ever to a hospital that has known pretty much every plague of the lord god himself, and I feel so very, very sad. But this week on Grey's Anatomy, someone had the bright idea to unleash a half-dozen ankle-biters on Grey-Sloan Memorial, forgetting a that it's regularly set upon by bombs and shooters and great hungry lions who feast on the flesh of humans. Stellar planning, Board of Education. Absolutely top notch.
If there's anything good to be said about this plan, it's that Webber has been assigned to usher the munchkins through their tour. He was the chief for about a million years, and these guys are just like really small interns.
(Anyone else really scared a spaceship is going to crash into the hospital and take out the whole pack? No? Just me? Okay, cool.)
First, Webber takes the kids to Amelia, who talks about operating on squishy squashy brains. She thinks it's super cool, so they think it's super cool, which is basically rule #2 of talking to kids. They can smell bullshit (and fear, for that matter) from 50 miles away. So if you're going to deal with them, you've got to be real. Amelia is awesome at it. So is Derek, who walks up and interrupts the conversation to point out that he too is a surgeon of the squishy squashes, and that he works for his sister, Amelia. She gives him the wary look I'm always wearing when he appears on-screen.
(If you're wondering, rule #2 of talking to kids is if you're going to teach them to swear, teach them to do it correctly. )
Anyway, yep. Derek is back and Meredith feels so blessed that her husband has un-abandoned her and her invisible children to live in Seattle and behave like a grown up for once in his fucking life. I'm not sure if she's really thought this through, or if she's just adrift on a sea of sexually satisfaction—I'm guessing the latter, okay, I know that face—but even Maggie, who didn't know Meredith in her darkest and twistiest, tells her she's creeping everyone out and to knock it off.
In the Elevator of All Things, Stephanie is hitting up Tinder, looking for someone to marrt. Speaking of which, do we know where she lives? In Ellis Grey's House of Horrors? I should probably check on that. Jo thinks Stephanie ought to go for any old dude, but Stephanie is not willing to bang a bro who still thinks it's cool to wear his letterman jacket when he's 32. She is, however, willing to bang to bro who has deemed Grey-Sloan Memorial an appropriate place to lose a herd of fourth graders. Not only does this guy have the sense God gave a turnip, but he's seventeen literal years old. Oh, Stephanie, honey. No. Unfortunately she doesn't find this out until she spends the whole day flirting with him. I feel bad for her, but we get to see her being flirty and giggly all day, so it's not a complete loss.
April and Jackson are back at work. Jackson, my darling little Gretchen Wieners, is bombing with the kids. Not like a literal bomb, what do you think this is, season two? No, he's working his ass off trying to make fetch happen. The kids knock him back in true Regina fashion. April is back in the ER, explaining to the kids what a trauma is when a police car pulls up and a whole heap of bleeding folks are carried in. Three police officers are injured, along with a fifteen year-old shooter. Weber, Maggie, Hunt, and Callie work on the first officer, Pete, who has two gunshots in his chest. The other, Bret, is in the next room with April, Meredith, and Jo, with bullets in his neck and stomach.
Callie notices that the third officer, Pete's partner Dan, is bleeding pretty profusely from his leg. He's not keen on getting treatment so long as his partner is bleeding out all over the place, but Callie uses her Power Voice and tells him to sit his ass down so she can sort him out. His leg is GROSS. He's got muscle torn all to hell and exposed bone. Callie is mad impressed that he carried his partner in on that leg. Is that what you have to do to get that girl's attention? Not entirely sure it's worth it, to be honest.
So because of all the blood and bones and people screaming in the ER (an event absolutely anyone with two brain cells to rub together could have predicted) Stephanie has relocated the field trip to the nursery where Alex and Arizona (HI ARIZONA HI HI!) play Rock Paper Scissors for who operated on the cutest baby. The kids HATE Arizona. I'm not buying it. She's the tiny human whisperer! Come on! Also, she calls the babies Pop-Tarts. Have you ever heard anything more dear in your whole life? No you haven't.
Ready for some bad news? Pete and Bret, the wounded officers, are brothers. Ha ha ha GREAT. Their mom arrives at the hospital, where Owen has to tell her that both of her sons have been shot.
One thing that Grey's has always done really well is juxtaposition the absurd, the things that are so beyond most people's everyday lives (inoperable brain tumor, bomb in body cavity) with the heart of the human condition. However outlandish the stories, the people are real, and their struggles are the same as ours. That fear when your loved one is hurt, the abject misery at the loss of a relationship, the heart-fluttering magic of a first kiss, we all know those. So while I've never walked in this woman's shoes, I don't really have to. I've lived her fears; they're the same as mine.
Derek has imprinted on the scent of trauma, and he comes hauling ass down to find out what's going on. Amelia didn't page him, okay, and tells him maybe he could skedaddle back to the kiddie table and clip an aneurism like a good boy. Shockingly, Derek agrees. Amelia isn't sure that he's ready to take a step back and not be Derek Shepherd, but Derek has decided to lean into the warm embrace of Not Being An Ass Every Second of Every Day.
Pete arrests on the table. It takes fourteen minutes to get him back, and by the time they do, he's brain dead. Amelia tells Webber and Maggie to prepare the family.
Bret is stable—for the moment. He's in surgery with April and Meredith. It seems for a while like he's going to be okay. Callie tells Officer Dan that he's got minor internal injuries, and that they're working on the trachea repair. Then, out of nowhere, Bret strokes out on the table. Their mother has lost two sons in one day. I want to say that I can't imagine, but the thing is, I can. And that's the power in this writing. We can all imagine.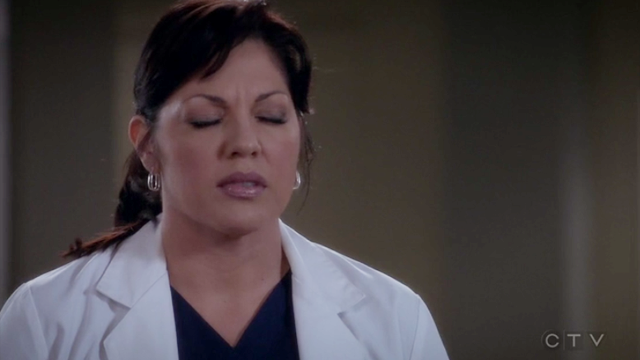 Bailey and Ben are stuck with the unenviable task of saving the shooter. He's fifteen and his liver was destroyed in the shooting. Amelia gives exactly no fucks, which, knowing what happened to her dad, isn't surprising. Everyone else would also be more than happy to let him die on the table but Bailey isn't having it. She's the first with a heart-strings story when she needs something from someone, but she's also quick to remind everyone that they treat patients, not stories. Her patient needs a liver, and she's going to get him one.
UNOS doesn't have anything, nor do any of the local hospitals. Bailey rocks up to Meredith and asks her to ask this mom, who just lost two sons, if she'd direct the donation of one of their livers to her patient. You know, the guy who killed them. Go big or go home, I guess. Meredith is understandably outraged and refuses, but Bailey never met a "no" she didn't want to turn into a "maybe", so she crashes in to the room and asks the mom herself. The mom takes her "no" and turns it into a "go to hell."
Officer Dan doesn't need surgery, but he does need a splint and to ride a desk for a month or two. Given the events of the day, he's not at all upset about it. He keeps asking Callie about Jarrett, the shooter kid, and I thought it was because he was waiting to hear that Jarrett had died, but it turns out that he and Bret had been trying to help this kid get his life straightened out. Dan tells Meredith that Bret would call this his Moment. Sink or swim. Fight or flight. Dan wants to help him. He says Bret would want to help him too.
Meredith pages Bailey, and they take Dan in to talk to Bret's mom. She agrees to the transplant.
Okay, right. So. Callie. As she's wheeling Officer Dan out to his car, he tells her that if today weren't today, he'd want to take her out. Callie is speechless, and tells him she needs to see him back in ten days for a follow up. "Ten days," Dan says. "Sounds like a plan. See you in ten days."
So I have a lot of feelings about this. Officer Dan seems like a nice guy, he really does. And he's distraught and he's lost so much, and Callie is right there with her face, looking like she does and being as strong and compassionate and as wonderful as she always is. I'm not surprised that he asks her out, and I'm not surprised that she says yes. She's already dated at least one person (looking at you, Steak Knives) and I feel like through that, the writers were trying to reassure us that Callie is still very much into women, even though she and Arizona aren't together anymore (…for now).
So often, bisexuality is treated like something stuck to the bottom of society's shoe. Straight people think we're playthings. Gay people are scared of us. And TV makes it worse. Almost unequivocally worse. For every Bo on Lost Girl or Kalinda on The Good Wife, we've got dozens of trite bisexual characters who trip over every awful cliche in the Big Book of Queer Storytelling.
There's the fauxmosexal sweeps weeks bisexual who gets a female love interest for a five-minute ratings stunt, and never mentions it again. (The O.C., Heroes, Bones, Melrose Place, 90210.) There's the depraved bisexual, like, say, Mandy the terrorist on 24, that handful of literal galaxy-destroying cylons and nuns on BSG and Caprica, all those stalkers and vampires from Smallville who were after Lana, The Morrigan on Lost Girl.. And, of course, the ubiquitous bisexual character who just can't keep it in her pants no matter how committed to her partner she claims to be. Barbara Kean on Gotham, Tina Kennard and DaddyOf2 or whatever his name was on The L Word, Rose on Jane the Virgin. Bisexual women on TV are threesome gateways and sex maniacs and psychos.
Callie has never been any of those tired storylines, and she has been openly bi for a long, long time.
The thing that makes it really hard with Callie is that she was part of one of the most stable and beloved queer couples in the history of broadcast TV. So there's the sting of ripping off the Band-Aid and seeing her move on with other people. And then there's an additional sting because under the Band-Aid is decades-old trope burn. Pretty much every bi woman in TV history has relationships with men and dalliances with women. Everybody knows bi women date men. That's a given. Arizona was not a dalliance, obviously, and Callie has already hooked up with Steak Knives, so we know she's still interested in the ladies, but knowing that in your head and feeling it in your bruised, often mistreated TV-loving heart are two different things.
It's getting better for bi women on TV. We've got Kalinda and Bo, like I mentioned above, even though they're only with us through the rest of this TV season. We lost Brittany S. Pierce this year, too, and she ended up being a great ambassador for the bi community. There's Brenna on Chasing Life right now, and she's fantastic, truly. Max and Anne and Eleanor on Black Sails. Oh, Amy on Faking It. A handful of well-rounded bi characters on TV at the same time is more than anyone ever expected, even just ten years ago.
Callie has always been bi, and I don't think it's fair to erase that part of her identity. I am still really, really sad about Callie and Arizona, and I'm still hoping for Calzona endgame. The possibility of actual bi representation on network TV does give me a thrill, but seeing Callie accepting a date with a man cracks open a lot of wounds, and I get that too.
I'm going to eat a pie and hope Callie continues to shine as a beacon of authentic and fair bi representation on TV. You want half my pie? We can throw it at Derek. That'll make everyone feel better.