This is the second recap of the gay parts of the eleventh season of Grey's Anatomy, aka Shonda Rhimes Night: Act One.
---
We should do one of two things. Either, we play a drinking game where for every full minute we have to wait for Callie and Arizona to appear on screen for the first time, we take shots of watered down Moscato, the pink kind, on ice in one of those goblet wine glasses you can get at Home Goods – cuz that's for sure what Callie drinks when she gets home at night and is still furious at Arizona for something – or we pretend that everyone on screen is gay and come up with gay storylines for them. Then we can act them out with our friends or for our cats in our living rooms. Actually, that's the official Grey's Anatomy Gay Parts drinking game. Who's down to give it a go next week?
Arizona came to us in under five minutes. All the pre-Arizona time was dedicated to giving Dr. New Grey Pierce a storyline based on her fascination with puzzles. I can't decide how I feel about this whole Meredith-has-another-sister business. It feels lazy? I know that sometimes family pops up out of nowhere but how many times have you had estranged/unknown sisters who are both doctors just creep up on you? Meredith needs her own Maury Povich episode where everyone who is a half-sister, uncle-brother, great cousin twice removed gets to come on the show and take DNA tests.
Also, take the Quick Fire Challenge. See how many nicknames you can come up with for Dr. Margaret Pierce. She doesn't remember names in this episode because she's way too busy 'bringing the thunder'. Nicknames always help. All of mine will be used in this recap.
Anyway, back to Zona-time. At this point in the episode, Dr. See You At The Crosswords Pierce is working with Rita and Eric Choudhry who are having a baby that is going to be born with heart problems. Enter Arizona who is looking fine as hell this morning. Her skin is glowing. Hair is on point. She doesn't even look high. But she could be, because during this consult she's smiling, sleepy-eyed and doesn't say a word. Exit Arizona.
Dr. 32-Down-is-Cornpone-Pierce is given bad news about the Choudhry's baby and runs to find Arizona, you know after having a kiki with Dr. Webber who is also her secret Dad. She bursts in on our two favorite fighters, The Dueling Dykes, as they argue behind closed doors over their life issues while eternally at work.
Callie opens the scene asking, "The Fellowship wants an answer tonight?" Oh shit, you already know Arizona got stuck on stupid and hasn't brought this up to Callie until this exact moment. It's kinda like when you were a kid and you knew you had a project due for about a month and then didn't do shit and then Sunday night before the project was actually due, you'd go running to your mom having a full on panic attack and a case of IBS while crying and beg her to make/bake/do the thing you were supposed to do. That's Arizona, except she's a pro at lesbian arguments.
Arizona responds, "I'm surprised that you're surprised by this." Ohhhhhhhhhh. That's code for 'babe, y u trippin'? Which is double code for 'I wish you'd relax. You shouldn't be surprised. Why aren't you on board with me?' And this is the Arizona we know and love, the one who's wrapped up in herself, in the cozy glow of good weed, having a hot wife, and being a doctor, that she doesn't see how anyone could not be on her wavelength.
Real quick: Keeping the majority of Calzona's conversation within this room while shooting from outside the room, annoyed me. Like if you're gonna have drama, bring me the drama! Put it on my lap and slap me in the face with it.
But Arizona's not the only process-and-project professional because Callie shoots back that all of this is 'out of the blue' which is a lie because they were talking about this last week with Dr. Dottie Hinson, cougar extraordinaire. Callie's pushed it out of her mind the way partners in a relationship do when they think a situation's been resolved but it hasn't. Like yeah, that fellowship thing came up but at the end of last week's episode we were all like 'baby!' and so I don't even have to worry 'bout that shit.
Arizona uses the argument that she needs something new and that's why the fellowship interests her. Something new. That's why homegirl is always sleeping with someone else, too, right? Arizona is always on the creep for some new booty. Always. And Callie wants this baby. Babies are new. All the time. Whenever you have a baby, it's new. So like, I don't get how this is an argument for Arizona. I really think she just wants to bang Dr. Dottie Hinson while singing Batter up. Here that call. The time has come for one and all..
Callie calls bullshit. She knows that with this fellowship and her research, they won't have time to care for a new baby. This is where telenovela, "I Will Always Have the Last Word" Callie comes out. Cue the dramatic music. Cue the bomb being dropped on Arizona for saying she hasn't made up her mind yet.
Callie: Oh, see I thought you had, I thought we were having a kid.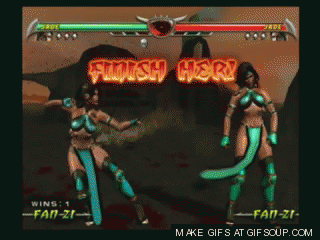 Literally another 30-35 minutes passes before Calzona is re-delivered to us again. In this time, I tried to find other things that were gay-ish about this episode. There wasn't much. In fact, the gayest thing that happened was this Google commercial about koalas.
Which brings us back to the end, you've probably drank a lot of Moscato if you're still playing the Gray's Anatomy Gay Parts Drinking Game. I hope you're ok. Arizona saved the Choudhry's baby from dying. She's also wearing a pink hospital gown thing and is so damn cute. Who could still be mad at her? Who among you??
And here, at the end, we get a glimpse of the Callie and Arizona we used to know. In this tender moment, once again supervised by Dr. The-Thunder-Has-Been-Broughtn-Pierce, Callie talks to Arizona like she's her wife, like they are madly in love. She talks to Arizona in that way that would make anyone swoon super hard.
Callie, not verbatim: Baby, take that fellowship and shine like the glorious sun that you are and were destined to be. May the love of what you do be a gift to our entire family. Your happiness will strengthen us. I adore you forever and a day.
Callie tells Arizona to take the fellowship and she means it and it's beautiful. It gives us all just a little bit of hope. At least for a second, cuz if you know your Shonda TV, that hope doesn't last very long. But for this episode, we can all breathe a little sigh of relief that Calzona is still a thing. Arizona didn't bang anybody new on the sneak. Callie didn't have a major freak out. This didn't end in an epic Erica Kane slap fight. It ended with the second base of the TV Chaste Gay Kiss, the Non-Christian Full Frontal Breast to Breast Hug.
Til next week! Grey's Anatomy Recaps, only the gay parts plz.
Do you have any nicknames for Meredith's new new sister, Dr. Margaret Pierce? Should Arizona take the fellowship? Do you get as much sleep as a koala? Spill all the things.