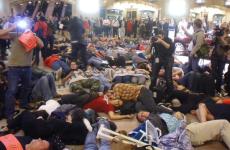 In the latest response to the Gay Teen Suicide Crisis of 2010, a group of queer activists staged a "die-in" with at least 300 people participating in Grand Central Station. Responding to a loud whistle signal, everyone participating immediately lay down on the floor of the terminal a little after 6 pm, when commuters were still hurrying home through the city's busiest public transportation hub.
A giant yellow banner reading END HOMO/TRANSPHOBIC APARTHEID IN AMERICA was unfurled as thousands of commuters tripped over activists and missed their trains. Queer victims of homo/transphobic violence or suicide were named aloud, with the entire crowd chanting their names. The police threatened everyone with arrest unless they dispersed; the activists got back up and began shouting "civil rights now." Two of the event's organizers were briefly arrested after the protest was over. (@joemygod)
+
What are your feelings? Is this effective? Most of the outreach (for instance, the It Gets Better project) has focused on reaching victimized queer people themselves; this protest is aimed at the average weekday commuter who may or may not know anything about the hardships and marginalization that queer people face.
Is this protest commendable in its demand that mainstream culture take our community's problems seriously, or does it just make people annoyed with us and our issues? Most of the conversation over on Joe My God seems to have been focused on use of the word "apartheid" so far, which is perfectly legitimate. What do you think? This is your future; you get a vote!