This is a recap of Good Trouble episode 317: "Anticipation."
What a difference one week makes. After a disappointing episode last week that felt disconnected from the character development we've witnessed over three seasons, Good Trouble returns to form this week. Whereas "Opening Statements" showcased plot-driven characters, "Anticipation" focused on character-driven plots, building upon stories that Good Trouble has been telling since its earliest episodes.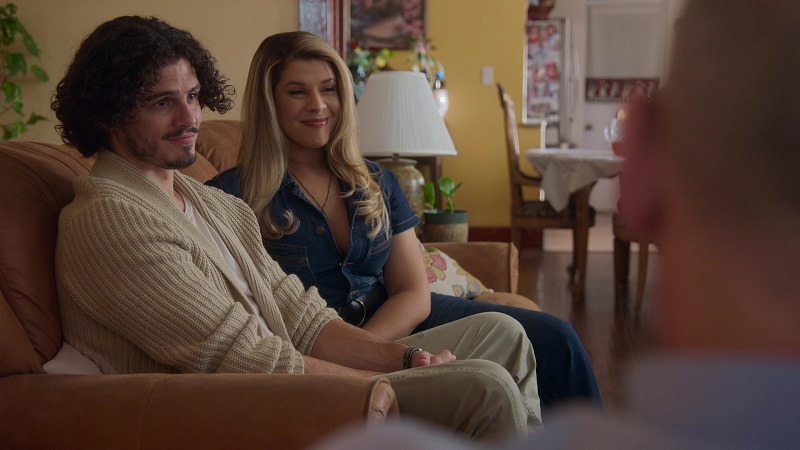 For Gael, the focus is back on his tenuous relationship with his family, a hallmark of the character's storyline since season one. With his sister Jazmin at his side, Gael returns home to tell his parents and grandfather that their family is growing: he's about to become a father. It's clear Gael's faced his parents' disapproval before — he's prepared to set boundaries and keeps Jazmin close by for support — but I am, admittedly, stung when his father's immediate reaction to finding out he's going to be a grandfather is, "I knew this bisexual thing was a phase."
I should've expected that from Gael's father. As much as I'd hoped that his father's brush with death would make Hector a better father to his trans daughter and bisexual son, he wasn't going to change overnight. But still, hearing his biphobia jump out — before he could even express excitement about his first grandchild — was jarring…honest, but jarring.
To his credit, Gael corrects his father's misperception and pivots to explaining his complicated situation with Isabella: yes, they're having a baby. No, Isabella isn't his girlfriend. And, hell no, they're not getting married. Despite pushback from his parents, Gael holds firm to his boundaries, fully willing to cut them out of the baby's life if they can't respect his choices. He lets it slip that the baby's a "she" and his mother seizes on it but he corrects her too: they will not gender their child. His father scoffs at that — another indication that his phobias aren't a thing of the past — and Jazmin notes that while it wasn't her idea, she's supportive of how Gael's choosing to raise his child. Gael's grandfather interrupts his parents' inquisition and offers his support: he can't wait to become a great-grandfather. For now, though, Gael's mother just wants to meet the baby's mother.
Gael's not immediately sold on the idea of introducing his parents to Isabella. He worries, of course, that his parents won't respect his boundaries but also that Isabella won't adhere to those boundaries either. Her parents have, effectively, abandoned her and the baby — unwilling to respond even when Isabella sends them baby's first ultrasound — and Gael recognizes that the potential for his parents to fill that void. But Isabella assures him that her job is to have his back and commits to respecting his boundaries.
Isabella joins the Martinez family for dinner and, surprisingly, it goes better than expected. Jazmin brings her boyfriend, Spencer, to dinner as well to run interference and take some of the pressure off Isabella. Their parents volley back and forth in questioning their children's partners: asking Isabella about her relationship with her parents and Spencer about his career. Isabella keeps her promise to respect Gael's boundaries with his parents but, as the night progresses, Gael wonders if that's fair since she is clearly craving that parental support. But Jazmin warns him to be careful: if Gael gives their parents an inch, they're liable to take a mile.
It doesn't take long for Gael's parents to prove Jazmin right. They wade into a conversation about Isabella's living arrangements — Gael admits that she's living alone in his loft, while he crashes with a friend — and it's clear Gael's parents want to intercede. Isabella reminds them that she'd be doing what millions of other single mothers do but they tell her that she's got them to lean on (actually, Gael's dad's exact words are "you're not single" which, I imagine would've made Callie's head explode). Gael eases his parental boundaries for Isabella so she'll have all the support she needs and the relief is palpable on Isabella's face.
No sooner does Gael open that door, though, than his mother goes charging through it: offering to host a baby shower. At that, Gael sends a clear sign for help to Jazmin across the table and she tries to keep their mother from doing too much. Then Jazmin adds to the family's excitement: she and Spencer are engaged to be married. There's a moment of stunned disbelief on Hector's face — one that, thank goodness, everyone else at the table seems too elated to notice — but then he pivots, giving Spencer his blessing to marry his daughter.
Through all this, I'm struck by how great Isabella and Gael work together as partners. I don't know if they'd behave similarly in a romantic context but the difference between Gael's relationship with Callie and his relationship with Isabella is noteworthy. She and Gael communicate well, they make concessions for the other when needed and are willing to put the other person's happiness first. She fits into this world — a world that Gael has always coveted, a world that he's longed to see restored — seamlessly and it's hard to imagine Callie fitting in as well…especially given her first meeting with Gael's mom. Unwilling to drop two bombs on his family at once, Gael neglects to mention his relationship with Callie to his parents, but when Gael's mother decides to stop by his loft with a gift for Isabella, she catches the couple mid-embrace. The secret is out!
Oh, Gael, you should've listened to Jazmin.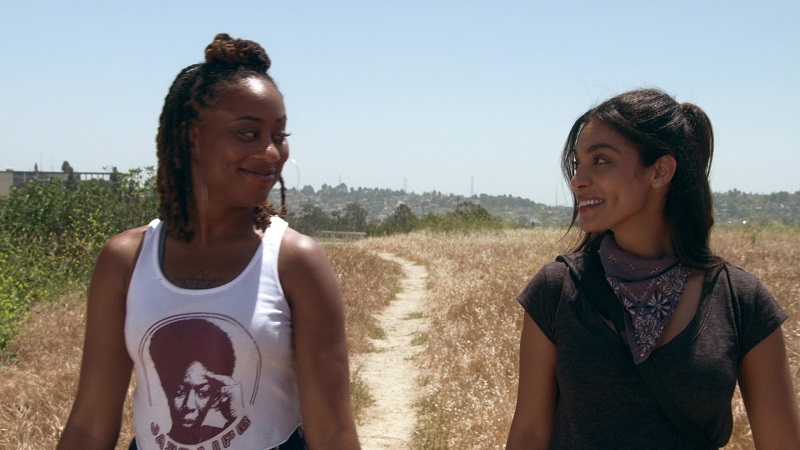 I suppose, if you asked most Good Trouble fans about Malika's arc over three seasons, they'd mention something about her social justice work. Beginning with her advocacy in the Jamal Thompson case to her work with Dignity and Power Now (DPN), activism has been part of her identity since we first met her. But when you talk about the growth and development of the character, I think Malika's arc has always been about learning to let herself be loved.
Still bearing the scars of her youth, she's learned how to love over three seasons, with her chosen family at the Coterie, in rebuilding relationships with her father and brother and, of most notably, with Isaac. He kept showing up, ensuring that the ground beneath her wouldn't shift, and finally she felt secure enough to love someone else and to let herself be loved. Then along came Dyonte…who opened up Malika's worldview to the possibility that love could extend beyond one person. And now there's Angelica, who's challenging her to think beyond mono-sexuality. I mention all that because, while there's been a lot of pushback about Malika's exploration of polyamory and, now, her sexuality, it feels like a natural progression of Malika's character. Each person contributing to a fuller understanding of what love is.
But I'm getting ahead of myself…let's talk about this week's happenings…
Malika's meeting with Dyonte's primary partner, Tanya, before her work shift starts to discuss her campaign at DPN. Angelica interrupts, delivering two freshly made empanadas — that Malika never asked for, mind you — to the pair as they do their work. Malika introduces Angelica to Tanya and Angelica disappears as quickly as she came. As soon as she's out of earshot, Malika asks Tanya if she gets a "queer vibe" from Angelica.
Tanya: Do you get a queer vibe?
Malika: I don't know. I mean, she asked me to go on a hike, but I just kind of wonder if it's a date.
Tanya: What if it was? Would you be open to that?
Malika: I mean, I've never dated a woman, but I guess I wouldn't be closed to it if the chemistry was there.
Tanya: Is it?
(Camera pans to Angelica, glancing back at Malika and flashing a bright flirtatious smile.)
Malika: I don't know, maybe.
There is no maybe about it, though: these girls have electric chemistry between them (though, in fairness, it might also be the case that Zuri Adele would have chemistry with a potted plant). Though Malika tries to play it coy, the fact that she wears Chucks instead of hiking boots to her outing with Angelica suggests that she's in the "fashion over function" stage of impressing your crush.
On the hike, Angelica invites Malika to unplug and enjoy the beautiful scenery around them. Malika begrudgingly agrees and puts away her phone for the rest of the outing. Soon thereafter, talk turns personal: Malika learns that Angelica's not seeing anyone and Angelica learns that Malika's in a poly relationship with Dyonte. Malika realizes that she's said too much but Angelica wants to know everything. She tells Malika that she finds her intriguing and Malika assures Angelica that the feeling is definitely mutual. How this couple didn't spark a wildfire from all the sparks between them, I don't know.
They finally settle on a rock, overlooking the city, and Malika thanks Angelica for inviting her on a hike. It looks, for a second, like they're about to share their first kiss but nerves get the better of her and she invites Angelica back to the Coterie instead. But waiting for them when they return are Yvonne's three children: their mother's been arrested again and they had no where else to go. The kids throw a wretch in Angelica and Malika's plans and their date ends abruptly.
The queering of Malika Williams will have to wait for another day.
---
Coterie Sundries
+ My heart broke for Davia this week as she experienced a relapse of her eating disorder. It was a really great performance by Emma Hunton. After receiving clothes from an online shopping service — some of which she fits, some of which she doesn't — she gets some positive feedback and falls back into old habits to ensure all the clothes fit. Davia's mother, who has long been a trigger for Davia's self-loathing, even reappears to compliment her daughter's weight loss. Dennis recognizes what Davia's doing and tries to help but she foists the blame on him instead, so he reaches out to his competition for Davia's heart, Matt, to ensure that Davia has someone to lean on.
+ Unfulfilled by her work at Kathleen's law firm, Mariana returns to Bulk Beauty, only this time as a coder in an effort to regain the girls' trust. But Mariana's contribution to the Byte Club wasn't just her coding abilities, it was her ability to be the face of the brand…and the girls are definitely missing it. They need Mariana's help to secure a meeting with Zelda Barnes, an influencer, and one of her brands and Mariana proves invaluable when it comes time to pitch. Mariana's barely thanked for her efforts and begins to wonder if the girls will ever forgive her for her past missteps.
Listen, I understand the need to do penance when you've wronged someone but this feels gross…particularly since Mariana's the lone woman of color on the team. I hope Mariana finds a new job soon.
+ Desperate to quash the introduction of a video that would implicate their client in a murder, Kathleen and Callie scramble to find some legal pretense…and, magically, it shows up on Callie's doorstep. This is the third time — if you include Jamie's files — that Callie's happened upon compelling evidence at crucial moments. Why not let her actually be good at her job rather than just being lucky?
---
Next Week: Callie and the Terrible, Horrible, No Good, Very Bad Day