Earlier this month, under pressure from an anti-LGBT hate group, the Hallmark Channel pulled ads for Zola, a wedding-planning website, that featured two brides kissing at the altar. The ads were controversial, a network spokesman lamented, and distracted from the very hard work of telling bland, predictable love stories of white cis straight couples, set against a backdrop of Christmas trees, tinsel and mistletoe.
"All kisses, couples and marriages are equal celebrations of love and we will no longer be advertising on Hallmark," Mike Chi, the chief marketing officer of Zola, said, before pulling the company's remaining ads from the network. A backlash ensued and, less than a month after claiming they'd be open to making LGBT characters central to their storytelling, Hallmark was facing a boycott from LGBT advocates.
Of course, Hallmark eventually relented: reinstating the ads from Zola, apologizing for "the hurt and disappointment this has caused" and pledging to work with GLAAD to better represent the LGBT community. But while timing and public pressure, no doubt, had an impact on the network's decision to change course, the move is also reflective of a changing landscape. Hallmark's strangehold on the "holiday movie rom-com" market is loosening; the network's facing increased competition from Lifetime, OWN, BET, Netflix and now, Freeform.
So while the return of Stef and Lena Adams Foster to our TV screens was always going to be a cause for celebration around here, their presence — and the presence of six (!!) other LGBT characters — on Good Trouble's two hour holiday special seemed particularly poignant in the wake of Hallmark's bigotry. Recent events remind us that representation still matters: seeing Stef and Lena model marriage and motherhood, as a longstanding lesbian couple whose "love will survive the ages," matters. Affirmation of who we are — like Gael's father finally seeing and embracing his daughter, Jazmin — and who we love, matter. It matters and when that representation happens in spaces, like holiday television, where we're still unwelcome… that's worth celebrating.
Stef and Lena stumble into town — late, naturally — to meet their kids for Christmas. Mariana's working feverishly to prepare for the Coterie's booth at a local Christmas festival that benefits homeless families and families that have been impacted by mass incarceration. Jude's helping, too, between recycling quotes he's picked up in his undergraduate ethics course. Meanwhile, Callie's just frantic: worried that they'll be late for dinner with her boyfriend's parents and that she won't have time to tell them about quitting her clerkship. Stef and Lena — affectionately dubbed "stoner moms" after their previous Coterie visit — arrive at the Coterie and barely have time to stow their luggage before being ushered out the door.
Tension from the wedding in Turks and Caicos still lingers between the two families — the more liberal Adams Fosters and the more conservative Hunters — and Lena can barely get in the door before Jim's pestering her about her plans now that she's a newly elected member of the California State Assembly. What's up first, he asks, free college and healthcare, open borders or eliminating ICE? Knowing what a potential minefield it is, everyone tries to steer the conversation away from politics: first Jamie, then Diane, and finally Eliza, with news that she's secured a coveted chair in an Amsterdam Orchestra. But before the mood can get too celebratory, Brandon confesses that he's not planning to join his wife in the Netherlands, much to Jim and Diane's dismay.
But what would really dismay the Hunters, if they knew, is that not one, not two, but all three of their children have fallen for Adam Foster kids: Eliza's happily married to Brandon, Jamie's so smitten with Callie he's ready to put a ring on it and, behind closed doors, their closeted son, Carter is hooking up with Jude. The Hunters barely mask their disdain: Diane criticizes Brandon for not sacrificing his career to support his wife, like his mother's doing. Lena interjects that while Stef's agreed to join her in Sacramento, during the legislative session, she'd understand if she wanted to do something else. After dessert, Diane recalls a run-in with Jamie's ex-girlfriend and passive aggressively suggests that she'd be a better match for Jamie than Callie. It's enough to finally put an end to the world's most awkward dinner party and everyone retreats back to their corners.
The mamas return to the Coterie and settle into Callie and Mariana's loft for the night. They rehash the night's events and Lena asks if she's asking too much, expecting Stef to travel back and forth with her to Sacramento. Stef assures her wife she's not; they're not 20 year olds just starting their careers like Brandon and Eliza. Lena just wants Stef to be happy and Stef says she's happiest when they're together. They kiss, beneath some stolen mistletoe, and christen the holiday in Callie's bed. The next day, though, Lena discovers that Stef gave up on chasing her dream to allow her to chase hers. Stef's been accepted into an Amnesty International program in Venezuela. In a quiet moment later, Lena encourages her wife to follow her dreams.
Lena: If you want to go to Venezuela, you have my blessing… I want you to have your new chapter too.
Stef: It's for a year; you know, it's for a year.
Lena: Our love will survive the ages.
I do not like the idea of the mamas being apart… or the prospect that Stef won't turn up when Good Trouble returns for its second season… but also? This feels true to who Lena and Stef are. Safe travels to the mamas!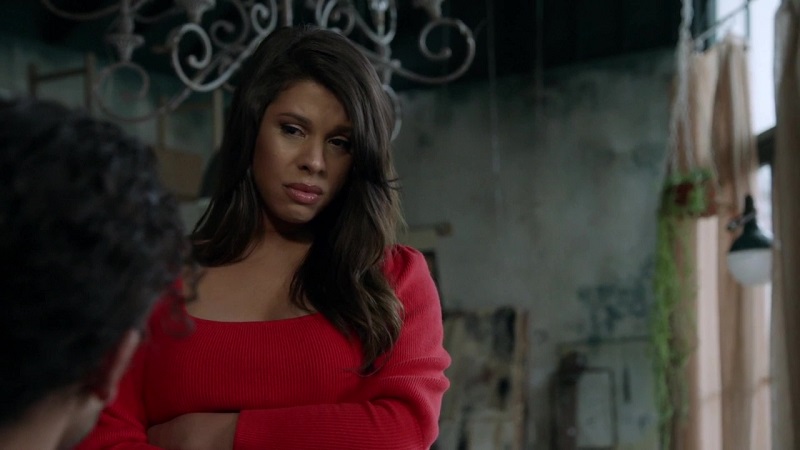 Meanwhile, Jazmin and Gael spend their first Nochebuena together, estranged from their family. It's Gael's first holiday without them — he refused to join his family if Jazmin wasn't allowed to — and he clings fiercely to all his family's holiday traditions: tamales, coquito, lechón, ceviche and flan. Jazmin reminds Gael that he's not alone and that they're allowed to create their own traditions. He leaves Jazmin with Alice and Joey to make the coquito when she notices his phone ringing: it's their mom. She delivers the phone to her brother and urges him to go be with their family since, even despite his bisexuality, he's still wanted. Hailie Sahar, who I desperately wish was a regular on Good Trouble, conveys all of Jazmin's hurt at being forced to spend the last three Nochebuenas alone. But their mother's phone calls are less about reuniting the family and more about sharing some sad news: their grandfather had a stroke.
Jazmin urges Gael to go to the hospital but he insists that she go too — after her quince, he knows their grandfather would want her there — and she does. Jazmin tentatively steps into her abuelo's hospital room, promising to leave if she's not welcome. Her mother embraces her and leads Jazmin to her grandfather's bedside. Her father, though, holds on to his anger, leaving the room as Jazmin announces her presence to her abuelo.
Later, Gael chastises his father for leaving but he insists that Gael shouldn't have brought Jazmin. The doctor interrupts to confirm the stroke diagnosis but warns that they won't know the severity of the stroke until their grandfather wakes up. The family splits on the subject of abuelo's DNR, with Gael and his mother arguing against it and Jazmin siding with her father. He admits that he's not ready to lose his father like he lost his son.
"I was never Alejandro. I was just trying to be for you, and abuelo," Jazmin admits to her father. "Maybe you could learn to love your daughter, Jazmin?"
After hours of waiting, Gael and Jazmin's grandfather wakes up and the family rushes to be by his side. He draws his granddaughter's hand to him and then uses his left hand to draw his son close. He brings them together over his heart and for what seems like the first time, Jazmin's father really sees her. He recognizes what he's been missing all these years — it's a great bit of acting by Alex Fernandez — and grabs her hand, reuniting their family… a true Christmas miracle.
---
Coterie Sundries
+ It's been nearly six months since Good Trouble's midseason finale and I can state one thing unequivocally: I'm still aboard the Davia-Dennis ship. I loved the progression of their visit to Dennis' old house… from innocent to fun to emotional to hilarious. A show that makes me care about straight ships… what is the world coming to?
+ A facet of every holiday movie, ever? An existential threat, like a big chain coming to takeover the small-town store or a Christmas tree farm being bought by developers. For Good Trouble, the existential threat is a lease that's nearly up and threatens to make this Coterie Christmas the last. I wish the show devoted more time to this story — in a Christmas movie, this would've been the main story — but, as is her wont, Sherry Cola makes great use out of minimal screentime. I loved Alice's scramble to save the Coterie, particularly when she drafts Stef into her hilarity.
+ Because no holiday programming would be complete without a proposal: guess who's getting married?
Thank goodness, it wasn't Callie and Jamie.
---
If you missed Good Trouble's holiday special, it's now available for streaming on Freeform and Hulu. The second season of Good Trouble returns to Freeform on January 15th at a new time, 10PM.