If you'd asked me during the five-season run of The Fosters which of the Adams-Foster girls would be the first to hook-up with another woman, I would've definitely said Callie. She's always led with her whole heart, even when it got her into trouble (especially when it's gotten her into trouble, TBH), and she always seemed more open to the possibility that love could come from anywhere. But it struck me last night that I'd been answering the wrong question: which of the Adams-Fosters girls might, one day, find themselves in a relationship with a woman? Definitely Callie, for the aforementioned reasons.
But hooking up? That's a completely different thing, right? Hooking up is casual and, as we've seen with Gael, Callie doesn't do casual easily. Hooking up requires something else: a "down for whatever" attitude that, especially in season five of The Fosters, came to typify Mariana Adams-Foster. Of course, Mariana would be the first of the Adams-Foster girls to hook up with another woman. Of course, she would be…
And last night, on Good Trouble it finally happened.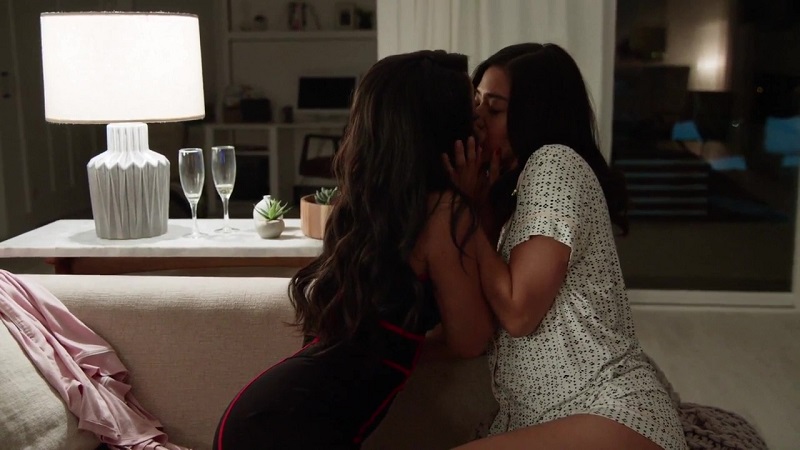 But let's back up and recap how we got there?
At Mariana's suggestion, Davia, Malika and Alice join her in exchanging phones and using a Tinder-like app to find their fellow Coterie members a date. Davia's got Malika's phone and unwittingly stumbles into a sea of guys who less interested in getting to know a black woman and more interested in exploring their fetish for black women. Malika's got Alice's phone and has her sights set on finding someone for Alice that'll make her forget Sumi. Meanwhile, Alice is scouting potential suitors for Mariana… and is so adorably out of her depth, she recommends the most lesbian guy on the app — six cats? is that you, Lisa? — for Mariana. The task of finding a "sex machine" for Davia, in lieu of the married man she's currently having an affair with, who only intermittently passes through LA, falls to Mariana. They make a plan to each meet up with their dates on the same night, at the same bar, and see how their little experiment works out. The experiment has, to put it mildly, mixed results.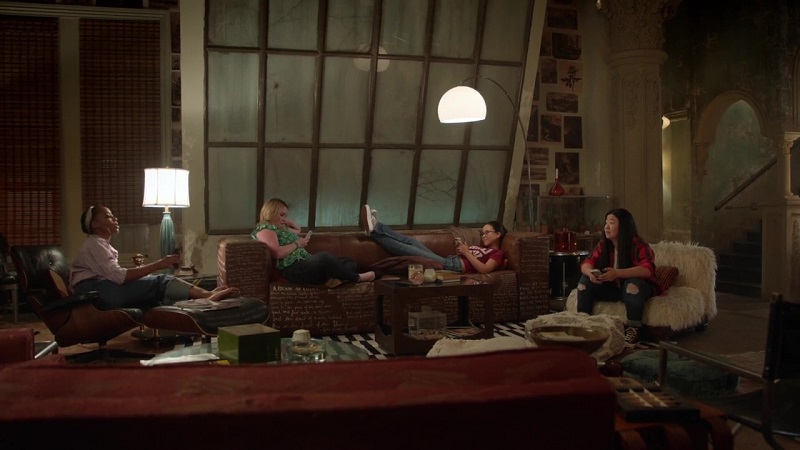 Mariana gets the worst of it: her date is a total tool. He spends the entire date trying to find ways to shoehorn new details about himself into the conversation. Mariana entertains his absurdity — "I know I may seem intimidating but I pull my pants on two legs at a time like everybody else" — while the guys in the neighboring booth laugh hysterically at her date's antics. When Mariana's douchey date asks her to take their evening back to his place so he can show off his portfolio (is that what they're calling it these days?), one of the guys from the neighboring booth shows up and pretends to be Mariana's ex, begging her to take him back. It's just enough of a window for Mariana to excuse herself from the date with the douchebag and find new company at the bar.
Once they're sitting at the bar, I recognize Mariana's savior as Ben Coogan, Emily Fields' boyfriend in the first few episodes of Pretty Little Liars and, immediately, I grow a little weary. I don't trust you, Ben Coogan, and I'm not going to stand for you treating Mariana Adams-Foster like you did Emily and Maya (RIP). Thankfully, it doesn't come to that. The only bad thing about Ben, at least from Mariana's point of view, is that he's already taken. As they're getting to know each other at the bar, Ben mentions that he has a girlfriend and Mariana's looks a little crestfallen but she still accepts when Ben and his girlfriend, Laura, invite her over for a drink.
Over wine, the couple gets to know Mariana and they're totally enamored by her (natch). They flirt pretty heavily and intentions for where this night is going, however subtle, grow clear. There's never any pressure; if Mariana emerged from the bathroom and said she wanted to go home, you get the sense that Ben and Laura would've been fine with that, but she doesn't. Mariana comes out of the bathroom and strides confidently over to Laura and kisses her. She's invited to kiss Ben next and then Ben and Laura kiss each other… and Mariana Adams-Foster is having her first threesome, y'all.
"I felt so rejected ever since we moved to LA and I needed to be the center of someone's attention and I was," Mariana cockily tells Callie the next morning, still wearing her Freakum Dress from the night before.
At least initially, it seems like Alice might come out of the night with the biggest win. Somehow Malika found the one lesbian in Los Angeles that's slightly less awkward than Alice. She settles into a warm rapport with Joey, a local radio host, and things develop nicely. They have great chemistry and surprising everyone, including Alice, they're the first couple to leave the bar. Things back at the Coterie start out awkwardly, as things are wont to do with Alice, but eventually, they set into a very cute make-out session. But just when it looks like things might go to the next level, the couple is interrupted by a crying Sumi, upset after a fight with her fiancée. For a moment, it looks like Alice might finally stand up for herself — she tells Sumi she has company and can't be there for her tonight — but it's enough to break the mood and, soon thereafter, Sumi replaces Joey in Alice's bed.
Now, I appreciate a good "I'm still hung up on my ex" story as much as the next person — because, you know, I've been there — but the thing that frustrates me about these stories is when the writers forget to remind us why a couple fell in love in the first place. We haven't spent much time with Sumi on Good Trouble but thus far, her only redeemable quality seems to be that Alice loves her. During their fight, Sumi's fiancée called her "selfish and thoughtless" and that tracks with what we've seen of the character thus far…but there has to be something else, right? Some reason that Alice is still pining over her? Something other than her laugh?
The next morning, despite the I love you's that Sumi and Alice have exchanged and despite Sumi's comfort at being back in Alice's arms, Sumi and her fiancée quickly reconcile (see, she's terrible). It's still TBD whether the spell that Sumi's cast over Alice is permanently broken but at least in the interim, she realizes how badly she messed things up with her date. She calls into Joey's radio show as "ISuckInDTLA" and requests a song for "a girl who really messed up on a first date and would do anything for a second chance." Joey acquiesces, playing "Knicks" by The Quarterbacks, and Mariana, Malika and Davia cheer Alice's good fortune.
Malika backs out of the experiment, not because she wants to, but because, as we later learn (but she doesn't share with her friends from the Coterie), the guy that Davia found for her didn't swipe right on her. But who would just happen to wander into bar where Malika works on the night that all the other girls are on their dates? The guy who rejected her on the app. As with Ben, my spidey senses are tingling with guy because he's Dro from Insecure — and if you've watched that show, you know that dude is trash — but Isaac wins me over with his expansive knowledge of rom coms. Malika, however, is not so easily seduced.
Once she recognizes Isaac, she tries to keep her distance until he has to chase her down to order some drinks. He's immediately smitten by Malika and asks for her name which she declines to give him. Enthralled by the chase, Isaac stays at the bar until last call, trying to charm Malika all the while. When it's time to close up, he asks for her number and Malika says no, since he'd already passed up on her once before. Isaac assures Malika that he'd never swipe left on her but Malika already knows what's up: she bets him that none of the girls he's matched with look like her. Sure enough, a scroll through Isaac's phone reveals a bias against dark-skinned women that he didn't even know he had.
"You seem like a nice guy but I just don't feel right giving my number to somebody who, subconsciously or not, wrote me off without a thought," Malika says. Properly chastised, Isaac pays his bill and leaves. But he comes back later, as Malika's cleaning up an empty bar, prepared to act out the pivotal gesture in Malika's favorite rom com, Love & Basketball. Isaac challenges her to a game of basketball: if she wins, he and his friends will never step into her bar ever again but if he wins, he gets another chance and gets to take her on a proper date. I'm not sure what the score of the game ended up being but, given the glow on Malika's face the next morning, I'd say they both won.
Much to her surprise, Davia ends up with the sex machine she was after. Things didn't look good at the outset, though: her date, Paul, is a non-Instagram, non-Twitter having, Dave Matthews Band-loving guy who shops for pants at Costco. They are not the least bit compatible. But it's amazing what a few drinks and realizing that the man you're having an affair with lied about his trip to LA being postponed can do for a girl, because she takes Paul home and has some great revenge sex. And because subtly is not Davia's strong suit, she tells Jeff she saw his picture from the Lakers game (dude, she's a social media influencer, of course she's going to see that picture!) and sends him a picture of her in bed with a sleeping Paul.
I loved this episode. In fact, it's probably my favorite episode of Good Trouble to date. It was fun and, yet, subtly tackled some really important issues around female sexuality. I loved how Mariana's threesome was, despite Ben Coogan's presence, not at all about the male gaze, but about Mariana recapturing the confidence that Speckulate's stolen from her. I love the way they continue to embrace Davia's sexuality, as plus-size women on television are often relegated to sexless relationships. I thought Good Trouble tackled the issue of dating while being a dark-skinned black woman better than grown-ish did in their first season. Also? Apparently, I'm a sucker for rom com tropes. And bonus: it was directed by Troian Bellisario while 8.5 months pregnant. Oh, that Spencer Hastings, ever the overachiever.
Next week? Noah Centineo's coming to the Coterie. Alert the straight women and gay men in your life.