Aquarius season and the Star gave us space to heal, recover, and use the water-bringer's brilliance and independence to see new possibilities for the future. But now we shift into Pisces season, a time to look deeply within and begin to untangle the mysteries of our subconscious. The last constellation of the zodiac and one of the most empathetic, compassionate water signs, Pisces is ruled by Neptune and connected to the Moon, a card that dances through our shadows and thrives on exploring the depths of our intuition.
Often seen as an archetype of both hopes and fears, the Moon gives us space to surrender to our own wildness, to follow those instincts that we are often compelled to hide or ignore in the harsh brilliance of day. Under the dark light of the moon and stars we can give in to those natural impulses, find a different kind of truth, learn to understand what lies beneath our actions and decisions. And while it's essential to honor our emotions, to make space for self-discovery and deep exploration, sometimes we can get lost in the fantasy that the night weaves. Pisces and the Moon both blur the lines between reality and imagination, which can create beautiful things but can also make it harder to find our way back to earth.
Many of this month's cards deal with shifts and endings, asking us to create boundaries and prioritize our own emotions and needs. The Moon invites us to do that deep soul-searching, to consider our shadows and dreams and the emotions that we cannot always explain but still experience deeply. Pay attention to where your mind tends to wander, to visions that feel particularly intense or evocative, and note if your instincts lead you to a particular choice or path. For many this will be a time of leaving things behind, of prioritizing both goals and emotions. Be gentle as you move through this season, considering your own needs and being aware of the directions you may feel pulled in. Pisces teaches us to rely on what we know to be true, and reminds us that sometimes the answers can be found within the subconscious. Our dreams and fantasies can sort so much out for us, if we simply give ourselves the space to process and listen.
In this season of Pisces, keep her birth card the Moon in mind as you read for your sun sign — combine that introspective, emotional energy with whatever the cards have for you during this period. Experienced tarot readers or astrologers can plug the cards I've drawn for their sun, moon, and rising signs into the spread below to create a custom reading for this season — and if you know your Neptune placement, it can offer additional insights into what else is hiding below the surface, and the beliefs that shape the way you move through the world.
As always, I'm available for personal custom readings through my website. Most of my daily tarot readings and writings are posted on Instagram, and I'm currently hosting an in-depth minor arcana study challenge that is open to all levels. If you're interested in learning more about tarot, please feel free to join — I'm creating a lot of resources that are free to access, with more to come.
---
Aries
Eight of pentacles
This is a perfect time for you to focus on your long-term goals and make a dedicated effort towards improving your skills. Whether you've got your eye on a career shift, a new home, or a physical challenge, you need to make improving your natural talents a priority. Pay attention to what you already know, focusing on the details that set you apart from others, and give yourself space to explore new facets of this particular craft. You have what it takes to stand out, to create a bold new vision for the future, but it will only become a reality with daily, focused work. This is a card of apprenticeship, dedication, and passion, inviting you to fully immerse yourself in something and truly master it.
It may be that connecting with community, finding a mentor, or sharing your work with others helps you to improve — but don't mistake camaraderie for competence. Keep your focus on your own practice, and that steady work will pay off for your broader goals.
Taurus
The Hanged Man
It could feel that you're trapped in a position, relationship, or challenge that you can't overcome — whether it's something that used to work and has shifted, or you've entered a brand new situation, something doesn't feel right. And while this sensation will be one of particular discomfort for you, it also gives you an opportunity to look at your current situation with a fresh perspective, to see new possibilities or a different approach. Try to withstand the urge to power through this difficult moment and instead allow yourself to surrender control, noting how this adjustment changes your attitude and emotions. There is so much that we can learn when we breathe deeply, accept what we cannot change, and give ourselves permission to be present in an experience — and while sometimes we may not be fully aware of the lessons we are learning, it doesn't diminish their importance. A new shift is on the horizon, and these moments will help you to understand how to adjust to whatever comes next.
Gemini
Death
It's possible that you've felt this coming for awhile, the end of something significant in your life. Whether a relationship has shifted permanently, a project has finished in an unexpected way, or a dream is no longer possible, something in your life is coming to a natural end — and it could be a decision that was made without your input. This can be a challenging time, and may cause you to feel more emotional than you are comfortable with. Resist the temptation to rush past these feelings, burn every bridge, or focus your energy on whatever will come next — it's important to deal with this conclusion, to acknowledge how it will impact you and to understand what you may need in order to recover and heal. Be gentle with yourself, lean on others for support and comfort, and let yourself settle into this new reality. It may be painful now, but this is something that needed to end, and will create space for something new.
Cancer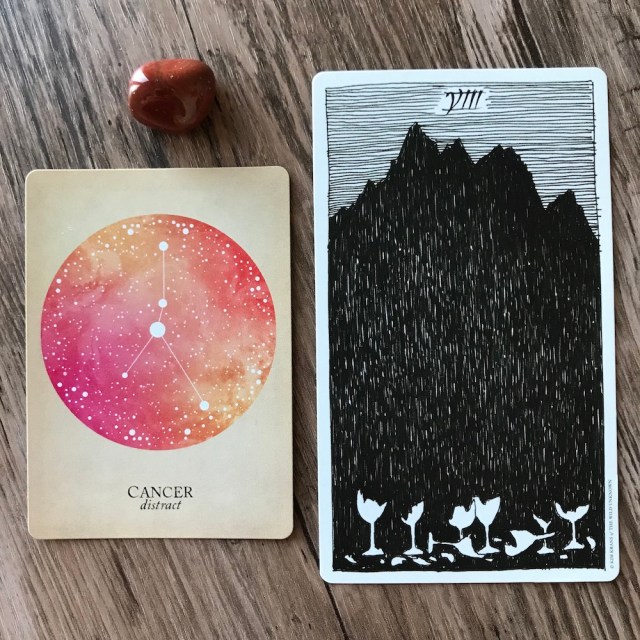 Eight of cups
You've been on an emotional journey, working through complicated feelings or an important relationship. And while you've put in a lot of time and effort, doing everything you can to make things work, the moment has come to leave this piece of your life behind. Your view of this situation is shifting, and you may feel a moment of clarity that allows you to see that there is nothing left for you here, that something is hurting you or making your life more difficult than you deserve. This is the time to listen to your instincts, to trust that part of you that knows when something simply isn't working. Give yourself permission to leave this person, relationship, or path behind, making the choice to prioritize yourself. This is not a failure, though it may bring some feelings of regret or frustration — but it is a chance to walk away from something painful and shift towards something new.
Leo
Nine of swords
You're used to being the star of the show, to sharing your passions and dazzling everyone around you, but it may feel that you're dealing with a lot of internal struggles this season that cause you to feel like isolating yourself. Swords are the suit of communication, thoughts, and mental clarity, but in this card we see the result of too many conflicting ideas, the mind turning on us. You may experience some challenging patterns, reminders of trauma or painful experiences, and those of you that deal with anxiety or depression should take special care to reach out for support and use the tools at your disposal for care and health. While it may feel that this is a particularly difficult time for you, remember that this confusion is within the mind, which often twists our perceptions of reality. Find ways to stay grounded to the world, to those that know and care for you, to the tools you already hold for health and healing. Be kind to yourself and focus on what you know to be true.
Virgo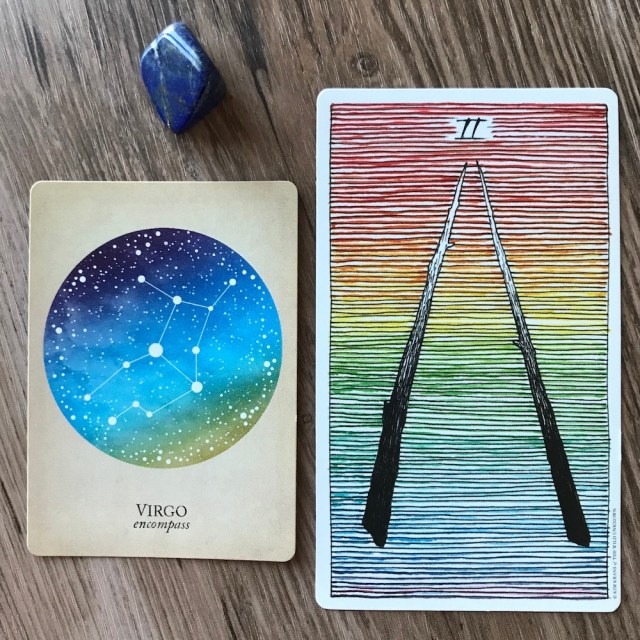 Two of wands
The big ideas and far-reaching dreams that you so joyfully made during Aquarius season are exciting and inspiring, and now is the time to put that organizational skill to good use. Your natural love of structure and ability to break things down into achievable goals will serve you well here, so lean into those instincts this season. It may be a good time for collaboration, for sharing ideas or creative energy, so consider bringing in a trusted person to help you create a shape for your vision. The sky is the limit, and you have the time and space to consider so many possibilities.
This card asks us to strategize, but it can also bring a restless energy, a desire to hurry up and get moving, or even a sense of indecision. Let the fire of this idea burn brightly, and keep that excitement present and focused. You are in the planning stages of an exciting journey.
Libra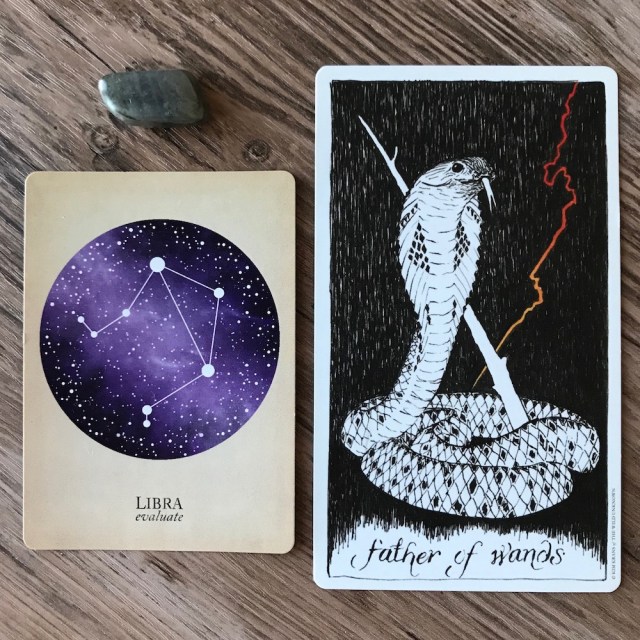 Father of wands
A project you've been working on will take off this season, and you may find that the community and others around you are ready to engage with your work. There's so much fire crackling through you, passionate and creative, eager to manifest something that will inspire and motivate. Pay attention to new ideas that pop up, especially ones that come when you're least expecting them — this is a season for powerful dreams and internal vision, so note what's driving you and what particular ideas keep circling back. It may be that your current project can take on additional and exciting elements.
You may feel a calling to a particular area or field, a desire to shake things up and create significant change. Listen to your instincts and follow your gut, letting all of this fire power you forward. Your natural charisma and ability to see beauty everywhere can lead you to brilliant ideas and powerful inspiration — keep dreaming.
Scorpio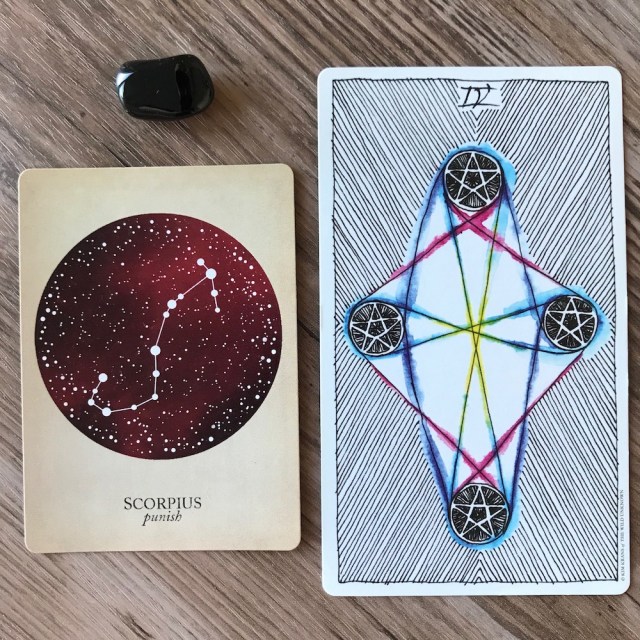 Four of pentacles
You're in a place of stability and safety, working slowly and patiently on projects that are important to you, gathering the resources that you need to be comfortable and secure. And while the boundaries that you are so good at maintaining are serving you well, be aware that you don't shift into acting greedy or stingy with your money, energy, or kindness. There may be someone in your life that could use resources or support, a person that you are resisting helping for your own reasons — consider how this attitude of staying closed off is serving you, and what exactly you are protecting. Pay attention to those in your life that could use your assistance, and be aware of the generosity and reciprocity you are practicing or avoiding.
Sagittarius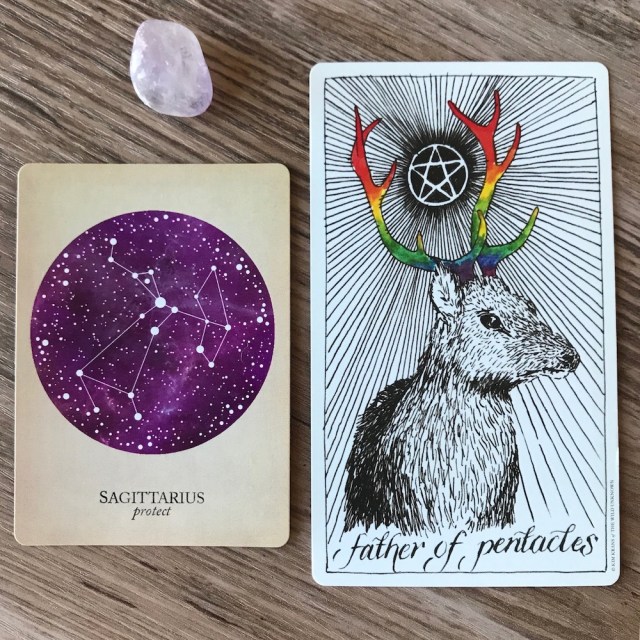 Father of pentacles
You've established a beautiful life for yourself, and this is a season to enjoy it fully, to remember how hard you've worked and celebrate all that you have created. Allow yourself to take pride in your accomplishments, in the comfort and security that you enjoy, and in your ability to care for those that matter most to you. Growth is still happening, in your career and home and relationships, but you have become the person that you have always wanted to be. You are in a position of power and plenty — use the resources at your disposal to invest in the people, services, and communities that are most important. Don't be afraid to contribute your wealth, time, and knowledge to those that need it — these relationships and the sharing of experience often bring wisdom and comfort to everyone.
Capricorn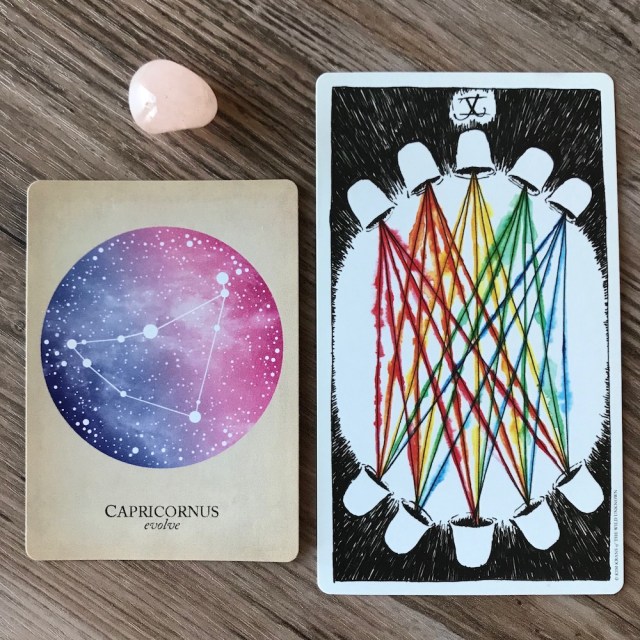 Ten of cups
The relationships and community that you've worked so hard to cultivate are thriving, and this will be a season of joy, connection, and fulfillment. Relish the true and deep bonds that are in your life, honoring them with your gratitude and positivity, and noting what positive changes or shifts these connections have created within you. There's a steady and brilliant flow of energy surrounding you, providing the comfort and support you need while also challenging you to continue growing and learning from others. It may be tempting to push these relationships to the background in favor of your current projects and goals, but give yourself permission to take time to honor your community. The chosen family you've built is a beautiful one, so make sure you enjoy and treasure it fully.
Aquarius
Mother of pentacles
You're so good at flying high, watching things from above, looking to the future and internalizing all of the possibilities, but this is a time for you to reconnect with the physical world. Get outside, build something tangible, take on a new physical challenge, prioritize great sex — but do something that gets you moving and active, that reconnects you with your body. Resist the temptation to put projects off and instead dive in fully, immersing yourself in something that deeply matters to you. You have so many causes that you care about; commit to doing the work this season, connecting with your community and getting your hands dirty. Your passions and goals give you a unique perspective, one that will inspire others in your life and help to keep you grounded.
Pisces
Three of wands
Happy birthday, Pisces! You've been digging deep and combining all of that watery emotion with a powerful new idea, and as you put those ideas into motion this season, you'll start to see a real and lasting vision for the future. Let yourself fully enjoy the possibilities ahead, the wide variety of options available to you. Your current projects and work may be on a great track, but they are not set in stone — this is a time to continue imagining what could be, how things could shift, which direction you want to move in. You are someone that loves looking within, exploring your subconscious and uncovering internal mysteries, and those skills will serve you well as you consider what it is you want from your current project. Let those instincts guide you, and don't be afraid to put your heart and soul into this venture – your work will be better with all of you in it.