January is a good time to be a lesbian, it seems! Emily might get laid on Pretty Little Liars, you can now buy red-and-green candy really cheap at CVS, and there are parties left and right for some reason! (At least, parties that actually happen in June that you can buy tickets for now.) For instance, the GOGO Festival in London. I mean, listen, guys. I'm not saying you have to go to this. I'm just saying that if you don't, you might REGRET IT FOREVER. There are HOT AIR BALLOON RIDES. Oh, and lesbian stuff too!
+ Heather Peace, aka cop D.I Sam from hit British lesbian series 'Lip Service' will be hanging up her uniform and picking up her guitar to perform a set on Sunday the 19th, having enjoyed sell-out success on her solo tour since starring in the BBC3 show.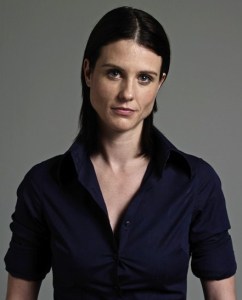 She will also be doing a signing and meet and greet with her fans.
+ Uh Huh Her (featuring Leisha Hailey from the L Word) alongside lesbian-anthem-'L Word Theme'-singers BETTY will be headlining the event, along with other top performers from around the world.
+ Terry Poison, the "Tarantino of Pop," are flying in from Tel Aviv, Israel, to chuck out their unique brand of contagious Rocktronica, along with all-lesbian band Greymatter, electro-pop tarts Heads.Hearts, sweet-voiced Jill Jackson and Emma Payn, indie rockers Neon Choir and JOANovARC (who were finalists in Live and Unsigned and performed at the O2 in London in 2010), Christina Novelli, Miri, Pink Hearse and Alexia Chellun.
Also!
+ International food fair and shopping village
+ BUNGEE TRAMPOLINING
+ SKYDIVING
+ HOT AIR BALLOON RIDES
+ Also I think possibly HELICOPTER RIDES?!?
Basically, this is the event that grown-up-lesbian-you could take eight-year-old-you to and both of you would have the time of your lives. Or, you know, your girlfriend. Whatever.
The GOGO Festival is the weekend of June 17th, and tickets are available at www.gogofestival.com, and as of right now early bird specials and VIP tickets are still available. Get on it, girl! And let us know if you're going – the AS team can't necessarily make it, but that doesn't mean we don't want to hear all about it. Go forth and party, lesbians of the UK.