I need to be real: there was almost no universe in which I didn't love Goddess Mode, a new comic for DC Vertigo written by Zoë Quinn (with Robbi Rodriguez and Rico Renzi rocking the art like they're playing the drums). First off, during NYCC 2018 I asked Quinn how gay the comic was going to be. Her reply? She described a character as the one that "makes all the gay ladies say, 'step on me.'" With an introduction to the world like that one, I was already hooked. But hearing Quinn talk about the role of technology in the book was something additionally special —I  am often found in dive bars shouting about how code is the closest thing we'll get to Harry Potter magic, for it is language making stuff happen, and what is magic other than words coming to bear in our reality? The cross between Cyberpunk and Magical Girl seemed as natural to me as breathing. So when I received my Goddess Mode in an adorable bright pink envelope, I was eager to read it immediately and boy howdy, it sure didn't disappoint.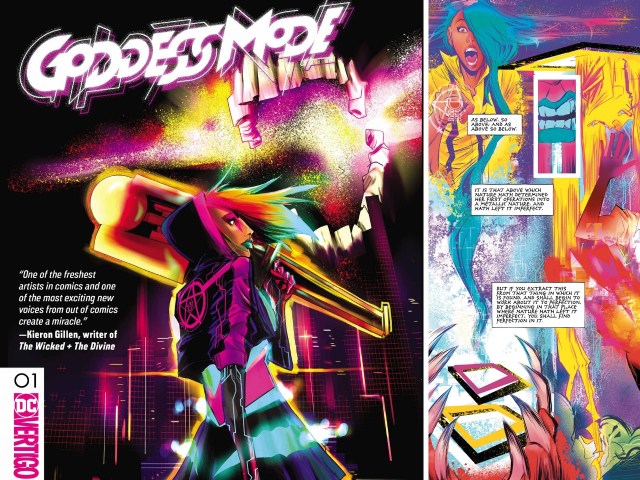 We open, truly, with a mysterious battle between a monster and what looks to be a queer person in a very good hat. But that's not who we hear first — we hear our protagonist, Cass, speaking to her father about her trials and tribulations in his absence (he's been a coma for many years, and many folks are suffering from the same). And quickly we are set into the world, one where life is largely lived virtually and with the assistance of a self-learning AI called Azoth and its human-ish-face, Psyche (a hologram-y Alexa that Cass's father helped program and train). Azoth suddenly crashes and Cass is caught visiting her father in a place she doesn't belong. Rather than being punished for it, Cass ascends from her grunt-work position providing tech support for Azoth to a bigger, "better" job making sure the head of the company — also suffering from the coma-inducing-illness — is taken care of in the aftermath.
As we follow Cass deeper into the world, it becomes very apparent that the class divide is uncrossable and unconscionable — if you're rich, you've got trees and rocket boots and if you're poor, you need your nanobots to help you breathe the poison air in your slum. If you're rich, you have a person check up on you after your life support glitches, and if you're poor, well. Fuck you then. It is truly the techno-utopia for which the wealthy Silicon Valley folks of today seem to advocate.
But the first issue of Goddess Mode (and, I would wager, the series on the whole) isn't a huge bummer! Far from it, actually! The aesthetic provides the foundation for the vibe. The majority of the physical world is drab, colored with muted browns and blues; the corporate projections of Azoth and its accompanying physical spaces are sterile and white; the magical insides of the digital world are, however, candy colors so bright you might want to lick the page. Every time cyber-magic is afoot, it looks like a firework or a piñata exploded all over the page. The colors point the entire work toward an escape hatch. And speaking of escape hatch, the dynamic illustrations by Rodriguez in the moment a corporate higher-up bounces with the assistance of his rocket boots, screaming "remember excellence is a choice!" is one of the funniest moments in the issue.
Which brings us to the dialogue. It's just fucking clever. It's got zing and life. It breathes. Multiple characters comment on Cass's love for garbage and each time she replies, "I love trash, it's different." When Psyche tells on Cass for all the illegal modifications, Cass groans, "Don't be a cop." There's an unabashed love for words and understanding of comedic timing present in the text of the thing; Quinn should be jumping for joy, it works so so well. I absolutely adore all parts of this comic because all elements of it perfectly straddle two tones. The first, a serious critique of actual modern issues of socially applied technology; and the second, something we're all in serious need of these days: a good gay romp.
If you think about it, that combination is a winning one because that's the world we live in. We can't be depressed about what a garbage (or is it trash? There's a difference!) fire we're living in all the time. We have to have some candy colors in our life. And so we, the real human people of this world who have hearts, speak like Cass speaks. We engage with the world as it is and as we wish it would be. We are as the protagonist is: equal parts acerbic and earnest. This is a comic for 2018 and 2019, for the Millennial and the Gen Z-er, for the era in which we live. And I'll be adding it to my pull.
Goddess Mode #1 is available now and you can buy it from DC, Comixology or your local comic book shop. The second issue is set to release in January 2019.