It's Christmas Eve, so for today's Monday Roundtable, Laneia asked our writers to vote no to eggnog with a Carol the Dog emoji or yes to eggnog with a Huck the Dog emoji. Not only are you getting the gift of those results, but Reneice is also sharing her very own special eggnog recipe with you! And we hope you'll share your feelings with us in the comments!
Please note: Carol the Dog loves eggnog and resents being used as representative of a nay vote on the following graphic. 
---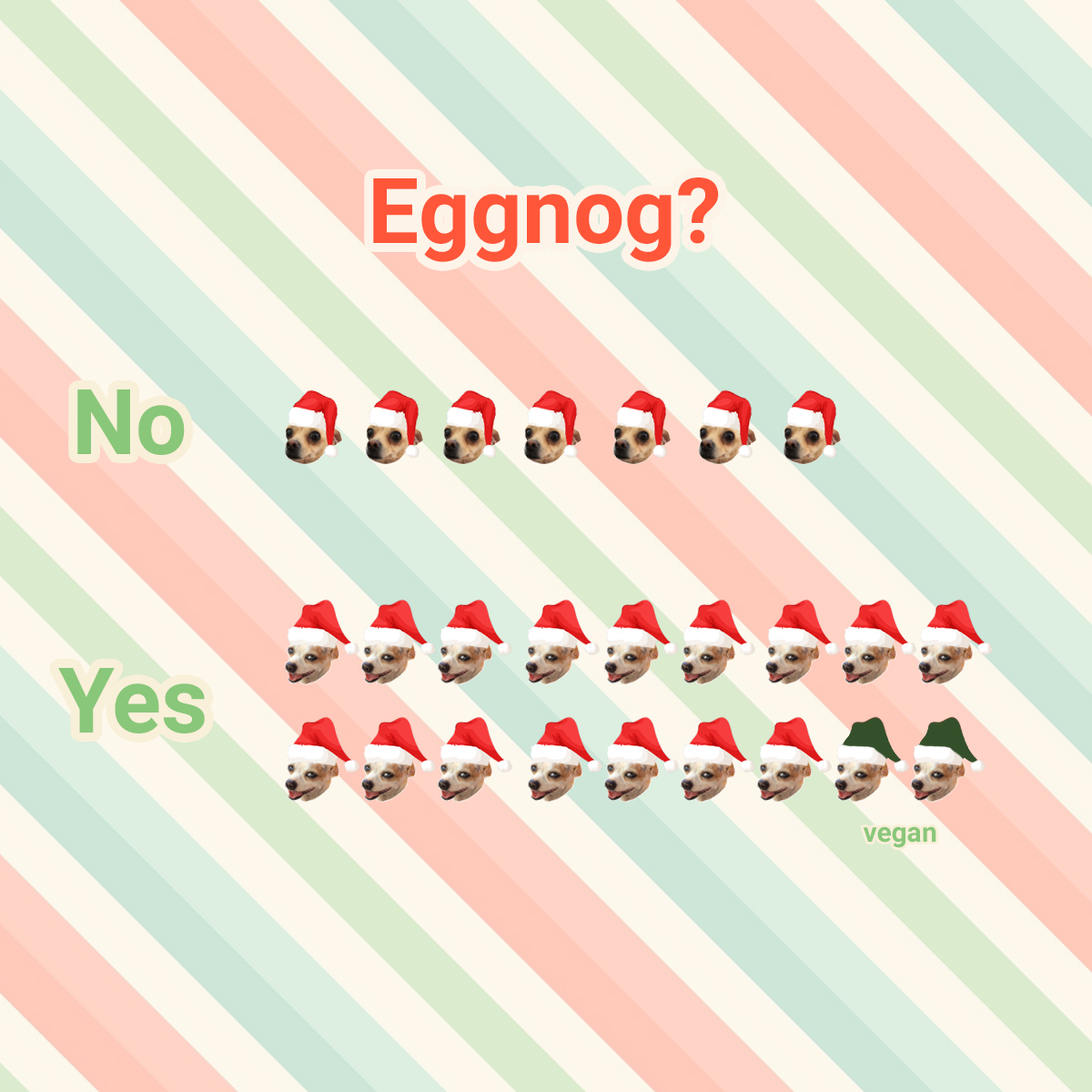 Eggnog Eggnog Fa La La La La
Ingredients
3 cups milk
1 cup heavy cream
2 cinnamon sticks
2 whole cloves
1 tsp nutmeg, preferably freshly grated but ground is fine
⅔ cup granulated sugar
5 egg yolks
1 teaspoon vanilla extract
1 cup dark rum, brandy, or bourbon. I use half rum, half brandy.
Method
1. Combine the milk, cream, cinnamon sticks, whole cloves, and nutmeg in a saucepan and bring to a boil over medium heat, stirring occasionally. Once the mixture reaches a boil remove from the heat and let it sit.
2. While the milk steeps, place the egg yolks and sugar in a large heatproof bowl or the bowl of a stand mixer and whisk together until it's thick and smooth, about a minute or two.
3. Now, fill a measuring cup with two cups of the hot spiced milk and SLOWLY drizzle it into the egg mixture while whisking. This is called tempering! If you add the milk too quickly it will scramble the eggs, so pour slowly and steadily and whisk the whole time.
4. Once both cups of milk have been whisked into the eggs and everything is smooth combine it with the rest of the milk, add the vanilla and your alcohol of choice in, stir to combine then pour into a pitcher or bottle of some sort and refrigerate overnight. This will allow the flavors to blend and the eggnog to thicken.
5. When you're ready to serve, pour into glasses garnish with a little fresh nutmeg. You can add booze or not, it's delicious either way!