Is this the first time anyone's talked to the piano man? Anyhow, cumquats, then Santana commenced to sing a song to her lady-love, singing "I know it's right" with a humble determination we rarely see in Santana. Although every move seems almost Brittany-style muted, the subtle resigned shrug on "I love you, I love you, I love you, like never before," says it all. It's a really sad beautiful moment, and nobody is even really wearing an outfit I can make fun of, except the furniture.
"And I love you, I love you, I love you, like never before. And I wish you all the love in the world, but most of all, I wish it from myself."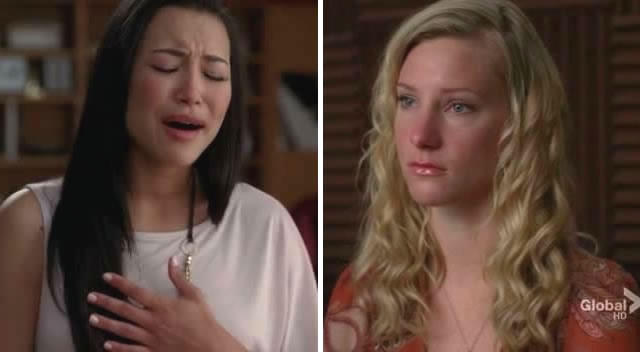 As you can see here, Brittany wants to make out with Santana, and Santana wants to make out with Brittany. It's not cheating because everyone is single.
Brittany: Why couldn't you sing that to me in front of everyone, now that Artie and I aren't together?
Santana: No, no, not yet — I'm not ready for that type of public announcement. Ever since that Muckracker thing, people have already started treating me differently. I got asked to join the golf team.
Just as she said when she first told Brittany how she felt, Santana isn't worried about things people might say to her face, but the things they might say behind her back that she'll never know about. Because so far? Nobody's really given a shit!! This could be because she's terrifying as an enemy, but regardless, everyone in Glee Club read the Muckraker and so far… so good?
Brittany: "Well, what if I went first? Come on Fondue for Two.  I'll ask you out to prom and tell you how I feel, and all you have to do is say yes."
Santana: "Okay."
Yeah no she's not gonna go on the show.

Rachel sees Sam striding down the Hallway in a sort of hemp-throwback jacket from The Crow and Rachel recognizes it because Kurt wore it last April, calling it an "Earth Day Jacket." I feel like it looked better on Kurt, and I was about to say "It makes Sam look homeless," but then I felt guilty, so I said it anyway, but also by adding that a clause explaining that I felt guilty while typing it.
Lea: Stop it. I'm begging you. Sam is cute, but he's not worth losing Blaine over.
Kurt: Oh, how I've missed your insanity.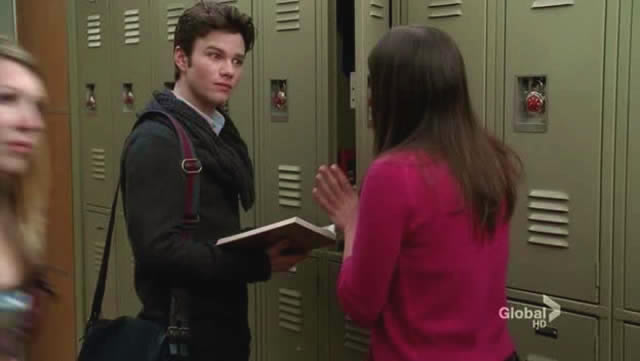 OH HOW I HAVE MISSED YOU KURT HUMMEL. Jesus Christ on a Cracker am I delighted that Kurt is back. Not just because he'd switched to an all-boys school and hello, boys — SNORE — but because now that he's got a boyfriend and silenced the bully and gone back to the school he loves, he's not being bitchy anymore. Just fucking brilliant.
Kurt: "You need to brush up on your Fleetwood Macology. When they made Rumours, they weren't speaking to each other. Not even "pass the nondairy creamer." They only spoke about the music. And it was that focus that allowed them to make their masterpiece."
Rachel: "You're deflecting."
Kurt: "No, I'm being a team player, and any minute spent on this viscous, hurtful and hateful gossip is a minute taking away from preparing for Nationals."
As far as I can remember, they haven't done anything for Nationals besides call everything they happen to do "preparing for Nationals." Because you know at Nationals they're gonna sing something you've never heard before. Does anyone else think that part of the show never got less weird?

Finn's not sure why Quinn seemed "so sure" about Sam not being gay, Rachel points out that they did date, and you know, Quinn is a girl and Sam is a boy, so that's pretty suggestive. Finn, because he's a raging lesbian feelingsmonster, laments that Quinn's so protective of her feelings and Rachel says that girls like Quinn do that "to keep their power." Finn says "you never did that," and yes, indeed. That's why Rachel lost her power and is now sitting with you in a pick-up truck like Nancy Fucking Drew.
Stakeout Night #2 finds Sam and Quinn outside the motel room — Sam puts his arms around her, Quinn leans in and puts her arms around him, turning her head slightly so her chin is right at Sam's left shoulder. You know what that's called, don't you? A HUG.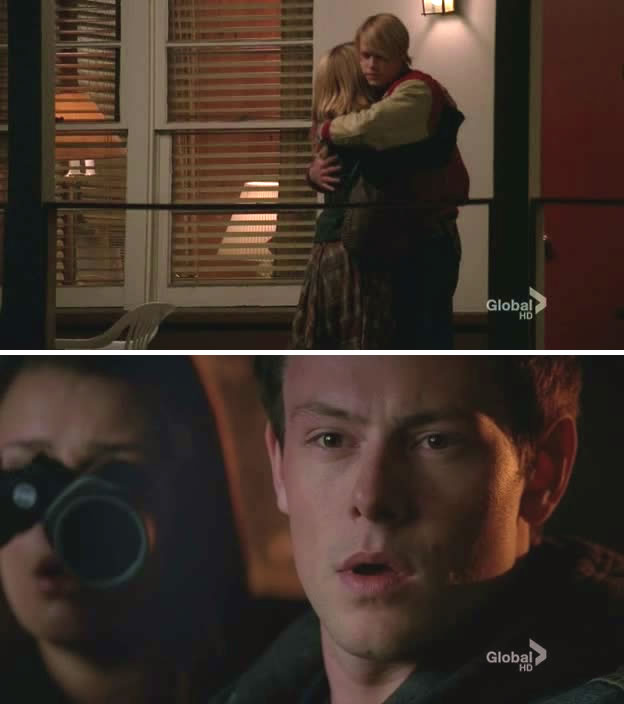 A Fleetwood Mac song I really like plays at the end so I stop bashing my head against the wall at the inanity of this subplot in order to hear it.

Following a breakup it's always beneficial to be as busy as possible, leaving less time to cry in the shower or stare at your eyes in the mirror after crying in the shower, waiting for them to settle the fuck down so you can go out, get drunk and sleep with a stranger.
Brittan's writing for The Muckracker. She's a budding journalist. Will's delighted to participate in this interview, because he's cheesy and probably wants to talk about his favorite color and how much he loves musical theater and what five albums he'd bring to a desert island.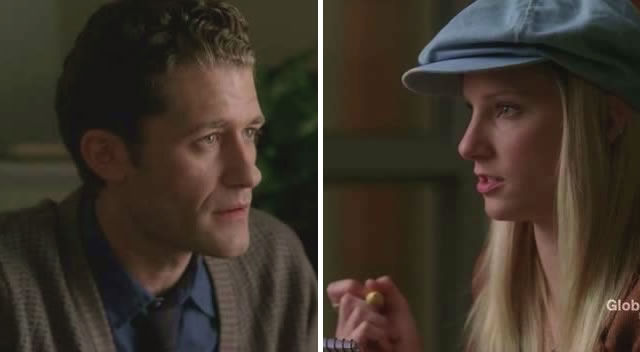 Brittany explains she joined to learn how to ask more "hard-hitting questions" on Fondue for Two, because the comments on her video said her questions were too gossipy. Huh. I was expecting "i also cliked because i thought lezbos would be making out..oOooo wut" or "COME ON LEZBO START MUNCHING RUGS ALREADY!!!!"
Back at the Muckraker meeting, Sue's encouraging her minions to just start making stuff up, which is also what I'm gonna have to do if Hulu doesn't stop freezing.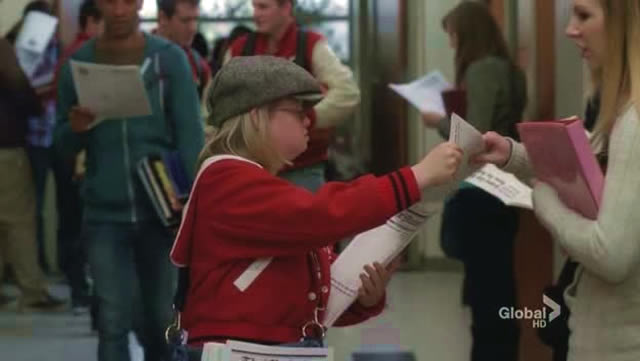 Finn and Quinn do "Walking on down the line." Quinn's got this sexy-confident bitchy thing going on, and Finn has this sort of Shrek Face thing going on, like he's not entirely sure he's singing the right words and also has blue balls. Or whatever the lesbian-equivalent of blue balls is.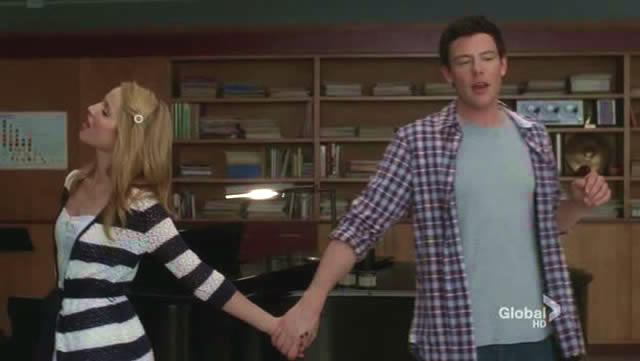 Everyone looks at each other awkwardly like they also don't wanna know why Quinn and Finn's love keeps on walking down the line, episode after episode, when again, we could be watching Santana and Brittany make out.
Quinn gets her claws out and calls Rachel out for dissing their harmonies in favor of Her Harmonies with Finn because she's trying to break them up so that she can take Finn for a ride. Everyone fights a lot. I feel like however this turns out though, we're all gonna be okay. You know?


On the set of Fondue For Two, Brittany is wearing a questionable sweater and interviewing her cat because the girl she likes texted to back out at the last minute. This scene is so lesbian-y I expected it to come to life as an Indigo Girls song.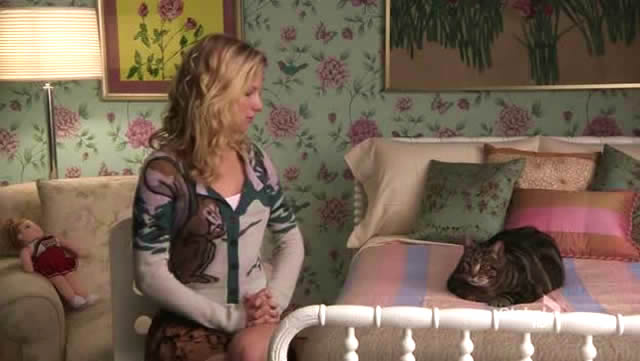 Guess what? Turns out that Brittany's cat has been smoking again. Seriously. Also, she has a Brittany doll. Who's filming all this by the way? Is anyone else weirded out by the squirrel?

Rachel's gonna put a "feminine twist" on "Go Your Own Way." The twist? She's a female, singing "Go Your Own Way." I know. BRILL-YANT. The song is fun, everyone gets super excited, especially Finn flexing his fisting muscles on those drumsticks.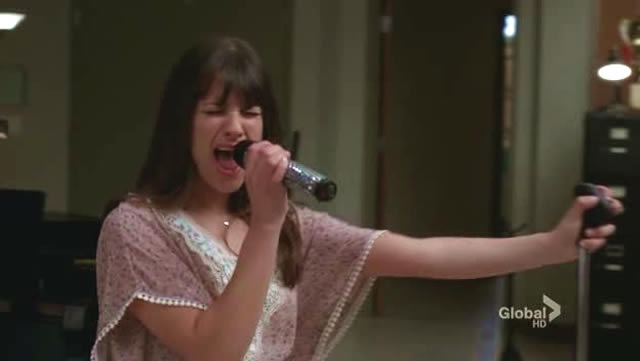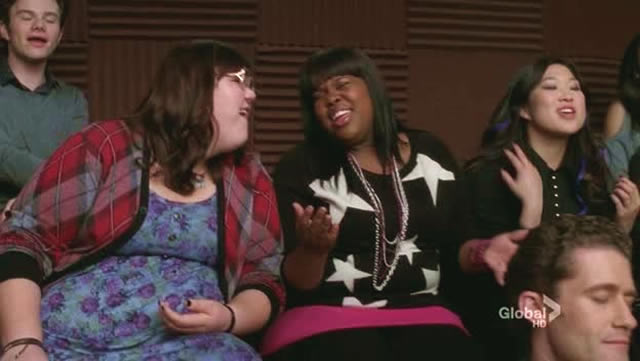 Everyone fights again and they all look like big assholes when Sam reveals his Dad lost his job and he's living in the motel. Then all the gossip girls feel like bitches and I can't hear anything because I'm screaming I TOLD YOU DUH so loud to Tinkerbell she almost goes her own way. With a canine twist, that is.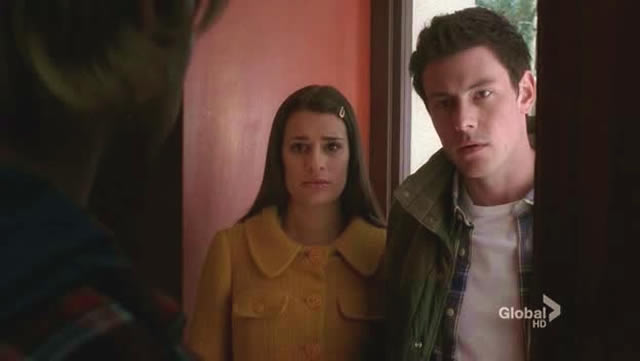 Finn & Rachel's makeup trip to the Motel of Love, which I assume was preceded by making bread pudding together and licking sugar off each other's noses, brings two tiny human children into the show — Sam's siblings.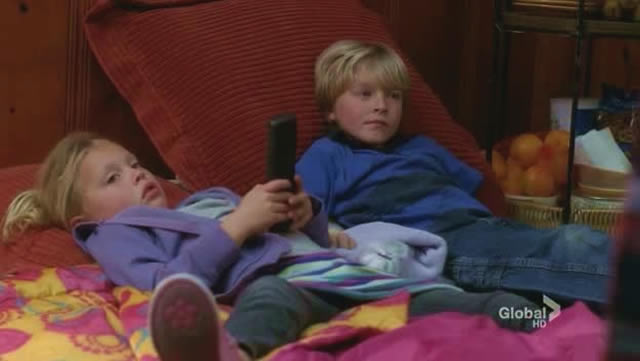 Sam says his Dad has been out looking for work — possibly at The Cracker Barrel, I can only assume (the wait times are always so long, they probably need more people) — who crawl all over Sam who is so happy that the benevolent bourgeois have bestowed a new guitar upon him.
Probably they stole it from Artie's number earlier, but it's better to think that Finn and Rachel actually went to a pawn shop together and didn't get guns up their asses.

You know, every time this guy shows up on my screen, I know something unpleasant is about to happen. This time, it's Santana coldly confirming the ongoing splendor of her relationship with Kartofsky who's name I've already forgotten how to spell again, as Brittany looks on heartbroken from the locker area.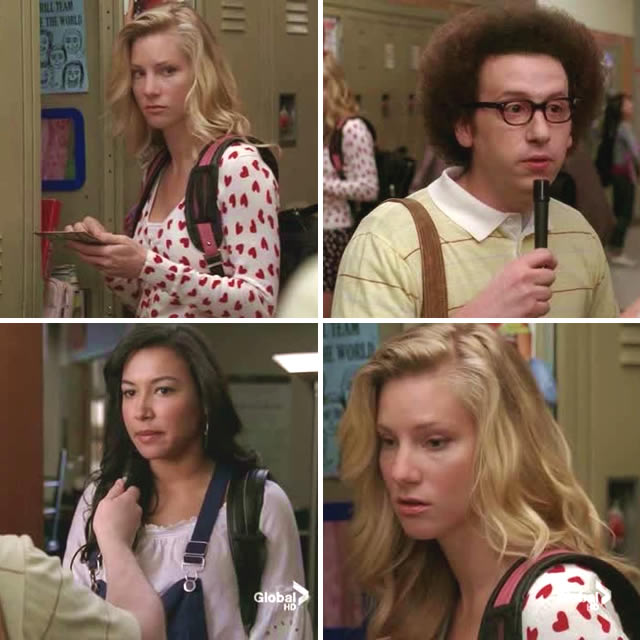 But if she's only running for Prom Queen to get Brit-Brit to be her girlfriend, and now Brit-Brit wants to be her girlfriend, why is she still running for Prom Queen and not being Brittany's girlfriend? I'm sure you'll all have plenty of psychological excuses but I just think they should be together. Maybe have a fried chicken baby, maybe open a little lesbian teashop/bookstore, maybe start scuba diving with the autostraddle commenter "diver." But instead. Instead of all of those things! Santana is wearing a doilie and Brittany is wearing wrapping paper and if you stuck 'em together, it'd be Valentine's Day.
Doesn't that mean anything to you people?


This next scene is pretty gay. It's actually the sequel to Fondue for Two, everything's super cheesy and I feel like People could just take a photo of this room and it'd be done with its Worst Dressed issue.
It's like The Country Bear Jamboree!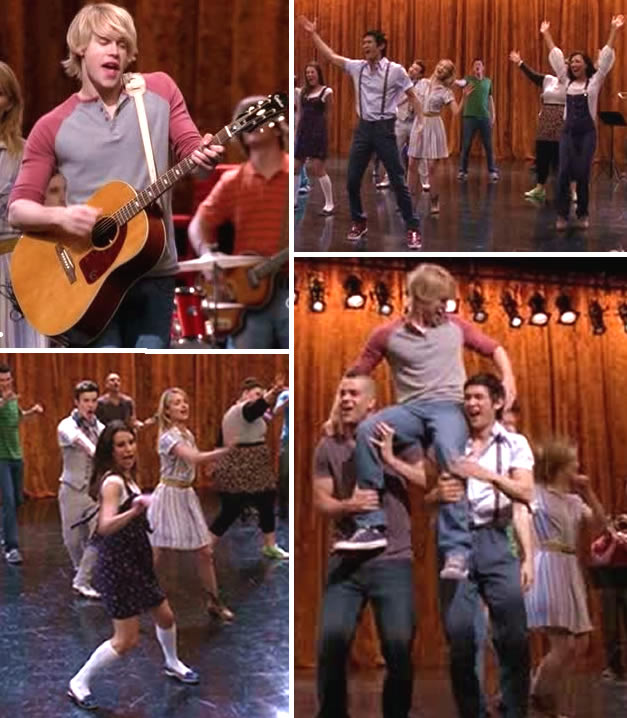 I feel like this is a musical called "Gaylord's Thanksgiving Picnic." Who knows where these ideas come from. They just appear. Seriously Quinn's dress is the cutest, and it's a paper gown she stole from the gynecologist last time she stopped by for her Ortho-Tri-Cyclen.
At the end of the episode:
– Brittany and Santana are not together
– Finn is still a lesbian
– Brittany and Artie are not together
– Kneesocks are a thing?

---
Before you go!
It takes funding to keep this publication by and for queer women and trans people of all genders running every day. And A+ members keep the majority of our site free for everyone.
Still, 99.9% of our readers are not members.
A+ membership starts at just $4/month.
If you're able to, will you join A+ and keep Autostraddle here and working for everyone?
Join A+
Pages: 1 2See entire article on one page