This week on Glee, nothing happened, which is unfortunate, considering all the things that could have happened. The episode was titled "Night of Neglect" because it neglected to do the following things:
1. Tie its ludicrous micro-plot (device) into any larger themes or storylines
2. Further Santana's journey into the world of lesbianism
3. Further Santana's journey into Brittany's jazz pants
4. Further Santana's journey into Brittany's leggings/legwarmers (regardless of limb placement, we'll take a hand and/or ankle in the vadge at this point)
5. Further the Quinn-Finn-Rachel love triangle (not like I give two shits, but whatever)
6. Further Kurt & Blaine's homo-homo-homogay revolutionary birdsong relationship
7. Further Puck's journey into Lauren's pants
8. Present even one track for me to spend the day deliberating if it's worth the money downloading from iTunes.
9. Provide any reasonable excuse for cluttering our potential lesbian minutes with old guest stars.
10. Justify its existence.
One might say the writers "neglected" to write an actual episode, probably should've spent the money spent writing this episode to actually fund The Arts, which would've brought it RIGHT back around since the theme of this episode –  and also, it'd seem — the theme of this entire week, is fundraising!

We open in Glee Club, a motley crew of children who like to make out with each other and all look about 25 but are supposed to be 17.
Mr. Shu has done an unofficial poll of the over-40s and under-12s in the Mackinaw Island, Cape Cod and Niagara Falls area and has concluded that the best way to save Glee Club is to sell saltwater taffy to students, who typically have no access to saltwater taffy at all whatsoever (like crack!). Though honestly if they live in Lima, as I've mentioned, there's a Cracker Barrel there, which sells saltwater taffy.
If you eat too much Saltwater Taffy it removes your teeth from your skull and if you eat it while pregnant then your baby might turn out like Brittany, who is hot and can dance and didn't tell Santana she wanted to be her girlfriend but also says things like "I love saltwater." True story. Don't drink & drive!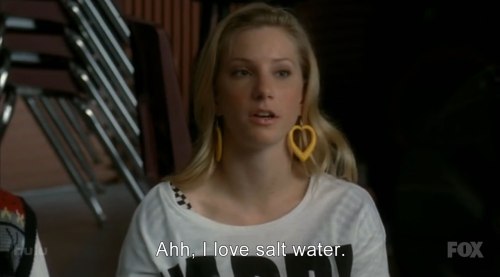 Santana says nobody's gonna buy tooth-extracting-taffy from Gleeks 'cause nobody likes Gleeks, and despite Santana being a very pretty/witty/gay lesbian with perky breasts, even she, SANTANA, gets slushies tossed in her face when she's just trying to fantasize about Shane and go to class.
We flashback to the incident, wherein Katstiasgayguy steps into the frame and says "I'm So Sorry" in a weird voice that makes him sound like Patrick Swayze in To Wong Foo.
You know, one time working at The Olive Garden I spilled a Strawberry Daquiri on this woman's leather jacket and we had to pay her dry cleaning bill, which means The Olive Garden is better to its patrons than McKinley High is to its students.
Anyhow, the Asian Guy gets super upset 'cause he's neglected — he's not selling taffy until somebody sends him a some-e-card about how the Just-Now-Invented-for-Unclear-Reason "Brainiac" Club won the Big Champion Prize last week on the teevee.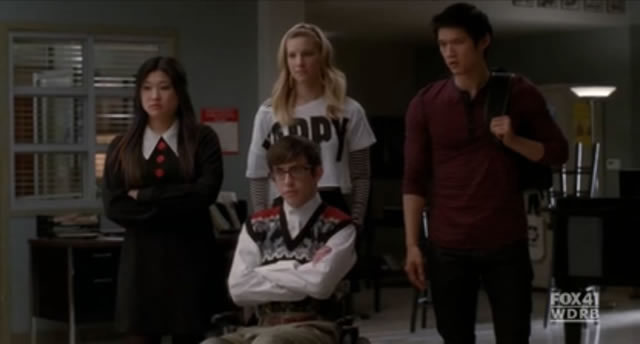 We flash back to the games, where Brittany eats Dots, probably culled from the Halloween candy baskets of every kid in the universe because who the fuck wants Dots, it's worse than Good 'n Plentys or Mounds or whatever, and answers a series of questions about cat diseases which she aces. Cats = Lesbian.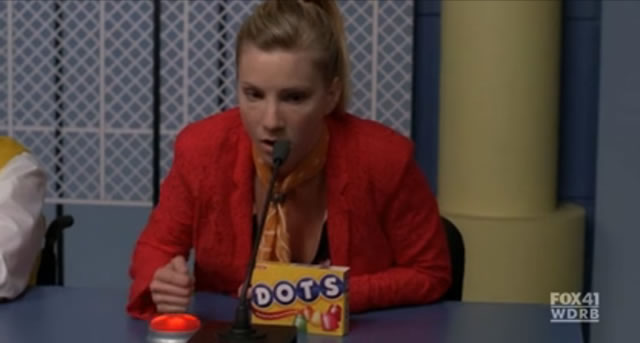 The final round of the Trivia Olympics is about white rappers, and Artie reacts like I would if I was in this show and the category was white r[ec]appers. Also, Sunshine Corazon – that character they dropped like it was hot after the first episode of Season Two – has reappeared on the opposite team.
So the point of this is that Glee Club might need $5,000 to go to The Regionals/Finals/Bicentennial but the Cranium Club needs money to go to their Big Game or whatever. I'd suggest the advisor of the Brainiac Squad handle that one his or herself, but this is Glee, and nothing is real, and it only costs $250 to ship all four of them to Detroit for finals and let's be real here: Detroit is a bargain. I grew up in the area and am obsessed with the history of Detroit, we can discuss this at another time. Mercedes could just sell her yellow shoes on ebay.

Sue Sylvester has assembled a legion of evil to destroy the Glee Club by, I believe, heckling? It's like Pinky & the Brain-meets-one-of-those-movies-with-superhero-teams-like-The-Incredibles (or that neglected movie I saw 15 times, Meteor Man).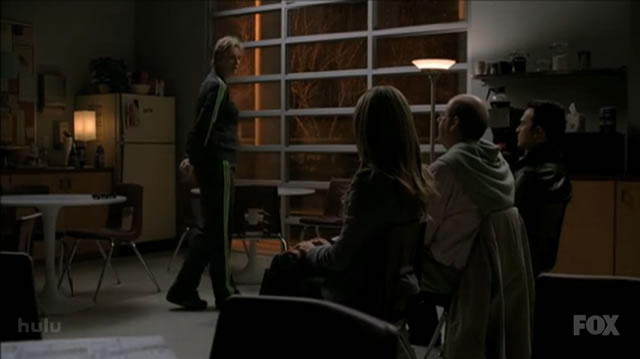 In honor of 420, we learn that Sandy now sells medicinal marijuana. Furthermore, Cheyenne Jackson's character is straight but Sandy's gonna hit on him anyhow, because he's "predatory gay." Did the writers forget that there are straight people watching this show and you can't tell the jokes you can only tell around your gay friends.

Holly Holiday talks Mr. Shu into ditching the taffy idea in favor of a benefit concert entitled "A Night of Neglect" in which the children will perform songs by neglected artists. It's a totally illogical ridiculous idea that will never work, but provides a weak structure upon which lines can be written and songs can be sung.
What neglected songs will the children be performing? Tina, who's clearly never been to Astoria or Williamsburg, picks Lykke Li. Mercedes and her pink hat, who have clearly never been to the Motown Museum which is, conveniently enough, located in Detroit City (I've been several times and highly recommend it), wants to sing Aretha Franklin. Rachel, who's clearly never been able to hear in both ears, wants to do Celene Dion. More specifically — "My Heart Will Go On," which is, essentially, the worst song of all time.
Mike just wants to dance. Thank God. Mike's dance skills have indeed been neglected, so.
So then Sunshine Corazon, sporting a lesbian beanie from The Real L Word and a Wheres Waldoey tube-top/dress thing pops up, just like the sunshine itself does every morning in Whoville.
Sunshine wants to be in the show too because she has been neglected by Glee in general for never serving a useful purpose, including now. She has 629 Twitter followers which guarantees a trending topic/packed house. Listen, I've got like 2,000 Twitter followers and you don't see me busting my ass into the March of Dimes.
Unfortunately — because she kills the song, I mean this girl is super good, and I'm 75% sure Brittany Spears herself woke up from her prisoner-coma to design that microphone — Sunshine is very wrong to claim that All By Myself is a neglected song.
Need I remind you of this:
Rachel says Mercedes will get "bumped" if Sushine joins in so that Rachel can maintain her headlining position, which I'm 75% sure is racist.
Also can I mention that Rachel has been to Hilton Head with Ian Thomas, stole the velvet fabric lining off the walls of the Ritz Carlton Cigar Room and turned it into this horse-covered frock situation that almost — ALMOST — distracts entirely from her being like Beyonce and Mercedes being like those neglected girls in the movie Dreamgirls, which is the only film I saw in all of 2006.
+

Lauren is concerned that Mercedes isn't asking/demanding enough respect 'cause she so willingly took back seat to Rachel. Also, look at Mercedes' shoes: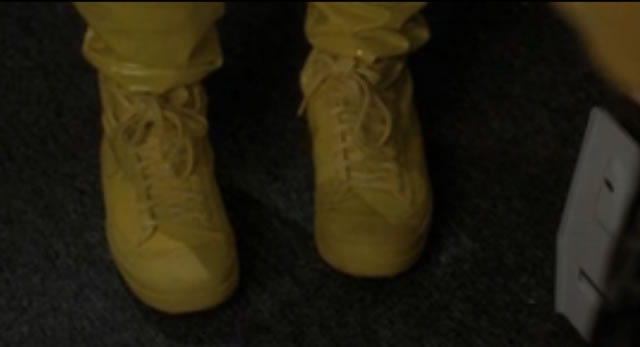 Lauren: "Respect isn't something you can ask for, you have to demand it, and you deserve it."
Mercedes: "You don't seem to have trouble in that department."
Lauren: "Right, but you know what, neither does Aretha or J-Lo or Maria, you know why? Because they get proof every day. I heard Mariah makes appointments at 9, shows up at 4 in the afternoon, because she knows people will wait."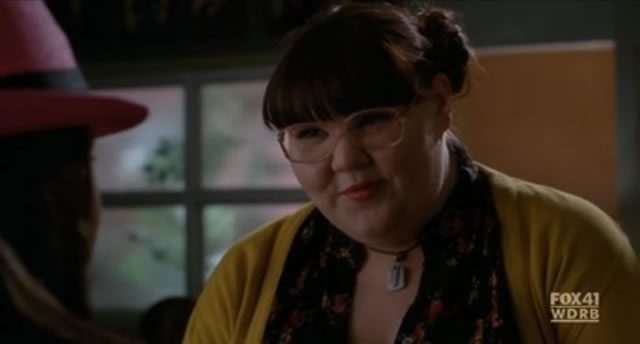 Lauren will fix this by becoming Mercedes's manager. I know, it doesn't make any sense. Just wait for the gospel choir.

So Uncle Jesse is annulling his marriage with Emma 'cause they never fornicated. Then Emma directly addresses her OCD for maybe the first time ever, idk because usually during scenes featuring solely Mr. Shu and another Rydell High Staff Member, I head out to make toast or fix another drink. I don't even know why I'm sitting here.
Anyhow, for the first (or maybe tenth time), Emma GETS REAL.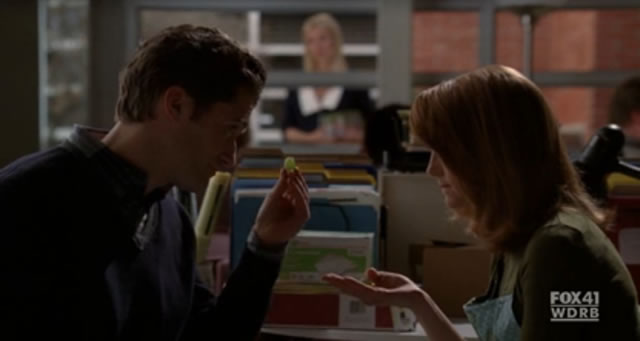 Emma: "I actually believed that I'd have a handle on my OCD by now, it's just been so long, and I'm so tired."
God, and isn't that the fucking truth? As much as we're in love with our sadness/ destructive tendencies sometimes, when push comes to depressive/obsessive/manic shove, it's just — it's just "I'm so tired."

Mercedes is making demands about M&Ms, as M&M selection is a thing journalists are obsessed with when talking about celebrity's dressing room demands.
I'm excited that all signs are pointing towards the Mercedes number we want at least twice as much as Mercedes herself does, but must we get there via this weirdo plot?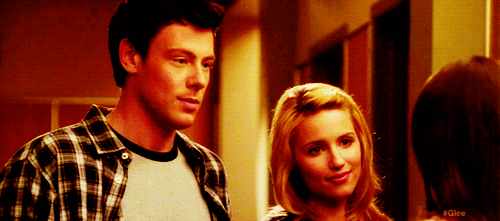 Finn & Quinn approach Rachel in concern, Rachel says that stars obviously make demands b/c they need what they need and everyone knows Blue M&Ms are GM foods manufactured by someone who probably exploits something, somewhere. Rachel says she'll take care of it.

Holly Holiday is being a Person From History who had big hands, like a lesbian. It's not me, and it's not Samantha Ronson, and it's not the Jolly Green Giant, and ultimately I don't care/know what's going on here. She should have a fisting war with SamRo inside Lindsay Lohan's uterus.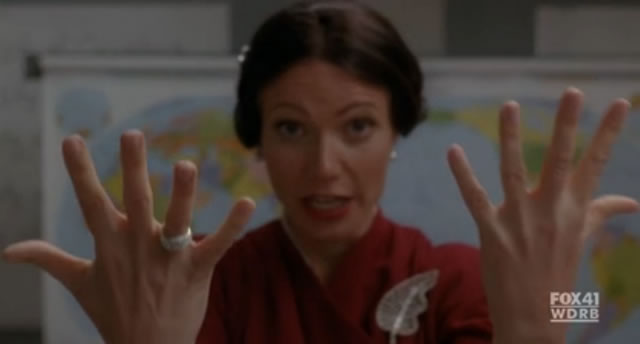 Also she's dressed like Star Trek Generation meets Memoirs of a Geisha meets the late 80s. I love it.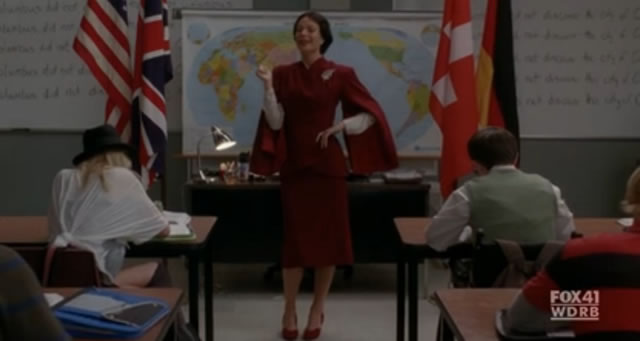 Cheyenne Jackson arrives to hit on her. Ryan Murphy is doing his part to prove that gay actors can play straight, one gay Broadway dude at a time. Cheyenne has a thing in his ear, probs so he can communicate with the other Old Navy Team Members.
Cheyenne tells Holly that Will has small hands. This is the most lesbiany part of this episode so far, unfortunately. WHERE THE FUCK IS SANTANA'S LEZBOVADGE.


Mercedes/Rachel demands things like if she doesn't get to headline everyone has to carry her around like Lady Gaga in the egg / somebody at their wedding / babies before they can walk.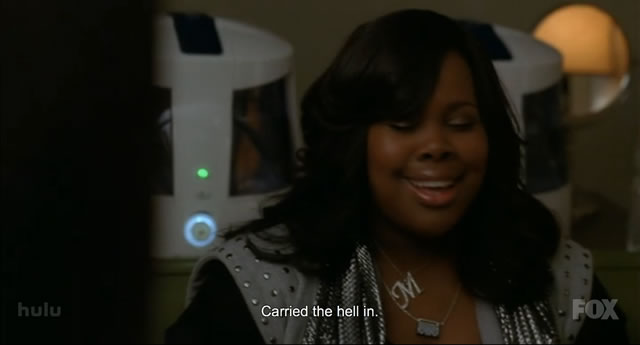 .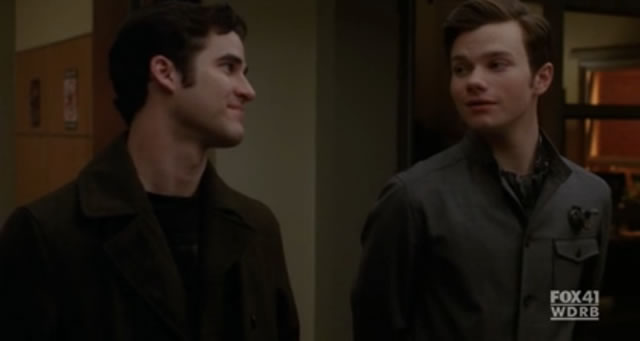 Kurt & Blaine in complementary pea coats have brought their adorable selves down to school for world's most bizarrely conceived "fundraiser," probably because they follow Sunshine on Twitter. Kurt misses his friends, Blaine observes in the cutest voice possible. But before Kurt can get too wistful, it's Kissathophasky, emerging like the beast he is from the bowels of the building. Kartoshpshaky has taken a break from "pumping iron" (really who says that? the Terminator?) to regulate the "fairy dust" he hears Kurt & Blaine are spreading all over the hallway. Okay, if you want to blame contagious fairy dust for your case of the gays, Kartopskgay, then go for it.
Blaine: "You can live whatever lie you want, but don't pretend that the three of us don't really know what's going on here."
(Kartosskyphy is jealous of Blaine because he also wants to roll in the hay with Kurt Hummel, knew about Lance Bass before you did, etc.)
Then a pushing fight begins which is interrupted by Santana — who, by the way, has a dead muskrat on her shoulders but I cannot get mad at her blood-red dress — who gets all super Santanaish up in his face saying whatever he does is her bizness 'cause he got that slushie all up in her grill and she does not mean the kind you make hamburgers on, she means the other kind.
"I think I can take a couple of queers and a girl," says Karstarterosky. Little does he know it's actually three queers. Also sexual orientation and gender identity are not the same thing. Santana will have none of this: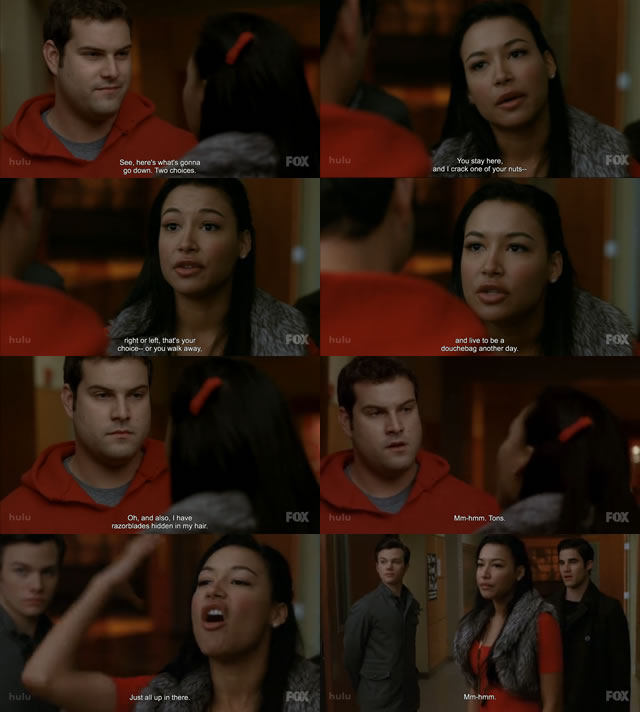 BEST SCENE OF THE EPISODE.

Sunshine, however, in the tradition of being a total peripheral unnecessary character who wasn't even in Spring Awakening but is super-cute and a great singer, has announced on Twitter that she's not going to the concert. Therefore her 637 followers, who I'm certain all resided in the Lima Metro Area, are untying their shoes and taking off their hats and settling in for a rerun of Dr. Quinn Medicine Woman.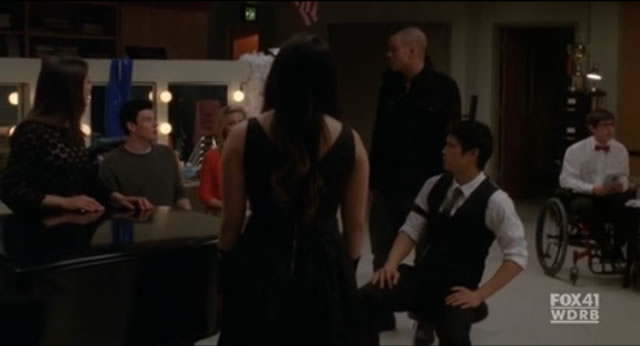 Finn says, "whether there's 6 or 6,000 people out there, we have to give it our all," which I'd argue is definitely not true.
Sue's Evil Hecklers are in the audience yelling at Tina when she heads out there to do her thing which is sort of a mystical lighting situation that seems perfect for like, people having sex on opium. It sucks that she's booed off because I feel bad for Tina and also because I genuinely wanted to see the rest of her performance.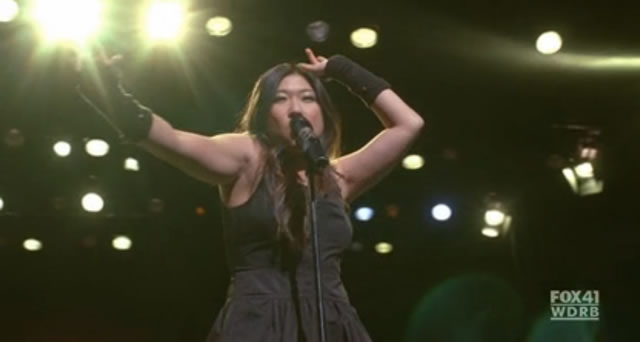 Quinn passes out taffy like Little Red Riding Hood, reminding them to vote Quinn for Prom Queen, which might be the only element of this episode that ties into anything else that'll ever happen, ever.
The hecklers, silenced by the sound of their own fillings cracking open, witness MIKE DANCING. YAY! Mike Cheng is gonna do his badass best to get me to like Bubble Toes half as much as I did for about 3 months in 2003, a feeling which has since faded — ay! not faded! — burned out completely. GOD I HATE THIS SONG. I feel like this performance maybe should've been about "songs that were totally overplayed and irritating, repackaged."
My re-package would've included Brittany in this dance number, but maybe she's playing Scrabulous. There are some clips from Mike's performance in this video:

Now we have a little PSA from The Creators of Glee about how internet hecklers/trolls are losers. I hope this works in the same way that having all these gay characters turned all the children gay.
Jacob (yes I had to look up his name on IMDb): "Technology has allowed us to be brutally cruel without suffering any consequences. In the past if i wanted to tell someone they sucked, I'd have to say it to their face, which would generally result in my ass getting kicked."
This is tricky, and I kinda like it — rolling out the idea that these internet bullies are just the humans getting bullied every day? When you ask yourself "who are these angry, angry mean terrible people saying terrible disgusting vile things on the internet all day for no reason?" Maybe it's people who are already mad at the world for shitting on them all their lives. It's people who, as you may have predicted, honestly wouldn't ever say this shit to your face, because your face is precisely what scares the shit out of them.
This episode is mostly meta, it'd seem.
Holly:"We're constantly bombarded with these images of people who are richer than us and happier than us and have more interesting sex than us and it makes us feel terrible–"
Becky: "Preach!"
Holly: "You know, we tear them down to make us feel better ourselves. And we don't stop with the people who are on TV or who are in magazines, we do it to everybody. We think that because it's done anonymously, there are no ramifications. But there are ramifications, guys, because it makes you comfortable with insensitivity. Do you know that one of the girls you heckled tonight has been crying for an hour?"
Azimio: "You're saying you never ragged on anybody?"
Holly: "Oh of course I did! I spent three years sending hate mail to Debbie Gibson until she wrote me back and said the stress of my letters was giving her alopecia and then I felt terrible because I realized it was just my jealousy that she could fill a mall with her adoring fans. You guys are great kids. Some of those insults were RAD — but just think how about how you could uplift the world if you turn some of those barbs into roses. I mean, intermission is almost over, why don't you get back in there and turn some of that jeering into cheering?"
OMG this is exactly what I said to Perez Hilton. Rather than cheer or smoke up with Sandy, they all head home to play on 4Chan.

Suddenly it's raining on the set. "It's raining!" Rachel tells Mercedes, who is sulking in her Sports Utility Vehicle, where Rachel has gone to retrieve her and bring her back to "save the show."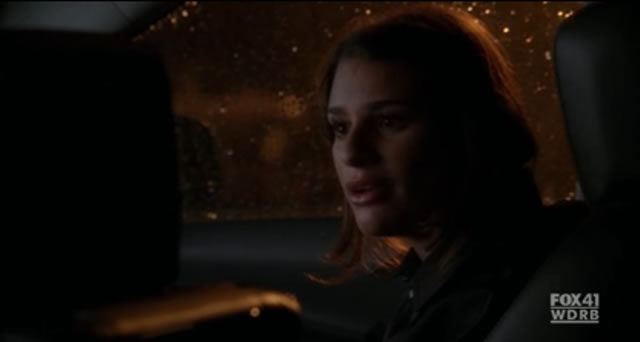 Mercedes: "I just don't get it. Why are you a bigger star than me? You always get the big solos, the best songs, the moments in the sun. Why is it never me?"
Rachel: "I don't know, I mean you're just as good of a singer as I am."
Mercedes: "Yeah, and everyone actually LIKES me."
Rachel: "That's your problem! Because I would rather be a star than be liked. And I'm not saying that it's healthy and I'm not saying that it's better than being loved but there's nothing — nothing — that I wouldn't do for the chance to be in the spotlight."
Mercedes: "I just really wanted that closing spot."
Rachel: "Well if you want that closing spot, then go in there and take it from me."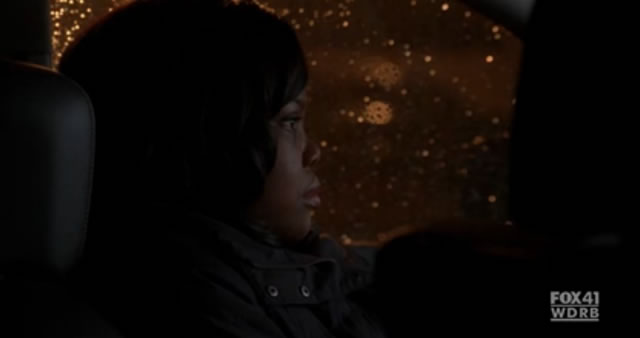 Holly Holiday wastes our time with a solo, Sue yells at the gay guy from Central Casting, and then Mercedes says she'll sing.
It looks like Christmas. Seriously. It looks like Christmas with the colors: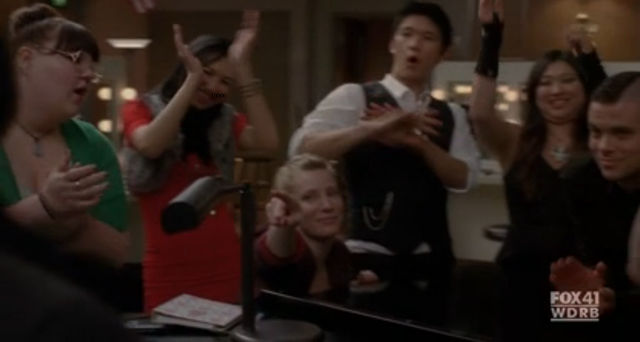 That's Heather Morris saying YOU GO GIRL in a secret Heather Morris language only spoken by people who manage to make "whip your hair" a legitimately sexy dance move.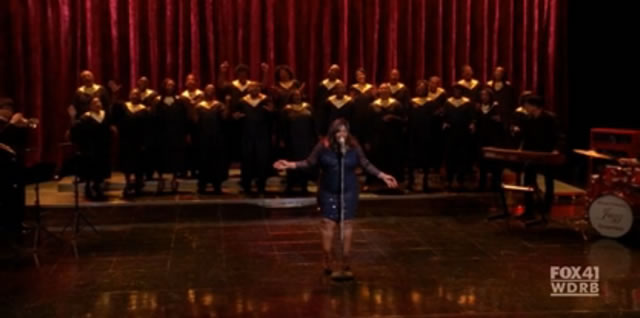 Also Mercedes has somehow procured an entire gospel choir from that little clown car/SUV of hers. Expensive benefit. Where's George Clooney. Rachel is standing backstage with her hand at her breastbone, feeling upset because Mercedes is so good, duh, probably Finn is gonna like her too now.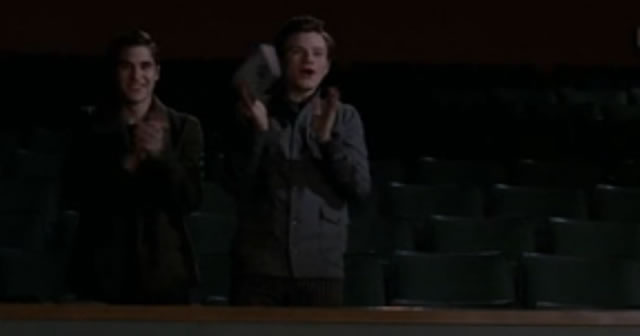 At the end they get the money they need for whatever, which wraps up this little plot device and our evening.
"That song and the weed I smoked prior — it gave me a change of heart," said Sandy. Me too, me too!
"I miss The Arts, I really do," says Sandy. Us too, Pink Panther Dagger Sliceshot Caped Banditgay, us too.
Well! That was fun. Please return next week, in which the entire Glee episode will be dedicated to The Macarena. You know what I just thought of? Even though saying that Kelly Clarkson is a lesbian is like a 75% lie because I really have no idea, wouldn't it be cool if she was a lesbian and she came out on this show and they had a Kelly Clarkson episode and Santana and Brittany sang "Moment Like This" to each other. Think about it.
Look at this gif, isn't it cute?
Pages: 1 2See entire article on one page