Hello! Welcome to the last Glee recap I will EVER WRITE! It's obviously not the last time I'll ever write about Glee, period  — my co-pilot Heather Hogan and I have some #endofglee posts planned for this week and next — but it's my last recap. Heather will be recapping next week's two-hour finale spectacular (I'll give her my notes, of course). I'll have some final feelings and thoughts on the last page of this recap, but first, LET'S DISCUSS THIS PENULTIMATE EPISODE OF GLEE!
---
Welcome to the to the eleventh recap of the sixth season of Glee, a late-night talk show about sister wives who have lesbian sex in an underground bunker and make gluten-free onion dip for their tiny dogs:
---
We open in the Glee room, where the Glee Club is rehearsing for the first time in Glee history! It's never too late to turn your whole life around, folks.
The Warblers have clearly never read Entrepreneur Magazine 'cause they think a five-minute break will irreparably harm their chances of succeeding at the Divisional Sectional Spectacular Titilational Singing Ball Bash. Furthermore, they think Spencer and Roderick should stand in the back at Sectionals 'cause they can't dance.
Warbler: You dance like a blind man with a back brace who hasn't taken a dump in three weeks!
Spencer: Hey, I don't need to dance good, I just need to look good, and I do.
Other Warbler: Get over yourself, we all look good!
---
We then creep stealthily into the hallowed hallways of McKinley High School For Kids With Decent Pipes, where Roderick is opening his locker. Roderick opens his locker. Everything falls out of Roderick's locker. Because he's a failure! If he can't even keep all his shit in his locker, how will he and Spencer ever learn how to dance???!
But the two bral pals can't decide who's gonna teach them to dance! Luckily, I have some ideas.
Idea #1: This girl.
Idea #2: This girl.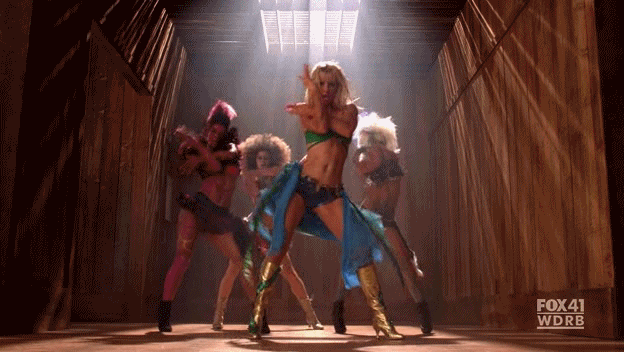 Idea #3: This guy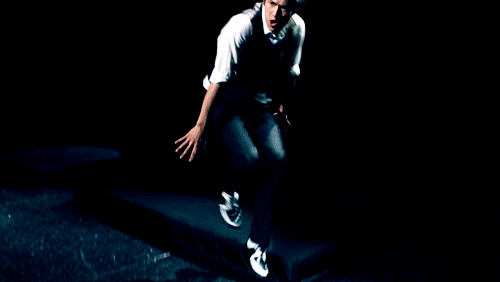 Idea #4: This guy
Idea #5: All three of these girls at the same time: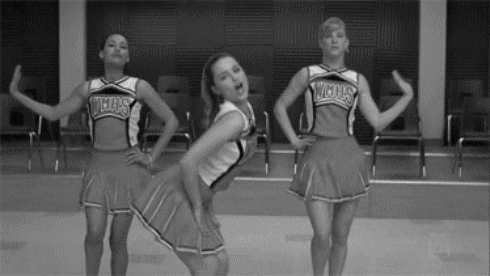 Okay that was just an excuse to reminisce. The boys decide that Fake Quinn will teach them to dance.
---
In the April Rhodes Memorial Pavillon, Sam's trying to convince Rachel not to pull a Lea Michele and/or a Chris Webber and go pro before acquiring that holy piece of paper known as Ye Olde Bachelor in Fine Arts. However, acting school basically exists to help young people have successful acting careers and if she's already got one then she probably doesn't need Fake Julliard? But whatever. Rachel insists she needs to make this choice on her own.
Sam departs, disgruntled, and Rachel breaks into "Listen To Your Heart," only to be joined mid-song by Jesse St. James!
This is primarily an opportunity for us to witness the joy Lea and Jonathan Groff feel when they get to sing together. I've always loved that part of this show, too — how it kept bringing Broadway onto the television, easily snagging superstars like Idina Menzel and Kristin Chenoweth for side roles. Anyhow, Jesse St. James is in town to coach his mother through her tummy tuck, and thought he'd drop in to talk Rachel into eschewing Fake Julliard in favor of the Russell Simmons musical, co-starring yours truly, Jesse St. James.
Jesse: It's really fun to come home every now and again and coach a Glee Club or, in my case, help your Mom use her grabber tool to pull a box of cereal off the top of the fridge, but you and I both know that you belong on Broadway. You need to get your ass back to New York!
Rachel reminds him that she is going back to New York, she's just not sure if it'll be to work at The Olive Garden or to perform elaborate musical numbers outside the tkts booth. Furthermore, she notes that her life fell apart after she dropped out of Fake Julliard, so probably she should rectify that situation. But that's not what she did wrong, and everybody knows it:
Jesse: Rachel, your mistake was not leaving NYADA. You got a lead role in Funny Girl, nobody could've expected you to turn that down. Your mistake was leaving the show too early to do that stupid sitcom.
Jesse St. James says they "make great music together," which is code for anal sex.
---
Cut to the dance studio, where two male characters we have zero investment in are playing out Glee's third incarnation of the "old clunkers learn how to dance" subplot.
Spencer takes up about as much space in my heart as one of Teen Jesus's dreadlocks, so I care about as much as Dalton cared about its Warblers temporarily blinding Gay Blaine with rock salt when Spencer falls and twists his ankle.
What show introduces a whole new cast for a farewell season? Seriously! The closest thing I can think of is how Buffy added the whole team of new Slayers in the final season. Regardless, we follow these ciphers to the locker room, where Spencer says he's gotta be the tough guy who makes it through the rain with a shot of Novocain, just like the gymnasts did in Little Girls in Pretty Boxes. Beiste says he could ruin all his joints forever with that attitude but really there's only one more episode in the season, so I say SHOOT 'EM UP.
---
Backstage, Kurt interrupts Rachel organizing her makeup brushes to talk about The Future and whether or not she wants flaxseeds on her strawberries tomorrow morning.
Rachel: What if I say no and then I never get cast on Broadway again? It could be like career suicide!
Kurt: That's not going to happen to you. Listen, you could do Broadway or NYADA, you're gonna be great at whatever you choose. When I first heard that you and Blaine were going back to Lima to coach your old Glee Clubs I thought you were crazy, but I'm so lucky you made the decision that you did. You inspired more than just this group of kids, you inspired me too. What we're doing really matters. We have a profound effect on these kids and their self-esteem and what they go on to accomplish. Look we only have a few years left to go to college and learn all the fun stuff like acting and fencing and choreography. We also get to go to school and be inspired in the process. I mean how lucky are we? I just want you to think about that while you're making this decision.
Kurt says they can start over again 'cause he's going back to Fake Julliard and Blaine got into NYU and their entire lives could be different, everything could be fantastic and so great and so much better!!
---
In the Glee Club room, a bunch of packages have arrived! Kurt says they're from GLAAD and might be a gift for hosting the Trans Choir. The children gleefully rip open the boxes, probably hoping to find a dick or a smaller box, but alas!
I imagine a bunch of writers with unkempt hair, kinda stoned, eating macaroni and cheese from Boston Market and writing this scene.
The glitter bombs are especially bomb-like, destroying everything in sight! For example: a piano. Also, everybody in the entire school is vomiting on everybody else. Obviously this is Sue Sylvester style domestic terrorism.
Sue: Everyone at this school is experiencing wheat I like to call Monte-Su-ma's revenge.
While everybody throws up, Will is informed that HIS CAR IS ON FIRE! I swear you stop paying attention to this show for one minute and then somebody's car is on fire. Abby just went, "There's a fucking CAR BOMB on this show?" I don't know what to tell her. Then Will gets revenge by pretending to be a hairdresser and shaving Sue's head? I don't know what to tell anybody about anything anymore!
---
We then cut to a dark locker room where Sue's watching Hitler videos and talking about how Vocal Adrenaline is a machine like the Nazis. Sheldon finds this offensive 'cause Hitler probably would've hated trans folks. For the record, I don't think anybody requires a personal connection any of to Hitler's loathed populations in order to find Hitler films offensive, but I digress.
---
Pages: 1 2 3See entire article on one page