Cut to the hospital room, where Kurt is stable but has bruises/cuts on his face and has taken shit-tons of oxy. Sam says he wants to kill whoever did this to him, and Rachel feels responsible 'cause everything is about her, and Blaine wishes Kurt could hear him.
Then Blaine starts singing to Kurt and it's really sweet and thus we transition into his Midwinter Showcase Piece and here that is:
http://youtu.be/vvnBOoUkQ9A
Then they curl up together in the hospital bed: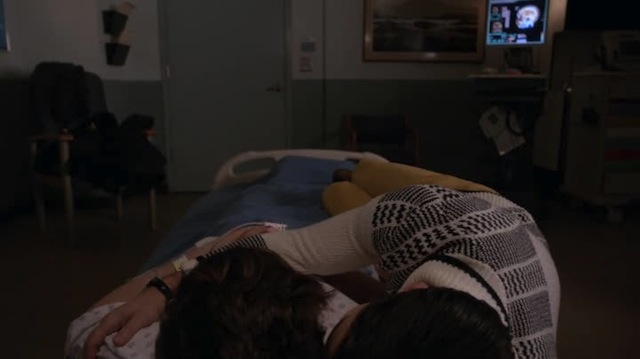 ---
Starsweep to Mercedes' Superstar Recording Studio, where she's taken Sam to show him her cool outfit.
Mercedes says that not dating a man because he's white is like not being friends with somebody because they're gay. It's actually not like that at all? Like not really at all it isn't. I think not dating a man because he's white is like not dating a man because he's white. But um, anyhow! So they're gonna get back together and now Mercedes is going to sing a song!
http://youtu.be/kcYMAUhtlEA
The best most important thing about this whole situation is Amber Riley.
---
Cut to the hospital, where Mr. Kurt Burt Hummel has rolled in to yell at Kurt for going to protect somebody in a dank alley even though he doesn't know how to play football!
Burt: "You could've called the cops, you could've gotten help. Now look, I'm proud of what you did but come on man, use your head!"
Kurt: "I've been fighting these guys for a really long time."
Burt: "I've been fighting too, okay? I don't know man I mean, it's just uh, I can't believe that this happened here. You know? I mean, this is New York City. I mean come on this isn't Kansas. Am I an idiot because I thought you would be safe here? Safe-er?"
Then Burt tells Kurt that he is sad that somebody bashed up Kurt's beautiful face. They are really lovely, these two.
---
Cut to that charming New York City street where the episode opened, where the vigil has really gotten next-level with floral arrangements and candles. Blaine exposits that Kurt got out of the hospital yesterday and that the guy the vigil is for is going to be okay.
---
Starsweep to the Barbie Bushwick Dreamhouse Loft, where Kurt is at home with his sad face talking to Rachel about feelings. Rachel apologizes for being bitchy at the restaurant and says Kurt is the most talented human EVER OF ALL TIME and that he's taken more risks in his life than she ever has. I think she's talking about this outfit.
Rachel and Kurt decide to be best best friends again and will probably get a Best Friends necklace and I think probs Rachel will get BE FRI and Kurt will get ST ENDS.  You know, I feel like we rarely get any info on what Kurt and Rachel's relationship is like when we're not around. They talk about being best friends, but they so infrequently reference experiences they shared that we didn't see on the show — and their relationship certainly isn't the only relationship in which this happens — which ends up making the characters feel really flimsy and hollow sometimes. Or maybe I'm just not paying attention.
Anyhow, now it's time for the Monday Potluck! I hope somebody brought vegan macaroni salad.
Sam and Mercedes have an announcement to make:
Mercedes: "Well, Sam and I…"
Sam: "We are officially dating again."
Blaine: "Wait. Were you guys ever really dating?"
Sam: "Mmm… yeah?"
Mercedes: "Not really."
Artie: "Your relationship has always been kind of weird."
Sam: "Okay, that's racist."
Then Rachel has an announcement to make! Her announcement is that Kurt's Midwinter Spectacular Spectacular is tomorrow and she hopes they'll all be there because otherwise they are terrible friends who will die in a fire. Mercedes said she wouldn't miss it for the world! Another thing Mercedes won't miss for the world: Sam's tonsils.
---
Then before we can finish our hot dogs, we're zoomed off to the Midwinter Fairyland Ballscape, where Kurt is performing "I'm Still Here" from the musical Follies, an inspirational Broadway ballad about still being here.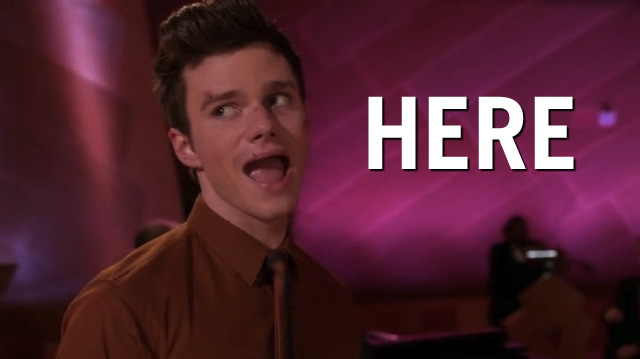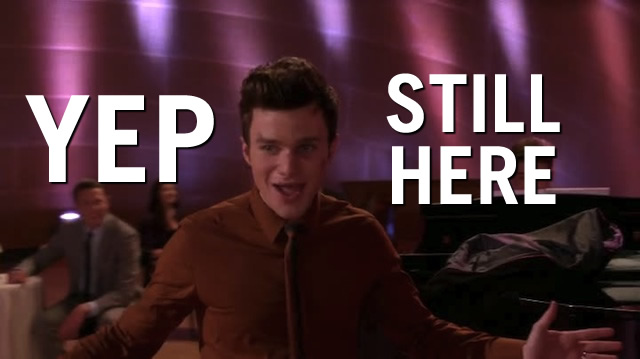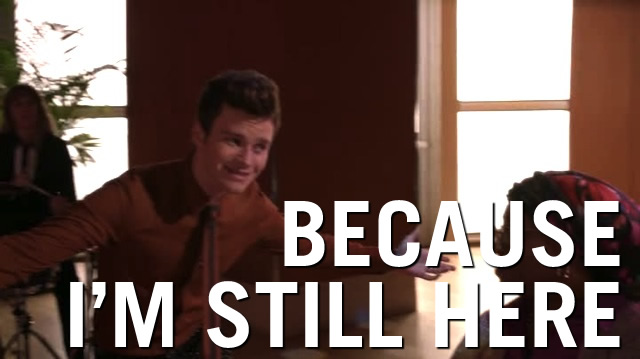 This was an interesting song choice because it's usually sung by an older human, but I guess it's like Kurt is an old soul because people have been trying to kick his ass since Season One.
Here's the whole thing:
https://www.youtube.com/watch?v=Fsyc-9DebJU
---
And that's all, folks! What did you think about the handling of the gay-bashing thing? I was happy that they didn't overdo it, and I thought the "getting the call" montage was well-done, but it also ended up feeling a little half-baked? I can't decide. It's really hard to know how to feel about this show these days! Did you hear about Naya and Big Sean? Anyhow.
Next week on Glee, Santana and Brittany will STILL be out of town, and this will happen:
When the boys get tested for STDs, Artie tests positive for a disease and he's forced to tell his sexual partners. Meanwhile, Kurt and Blaine have relationship issues when Blaine puts on his "freshman fifteen" in the all-new "Tested" episode of GLEE airing Tuesday, April 15 (8:00-9:00 PM ET/PT) on FOX. (GLE-516) (TV-14 D, L)
:-(
Pages: 1 2See entire article on one page