Welcome to the ninth recap of the fifth season of Glee, an American Western comedy series about the fictional "Bar None Dude Ranch," staffed by the children of former astronauts who sport alternative lifestyle haircuts, are addicted to Diet Coke, and enjoy painting each other's toenails with watercolors. The show includes singing, square dancing, smizing, sploshing, boyfriend jeans, patriarchal spellcheck, Faygo, bacterial vaginosis, cosplay, snow days, crystal meth, showgirls, and $8 hot dogs.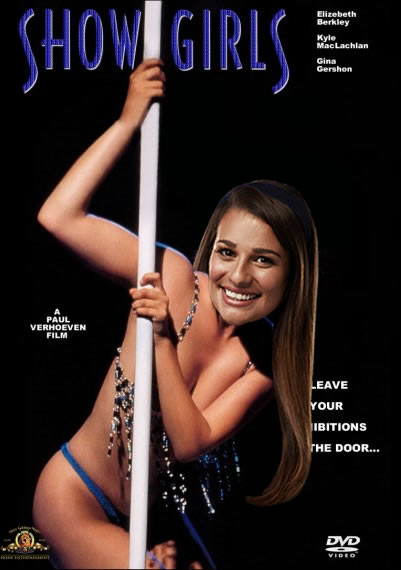 This week on Glee, everybody was really mean to each other! The theme of this week's episode is "songs applied wildly out of context."
I apologize for the extreme lateness and overall mediocrity of this recap! It has been a crazy week because Alex was here, and Lesbians Who Tech was happening in San Francisco, and then today I flew to Washington DC for the LGBT Journalists Convening and I had to write this in a recap! Next week will be better I swear, especially IF SANTANA'S GIRLFRIEND EVER SHOWS UP.
---
We open in Fake Ellen's Stardust Diner, where Santana's butting heads with a tourist who thinks that Santana is Mexican and that her Moons Over My Hammie Scramble Special isn't warm enough.
Santana removes the offending food item and Rachel admits she's surprised Santana didn't open up a can of Lima Heights Adjacent Whoop-Ass on The Disgruntled Tourist, to which Santana replies, "I need this job. I'm saving up to buy a noose to hang myself with."
Santana laments that New York's yet to discover her amazingness, seeing as her apparently new-bestie's already landed a starring role on Broadway and all Santana's got is a yeast infection (commercial). What Santana doesn't know is that this isn't actually New York, it's an Imaginary New York, where Rachel's got the time to attend school full-time, waitress, be in a band, and star in a Broadway musical! In this imaginary agentless New York, it's entirely possible that Santana's Big Break could arrive immediately, perhaps in this very episode. Pretty much everything is possible except lesbian sex. Santana apologizes for complaining to Rachel, who insists it's okay 'cause "they're friends."
Santana: "I think I just have this weird guilt trip thing about being friends with you because I was so awful to you in high school. Quinn and Britt hated you too, which was mostly just because you sucked so bad and walked weirdly with that 'feet pointing out' thing.* I made Quinn look like the boss, but I was really running the "Hate on Rachel" Parade."
Rachel says that's all in the past because now they have lesbian sex JUST KIDDING it's all in the past because whatever, and Santana says she hates being the least successful of their apartment's tenants and Rachel says what Santana really needs to cheer her up is to get her nails done and stand in the background of Rachel's upcoming shoot for New York Magazine!
Santana: "I really hope that I can be as cool as you when the roles are reversed. You're a really good friend."
* If you hang out with a lot of ballet dancers, like I did once upon a time, you may one day find yourself walking this very same way.
---
We then insert our giant feet into surly Doc Martens, leap onto our stylish motorcycles, and zoom all the way back to Lima, Ohio, home to North Carolina Furniture Express, where Artie and Tina are skipping Official Lunch to have a Private Lunch in the Auditorium.
Tina complains that she got waitlisted at Brown and, because McKinley apparently has the worst guidance counselor of all time, only applied to Ohio State and "that dumb vet school" for backup. Artie insists she'll get in to Brown and can go hang out with our writer Helen and our fashion editor Lizz.
We then segue into a rousing light rock number that reminds me of being at the dentist.
http://youtu.be/O_FQNvC-uMQ
---
We're then plunged rudely back into the murky depths of reality's merciless slings and arrows, because Becky is loudly summoning Artie and Tina to The Lair of Sue Sylvester, who will inform the winsome duo that they're tied for Valedictorian. Then the writer looks the viewer in the eye, and then winks with that eye:
Sue: Now, unlike some members of the Glee Club who come and go for months at a time with no explanation, you two losers are always in that choir room, even if for an entire week the only thing you have to do is say something inconsequential like, "Kitty's right" or "Blaine, are you serious?"
Tina and Artie must compete for valedictorian by wrestling in a giant tub of Butterscotch pudding JUST KIDDING they have to present their speeches to a panel of idiots and the idiots will choose who is no longer in the running to be America's Next Top Valedictorian.
---
We then affix our private parts to a zipline with a carabeener and zoom swiftly back to New York, New York, home to Amsterdam Video where I bought my first vibrator, where Rachel and Santana are hanging out at the Fake Julliard set pretending to be at a fashion shoot for New York Magazine.
This one time I was photographed for New York Magazine but I had to do my own makeup and then they killed my story and I never got to see the photographs. This was especially devastating for Haviland, who was in a lot of the photographs, because she loves being in photographs, but less devastating for my girlfriend at the time, who thought cameras stole your soul or something. Anyhow where was I?
Oh yeah, then they sing Brave. Rachel's dressed like Lil Orphan Annie Goes Goth Disco and everybody else is modeling the 1996 YM Magazine Prom Dress Collection.
Bear witness:
http://youtu.be/oXUFNIC_SxY
Also, Intern Grace snagged you a sneak peak of the New York Magazine cover: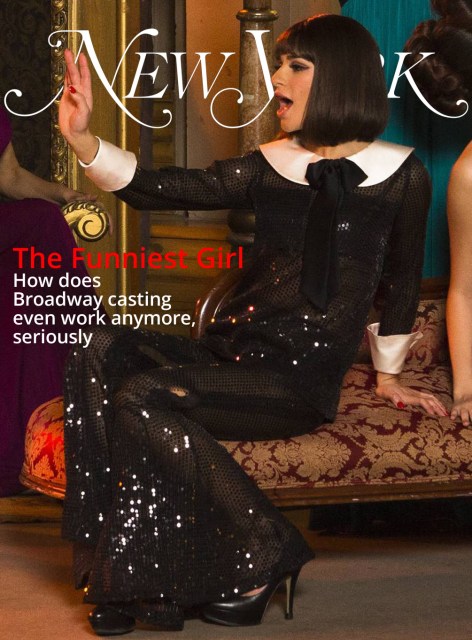 ---
We then bobsled all the way back to Lima, Ohio, home to 679 people named Robert, where Artie won't let Tina just be valedictorian! But she needs this to get into Brown! But she was just elected Prom Queen! But colleges hate Prom Queens! So they have to yell terrible things at each other!
Artie says that "everyone" has been "talking" about how an alien invaded Tina's body between seasons and made her into a desperate shallow bitch who vapo-raped Blaine, and Tina says that Fake Quinn can't possibly love Artie and is using him for a "sick charity project." Don't worry I looked on Charity Watch and "pretending to fall in love with somebody for no real reason" wasn't listed, so we're in the clear, but Tina is being really mean, so.
---
We're then rushed into a frantic two-way call between Blaine and his psychotic fiance, Kurt Hummel, who thinks Adam Lambert's trying to take over the band 'cause he wrote a song and had an idea and mentioned the band in an interview. Blaine advises Kurt keep his friends close but his enemies even closer,  which I think means that Kurt and Adam Lambert should have sex.
Kurt reminds his roomies that rehearsal's happening tonight but Rachel's gotta miss it 'cause she's gotta hit up understudy auditions. Santana says she's not rehearsing if Rachel's not rehearsing and I guess we're pretending Dani's not in this band anymore, I blame femme invisibility.
---
We then crawl on our hands and knees, following a tiny carrot dangled above our clamoring yaps by a string carried by a merciless master, all the way to Lima, Ohio, where Will can't decide which of these frenzied fruitcakes will snag the second solo at National Geographic World Olympics Challenge Context of The World Nationals Free Skate Competition. Tina and Artie both want it, of course, which means they must engage in a sing-off.
Thus, Artie and Tina launch into "Never Gonna Get It."
Riese: WHAT I love this song.
Alex: Well, they're about to ruin it for you.
At the end of the number, Tina gets so aggro that she knocks Artie out of his wheelchair, which makes everybody feel terrible and sad, including me.
Here's the song:
http://youtu.be/CzpxObUpHxo
---
We then walk calmly and patiently while listening to NPR podcasts on our iPods all the way back to the Barbie Dreamhouse Bushwick Loft where Kurt has summoned Adam Lambert to his home to poison him.
Kurt asks Adam Lambert how long he's been performing and all these other questions that are cover-up questions for his actual question, which is, "are you trying to take over my band?"
Kurt: Dare I say it, you might just be the breakout star of Pamela Lansbury!
Adam Lambert in Kurt's imagination: Yeah, well, I am.
Kurt: Sorry?
Adam Lambert For Real: Come on now, I mean… everybody's bringing something essential to the mix.
Kurt: Right, right. Said Beyonce right before she left Destiny's Child.
Adam Lambert In Some Dimension: She was better…
Adam Lambert says his first gig was You're a Good Man, Charlie Brown, and then he took singing lessons and then he learned guitar. Kurt says he'd like to learn guitar from Adam Lambert because he is a guitar God, and Adam Lambert says Kurt needs to buy a guitar. Okay.
---
We cut to a Broadway theater in some strange universe where there are no talented people in New York City, despite the fact that New York City is literally TEEMING with talented female singers with extensive training and heaps of experience and immense drive who would sell their first and second born children to a pack of wolves in exchange for a chance to sing one line in the background of a mediocre musical number in an Off-Off-Off Broadway revival of Annie Get Your Gun. In this universe, everybody who auditions to be understudy is terrible.
Rachel: "I mean, no wonder you hired me for this part. No one can sing in this town."
Just when all hope seems lost — who should show up but Lesbian Lover Santana Lopez!
Santana Lopez waltzes into the auditorium singing Rachel's signature song, "Don't Rain on My Parade," and she NAILS IT as Rachel dies inside and also on the outside. I mean, doing Rachel's song is a little ballsy.
http://youtu.be/xTkMQZgQsMI
Mike Dexter is blown away by the performance. "One high school produced both of you?" asks Mike. If he met Mr. Schuster, he'd be even more impressed.
Meanwhile in the City of York, Adam Lambert and Kurt are hitting up Sam Goody so Kurt can pretend to learn guitar for two episodes.
Obviously the rascally rabbits are inspired by the instruments surrounding them to break into a rousing musical number.
The song in question is "I Believe in A Thing Called Love" by The Darkness, which was my ex-boyfriend's ringtone in 2003 until he slept with this girl on the swim team and so I snorted a bunch of things and went to a party and we got in a fight on the phone and he threw his phone at his car window and broke it. Anyway where was I. THE MUSIC!
This performance is amazing because everything Adam Lambert does is amazing and I have a weak spot in my heart for real-life-gay-boys-playing-gay-boys-singing-songs together. See:
http://youtu.be/gka__DBWZhw
---
Back at the Barbie Dreamhouse Bushwick Loft, Rachel's flipping out about how Santana is pursuing her career and "Rain on my Parade" belongs to Lea Michele and Kurt is like, okay you need to slow your roll.
Then Santana arrives and is like HELLO ROOMIES and all hell breaks loose.
Santana says Rachel's really been enjoying being cooler than Santana with her Big Broadway show, and Rachel says that Fanny Brice can't be Puerto Rican because she's a New York Jew which is HILARIOUS on so many levels like that Broadway doesn't work like that but especially because Rachel played Maria in the Glee edition of West Side Story. Anyhow, then Santana says that Rachel's ambition is fueled by all of the hate she got in high school, which is really reductive and also inaccurate as Rachel Barbara Berry has wanted to be a star since she first sat in front of a mirror with a hairbursh.
Kurt volunteers to make espresso so everybody can chill out because espresso is right up there with "cocaine" and "amphetamines" as #1 Best Way To Chill Out.
Santana wants Rachel to admit that she's just jealous that all of Rachel's singing lessons and assorted privileges didn't stop Santana from being just as good as her, and Rachel starts packing up her shit in that disorganized wrinkled way that people only pack on television shows, and really Santana should stop saying these terrible mean untrue things, but also Rachel should just stop, period — or, rather, should never have started this fight to begin with.
Santana says, "I was better than you then, and I'm always gonna be better than you. You are short, you are awful, and that is never gonna change." Then Rachel slaps her in the face.
And then Rachel says she should move out.
Kurt: "This is crazy! We're friends."
AND THEN, as if on cue, Santana gets the call — she's Rachel's new understudy, SURPRISE! I already knew that this was gonna happen because Intern Grace emailed me about it like two months ago.
---
We then slowly drive my grandparents' car in the far right lane all the way from New York back to Lima, Ohio, home to the Econo Lodge of Lima, for the Valedictorian Speech-Off. Artie and Tina have both worn red, because that's the color of blood and tomato juice. They both give speeches about how the other person is the most amazing person in the world.
---
We then book ourselves a 9:40 flight to New York City and, after rushing through security, panicking on the train and finally reaching the gate just in time for boarding we see that our flight has been delayed until 12:10 and so then we have breakfast at a little airport cafe and write a Glee Recap and think about how nice it would've been to sleep more than three hours last night if only the flight delay had been announced circa three hours ago and at last we arrive in New York, New York, where Santana is doing her makeup in Rachel's dressing room even though Santana has her own space, somewhere, I'm sure, and also, this is rehearsal.
The girls immediately begin bickering and threatening one another with cat fights and other potentially erotic situations. At least this fight is kind of funny.
Santana: "I would love for things to get physical, I would love to slap you so hard that you wouldn't wake up until you're old enough to be Funny Lady."
Then Mike Dexter shows up to tell them to stop fighting because they're gonna be best best friends and all the journalists want to do big stories about "the two girls from the same high school in the same show." He assures them that "as a team, you'll be twice as famous."
Mike Dexter commands the winsome duo to become Puppies and Rainbows. DONE.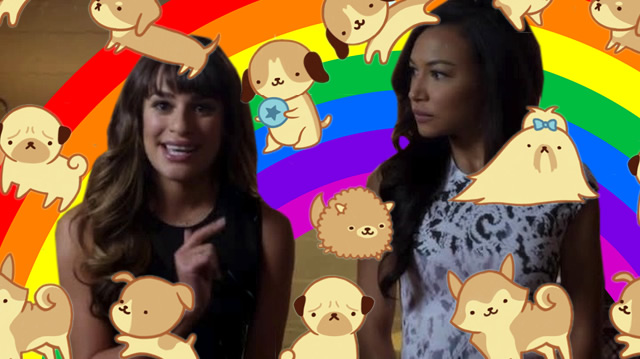 We then segue into a performance of "Every Breath You Take" which is hot and wonderful because Rachel has an off-the shoulder-thing and Santana is Santana and I love this song and I love them singing it.
I wish this was the P.Diddy version of Every Breath you Take and suddenly Angel Haze showed up and was like, "Seems like yesterday we used to rock the show, I laced the track, you locked the flow, So far from hangin' on the block for dough, Notorious, they got to know that, words can't express what you mean to me, even though you're gone we're still a team." Alas.
http://youtu.be/ZLxsfAaN2hY
In other words:
If even one person reading this understands the necessity of All About Eve references w/r/t this episode, that person will be blessed by the sun goddess forever.
---
Meanwhile at the Bushwick Barbie Dreamhouse Loft, Adam Lambert is eating giant pastries with Kurt and keeping it real.
Adam Lambert: "You're the first gay friend I've made in the city who's not crazy or just trying to hook up. But I do know what you're doing… I'm not trying to take over your band, man. I mean, I know that's what you've been thinking, and that's why we've been spending so much time together."
Kurt: "You are kinda magic. I'm sorry. I just wanted to figure out exactly what your deal was."
Adam Lambert is the only smart person in this episode and he wants to go out and kick ass together like the movie KICK-ASS. Plus they're the only ones who ever show up for rehearsal, so they might wanna think about going Peter and Paul style. Then they decide to take a cute selfie where Adam is pretending to air-cheek-kiss Kurt.
---
We then dig an irrigation canal, fill it with orange juice, and swim all the way back to Lima, Ohio, home to The Elm Street Church of the Brethren, where Sue Sylvester is informing Artie and Tina that the panel was split on their speeches and therefore she's decided to award them both the title of co-Salutatorians, because WHY ANYTHING.
Consequentially, Blaine has been promoted to Valedictorian because, I think — but I'm not absolutely sure but I'm pretty sure — because WHY ANYTHING.
Blaine: "I know this sounds like a humblebrag but honestly, I feel like sometimes things just get handed to me."
Har. Before this thrilling conversation can continue, Becky loudly inquires to Blaine why he and Kurt have broken up because she just spotted a chaste photo of Adam Lambert air-kissing Kurt's cheek on instagram!
Becky: "Just friends, my ass. Speaking of ass, Pancake Face is getting some… oh SNAP."
Blaine looks genuinely concerned, but only a little bit, almost like Darren Criss was rebelling against this implausible turn of character wherein he draws illogical conclusions from innocuous acts.
---
We then put our right hand in, put our right hand out, put our right hand in and we shake it all about, we do the hokey pokey and we turn ourselves around, and now we're back in the Glee Room!
It's pretty obvious Blaine isn't the smartest kid in their graduating class because he is wearing a bowtie with a polo shirt.
Blaine says that he's been asked to be Valedictorian and would like to ruin it by turning it into a musical number.
Blaine: "Whatever song we pick, we should pick together. And you should both definitely have solos, and Tina we could film rehearsal and send it to Brown and you're so artsy and progressive that I'm sure once they see it, they're just gonna open up those Van Winkle gates for you."
Yes, I'm sure the Brown Admissions staff spends their summer watching videos of waitlisted seniors singing terrible pop song covers. She should've applied to Yale like Quinn did or Harvard like Brit-Brit didn't, that seems way easier.
---
We then hit up our local Famous Footwear for some Fantastic Footwear Deals, select a suitable and sensible pair of business shoes that match our business pants, and walk formally all the way back to New York, New York, home to so many park benches and bleeding hearts, where Santana and Rachel are continuing to scream at each other's faces.
Rachel: "This is betrayal Kurt, this is exactly how friends break up."
Kurt: "She auditioned for your understudy, Rachel! How is that betrayal?"
Rachel: "Okay, let me break it down for you — the sole purpose of an understudy is to hope that the lead never goes on. She only wins if I lose! And I can't be around this negative energy anymore. This is my big break and she is poisoning it!"
Rachel knows that she was gonna have an understudy regardless, right? It might as well be a hot lesbian.
Kurt: "Even if she never went out on that stage, this would be a very important job for her. And I'm a little disappointed that you can't find the generosity in your heart to see that."
Rachel: "You know what? If you think that she is just some babe in the woods who is perfectly fine living off of the scraps off of my star sandwich, then you are naive and willfully ignorant! She would kill for this part!"
In other words:
The way Kurt says, "Rachel, no," is just the most perfect accurate honest line in this entire episode, because the face he makes is exactly and precisely the face you make when your friend says something disappointing because it contradicts who you think they should be, as a person, and because you know that it's not really who they are either, that they're just wound up tight and leaking mistakes and just… no. Just no.
Rachel: "I am on the cusp of something that most people never even touch, a dream come true, I am gonna be a star on Broadway, and I'm not gonna let one moment of this amazing, life-altering experience be ruined by two friends who aren't even my friends. That's it. I'm done, I'm leaving."
This is probably a good call because as I mentioned in a prior recap, Rachel's likely pulling in at least $2,500 a week for this gig (Santana probably will make less than half of that, except for the nights she goes on) and really ought to get a place within walking distance of the theater rather than a 1.5 hour subway ride away, 'cause she can obviously afford it. Just saying.
Santana looks almost sad and stunned, but mostly defiant, and Kurt just looks sad. We then segue into "Breakaway," cutting between the McKinley cast and the New York crew. You can watch this fine situation for your very own self:
http://youtu.be/iAurH11pW1s
Okay kiddos, I have to go to sleep now so I can go to the White House tomorrow and slip a "You Do You" sticker under Barack Obama's door. Next week we're promised that "Adam Lambert will get stuck in between Santana and Rachel's feud," which sounds like a sex dream I had last week.
Pages: 1 2See entire article on one page