Cut back to Fine Fine McKinley High, where Real Quinn is counseling Fake Quinn on how to wink at judges and remind them of youth.
Then Santana busts in looking like she's about to give Janet Jackson cunnilingus, and immediately gives Fake Quinn a proverbial bitchslap –
Santana: "That bitch is pure evil."
Real Quinn: "I think she's sweet."
Santana: "Well, then why is she giving my girl laxatives?"
dun dun DUN. Turns out Santana went through Marley-Kate's bag and found the laxatives, which'll come in handy if Marley-Kate ever eats anything again, ever.
Santana: "Your pretty little liar gave them to her, I can sense it thanks to my psychic Mexican third eye."
OMG, PLL REFERENCE!
Real Quinn: "See, this is what my psych professor calls projecting. You're projecting Kitty onto me. Santana, we've graduated, it's really time to get over this?"
Santana: "Get over what?"
Real Quinn: "You being jealous of me."
Santana: "And why would I be jealous of you? And please don't tell me because you're in some lame Nazi sorority."
Because you can always count on Santana to never flinch and always dish it out. Har.
Real Quinn: "Look, homecoming weekend, I went to Jodie Foster's clambake, and that professor that I was talking about earlier? Well, he's 35, smokes a pipe. Well, he's divorcing his wife who hasn't touched him for three years. I'm dating him."
WHAT? Real Quinn went to Jodie Foster's clambake? That's so lame!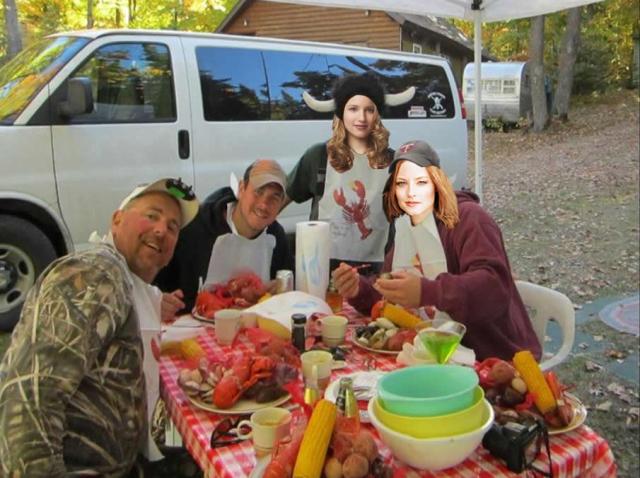 You know what would make Jodie Foster's clambake AWESOME, though?
Santana: "Wow, Twitter update! Quinn is so excited about another guy defining her life!"
Real Quinn: "And what are you excited about? Shaking pom-poms in Kentucky? I mean, you want everybody to think that you're such a badass, but really you're just a scared little girl with low self-esteem who's too frightened to chase her dreams."
Santana: "Did Professor Patches teach you that one in between quickies on his office couch? Does he get so turned on by teen moms who barely visit their kid?"
Then Quinn slaps Santana and then Santana slaps Quinn!
And then Brittany shows up, confused at why they're having sex without her!
Sidenote; what the fuck is Quinn talking about? She's reaching, it feels like empty insults for insults sake. Which isn't to say it wasn't entertaining, but um, going to college on a cheerleading scholarship is pretty awesome. So.
---
Smear to the auditorium, where Ryder Bieber-Strong is clomping around like a horse on crystal meth, practicing for his big debut as a go-go boy at Babylon.
They have a super gay conversation about how you have to "just let yourself go" to get into Gangham Style and New Puck lets on that he's actually a really good dancer who takes ballet and just let Ryder Bieber-Strong have the dance solo because of Marley-Kate. Ryder Bieber-Strong isn't so sure this is a good idea but New Puck promises to teach him to dance! First step?
Becoming the ten billionth viewer of the "Gangham Style" music video.
---
Then we sashay back to the Easterly Coast to the Barbie Dreamhouse Bushwick Loft, where Geyerdean's making The New Rachel sexually molest a turkey even though she's' s vegetarian and also a human being.
The New Rachel starts waxing poetic about her first sectionals, which segues us neatly into Sad Marley-Kate giving herself a mirror pep talk about how she looks good and her voice is strong.
Sad Marley-Kate: "It's time to make a little girl's dream come true. I'm so hungry, but at least my dress fits."
Sad Marley-Kate pops a tic-tac and pops into the hallway, where she spots Unique in a dress, looking good with a strong voice. Yay! Also, though, Unique is still referring to herself in third person which is almost as insufferable as the fact that her name is Unique.
Unique: "She is ready for her close-up!"
[She's talking about herself!]
Apparently Unique's parents have had a change-of-heart and at least allowed their daughter to present as female when performing:
Unique: "They're trying to protect me. But what they need to understand is if I'm not being true to myself at least when I'm performing, then there won't be anything left inside me to protect. So they can keep talking about sending me to a camp for little boys who like to wear dresses, but I will not and cannot be ashamed of who I am, or how I look."
Sad Marley-Kate: "You look beautiful. I think it's inspiring how brave and proud you are. I wish I was more like that."
Aw. I like Unique's strength, too.
Anyhow, thus we segue into a "group prayer" because whatever, it's Finn, and Teen Jesus leads them in some psalm or something that my girlfriend says is wrong in some way, like the words he's saying aren't the verse he said he was gonna say or something? IDK, I'm a Jew, somebody burn a bush for me and I'll tell you what it means. Also look, Darren Criss is there!
Just as the children have almost touched Jesus's dimples with their lips, the Holiday Vegetable Loaf in the corner lumbers to life to deliver a spirited speech in the style of Bloaty The Gravy Clown:
Finn: "This is our house. Look into the faces of these graduates. They've been to the mountaintop. This is just the first step in your climb to meet them there."
Oh gross. Now Sad Marley-Kate and pretty much the entire Glee Club wanna hurl. I mean, cheer!
---
The Warblers proceed to submerge my entire body in yogurt, free wild monkeys from cages, and permit said monkeys to chew away my earlobes while playing a capella versions of crappy pop songs I've never heard before and hopefully will never hear again.
I can't talk about it.
---
So we cut on back to New York, New York, home of DJ Carlytron, The New York Yankees and Bring It On: The Musical, where The New Rachel and Kurt are talking about their holiday music feelings and missing Ohio in whispery voices even though Geyerdean's like, two feet away, which isn't realistic because in an actual affordable New York city loft, there wouldn't even be a kitchen, it'd just be a bucket next to an icebox, and then everybody would get shot in the face and die.
Anyhoo, just as Tommy The Turkey is ready for Geyerdean to eat the whole thing, there's a knock at the door!
The staff of Lucky Chengs has descended upon the Barbie Dreamhouse Bushwick Loft Orphan Thanskgiving Party, and they're fabulous! Carrie Bradshaw told them about it. Probably in her column.
Just then, Carrie Bradshaw finally gets in touch with Kurt as she is emerging from the Montrose L delivering this super melodramatic Carrie Bradshaw-meets-Miranda-Priestly-meets-Parker-Posey-in-Party-Girl speech about heels and the train and the rain, which falls mainly on the plain. [ETA: This monologue is from the Scisssor Sisters song they're about to mash up]
Her monologue leads her directly to Kurt's Orphan Thanksgiving Party and thus we enter into the gayest thing to happen on Glee since the episode where everybody wore flannel the entire time — a mashup of "Turkey Lurkey" and "Let's Have a Kiki" starring a bunch of drag queens and other New Yorkers and it's just glorious!

It's super fun and campy and it's cool to see The New Rachel and Kurt having fun and being happy!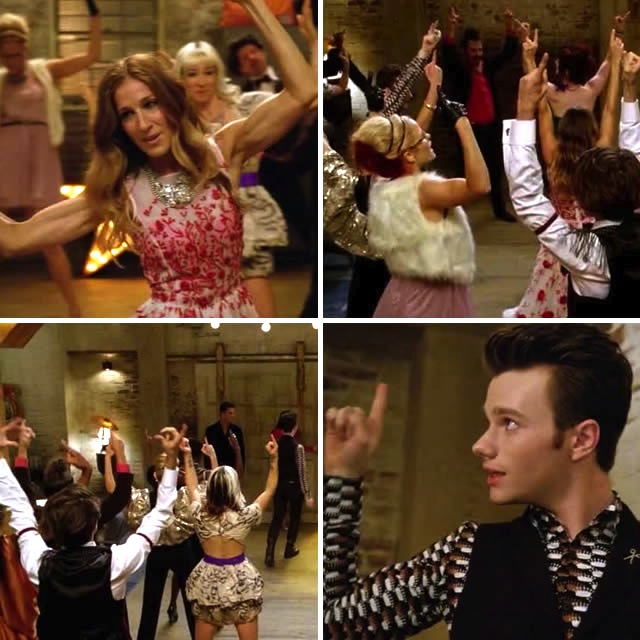 ---
Cut back through Pennsylvania back to the fabulous state of Ohio, the heartland of America, where Mr. Schuester is dipping in to catch the New Directions taking a New Direction towards Sucktown under the supervision of Finn Tater-Tot Hudson.
We're then treated to this year's Gag Band, The Mennonites, because they're the only group this show can mock without offending anybody because Mennonites don't have electricity and therefore can't watch television and be offended.
Backstage, Blaine's thinking about his hair when Kurt pops up on his mobile 'cause they just had a Kiki and now Kurt has feelings.
Kurt: "Look, you… you've said you're sorry a million times. And I believe you. And I'm trying to forgive you, but I'm just not there yet. But, it's Thanksgiving and it's sectionals, and I miss you like crazy. and i can't stand not talking to you even though I'm mad at you. Because you're still my best friend."
Blaine: "You're mine, too."
Kurt: "At Christmas, we need to have a mature heart-to-heart, and maybe if it's cold enough we can go ice skating on the Auglaize River and get hot chocolate anywhere besides the Lima Bean because when I was working there I saw a mouse."
By the way I was obviously tearing up by this point.
Blaine: [laughs] "So, uh, we're really gonna see each other at Christmas?"
Kurt: "Yeah… [emotional pause] well, don't let any of those hideous Warblers win, alright? Break a leg. Happy Thanksgiving."
Blaine: "Happy Thanksgiving, Kurt I love you so much."
Kurt: "I love you, too."
AW! I hope they get back together, it makes me feel excited for little gayboys out there in the world who want somebody to look up to. Speaking of getting back together, Santana and Brittany, anyone? Anyhow, Carrie Bradshaw gives Kurt a big hug since they're totes besties having a Kiki.
---
Next up, The New Directions, starring Sad Sad Marley-Kate and The Thunder Down Under! But Sad Marley-Kate's not feeling well and New Puck can tell because he's got eyeballs. Two of 'em!
Marley's shaking and weak and she tells New Puck that she's sweating even though it isn't hot, and New Puck tells her that she can do it, but before he gets to the heart of the matter, Ryder interrupts to ask if New Puck can take the dance lead.
New Puck tells Sad Marley-Kate that she's gonna "kill this" which's foreshadowing and anyhow, let's cut to the weirdest performance ever!
Then Marley starts hallucinating and then she falls over and dies. Just kidding, I checked imdb, she'll be fine! Stay tuned 'til next week, when Sam and Brittany get together, thus breaking all of our lesbian hearts in a permanent way!
Pages: 1 2See entire article on one page