Welcome to the fifth episode of the fourth season of Glee, a show about chicken drumsticks, tuna salad, kayaks and people who eat other people. This week's episode had the distinct pleasure of featuring absolutely not one single moment of anything I gave a shit about while managing to annoy me with yet another bungled recycled storyline. Glee, you sly, sly fox.
Although one might imagine "The Role You Were Born To Play," an episode about casting the McKinley High School Musical Grease, would feature Dianna Agron as Sandy and Santana Lopez as Rizzo — it does not. But next week looks neat!
---
We open at Hummel Tires & Lube, a sexually suggestive auto repair shop located in the heart of Lima, Ohio, a tender little town anchoring the conservative stronghold of Allen County, Ohio, where a pale human-shaped eggplant is mysteriously fixing an automobile when he's visited by precocious sweater-vested high school senior Artie Abrams.
Artie: "You've had a rough couple of months and I thought maybe you could use a friend."
Finn: "It's not that bad, I just embarrassed myself out of the army, lost Rachel completely, and now I'm back in my hometown working in a tire shop."
Apparently "having secure employment in a town where my family and a lot of my friends live" is a shameful and unpleasant situation for Prince Finndalin Baratheon.
Further moping:
Finn: "I figure my luck will change soon and one of the lifts will break and I'll get crushed by a car."
Oh Finn, no — that's what would happen if our luck changed soon. Anyhoo, Artie, stealing a line from Ryan Murphy's bedside journal, tells Finn that Finn's his hero and he's not gonna let Finn drown himself in self-pity, seemingly forgetting that self-pity is one of Finn's Top Five Feelings always.
Finn: "You know, I've heard that a lot all my life, Artie. That I'm better than I think I am. Well, look around, maybe I'm not."
Finally, we're getting somewhere!
Artie's solution to Finn's doldrums? Finn should direct the school musical, Grease! Artie explains that directing is easy and a lot like fascism:
Artie: "Directing is about having an idea and convincing everyone around you to make it happen."
---
Sweep on over to the Hallowed Homosexual Hallways of McKinley High where Sam's wondering if he can Executive Order his way into playing Kenickie. Meanwhile, Blaine's just missing Kurt Hummel and, I assume, all of Kurt's Safari Scarf Headwrap Fur Leather Wool Modern Flashy Vintage Outfitwears. Blaine's so forlorn, in fact, that he's refusing to audition for Danny Zuko, The Role He Was Born To Play.
Blaine: "I'm not in the right headspace to do a project like Grease. Since Kurt and I broke up, I haven't slept, I've lost my appetite, I don't even gel on weekends."
TRAGEDY!
Blaine: "We talked about spending our lives together, and retiring in Provincetown and buying a lighthouse and starting an artist's colony."
Oh, Blaine. Of course you did. If you're anything like me, though, when you think "lighthouse," you think POTATO CHIPS!
(Also the Virginia Woolf book thing) Thus we segue into the evening's first musical number, "Hopelessly Devoted To You" — a curious choice, as the song was invented for Grease the Movie, not Grease the Musical, but whatever. Confession: I WAS SO INTO GREASE. Grease was my favorite movie for like ten years. I watched it every week, I know all the songs, I own the DVD, and I saw Rosie O'Donnell play Rizzo at the Fox Theater in Detroit 1994 and I still have the ticket stub. Also, when I was a kid I always fast-forwarded through "Hopelessly Devoted To You" 'cause I hated it. /done.
The number is sentimental and melodramatic and adorably absurd it and it eventually leads us to the Auditorium Stage, where Blaine's auditioning for Artie & The Histronics. Because Blaine's got Danny Zuko hair, can sing like a motherfucker, and is wearing a store-brand version of Zuko's varsity sweater, he's clearly a shoe-in for the male lead. But not so fast!
Blaine: "I can't, I'm sorry, I just can't, Finn. I didn't want to let you down, but Grease is a romance, and how can I play any of the scenes if I have ruined mine? I don't think I would be able to play the truth of Danny Zuko."
We're finally starting to see Blaine and what I see is a boy I'd like to hug and talk about RENT with. Anyhow, Blaine than suggests that maybe, just maybe, he could manage playing Teen Angel, and with pitch-perfect melodrama, projects himself offstage via the Power of Too Many Feelings, which inspires Finn to have his own "I can't do this" meltdown and waddle out of the auditorium.
---
Back in the Hallowed Horticultural Hallways of McKinley High, Arite's chasing a slab of wet clay, begging him to reconsider. How will Artie seduce Finn back into the swampy underworld of musical theater direction? Well, Luckily Sweet Baby Jesus Crying In Heaven — or perhaps Teen Angel — has blessed the hallowed halls with a new "vocal coach" and "choreographer," the former of which allegedly resides in Los Angeles (or Chicago?) and is pursuing a recording career and the latter of which I believe is in dance school but whatever.
It's good to see these two again — but you know who I wanna see even more?
As Mercedes and Mike approach Finn & Artie, we break into slow motion and the foursome begin laughing uproariously as if somebody just told them "laugh uproariously" and it's super-weird.
---
Back at Grease HQ, Finn and His Merry Band of Returning Seniors are lamenting the lack of a viable Danny Zuko. (I blame The Glee Project.) Finn's surprised that, just like every other high school musical production, his guppies are missing a viable male lead.
Mercedes: "Well, there aren't a lot of dudes like you. Even Mr. Schu had that problem when he first started Glee Club."
Mike: "That's why he went looking for you."
Thus Finn The Magical Potato Sack galavants glumly to the football fields to locate Everybody's Worst Nightmare: Another Finn. On the sidelines, Coach Beiste butters Finn up with the standard "you're special and will find your way in life" globbedyglook as Finn casts a glance upon the spry football aspirants, searching for that special someone.
Everybody masturbates all over Finn:
Coach Beiste: "You wanna know the thing about you that makes you special? It's not about the singing or the dancing or the way you threw the ball. It's that you could move people."
Finn's a rabid People-Mover! Coach Beiste points out The Floppy-Haired Guy From The Glee Project, who she refers to as "Ryder Lynn" and will be heretofore known as Ryder Beiber-Strong. He's a mediocre football player and a freestyle breakdancer with a "lazy streak" and chapstick for brains.
Luckily for Ryder Bieber-Strong, he's a new recruit at McKinley Manmaker High School, a special charter school for boys who need somebody to make a man out of them.
---
Cut to the Blusteringly Binary Bathrooms of McKinley High, where Unique and Marley are chatting about grrrl stuff, like how "Grease" is the word, etc.
Let me get this out of the way: the show has no fucking idea what they're doing with this character. I believe she's supposed to be transgender, but nobody uses the right pronouns, nobody is ever corrected for doing so, and the writers seem to believe that being trans* is just about what clothes you like to wear.
Unique: "Everyone sees me in drag as a joke or a stunt when we're performing. But it would feel as weird for me to play Danny Zuko as it would for you."
Really? 'Cause I'm a cisgender female and wouldn't feel even slightly weird playing Danny Zuko. Excellent work, Glee! The absolute best way to communicate the transgender experience is to discuss which characters an actor feels comfortable pretending to be. Because that's the whole thing! Dresses and wigs! Let's do this same plot like five more times fast and then spin around and put cheese on our noses! Let's stop casting and start living! LET'S SING OUR TRUTH!
And then! — AND THEN! — Sue marches out of the stall in menswear to deliver a tirade of transphobic nonsense that is so eighteen seasons, 72 ret-cons and two do-si-dos ago. Then somebody fucking kills Jenny, I swear.
Sue: "Well well well, if it isn't McKinley High's very own Tina Stomach-Turner, and her trusty sidekick…"
Sue glances at Marley and comes up with nothing, just a paper plate, which's actually really funny:
Sue: "…I'm trying to think of a mean nickname for you and I'm blanking."
And then…
Sue: "But you, Urethra Franklin, you are a boy and you are fooling no one. You are smuggling more keilbasa under those gowns than a homesick Polish lady trying to sneak through Customs."
Marley: "You can't say things like that."
Sue: "Oh I think you'll find I can say anything I want, you absolutely stunning, kind-faced, blue-eyed girl…. "
She's right, Sue can say whatever she wants! Even wildly inconsistent crazy things!
Sue: "…now, I know full well that gender confusion is the liberal media's new darling, bored with drowning the nation's airwaves with tinny sitcoms so gay you have to stretch a dental dam over your television set in order to watch them safely. The Hollywood Communists are busy force-feeding us  drag queen reality shows and soft profiles of gender-confused hormone-gobbling pre-teens, who faint at the sight of their own genitals. There's no way in hell you're gonna play Rizzo. I will not allow you to unleash a teenage malestrom of gender-bent sexual confusion at this school, so you can turn it around and make it a launch party for your very own line of male girldles and a brand new fragrance called "Nut Whiff."
---
Starsweep to the hormone-gobbling hallways of McKinley High and eventually to the Auditorium of Audio/Visual Atrocities, where Marley and Unique belt out an energetic rendition of Pink's "Blow Me One Last Kiss," which is fun save for the excessive scrap metal hanging from the respective children's neckholes.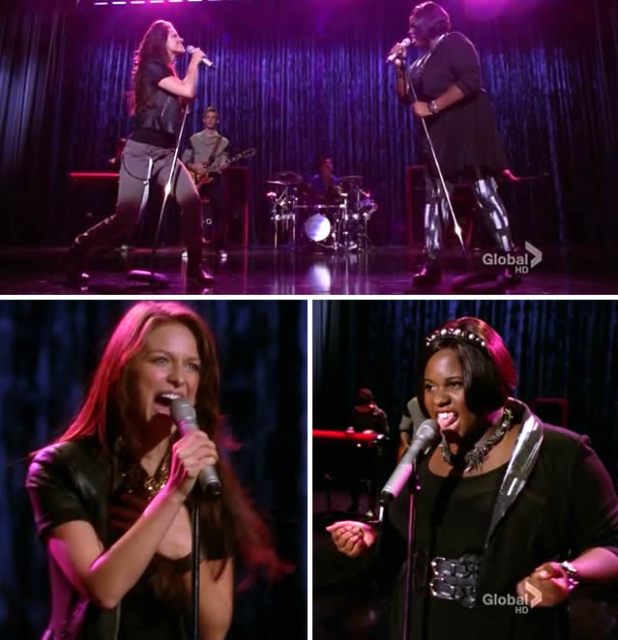 Although I've got an aversion to Marley on principle — Just what this show needs! Another white girl with no discernably compelling personality traits! — holy fuck, she gets cuter every episode! Look at her hopping around with her mike and dykey pants. Everybody should wanna go steady with Marley forever-ever.
---
Cut to the Sonogramic Study Hall, where Finn catches Floppy-Haired Guy From The Glee Project studying away to raise his C-minus average. Naturally, Finn's got a plan for Ryder Bieber-Strong to raise his grades like the roof — a time-consuming extracurricular activity!
Finn, having dumped his wad of wisdom upon the bright-eyed lass, barks the audition time and extracts his fimo feet from the classroom, at which point Ryder Bieber-Strong gets another C- and complains that "all he does is study," which means he's gonna be diagnosed with ADD or dyslexia in an upcoming Issue Episode. I can't wait!
---
Sweep over to the auditorium where Artie and Finn volley some dialogue about jukebox selection and then Ryder Bieber-Strong arrives for a little Finnspiration.
They eventually break into "Jukebox Hero" and we all learn that Ryder Bieber-Strong is a better singer than Finn, just like my neighbor's pet parakeet.
---
Back in the Hallowed Heterosexual Hallways of McKinley High, Ryder Bieber-Strong introduces himself to Marley and they exchange banter about meatballs while Fake Quinn and Puck Lite exchange biting banter about jealousy and Bieber haircuts (Fake Quinn says Ryder Bieber-Strong's got one and it's way cute.):
Puck Lite: "Who wants Justin Bieber hair?"
Fake Quinn: "Half-black guys who can't grow it."
Really? Yup, really.
Fake Quinn, channeling some combo of Regina George and Carlene Cockburn, hits up Ryder and Marley on her way down the hallway to inform them she's auditioning for Sandy. She's also jocking to throw Ryder off the Marley tip.
Fake Quinn: "By the way, Ryder, you should know about this one's gene pool. She's only got a month or two before she starts ballooning to her natural weight of 5,000 pounds and starts writing her memoir, Fifty Shades of Gravy."
Ryder Bieber-Strong: "Wow, you're kind of a bitch. What did she ever do to you?"
Baby, baby, baby, OH!
---
At some point, Fake Quinn and Puck Lite audition for Grease with a song so annoying I cannot mention it here, lest it worm its way into my brain again.
---
Cut to Team Cast-Away pondering which moderately talented cast member will obtain the various roles Santana Lopez was born to play. Who will they ever pick? The children chatter and look at index cards and refer to Unique solely with male pronouns:
Artie: "So we cast a brunette as Sandy and a guy as Rizzo? Who's directing this, Julie Taymor?"
Har.
---
Sweep fabulously forward into the Principal's Lair, where Sue Sylvester is dishing out real talk re: Grease and weird talk re: everything else.
Sue: "The twin idiots seated before you are poised to cast the she-male-fabulous Unique Adams as Rizzo in Grease; the already oversexualized minstrel show featuring teen pregnancy and the ridiculously unnecessary lubrication of lightning. If they succeed they will set a legal precedent that will clear the way for Unique to become a Cheerio."
I feel like we're not at a place in society yet to joke about transphobic humor 'cause 95% of the population still thinks it's totally acceptable, so these transphobic jokes aren't edgy, they're just really irresponsible.
ANYHOW, Will wants to know when Unique expressed interest in becoming a Cheerio (she didn't), and Principal Figgins has this:
Principal: "Coach Sue I do not understand. Unique Adams is nothing more than an attractive, buxom young woman who's got it going on in all the right places. She's a brick house, Sue!"
Will: "Uh, Principal Figgins, Sue's right about that. Unique is definitely a guy."
Principal: "What?"
Then he made a face. It was stupid.
Finn: "Look, I don't see what the big deal is. If Unique identifies as a girl and dresses as a girl, she should be allowed to play one onstage."
Will: "Cross-gendered casting is as old as theater itself.  In Shakespeare's time, all the female roles were played by men."
Sue: "There's no way that's true."
At this point, Sue could literally leave Glee to join the circus, fall in lesbians with Emma and launch her own line of stationary and it wouldn't seem that out of character. Character development's got the longevity of a half-stick of Trident on this show.
Finn: "In the last few years, McKinley's become the kind of place where all kinds of outcasts can feel free to follow their dreams. I don't think that should change just because Coach Sylvester's a bigot."
Sue: "You know, I'd think twice about calling someone a bigot who's had gay Cheerios both male and female on her squad and resigned her post as principal in protest because this school wasn't doing enough to protect a gay student from being bullied! But you do have a point there, mashed potato pants. We've become somewhat of a progressive bubble here at McKinley High, and I think that's due to the fact that The Glee Club is being run by a strange, weepy man-child who has lotion in his hair but no adult friends. We live in Ohio, and if you choose to cast Rizzo with a naive, gender-confused boy in a dress, I guarantee someone is going to raise a very public stink about it [points to herself] and I don't think that's fair. Don't put this kid in danger because you want to make some grand gesture about how open-minded you are."
Four points for the strange weepy man-child, however.
Finn: "Enough! With all due respect, this is none of your business. I'm the director, it's my decision."
Sue: "William, maybe you need to remind Chubby-Wan-Kenobi of the daily nightmare that is borne of being my enemy."
Finn: "You can't threaten me, Sue. I've already lost my girlfriend, my future, my pride, I've nothing more to lose. I'm casting Unique, and that's all there is to it. And you know I thought that you would've known more about being an underdog after you helped us win Nationals and had a retarded baby, but…"
[EVIL LOOK]
Finn: "I'm sorry, I didn't mean to say that. That was the wrong word to use and I apologize."
Who are these characters? What is this show? Look: This show is ambitious. It breaks form. It's consistently inventive musically. It takes risks with occasional aplomb and frequent flopping. When the show succeeds — that perfect song for that perfect moment, that look she's never given her before — it's more emotionally compelling than a similar success on a more traditional show because its reach is so much greater. But when it fails, it falls flat on its face like a dumb fish and that's where the "story" part of this show has been for a while now. The tropes are lazy, the love triangles recycled and the "issue episodes" an orchard of dead horses. The only "consistency" on Glee is that it consistently relies on the "Sue wants to destroy Glee Club" plot to sub in when nobody's got a better idea that week. Glee is trying to be so many things — a receptacle for the winners of a poorly-rated aggressively-branded reality TV program among them — and it can't be all those things. You can't stuff tropes into new holes or hit songs each week to fit the story you've decided to tell before checking in with any of your characters. You have to work with the characters you created. Because otherwise, this is the minstrel show. You know?
---
Back in the Hallowed Heterosexual Hallways of McKinley High, Mike corners Tina at her locker to inquire about why Ryder Bieber-Strong and Fake Quinn get more screentime than she does I MEAN why  she's ignoring Mike and not auditioning for Grease.
Look everybody knows Tina's gonna get cast as Jan. I know it, you know it, and Jan knows it.
---
Smear to the Amazing Auditorium for Callbacks Part Duextathalon, where Team Cast-Away are ready for some hit musical number rocksongs! Hit it, Jack!
Marley, Fake Quinn, Puck Lite and Ryder Biber-Strong must prove their "chemistry" to Team Cast-Away via Born to Hand Jive, another classic hit from the comedy-musical Grease!
And while this season's rehashed love triangle is oft-grating, it works for this number 'cause it allows for the same rowdy partner-jostling utilized in the film/musical in which a tightly choreographed routine is punctuated by teenage jealousy and criss-crossed crushes. Who will become Danny and Sandy? I can't hardly wait!
---
Cut to the library, a Space For Books, where Finn's convening with Unique to talk about breaking into the hatch, taking back the iron throne, who will watch Gracie Bell and how to catch Abu Nazir. I mean! Finn Hudson, a stack of chicken gizzards carved into human form, is bestowing the honor of Rizzo upon Unique. Finn says all Unique must do now is learn the lyrics and get the wig, and Unique is like, um, duh, I know the song and I have the wig.
Apropos of nothing, Unique offers us a sliver of her thoughts:
Unique: "I don't feel right in the men's locker room. But I can't go into the girls'. And I don't feel right in men's clothing, but I can't wear dresses every day. It sucks to never know your place. It's just nice, for once, to feel like I've found one."
Finn: "Yeah, it is."
Finn warns her that she'll have to "take some heat" and Unique says "dreams aren't free."
That's true, especially if you dream of owning a lesbian separatist commune where we grow our own animals, harvest sunshine and make ice cream all the time.
---
Starsweep over the river and through the woods to the Hallowed Hallowed Heteronormative Hallways of McKinley High, where Finn has paper and a pin to pin it on the board so there HUMPH!
The students take turns approaching the casting list, locating their name, making a facial expression, and then returning to the outer circle of poker faced teenagers waiting for their closeup. The good news is: Brittany's still in the show!
Sue hates it:
RAWR
The cast:
Brittany – Cha-Cha
Tina – Jan
Puck Lite – Putzie
Blaine – Teen Angel
Sam – Kenicke
Unique – Rizzo
Teen Jesus – Doody
Sugar Motta – Frenchy (PERFECT BTW)
Ryder Bieber-Strong – Danny
Marley – Sandy
Fake Quinn – Patty Simcox
Fake Quinn's all upset like Patty Simcox about being cast as Patty Simcox, it's so perf!
---
How does this episode wrap up, fellas and lassies? Well, we may have won on November 6th when Obama got re-elected, but on November 8th, a new man took office and he was not the man I voted for.
Let me explain: see, Will is going to Washington to "fight for the arts" which I think is like, doing cabaret in a pit of Jell-O or being a congressional page or having meetings  — JK I know what he's doing, I just don't care.
Anyhow, so Mr. Willshington's going to Washington for a few months. Who will take over Glee Club in his absence?
Yup, they're putting Finn in charge of Glee Club.
Will: "I can promise you that there's no greater joy in the world than helping a young boy like you grow into a man."
Uh, yeah there is. It's called Lesbian Sex.
+
Pages: 1 2See entire article on one page