In the hotel lobby, Cheyenne Action Jackson tells Will "I hate my kids, I would literally whip them if I could," and William Muffinhead says he loves his kids because he's seen them evolve into grown men and women. He's also seen most of them evolve into homosexuals, but that is neither here nor there.
This whole bit is related to the whole "will Will go to Broadway?" subplot to which I say: I DON'T CARE. NEXT!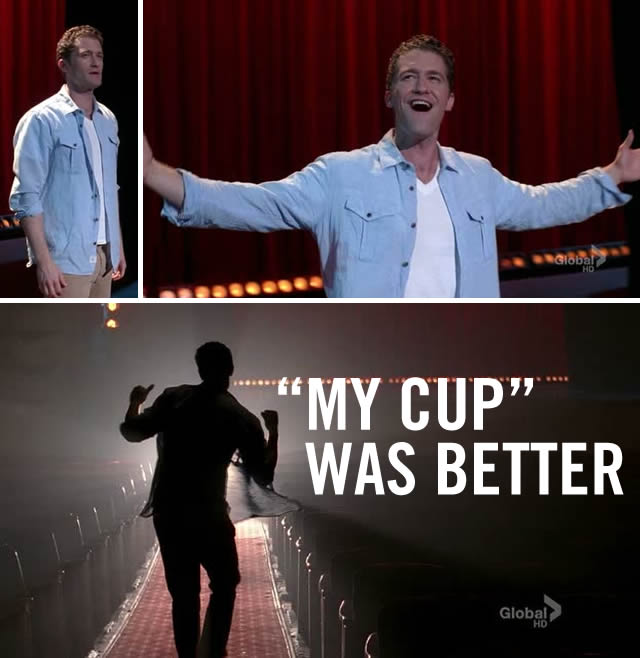 Will knows what a group of sequestered coupled hormonal 17-year-olds crave — a pizza party! He's got at least one pizza per child. I hope they intend to stay indoors because Kurt and Tina are dressed like imbeciles and PacMan cloned itself and died on Artie's vest.
I probably blacked out from apathy during this part but I believe they tell Will it's okay for him to follow his heart/dream/head wherever he damn well pleases. Group hug!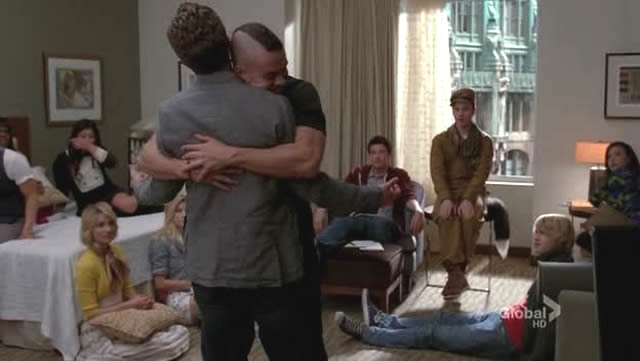 "This is Nationals, People!" Will tells them. "Get out your notebooks!" THIS ISN'T CHUCKY CHEESES KIDS IT'S NATIONALS.

The Glee Club arrives at the auditorium dressed for Episode 221, "Funeral," where they'll compete against the other top 50 show choirs in the nation from which only ten will move on to showcase, whereupon they'll vie for the National Championship. How do we know this? Because immediately upon arrival, Rachel squeals: "We made it. We're one of the top 50 show choirs in the nation. Tomorrow only ten will move onto showcase where they'll vie for the National Championship!"


In the Theater, several girls dressed like Demented/Sexy Easter BunnyAngels are singing and dancing to an Usher song. I really don't know what to say about this little number.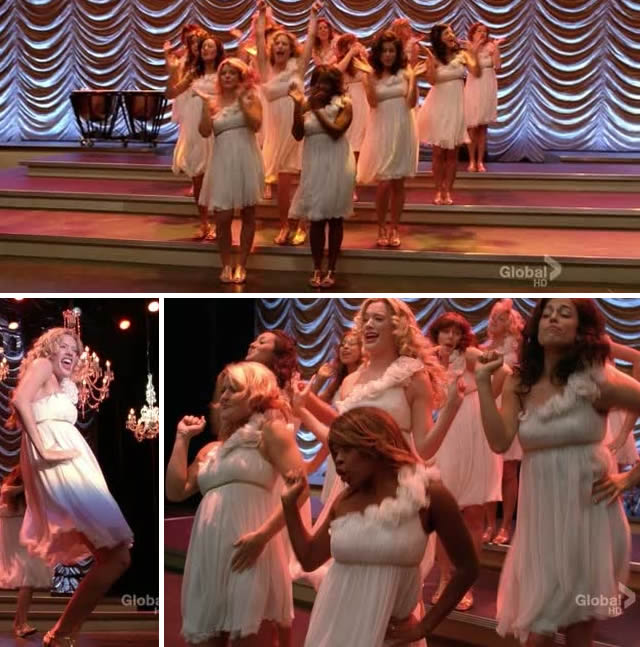 When Rachel hears barfing in the bathroom she immediately suspects it's Santana because hello, The Cheerios totally made bulimia a Thing, but it's Sunshine Corazon, the little irrelevant ray of light who frequently pops up on our musical radar instead of Brittana.
Sunshine is being persecuted in America by Rachel Berry, the Communists, and the Nazis of Vocal Adreniline. They have kept her in a dungeon for days with Lafayette. She is fleeing this country for brighter shores where assholes like Rachel Berry won't casually point her in the direction of a crackhouse and where Cheyenne "Flash" Jackson won't be cracking the whip.
Sunshine: "When I came to your school I heard that Glee Club was where kids went when no one else would take you. A safe space. Somehow you made me the one person who didn't feel safe there."
Rachel realizes that she is an asshole after all — here in the city that never sleeps, everything is so clear. If Sunshine gets nervous she should look at Rachel and Rachel will heal her with a smile. I wouldn't trust that, Sunny D, that bitch's probs got razors up in those eyes. ALL UP IN THERE.
Did you know that Charice is famous and normally looks more like this: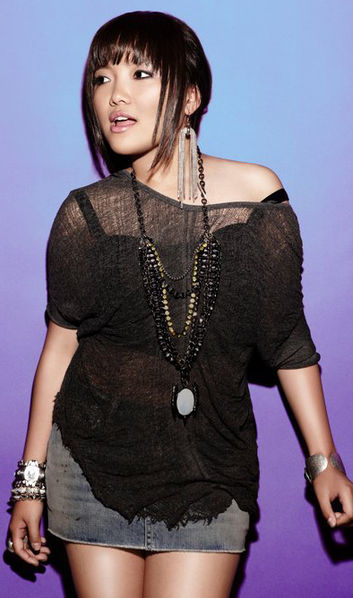 Then Vocal Adrenaline performs. So many shades of blue in the world!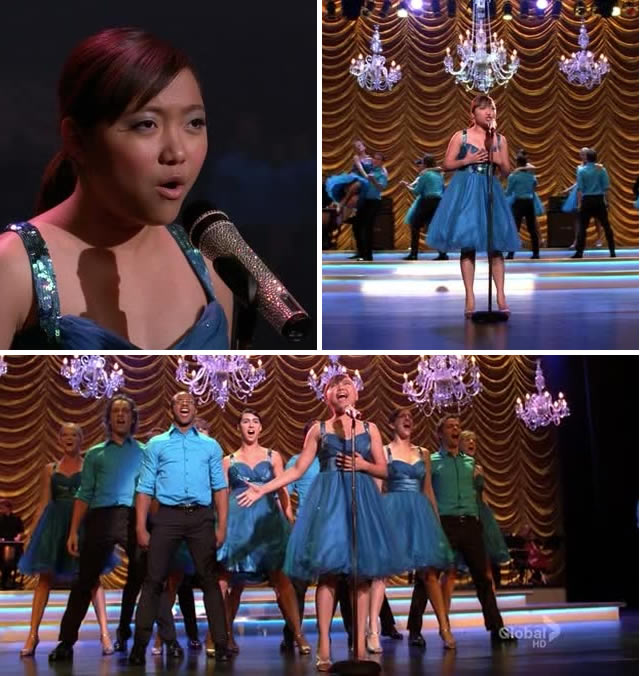 AT LAST! The New Directions are taking the stage! What will they sing?
Will it be as fresh and surprisingly decent as their performance of "Loser Like Me"?
Will it be as sexy as just about every number in the Brittany/Britney Episode?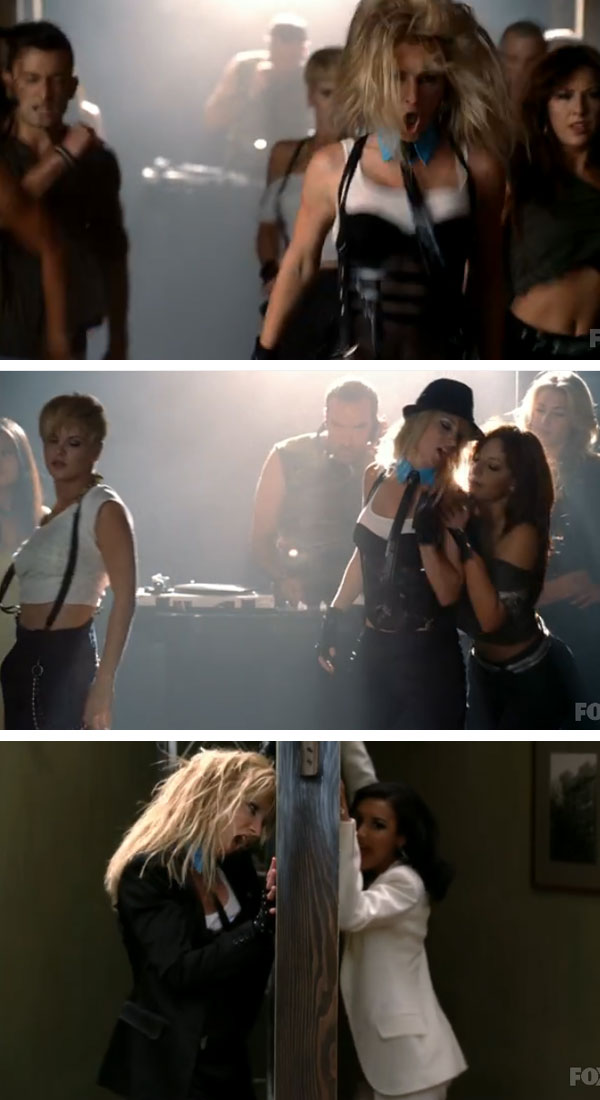 Will it be as emotional and tear-jerking as "Landslide"?
Will it be as funny as "Blame it On the Alcohol"?
Or as fun as "Born This Way"?

Will the scene be as massively fantastic as the scene in the mall?
…or as raunchy/playful as "Livin' on a Prayer/ Start Me Up"?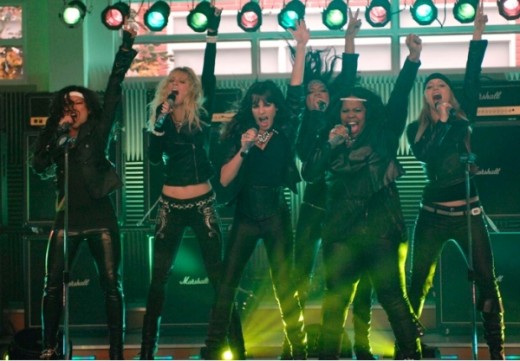 Nope!
The number Will and he children have thrown together for the most important performance of their entire lives ranks somewhere between Gwyneth Paltrow's edition of "Turning Tables" and "Don't Stop" (the one with all the children on stage).  It's a stratospherically mediocre unoriginal original song — a duet between Finn and Rachel about as exciting as gumdrops floating in a cup of gin.
Oh yes, at some point Rachel and Finn kissed and the music stopped and we had this seasickish emotional camera spin-a-round which we all agree was a little bit too much lesbian action for primetime. Children are watching, and now those children are going to be GAY.
The group number begins and despite being slightly better than what just happened, it's still kinda dumb and doesn't utilize the talents of anyone in the group besides Rachel. SURPRISE. So anyway, Heather Morris kills everything every single time, I think. She's just so fucking sexy when she dances, you know? She's so present in her body.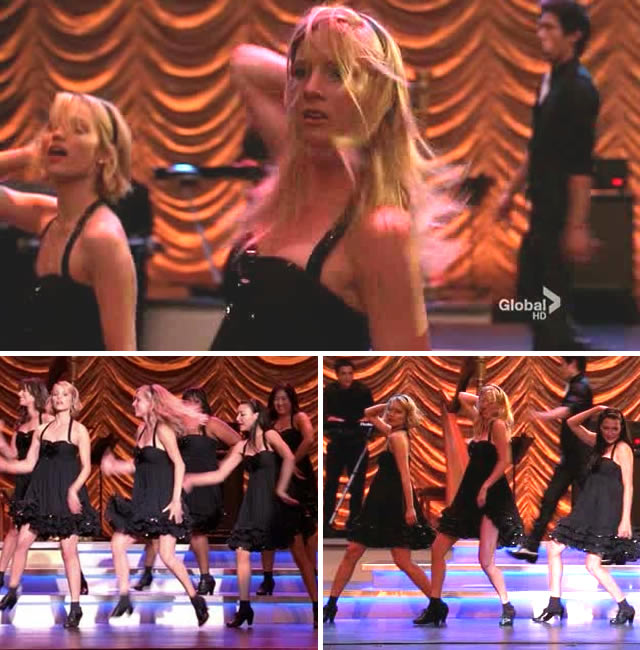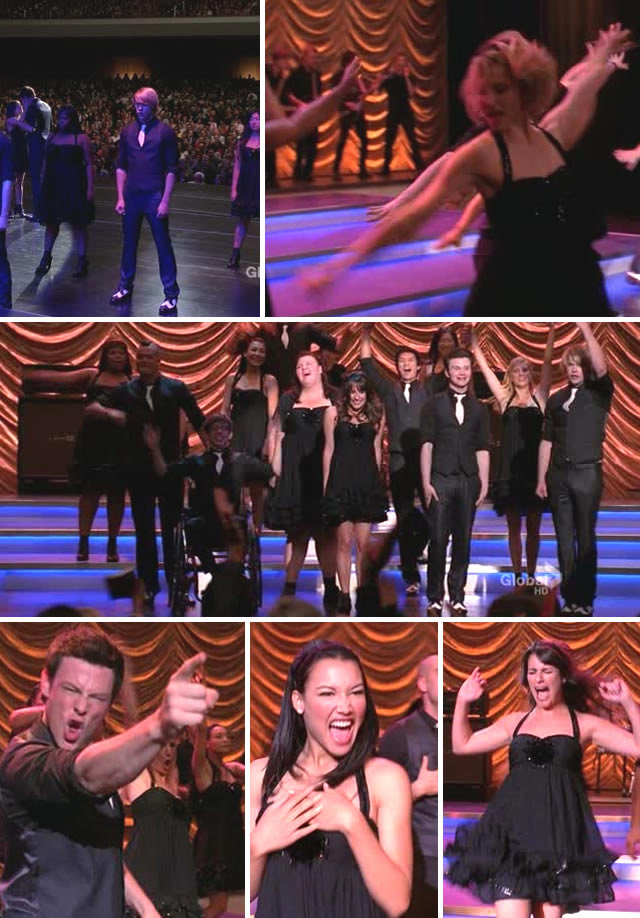 At the end Rachel hops up and down like a piece of popcorn in a glittery dress and they get an insane standing ovation!
In the auditorium afterwards:

Finn wants to wax nostalgic about that kiss they had back in five minutes ago, because lesbians love to re-hash old romantic memories.
Jesse swings by tosses a few zingers into Finn's face, and Finn responds like such a dope I honestly cannot bear to watch it. Thank God Jesse St. James is just on-point enough to save the scene.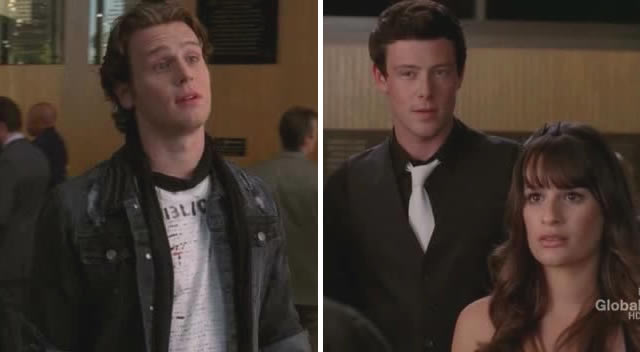 Finn says Jesse's just jealous, "You're jealous of what we have and what we shared with the entire audience… Yeah I'm calling it — the Superman of kisses. It came with its own cape, right Rachel?"
But before Rachel can clock him over the head for saying such an idiotic thing, the results have been  posted and the children must turn to their leader.
"What should we do?" they ask Will. Will, their valiant leader, makes the surprising decision that they will go look at the results. Will volunteers to read the results.
Womp womp. They're not on the list. Jesse St. James was right. But isn't Quinn's hair cute? Also what was her big surprise she had planned for Nationals?


We return to Lima, where Kurt and Blaine are being the cutest gay couple in Northeastern Ohio, Blaine observing that Kurt doesn't seem too upset for someone who just got all his hopes and dreams destroyed by a giant lesbian.
Kurt explains that he still got to do all his cutie-pie gayboy fancypartypantsplans while in The Big Apple and so it was fun. Cut to Kurt's memory of Santana flipping out, which is more or less the highlight of the episode: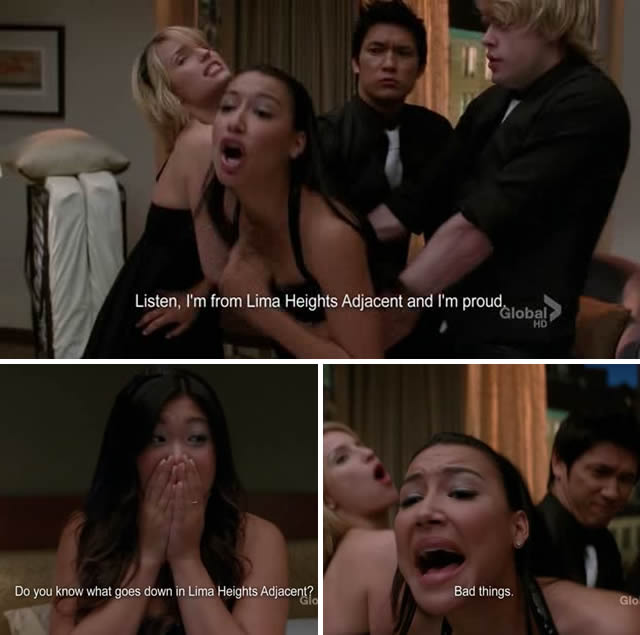 Even in spite of that, Kurt still feels happy they went at all and for some reason when Kurt says it was the first time he's been on an airplane I tear up. It's uncontrollable. Anyhow Blaine's reaction is slightly different/similar…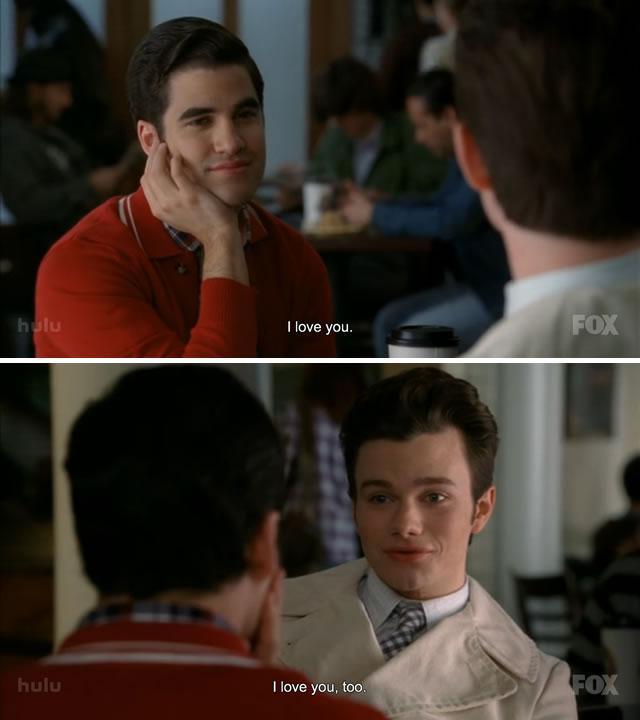 OH AND THEN THIS HAPPENS: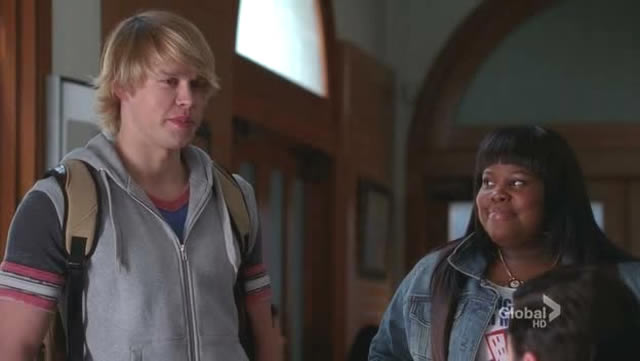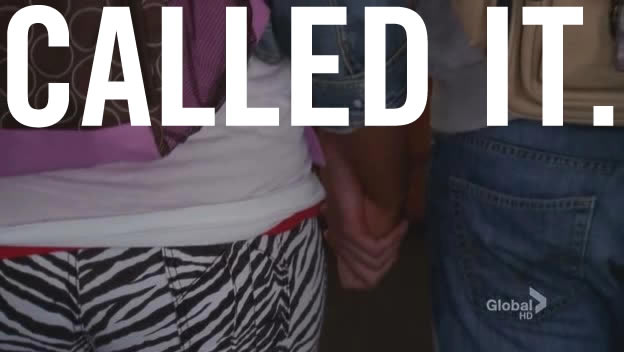 Then it's time to relocate to The Lockers of Truth, where Santana and Brittany will bid us goodbye for the summer. Brittany is suddenly wise, probably emotionally evolving as we speak due to her bicuriousity, and unlike Santana doesn't think winning was the point. Santana is so desperate for some kind of public acknowledgment that she's better at something than everybody else, it makes me want to hug her.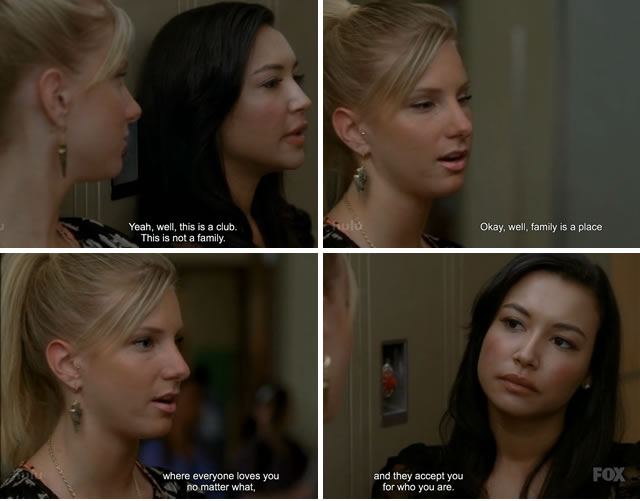 Santana's gonna simmer on that for a bit but in the meantime what about "you and I" [sic]?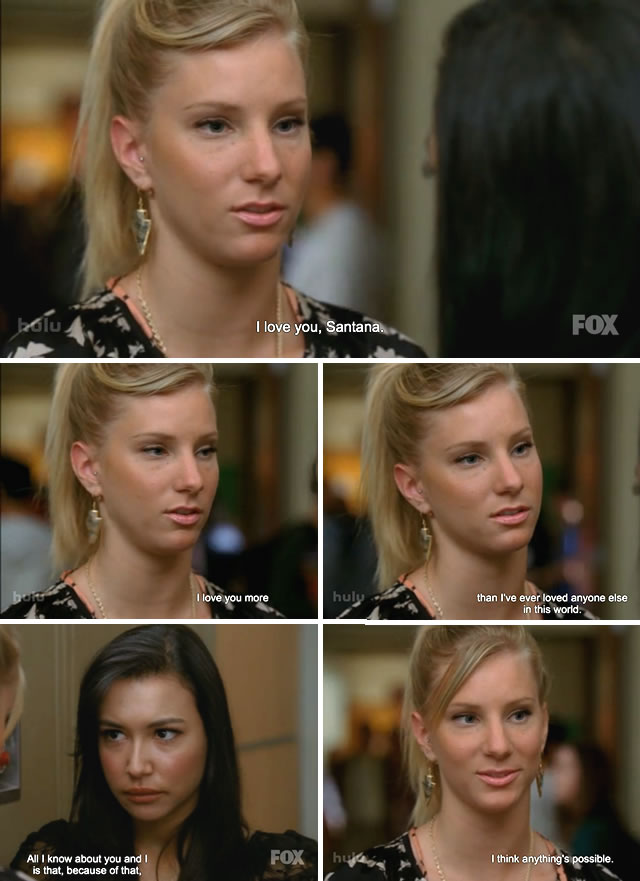 FINGERBLASTING INTO THE UNIVERSE
This scene can be interpreted in several ways. I personally prefer the interpretation that when Brittany says she loves Santana more than anyone else in this world and that "anything's possible" that means "an intense lesbian relationship is possible." Then when Santana says "you're my best friend," she's just saying "you'll always be my best friend no matter how often we bang." Thoughts?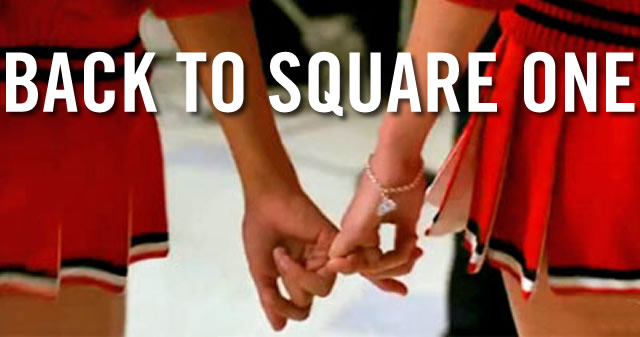 Finn, like so many lesbians, upset that once again he let his feelings get in the way of triumph and glory. So he's hiding in the library, probably in the Harry Potter section.

Listen Rachel, Finn has done the math, he's knocked his almanacs together and come up with a rough estimate of remaining "real time" they could potentially destroy before graduating college and seemingly leaving this improbable, mis-matched relationship. Drumroll:
Finn: "Graduation's a year away"
He asks what she's doing 'til then and she says she'll probably stick to the ushe — when classes end in June, she'll stop taking classes until they start again in September, and she'll stay in those classes for the duration of the year. Just kidding! They kiss in the library. It's gross. I guess they're gonna do each other.

Then everyone jumps up and down and cheers! HURRAH!
So! That's all, folks! Season's over and Brittany and Satana are still not together. I'm sorry. I'm gonna go have a cocktail/to the mall with my Mom. I would like to thank my beloved Intern Grace who is responsible for all the imagery you have surely been delighted by. I hope you love her as much as I do.
Pages: 1 2See entire article on one page