I had this great idea for a business. See — I don't really have any marketable skills and nobody's interested in my English Literature degree. But there must be something I'm really, really, really good at, right? So I sat here and thought about what that thing might be. What am I good at?
Then it hit me!
I'm good at telling the powers-that-be how tofix their shit for next season. I'm good at doing this while sitting my Mom's couch in my ex's pajama pants as the waters of all the Great Lakes slowly flood her neighborhood streets.
[I was just bitching about recapping Glee to my girlfriend and she said "glee is a thing that i feel when i'm with you"! Isn't that adorable?!]
Anyhow where was I? Yes. Here on the couch in my wet socks (I walked outside to observe Noah's Ark), eating my tomato soup. Anyhoo, I've got a few BRILLIANT ideas for Will because SPOILER ALERT his team didn't even place in the Top Ten at Nationals.
SORRY BUT IT'S TRUE!
Okay — let me start out by saying that I've got no show choir experience 'cause my singing voice sounds like Sookie Stackhouse's screaming voice. But I am smart IN GENERAL.
So. Firstly, it helps to pick a song that really "matches" your group. It's especially useful to look back on the numbers already performed this season for various insipid, perplexing reasons and select one to sing at The Big Contest. Why surprise yourself with a song allegedly composed in the hotel room where the Glee children were locked up and subsequently escaped to play instruments, kiss each other and eat hot dogs in the cool New York City day when you could pick one of the millions of songs you can access on iTunes, Amazon.com or even at your local record store?
Tip Number Two — Ever thought about giving solos to your most talented singers? I know, I know — I'M A GENIUS! — but spread me on a Saltine and stick me in a vintage lunchbox if I'm not onto something with this. Don't select songs based on which will most effectively forward the (again, inane) plotline, Mr. Doofster, pick the right song for your SINGERS! Like maybe Kurt, Mercedes and Rachel? Santana? Give the people the solos they deserve!
But it's a live performance with dancing, right? Well, how about featuring your most talented dancers? Giving Finn two seconds of aired dance-time was good for a laugh, but not for your success. Don't match Brittany up with who she dated, match her up with the other male dancer in your squad, and leave 'em at the front to sport their stuff.
Just an idea.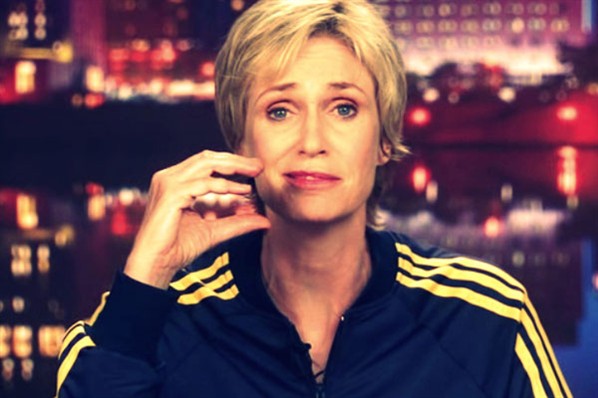 We open in New York City – UH HUH – center of the universe – SING IT, GIRL! — where the entire Glee Club has conspired to eye-blast the entire citizenry of Manhattan via Bright Color Overload. Seriously it's like GapKids and Gymboree had a baby and that baby invaded the tkts booth. Kurt's foregoing the Bright Colors trend however. Kurt is dressed, as he so often is, for battle.
Rachel's snagged tickets to Cats from some guy's asshole and Quinn reminds her that it closed ten years ago badum-CHING! and instead of pooling their taffy money together to catch a matinee of Mama Mia!, the kids do what children are so wont to do and create their very own musical on the streets of New York City.
Not yet though.
Also? Lea Michele playing a character awestruck by the majestry and giant billboards of New York City is like seeing Brian Kinney play a virgin.


Back in the hotel room, all 12 kids are lying around thinking about ponies when Will bursts in to let them know they're all on lockdown in the hotel until they write an award-winning song.
Will would help but he can't because he's gotta hit up The Hawaiin Tropic Zone restaurant and have a chili dog or go be in a Broadway Musical or sing a song from Matthew Morrison's upcoming album. Something like that.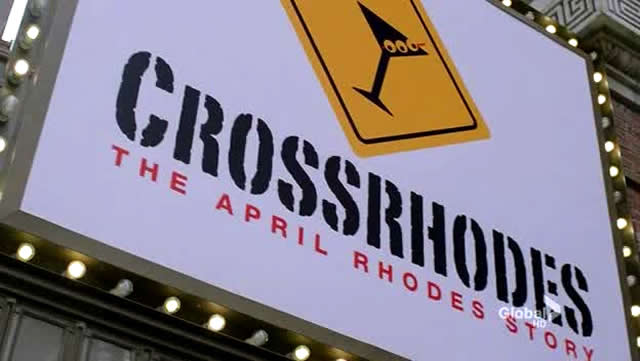 I sure hope nobody's parents find out that Will's not only leaving the children unchaperoned, but actually locking the children in rooms with beds, alcohol, food and telephones. Will wants two solid verses when he gets back. Brittany starts tracing her cup onto her notebook, foreshadowing Brittany's upcoming performance — probably the highlight of the season — of a bouncy, lighthearted number about a thing we all know & love —  CUPS!
Brittany's entry into the Nationals selection pool is called "My Cup."
After confirming that Brittany looks great even in white pants and that the song is indeed about cups, they realize they cannot sit down to write until they've stood up to live. Puck especially, that guy has gotta be at least 32.
Quinn is feeling extra-lazy today — "We don't need to write songs for Nationals, New York's gonna write it for us." Was that her big surprise for this week?
Puck points out that New York is the "artist capital of the world." He probably just saw Factory Girl.

THEN!
To the confusing beats of a "New York, New York"/"I Love New York" mashup, the children galavant / leap throughout the city like flight attendants on amphetamines, passing a parade of New York City cliches on horseback carrying newspapers/frankfurters/briefcases/guns.
The New York City that Glee Club is selling is void of drug dealers, messy crowded overpriced apartments, overflowing trash cans and over-emotive hipsters. It's void of nightclubs and adventures and drugs and sex and booze and dirt and all the ugly/beautiful things that make New York City the most excruciating and miserable place to live and therefore also the most exhilarating, thrilling place to live.
BUT AREN'T THEY SO FUCKING CUTE YOU WANT TO HIRE THEM FOR YOUR MOM'S BIRTHDAY PARTY AT THE JCC?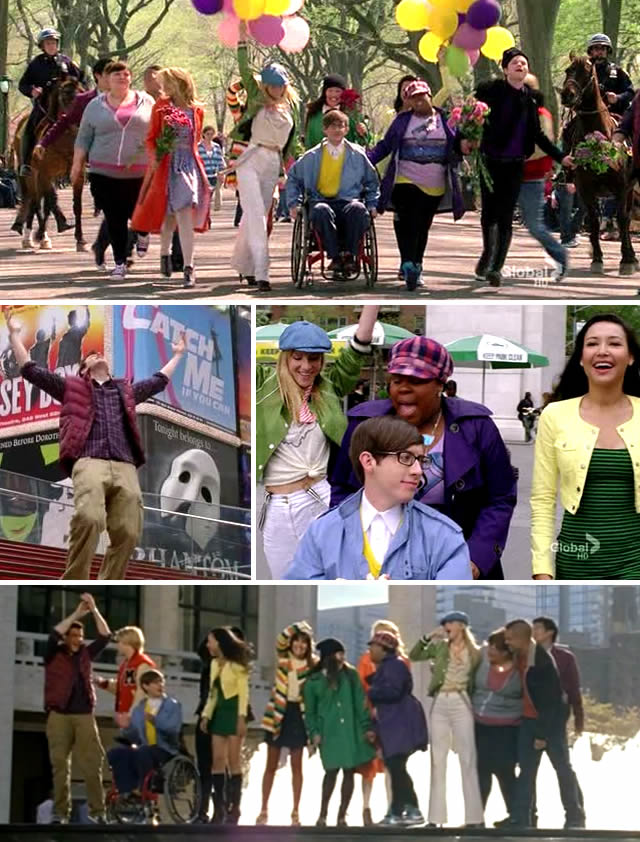 Yes, the children have fallen in love with the same itinerary given to the rich suburban kids on Teen Tour. Most impressive is, of course, Santana, who in her green mini-dress and yellow mini-jacket and black maxi-boots, steals every scene she's in and even the ones she's not in, except for the ones Brittany's in, because sheI mean — duh.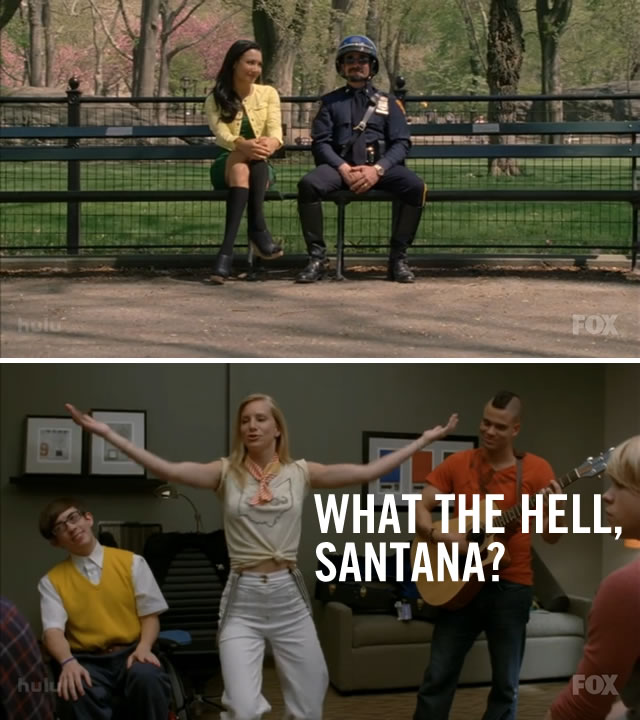 It's a catchy, earnest number reminiscent of the 50s musicals this episode was clearly inspired by. Also Brittany's pulling off white waist-high pants, in case you missed that.


A huge chunk of this week's episode is devoted to, SURPRISE, Finn & Rachel's wormy little backless love affair, which is kicked into high gear when Finn's bros tell him to stop asking me on formspring if the straight girl he has a crush on has a crush on him too and actually go ask Rachel out. They also agree with him that a Finn-Rachel Duet is the "way to win nationals," I think they've all been glamoured by Pam.
"Anything's possible here. You need to ask her out tonight," says Puck. Is it possible that I might care about Finn and Rachel? NO!
Meanwhile on the girls side of camp, the girls have ravaged the feather-stuffed pillows of the hotel room. They're beating each other with pillows and giggling psychotically as Rachel tries to write the next "Trouty Mouth."
Finn texts Rachel and commands she meet him in Central Park for an emergency meeting of the Male Lesbian Support Group. Bring juice & flowers!
The potential love-birds stroll through the gorgeous Central Park ravine, probably talking about one of the 500 things they have in common, like finding water refreshing and thinking Breaded Fried Okra is the best Fixin on the Cracker Barrel menu.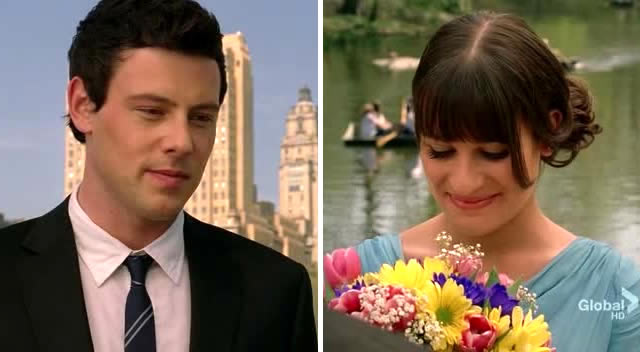 It's just like a romantic comedy. How do we know that? Because Finn & Rachel keep saying "it's just like in those romantic comedies" over and over.
Patti LuPone drops in for a delightful cameo in Sardi's, Kermit the Frog's favorite restaurant and makes Rachel promise never to give up on her dreams. PHEW! I was worried she might end up barefoot and pregnant in the Pizza Hut parking lot or something.
Following their starstruck dinner, a motley crew of male actors stalk Rachel & Finn around an unspecified area of New York City (although Bedford, the street they pass, is in Brooklyn) singing that song from Lady & The Tramp.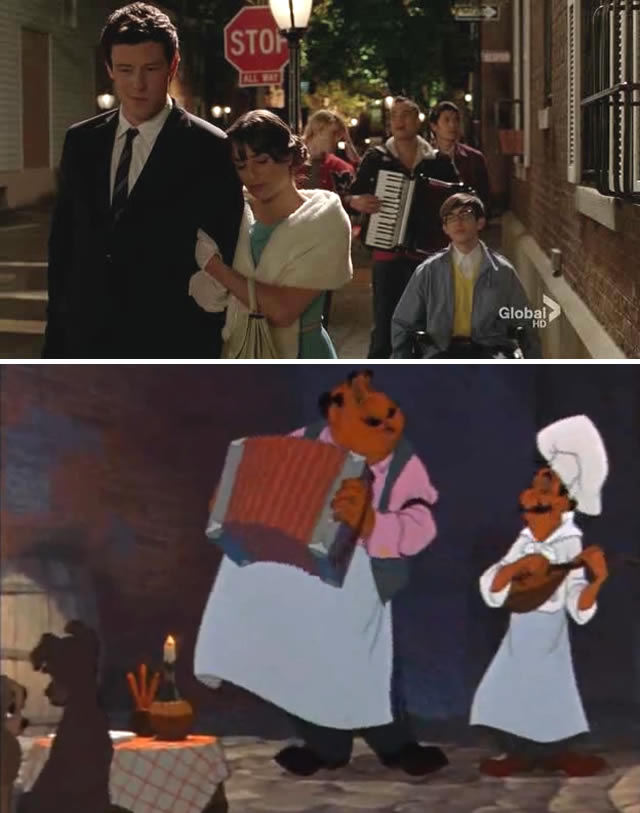 Finn wants to talk about how he wants to be with Rachel since he basically dumped Quinn for Rachel and now his prospects are looking dim as Rachel explains she's fallen in love with a CITY, sorta like Carrie Bradshaw in that one episode. You know the one?
Why can't she be with Finn? Because after graduation, she will charge head-first into her Manhattan Destiny. What does this have to do with Finn? Nothing, really, especially considering Rachel Berry's been pretty consistently interested in a Broadway Career since the pilot and that teenagers date one another despite divergent collegial plans every day right here in America. Anyhow, whatever.
Finn goes for the makeout but Rachel's grabbing takeout — she "can't" she says really dramatically, turning from him and walking in the opposite direction despite the fact that they're staying at the same hotel.


The next morning the children are napping on top of their notebooks, because writing songs is exhausting! and Kurt gay-bullies Rachel into turning her frown upside down, taking off those Valentine's Day Wrapping Paper inspired jammies and hitting the town! There are so many clichès yet unexplored!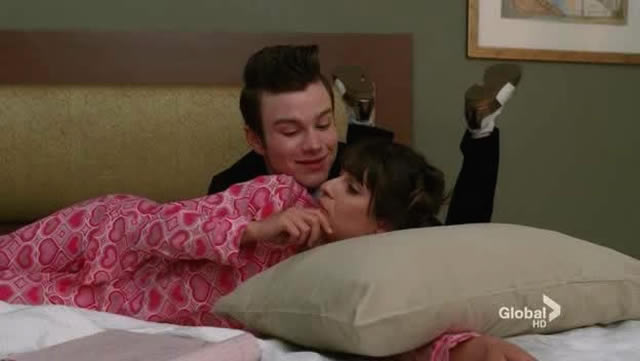 We cut to Tiffany's, where Kurt's hair, looking seven kinds of 80s-new-wave fantastic, is hanging out with the Rest of Kurt and also with Rachel Berry.  Did anyone else grow up thinking Tiffany's was a restaurant that served really good breakfast?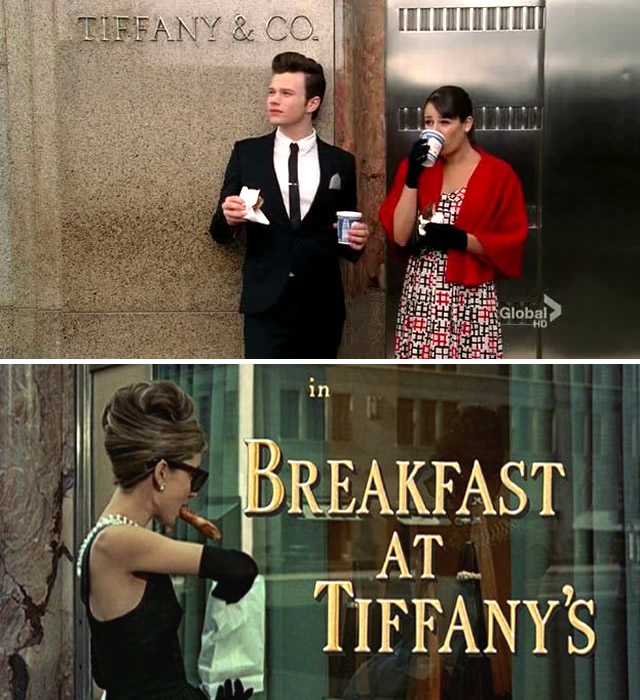 Rachel tells Kurt she's gonna tell him a secret. Don't get too excited, it's not a lesbian secret which are the only kind we care about around here.
Her secret is that after graduation she's gonna move to New York City to attend college and be a Broadway Star and then never come back to Ohio. LAME SECRET, BERRYFACE.
Anyhow, enough chit-chat, let's break into the Wicked theater to fulfill our lifelong dreams of breaking in to Broadway.
A benevolent black man grants Rachel & Kurt access to the theater so they can do a pretty fantastic rendition of "For Good" from the musical Wicked. The original Wicked starred, of course, April Rhodes and Rachel Berry's biological Mom. My Mom loves Wicked. She has a "Defying Gravity" t-shirt and everything.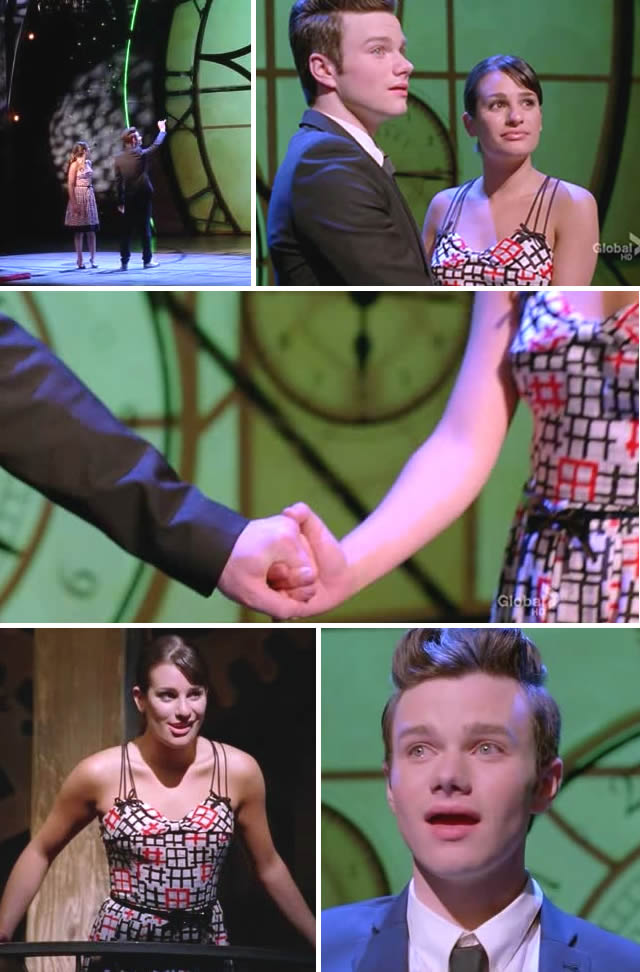 Santana and Brittany need to make out in the bathroom but Quinn's hogging it, probably looking at herself in the mirror again.
JK! Steely Quinn's been crying her perfect little eyeballs out, wondering why everyone besides her has love/fulfilled dreams. It could be worse, Quinn. Some of us are dating lesbian men. Well. I guess Quinn was dating a lesbian man until very recently so she can cry if she wants to.
And she wants to.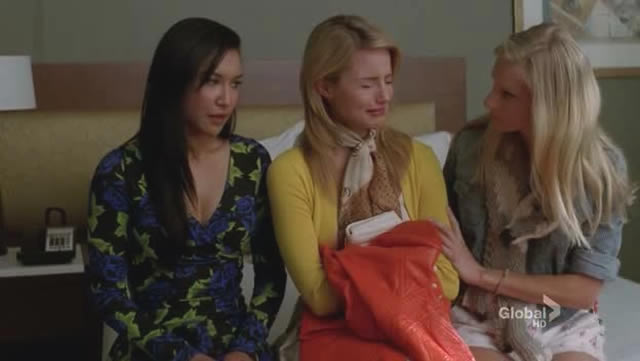 Santana says she knows how to make Quinn feel better but despite 56 tumblrs that claim otherwise, Quinn says that she's "flattered" but "really not into that." Mhm. That's what they all say. Anyhow, let's skip gayly in that direction just the same.
Santana: "I think I know what'll make you feel better."
Quinn: "I'm flattered Santana but I'm not that into that."
Santana: "No, no I'm talking about the haircut."
ALTERNATIVE LIFESTYLE HAIRCUT, MAYBE?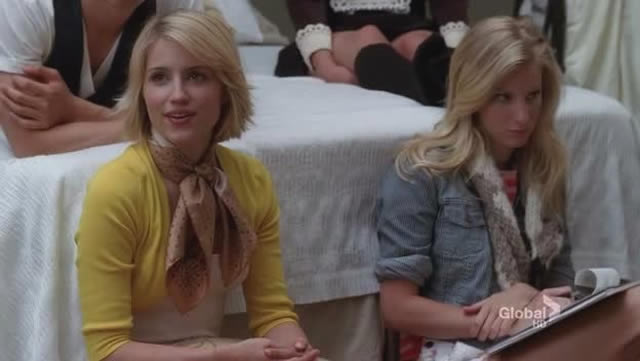 Close enough.



In the hotel lobby, Cheyenne Action Jackson tells Will "I hate my kids, I would literally whip them if I could," and William Muffinhead says he loves his kids because he's seen them evolve into grown men and women. He's also seen most of them evolve into homosexuals, but that is neither here nor there.
This whole bit is related to the whole "will Will go to Broadway?" subplot to which I say: I DON'T CARE. NEXT!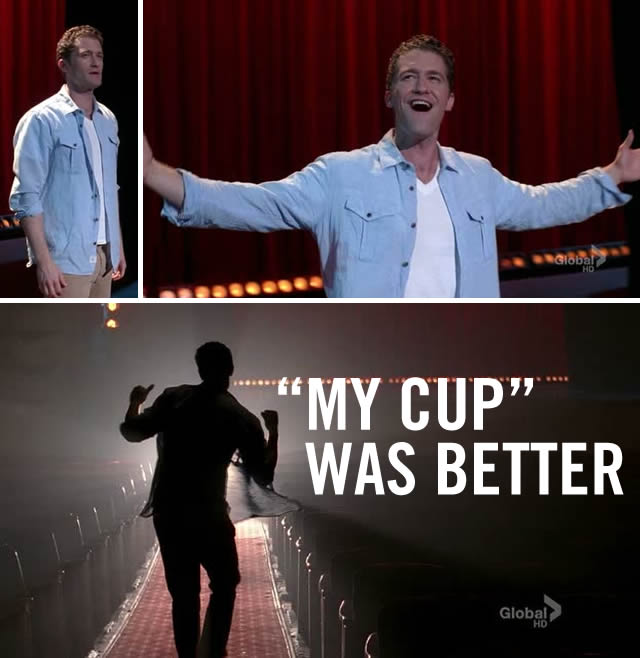 Will knows what a group of sequestered coupled hormonal 17-year-olds crave — a pizza party! He's got at least one pizza per child. I hope they intend to stay indoors because Kurt and Tina are dressed like imbeciles and PacMan cloned itself and died on Artie's vest.
I probably blacked out from apathy during this part but I believe they tell Will it's okay for him to follow his heart/dream/head wherever he damn well pleases. Group hug!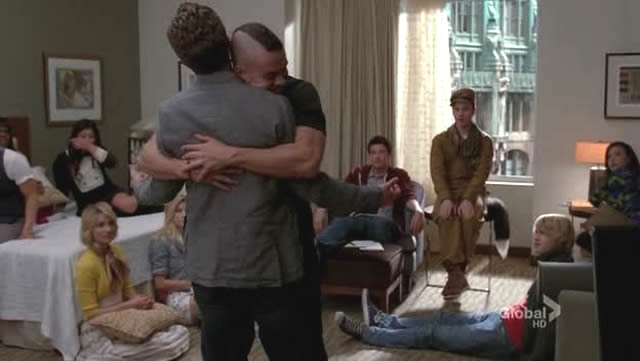 "This is Nationals, People!" Will tells them. "Get out your notebooks!" THIS ISN'T CHUCKY CHEESES KIDS IT'S NATIONALS.

The Glee Club arrives at the auditorium dressed for Episode 221, "Funeral," where they'll compete against the other top 50 show choirs in the nation from which only ten will move on to showcase, whereupon they'll vie for the National Championship. How do we know this? Because immediately upon arrival, Rachel squeals: "We made it. We're one of the top 50 show choirs in the nation. Tomorrow only ten will move onto showcase where they'll vie for the National Championship!"


In the Theater, several girls dressed like Demented/Sexy Easter BunnyAngels are singing and dancing to an Usher song. I really don't know what to say about this little number.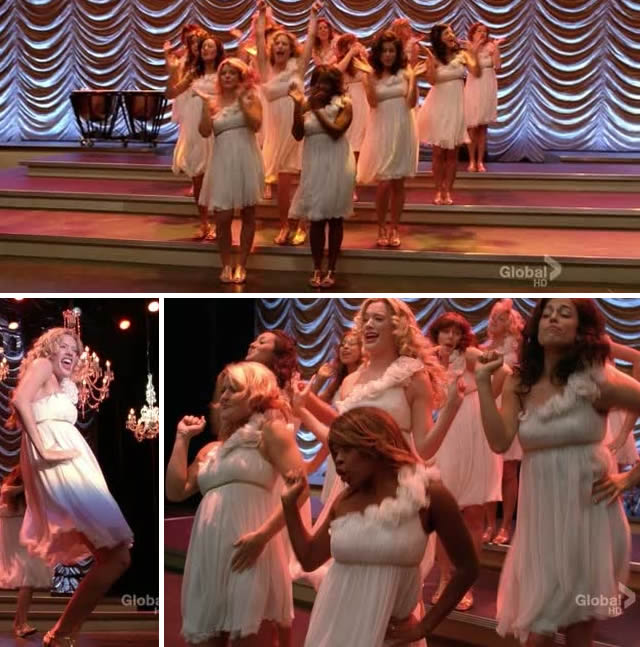 When Rachel hears barfing in the bathroom she immediately suspects it's Santana because hello, The Cheerios totally made bulimia a Thing, but it's Sunshine Corazon, the little irrelevant ray of light who frequently pops up on our musical radar instead of Brittana.
Sunshine is being persecuted in America by Rachel Berry, the Communists, and the Nazis of Vocal Adreniline. They have kept her in a dungeon for days with Lafayette. She is fleeing this country for brighter shores where assholes like Rachel Berry won't casually point her in the direction of a crackhouse and where Cheyenne "Flash" Jackson won't be cracking the whip.
Sunshine: "When I came to your school I heard that Glee Club was where kids went when no one else would take you. A safe space. Somehow you made me the one person who didn't feel safe there."
Rachel realizes that she is an asshole after all — here in the city that never sleeps, everything is so clear. If Sunshine gets nervous she should look at Rachel and Rachel will heal her with a smile. I wouldn't trust that, Sunny D, that bitch's probs got razors up in those eyes. ALL UP IN THERE.
Did you know that Charice is famous and normally looks more like this: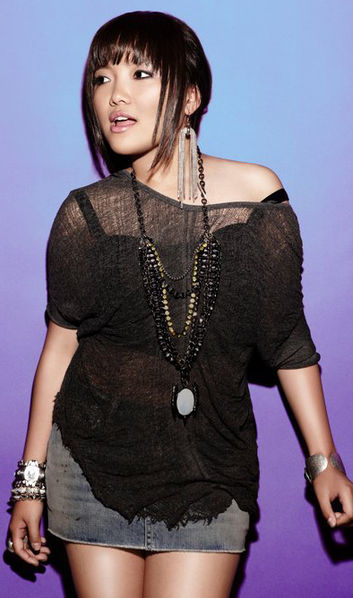 Then Vocal Adrenaline performs. So many shades of blue in the world!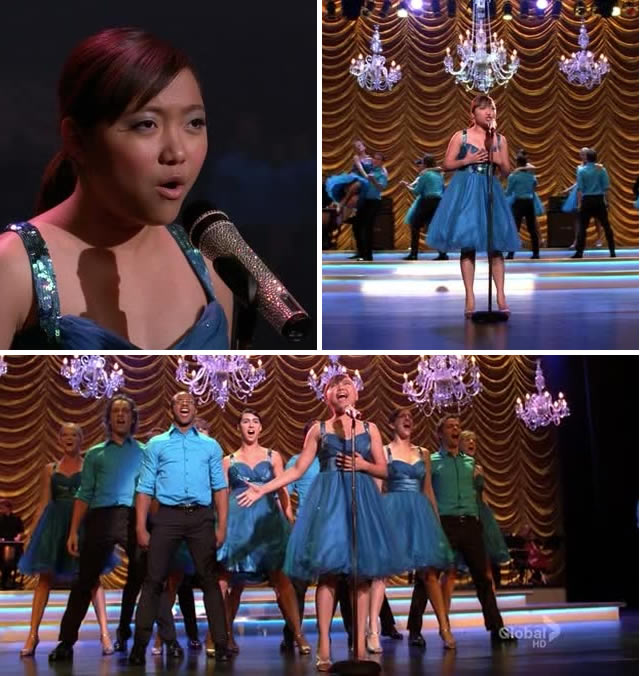 AT LAST! The New Directions are taking the stage! What will they sing?
Will it be as fresh and surprisingly decent as their performance of "Loser Like Me"?
Will it be as sexy as just about every number in the Brittany/Britney Episode?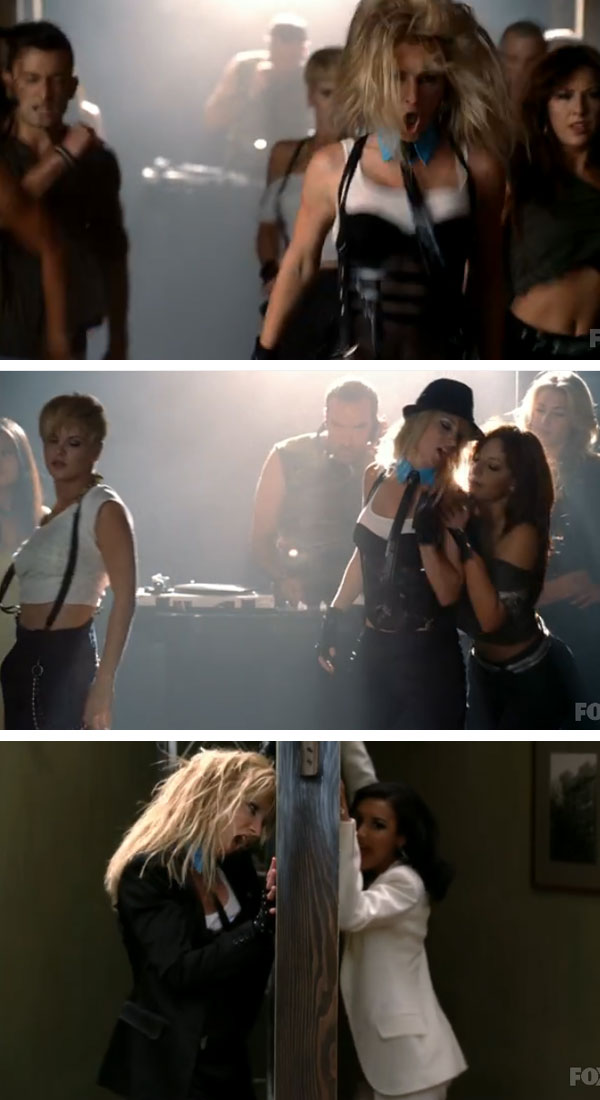 Will it be as emotional and tear-jerking as "Landslide"?
Will it be as funny as "Blame it On the Alcohol"?
Or as fun as "Born This Way"?

Will the scene be as massively fantastic as the scene in the mall?
…or as raunchy/playful as "Livin' on a Prayer/ Start Me Up"?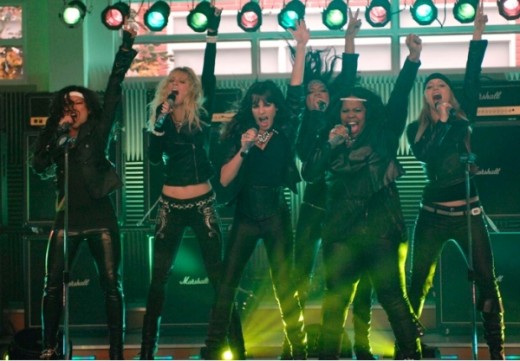 Nope!
The number Will and he children have thrown together for the most important performance of their entire lives ranks somewhere between Gwyneth Paltrow's edition of "Turning Tables" and "Don't Stop" (the one with all the children on stage).  It's a stratospherically mediocre unoriginal original song — a duet between Finn and Rachel about as exciting as gumdrops floating in a cup of gin.
Oh yes, at some point Rachel and Finn kissed and the music stopped and we had this seasickish emotional camera spin-a-round which we all agree was a little bit too much lesbian action for primetime. Children are watching, and now those children are going to be GAY.
The group number begins and despite being slightly better than what just happened, it's still kinda dumb and doesn't utilize the talents of anyone in the group besides Rachel. SURPRISE. So anyway, Heather Morris kills everything every single time, I think. She's just so fucking sexy when she dances, you know? She's so present in her body.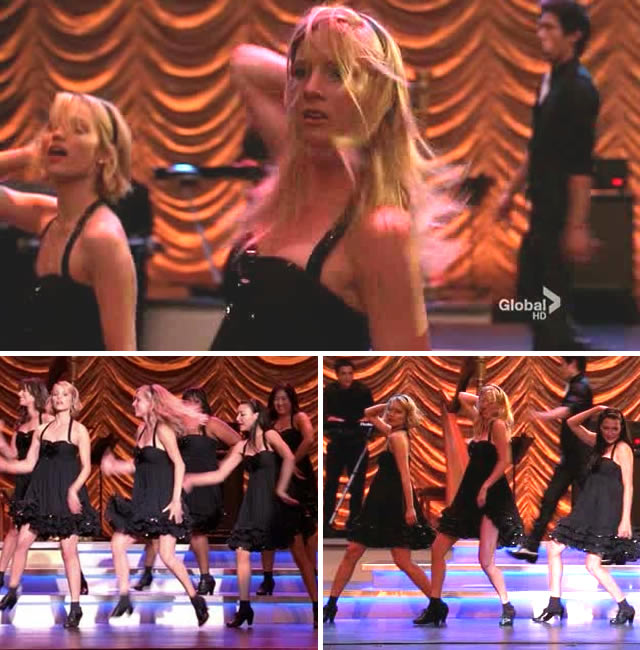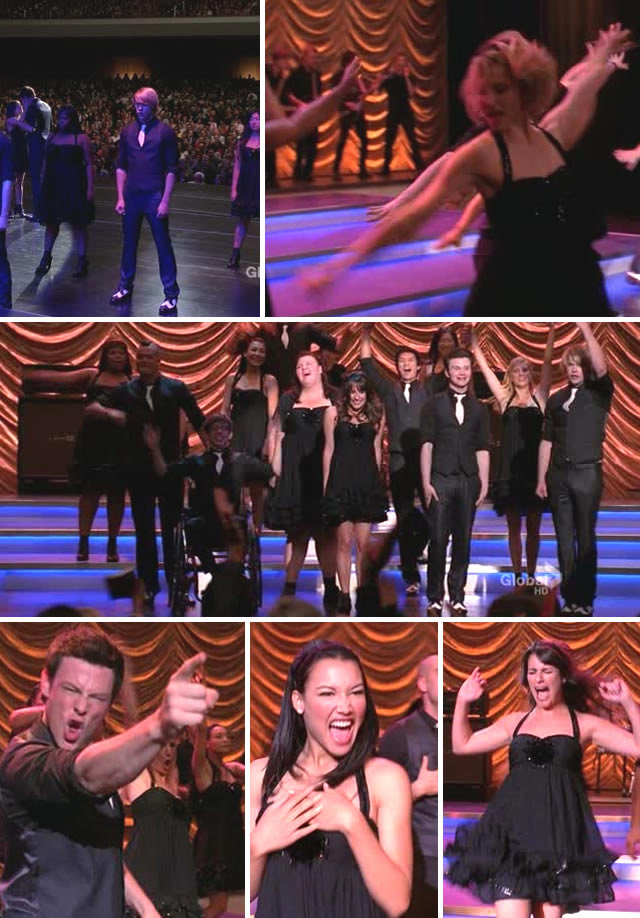 At the end Rachel hops up and down like a piece of popcorn in a glittery dress and they get an insane standing ovation!
In the auditorium afterwards:

Finn wants to wax nostalgic about that kiss they had back in five minutes ago, because lesbians love to re-hash old romantic memories.
Jesse swings by tosses a few zingers into Finn's face, and Finn responds like such a dope I honestly cannot bear to watch it. Thank God Jesse St. James is just on-point enough to save the scene.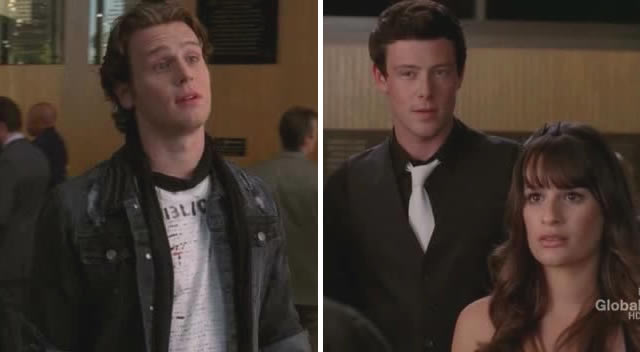 Finn says Jesse's just jealous, "You're jealous of what we have and what we shared with the entire audience… Yeah I'm calling it — the Superman of kisses. It came with its own cape, right Rachel?"
But before Rachel can clock him over the head for saying such an idiotic thing, the results have been  posted and the children must turn to their leader.
"What should we do?" they ask Will. Will, their valiant leader, makes the surprising decision that they will go look at the results. Will volunteers to read the results.
Womp womp. They're not on the list. Jesse St. James was right. But isn't Quinn's hair cute? Also what was her big surprise she had planned for Nationals?


We return to Lima, where Kurt and Blaine are being the cutest gay couple in Northeastern Ohio, Blaine observing that Kurt doesn't seem too upset for someone who just got all his hopes and dreams destroyed by a giant lesbian.
Kurt explains that he still got to do all his cutie-pie gayboy fancypartypantsplans while in The Big Apple and so it was fun. Cut to Kurt's memory of Santana flipping out, which is more or less the highlight of the episode: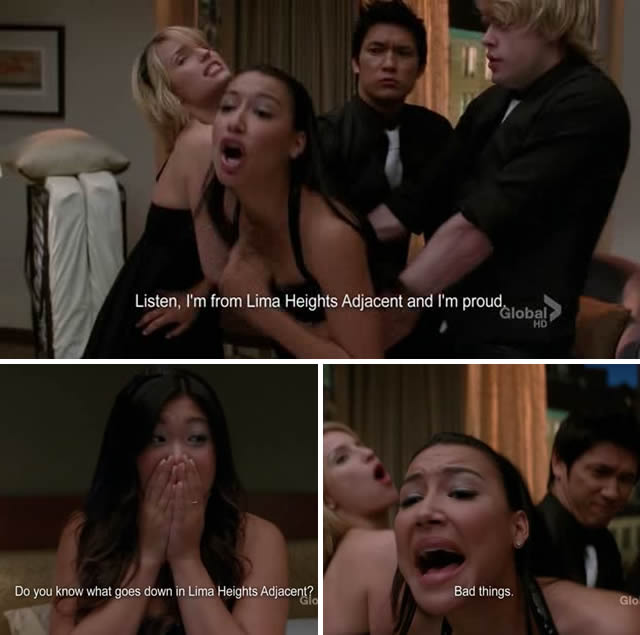 Even in spite of that, Kurt still feels happy they went at all and for some reason when Kurt says it was the first time he's been on an airplane I tear up. It's uncontrollable. Anyhow Blaine's reaction is slightly different/similar…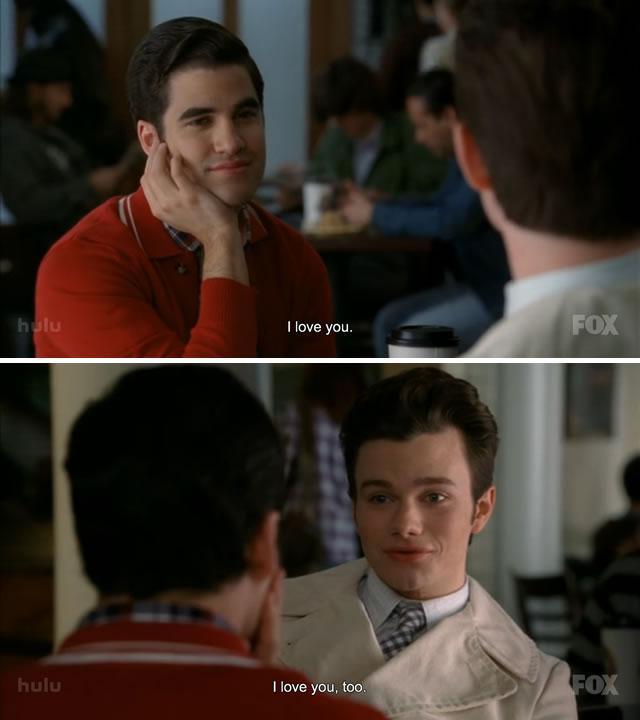 OH AND THEN THIS HAPPENS: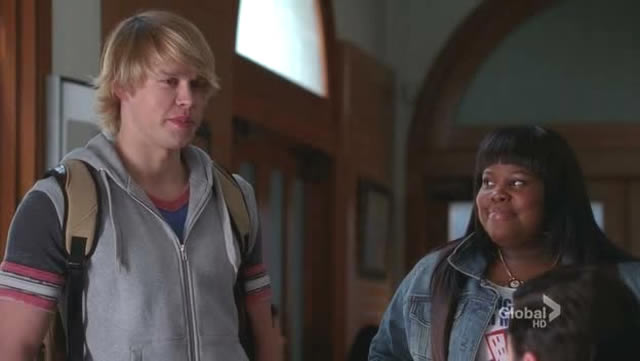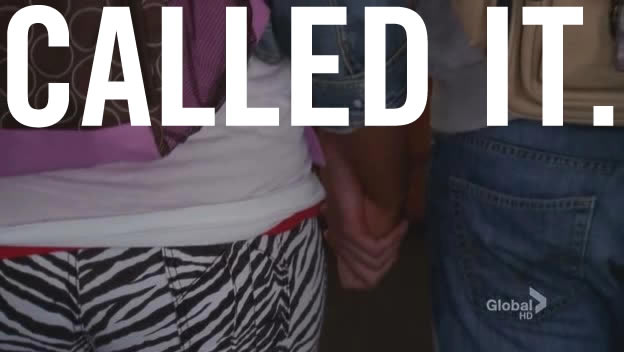 Then it's time to relocate to The Lockers of Truth, where Santana and Brittany will bid us goodbye for the summer. Brittany is suddenly wise, probably emotionally evolving as we speak due to her bicuriousity, and unlike Santana doesn't think winning was the point. Santana is so desperate for some kind of public acknowledgment that she's better at something than everybody else, it makes me want to hug her.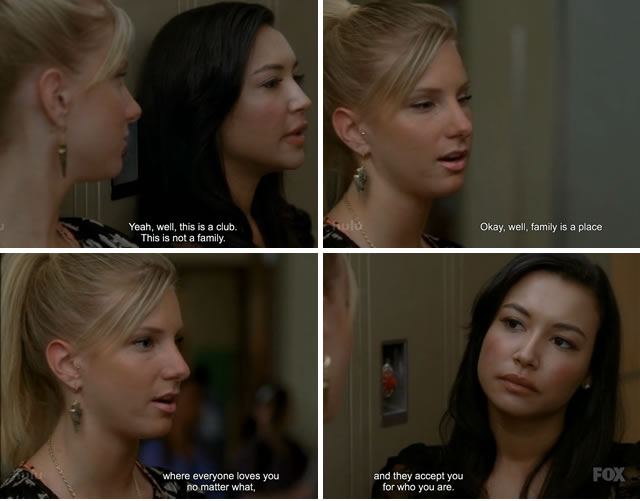 Santana's gonna simmer on that for a bit but in the meantime what about "you and I" [sic]?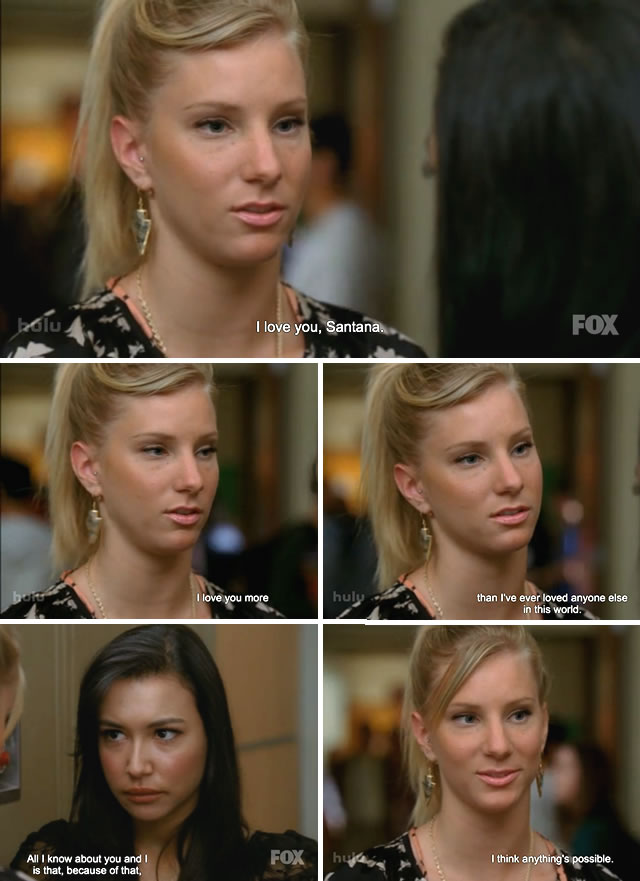 FINGERBLASTING INTO THE UNIVERSE
This scene can be interpreted in several ways. I personally prefer the interpretation that when Brittany says she loves Santana more than anyone else in this world and that "anything's possible" that means "an intense lesbian relationship is possible." Then when Santana says "you're my best friend," she's just saying "you'll always be my best friend no matter how often we bang." Thoughts?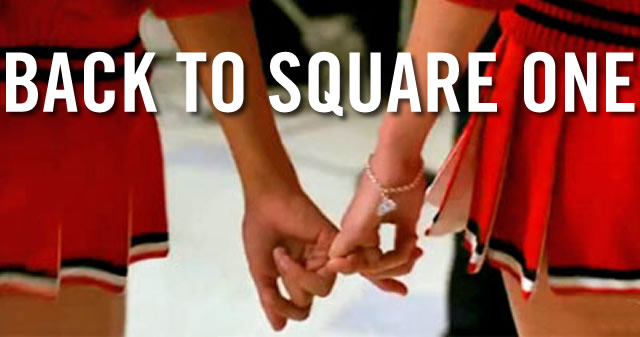 Finn, like so many lesbians, upset that once again he let his feelings get in the way of triumph and glory. So he's hiding in the library, probably in the Harry Potter section.

Listen Rachel, Finn has done the math, he's knocked his almanacs together and come up with a rough estimate of remaining "real time" they could potentially destroy before graduating college and seemingly leaving this improbable, mis-matched relationship. Drumroll:
Finn: "Graduation's a year away"
He asks what she's doing 'til then and she says she'll probably stick to the ushe — when classes end in June, she'll stop taking classes until they start again in September, and she'll stay in those classes for the duration of the year. Just kidding! They kiss in the library. It's gross. I guess they're gonna do each other.

Then everyone jumps up and down and cheers! HURRAH!
So! That's all, folks! Season's over and Brittany and Satana are still not together. I'm sorry. I'm gonna go have a cocktail/to the mall with my Mom. I would like to thank my beloved Intern Grace who is responsible for all the imagery you have surely been delighted by. I hope you love her as much as I do.
Pages: 1 2See entire article on one page