Well, if there's anything I like more than lighting my armpits on fire, it's a 10-minute cliche-ridden out-of-the-blue PSA about domestic violence starring a character I'd completely forgotten about until this week, intercut with tedious cock-rock and a baffling sequence of auditions for an imaginary theater school that apparently waits until high school graduation to select its incoming class of aspirant freshman!
No, but seriously — this episode was terrible. Its inconsistent tone, pervasive hypocrisy, out-of-left-field irrelevancy, casual misogyny and continued reliance on tired racial and sexist stereotypes was so horrendous that I had to mute almost the entire episode and, fifteen minutes before the episode's end, turn the television off altogether to save myself from the pain of watching the last fifteen minutes more than once (to write these recaps, I watch the episode when it airs, and then again the next day to create my outline — so I thought I'd do myself a favor and eliminate part of Round #1).
That being said, none of these individual storylines were terrible on their own, but the juxtaposition of all three was an epic disaster and it's unclear why, exactly, Glee wanted to do a domestic violence story this week, or at all. In fact, it's pretty clear these three storylines weren't even shot concurrently — girls and boys rarely appear in the same scenes, Rachel's absent from all group scenes and Glee-Lady scenes and Quinn's inexplicably missing for the entire episode.
Much like "On My Way," this episode displayed a baffling commitment to tackling a "serious issue" over its commitment to continue telling the stories of and advancing the development of its main characters. This story didn't come out of left field, it came from a whole different ballpark altogether! The only thematic issue it tied into was the thematic issue of good actors getting crappy lines — and Dot Jones acted the fuck out of what she got served this week, that's for sure.
Furthermore, anyone with personal knowledge of the Domestic Violence Issue could easily attest that it's not a one-off topic, it's a mixed-up complicated treacherous thing worthy of an entire season-long arc, not one episode or even three episodes, which I believe is what remains in the season.
Also, seriously, where the hell is Quinn? I haven't been warned about the dangers of texting while swimming yet today.

We open in the hallowed hallways of McKinley High, where Rachel Berry waxes poetic — employing multiple intergalactic space-and-fireball related metaphors — about her future as a big bright shining star, and she's adorable, and Finn is bearable, and the jokes are pointed and clever.
And, following those 45 seconds of bliss, we begin our slow descent into the ravenous black hole that is This Show.
The descent kicks off with a Finn/Puck "brovention" that would matter to me only if my brain had been removed by forklift and replaced with a giant pulsing wad of Jell-O Salad.
Basically, Finn's worried Puck won't graduate high school, and Puck appreciates Finn's Soupy Savior Complex but assures him that he's got high school graduation is in the bag. See, all Puck's gotta do is seduce some more silly lady-teachers into riding his pony to Tuna-Town, and A's will come tumbling out of their vulnerable mouths right along with the "OH!"s.
Thus we slide over to Brit-Brit, who, three weeks prior to graduation and six months post-election, has just attended her first student council meeting.
Brittany: "You guys, I just went to my first student council meeting, and I found out that we have another prom this year. So as president, I need to come up with a theme. And I'm thinking if we do alien abductions, we could set up cornfields and probing booths."
This brief foray into humor brought me back to that time Brittany said she'd lost her virginity to a guy who crawled into her tent, had sex with her, and called it 'alien invasion,' which's only relevant insofar as that throwaway joke stands in stark contrast to the sudden hard line — flown in from wherethefuckever — this show's about to take on jokes about assaulting women for the next 30 minutes.
Apparently, Coach Beiste is sporting a shiner, and apparently Santana's turned remarkably wicked — even for her — and busts out with this undoubtedly tacky not-zinger:
Santana: "Aw Hell, looks like Mr. Beiste went all Chris Brown on Mrs. Beiste — What happened, Coach, Cooter put the smack-down on you 'cause you wouldn't let him be on top?"
The girls laugh, because girls are idiots, I guess. Yeah! Girls are so dumb!
Never fear, Roz Washington, like all McKinley athletic coaches, just-so-happens to be stalking the hallways searching for Sassy Retort Opportunities:
Roz: "What did you just say?
Santana: "Nothing, it was a joke."
Roz: "So, men hitting women is funny to you?"
Santana: "Oh please, we obviously don't think Coach Beiste was hit by anybody, I mean look at her, she's a wall."
Roz: "Let me tell you something. I'm Coach Roz Washington. I'm an Olympic Champion, and I do not suffer fools! Especially fools who think domestic violence is funny."
Roz then refers to the ladies as "Asian Horror Movie" (Tina), "Hatrack" (Brittany), "Li'l Oprah" (Mercedes), "Rojo Caliente" (Sugar) and "Salsa Caliente" (Santana) — and let the inconsistent tone game begin!

Although I ignore the Adult Parts of this show as a rule, lemme just give you the quick rundown: in the staff lounge, The Adults confront Beiste regarding the bruise, she makes something up about where she got it from, and Roz/Sue inform William his ladies are "making jokes about violence against women" and they all communally find this totally unacceptable because, you know — it is.
(Unlike "I can't suspend someone for shoving you into a locker. He'll  just say he tripped and accidentally pushed you. I use that excuse all the time," which Sue said to Kurt in Episode 208.)
(Also, unlike that time Sebastian threw a rock-salt-laced slushie at Blaine's head, essentially blinding him in one eye, and Will commanded the class to deal with it and not expect recourse.)
See, we mock after-school specials 'cause they're so insistently sentimental, so trite and cliche, so void of irony, so absolutely committed to the "cause" in question — but they're like that for a reason, and it's 'cause Serious Issues are indeed Serious Things and you can't constantly make wacky jokes at the expense of fat people, disabled people, immigrants, people of color, women and gay people and then suddenly come down hard on one arbitrary type of risky joke each week. I'm all about edgy progressive offensive humor that shocks and discomforts people, but executing such things consistently requires better artists than the ones making this show. I don't know if that makes sense, but hopefully you get what I mean.

Cut to the auditorium, where Kurt's performing "Music of the Night" from Phantom (his NYADA audition number) for an audience of one. Kurt has raided The Pottery Barn and laced the stage with candelabras, hired Artie as a human fog-machine and Tina as a sort of futuristic robot Christine, I think.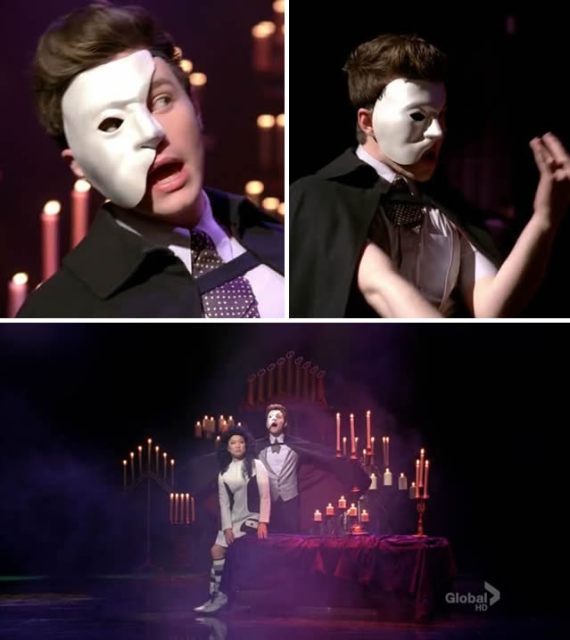 Blaine's gushing with adoration for Kurt's performance but Kurt's not sold. After all, Kurt's whole life is riding on this audition. We know this because Kurt says, "my whole life is riding on this audition." Maybe, Kurt suggests, he should do something more "fresh"! Like fresh fruit!
Besides, Kurt's got 99 feelings about "Music of the Night" and "excited" ain't one. In fact, as Kurt himself explains —


Thus we smear over to a high school classroom where Puck's attempting to seduce his gnarly way into the Talbots-inspired floor-length sweater set adorning his "lonely" "divorced" European Geography teacher (entire classes devoted to European Geography only exist on television, by the way), but he fails and she says he's "not stupid, just lazy," which's true, and should maybe just try studying instead.
The point of all this hooha is that it catapults the ever-patient audience into a super-gross unbearably Puckeled performance of  "School's Out." This unnecessary aggressive musical situation drags us throughout the hallowed hallways of McKinley High with paper fluttering through the air and eventually leads us to the football field, where cheerleaders with nice quadriceps temporarily relieve the burning pain of this episode by gyrating on astroturf in carwash skirts.
What do you think about this musical number, Kurt?


While the boys are rocking out with their cocks out, the ladies are indoors, filing their nails and thinking about alternative lifestyle haircuts as three such haircuts, adorning the heads of bodies who spent the morning shopping at Foot Locker, stand before them:
So the ladies — minus Invisible Quinn and Crazy Rachel — have been assembled for a Super Important Talking-To about how Jokes About Domestic Violence aren't funny.
Sugar points out that Sue is totes inapprops 24/7, and Sue responds:
Sue: "I admit I can be a little abrasive. And I admit I've fantasized about slapping each one of you square across the face with a sturdy, wet fish. But that doesn't mean you deserve it. No one deserves to get hit."
?!?!!?!
When Mercedes and Tina assert that if their boys ever got rough, they'd clearly hit the road (Brittany and Santana remain mum, as LGBT domestic violence clearly escapes this episode's radar, but does exist, and is very real and hard), Roz begins with, "I don't think any of you know what violence in a home really feels like" — and, as someone who knows what violence in a home really feels like AND has dealt with the actual real-life experience of trying so hard to get a friend out of an abusive home/situation AND is totally disgusted that they're really truly giving this "my aunt got beat up by her man" monologue to the one black woman on the show, I had no choice but to mute the rest of this terrible scene and relax in, you guessed it, CHILD'S POSE!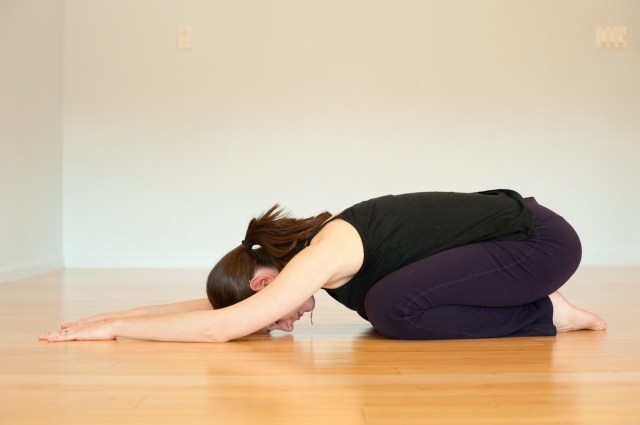 The scene ends with an assignment — the ladies will somehow turn "songs about violence against women" into "songs of empowerment that say, 'if you lay a hand on me, it's over.'" Yeah, I don't know.
Can we just take a time out to note that despite the theme being "men committing violence against women," there are no MEN present? Is Santana's stupid Chris Brown joke really responsible for violence against women and women not leaving abusive relationships? Surely, if Sue and Roz truly worry that Harry Shum Jr or Sexy Sam could turn abusive at any minute, maybe they oughtta be present for this?

We mosey over to the Glee Muscle Club — where Glee Men go to punch punching bags while Glee Ladies absorb lectures on how to avoid getting punched in the face by Glee Men. Herein, Blaine's fascinating/adorable hair-gel tip conversation with Mike Chang is rudely interrupted by Finn's enormous bovine feelings regarding Puck's absence, as apparently skipping Glee Muscle Club is a tell-tale sign of one's rapid descent into not-graduating.
Finn asks, "if we don't all graduate together, then what was the point of all this?" and before someone answers that question with the 6,780 valid answers it inspires, he demands his bros adopt a "no man gets left behind" attitude and teach Puck geography, or something.
Finn: "We will get him to pass. By any means necessary."
What a stunning Malcom X reference, douchebag. Regardless, how do you feel about this scene, ladies?!!!


Smear to the quasi-hallowed hallways of McKinley High, where Rachel's broken her vow of pre-audition silence to confront Kurt regarding his eminent "insanity."
Rachel: "I vowed not to speak with you unless William and Kate got pregnant,Liza passed, or one of us was in grave danger –"
Kurt: "Tell me Liza's okay."
Rachel: "She's fine, but you're not."
Despite eons of practicing the ever-so-blah "Music of the Night," Kurt's determined to scratch that plan and instead prepare a rousing rendition of "Not the Boy Next Door" from The Boy From Oz. Quite naturally, Rachel's concerned about the controversial nature of gold pants and the risk of a last-minute change-up.
But maybe what she's really concerned about is whether or not the Berry Classic "Don't Rain on my Parade" is the right choice for her audition, and needs Kurt's validation that she, too, shouldn't be going for something a little edgier (like, perhaps, "Mama Who Bore Me"). Ultimately she volunteers to be his Christine if he returns to Plan A, and he says "okay," and onward we go.


We re-open in the Auditorium to the sweet sweet sexified opening chords of one of my favorite showtunes, "Cell Block Tango" from Chicago, starring The Troubletones, some very lucky folding chairs, and the backroom lingerie section of Trash & Vaudeville.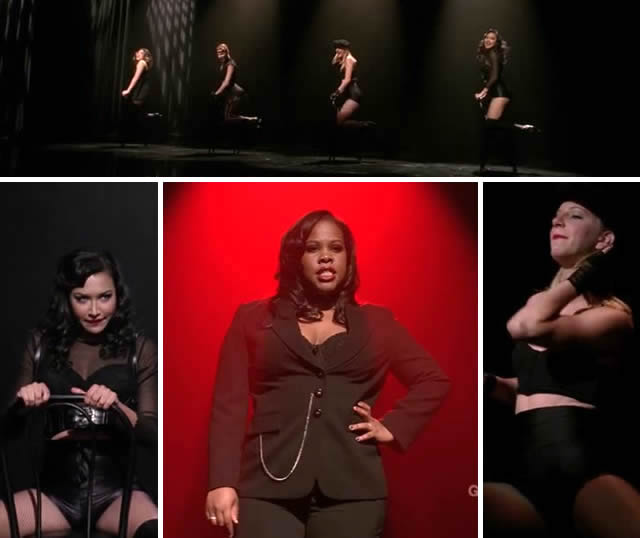 So we've got these red lights, these legs and boobs and all that tight black leather and slick aggressive dance moves, and then we've got — like a bat out of the hellfire of Ryan Murphy's subconscious — flashbacks to Coach Beiste getting yelled at by Cooter as she cries over an uneaten rotisserie chicken. Again — this could work. It very well could work. But it doesn't work. The emotional impact of this scene is drained by what came before it and what comes next, and the middle is just a sacrificial lamb.
Eventually, Beiste, clearly as troubled as we are by the memories of her abusive relationship interfering with Brittany's hot pants, skips out on the rest of the number which, at its conclusion, inspires the following —
Sue: "Well, you completely butchered one of my all-time favorite Kander and Ebb tun,es, while completely missing the point of absolutely everything."
Roz: "You girls are cray-cray. You were supposed to pick a song that gave women the self-esteem and courage to get the hell out of an abusive situation. You pick a song about crazy women in their panties killing their men for chewing gum. How is that supposed to help?"
Firstly: props to both ladies for making me laugh. Secondly, UGH!
Maybe The Troubletones were inspired by Sue —
Episode 108: "If it is one minute late, I will go to the animal shelter and get you a kitty cat. I will let you fall in love with that kitty cat. And then on some dark cold night I will steal away into your home and punch you in the face."
Episode 112: "What if I were to innocently murder you, Will? I'd still have to go to trial. I'd still probably get off for justifiable homicide."
Episode 114: "I won't be burying any hatchets, William, unless I get a clear shot to your groin."
So smear to the teacher's lounge, where Sue & Roz bust in to confront Beiste regarding her early exit and Beiste confesses that Cooter hit her.
Beiste: "I can't leave him. Because I don't think anybody else is ever gonna love me."

Cut to The Blue Lagoon of Lad Love, where the Pool-Having MILF's advances are rebuffed by Puck because he's so totally focused on moving to Los Angeles tomorrow, or something.
So, then suddenly Puck's Dad is plopped into the show and wants to borrow money from Puck, which gives Puck this whole emotional catharsis situation 'cause his Dad didn't finish high school and probably has a dead body in that paper bag, or bagels.
Luckily the boys have some plan to save Puck from not earning his diploma, which's so random and weird, and let me just retrieve this to-go cup of I Don't Give a Fuck, enhance it with two French Vanilla creamers, and hop a ride out of this scene.
Puck: "Will you help me? Please?"
Finn: "Never leave a man behind."
Unless it's a chat about domestic violence, then you should def leave men behind!

Cut to The Big Day of the Imaginary Theater School's Idol Tour to Lima, Ohio, where Kurt and Rachel panic in the wings about the judge, played by Whoopi Goldberg, who I'm just gonna call Sister Mary Clarence because that's who she is to me and I can't help it.
Kurt foregoes his Phantom Plan for "The Boy Next Door," which shocks Rachel so thoroughly that her entire hairstyle changes in the thirty seconds between being backstage and being in the audience with her jaw hanging open.
Sister Mary Clarence applauds him for taking a risk, says Peter Allen would've loved it, and generally all-around issues a declarative "yes" to Kurt and his groin-centric gold leggings.
Rachel, however, "chokes," and we're meant to feel remorseful sad feelings about Ms.Berry as she decomposes throughout the episode's remaining minutes, but as I so often feel on this show, I find myself heartbroken not by Rachel but by the writers who forged this mountain of illogical inconsistencies that led us to this unfortunate moment, starting with the moment Rachel decided not to apply to other schools.
Maybe she should just skip college and go straight to Broadway like that Lea Michelle chick, she's doing pretty well.


We then suffer heedlessly through a treacherous study-session with Puck designed to introduce an insufferable rendition of "The Rain in Spain" from My Fair Lady, replete with insipid faux-British accents and aggressive guitar riffs and everything terrible, ever.


Back to Mother May I Sleep With Danger, where Beiste says she's ditched Cooter and is shacking up with Sue and/or her sister, or something, or Sue has a tent or some extra chickens, maybe, but now she's gotta go confess her situation to this arbitrary group of female students with whom she has no particular significant relationship at all whatsoever.
So Beiste heads over to the Glee Club Room, occupied again solely by the Glee Club Ladies —
Beiste: "Girls, I have a confession to make. It's a really hard thing to talk about, but I feel like I owe it to you. I didn't get hit by a punching bag. I got hit by my husband… I'm sorry I lied to you about it."
So, Beiste's troubled by the girls' certainty that their boyfriends wouldn't ever do that to them — ignoring, again, the two queer girls in the room who are dating each other, or the opportunity to perhaps mention that it's a bad idea to rush into marriage, period —
Beiste: "Cooter always seemed like such a nice guy… he is. Most of the time. But nobody knows what goes on behind closed doors."
She thanks them for "saving her life" by "opening her eyes to this," which I could try to understand but this recap is already declining in quality rapidly as it progresses so let's just move on NEXT!

Cut to the European Geography Final Exam, which Puck is passing or not passing:
Back in the hallway, another bromance moment:
Puck: "It's hard growing up without a Dad because you don't grow up with any dude role models besides video game characters and NFL players, but I lucked out because instead of one dad, I got a whole gang of them. You guys showed me what it means to be a man. Not just last night, but for four years. Even you, Blaine."
What?

Cut to the music room, where the ladies have summoned Beiste to endure an emotional rendition of Florence & The Machine's "Shake It Out," and it's quite moving and well-arranged and quite unfortunately interspliced with more Beiste plot development.
The Beiste plot development scenes seem to be from last night, maybe, when Beiste packed a vintage suitcase and cried and drove somewhere with lots of nice brownstones and then this somewhere turns out to be Cooter's apartment because there he is, looking like a stupid douchebag, thanking Beiste for giving him a second chance.
I know and you know that she shouldn't give him a second chance. You and I are also not surprised that she went back to him — when she claimed to have left right away, I was honestly shocked because seriously, that never happens, and it's never that easy or swift. (I also could've gone for a bit more Cooter to wrap this shit up — generally the abuser does not take being left very well, and makes it as hard as possible for the victim to leave.)
But for a show trying so fucking hard to deliver a message about No Tolerance For Violence Against Women in the most simple terms ever to an apparently elementary-aged audience, this complicated "resolution" feels irresponsible because it's not as simple as the rest of the language employed around domestic violence in this episode. It opens up a big can of worms I've got a feeling will spend the rest of the season crawling around silently. Within the context of this episode, and of the Healing Lady-Choir and Beiste testifying that her life has been "saved" and ending with a group hug, her return to Cooter could be seen as a peaceful resolution to anyone who doesn't already 'get it.'

Meanwhile, Rachel's lamenting her tragic fate which I fear will only push her further into Finn's arms:
Rachel: "I had my chance, and I choked. I choked on a song that I'd been signing my entire life. And now it's over and there's nobody to blame but me."
Cue Kelly Clarkson's "Cry," which Rachel nails with elevated emotional honesty, duh, because it's Rachel Berry who would never ever ever choke at an audition, she just wouldn't, it just doesn't fit, seriously, it doesn't. Don't say "anyone could choke at an audition" because it's not true and it usually only happens in TV shows. The thing that separates people like Rachel Berry from people like all the other people is that she's a professional who doesn't get psyched out. You know?
We flash back and forth to other emotional situations, like Finn hugging a weeping Rachel in a way that almost makes me like Finn for a second, and Puck getting an "F" on his test in a way that makes me feel exactly how I've always felt about Puck, which is "who the fuck cares."
So I guess the theme of the episode is failing and second chances — if we deserve second chances, what we do with them, whether or not anything that failed the first time has any hope the second time around, either. But the chances at stake in each of these three stories are so variant from one another and so different in what they say about the human condition and the world of Glee. Also did anyone do the assignment? Just wondering.
Also I wasn't here last week to recap, but I actually really liked the Whitney Houston episode, is that weird?
Pages: 1 2See entire article on one page