I've always been apprehensive about lentils. I partly blame The Young Ones; Neil always cooked lentils for his flatmates and they hated it, and I think this fact seeped into my subconscious as a young person and took away any desire I might have had to cook or eat lentils in the future. But now that's changed! I stumbled across this recipe for a vegetarian lentil pasta and discovered that lentils really aren't that bad after all. In fact they're kinda delicious.
Lentil and Vegetable Pasta
Adapted from a recipe on Taste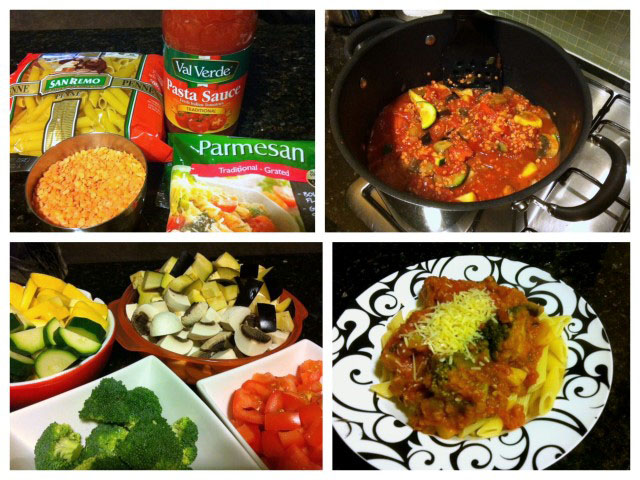 Ingredients
1 Tbsp olive oil
1 medium eggplant, diced
1 large zucchini, diced
300g mushrooms, diced
A handful of yellow squash, diced
I cup of broccoli florets
1 brown onion, diced
2 fresh tomatoes, diced
2 garlic cloves, crushed
3/4 cup red lentils, washed and drained
700g bottle of passata (tomato puree)
Pasta (whatever kind you like, I'll use anything but spaghetti)
Parmesan cheese
Prep notes: Serves 4 – 5 people. You can pretty much use whatever vegetables you like for this recipe, I usually go with whatever is in season / affordable. This is meant to be a chunky sauce, so don't dice the vegetables too finely or they'll vanish. 2cm cubes are good.
Method
1. Heat oil in a large saucepan (med heat) and then stir up the garlic and onion for 5 minutes, or until soft. Add in the mushrooms and eggplant and stir for 5 minutes, then add in the zucchini and squash and stir for another 2 minutes.
2. Add in the passata, fresh tomato, lentils and about 1/2 cup of water. Once the liquid has started bubbling, reduce the heat to med-low and cook with the lid on for about 20 minutes. Pour yourself a drink and get comfortable beside the stove, 'cause if you don't stir the sauce every few minutes the lentils are gonna stick. (But don't stir it too enthusiastically, or else the eggplant and zucchini will turn to mush.)
3. At the 15 minute mark, check out the sauce. How does it look? Have the lentils sucked up too much the liquid? Sometimes that happens. If so, throw in a little more water. Now would be a good time to get your pasta on the boil, and to season the sauce with salt and/or pepper, if you think it needs it.
4. Test to make sure the lentils are tender/edible, then add in the broccoli and cook uncovered for a further 5 minutes.
5. Put the pasta in a bowl, cover it with a generous amount of sauce and then some parmesan on top. Now eat.
6. Freeze any left-over sauce or eat it on toast for breakfast.