Today's a good day to eat foods from different lands, like Cincinnati, Australia and Puerto Rico! You'll probably feel like a world traveler when this is over. You'll wonder, "Why has no one stamped my passport? Did all of my luggage arrive?" You'll probably be pretty jet-lagged, so you'll need to find a friend to make these foods for you while you take a nap or watch Captain Caveman.

VEGAN CINCINNATI STYLE CHILI 3-WAY
by Jamie
Going to high school in Northern Kentucky I discovered the Kentucky/Ohio/Indiana tri-state area is very serious about chili, with several chili chains in the region including Skyline Chili,  Dixie Chili and Gold Star Chili. All three chains offer the three, four, and five way phenomenon, in which chili is piled on top of spaghetti with the choice of additional beans, onions, and cheese. WILD! And kinda weird. I'm partial to Skyline for mostly arbitrary reasons including the proximity of one to my Kentucky home and having a close friend who spent an ungodly amount of hours working there (Hi Jen!). Their commercials make me wildly nostalgic. Also, Skyline Chili is the official chili of the Cincinnati Reds so that's nothing to shake a stick at.
It was actually a Greek immigrant in Cincinnati whose Greek food stand was failing who made the regional chili what it is today. He took a common Greek slow cook stew, kept the Mediterranean base flavors of cinnamon and cloves, then added ground beef and chili spices.
The Skyline Chili website makes this Greek family, the Lambrinides, sound a bit more premeditated in bringing us their chili, but you get the gist.
Apparently cooking is a science, also an art. I took a stab at making a simple vegan variation of the regional dish. In case you didn't know, perfecting a chili recipe is a rabbit hole from which you may never return. My dad spends a week prepping for the annual office chili cook off. He also took this pic of our local Skyline:
Ingredients:
1 box of spaghetti

1 box oyster crackers
1 bag daiya cheddar style shreds
1 package veggie protein crumbles
1 (15 ounce) can tomato sauce
1 quart water
1 tablespoon vegetable oil
1  small onion
4 gloves garlic
1 teaspoon ground cumin
1 teaspoon ground cinnamon
1/2 teaspoon cloves
1 bay leaf
2 tablespoons apple cider vinegar
1/2 ounce unsweetened baking chocolate
salt and pepper to taste
Directions:
You really should use a crock pot for this recipe because it needs to simmer for hours on end. I reduced the amount of bay leaves, cinnamon and cloves called finding them a bit overwhelming in my batch but here is the recipe I was drawing from, do as you wish! (Maybe start with my recipe and add more cinnamon and cloves to taste.)
1. Dice onion and saute in sauce pan with vegetable oil.
2. Once onions yellow, toss in veggie protein crumbles.
3. Saute onions and protein crumbles for a few hot minutes.
4. Toss the protein crumbles and onions in your crock pot.
5. Mix in tomato sauce, water, garlic, cumin, cinnamon, cloves, bay leaf, apple cider vinegar, baking chocolate, salt, and pepper.
6. Let simmer for 3-5 hours.
7.  Suggestion: Sample that sauce after an hour and add more spices according to taste.
8. Cook some spaghetti separately.
9. Pile spaghetti with chili, cheese and oyster crackers to finish making the 3-way.
BONUS ROUND:
You could also toss the chili on a soy dog with some onions and cheese and make yourself a Cincinnati Cheese Coney!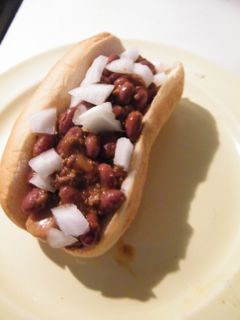 FAIRY BREAD
by Crystal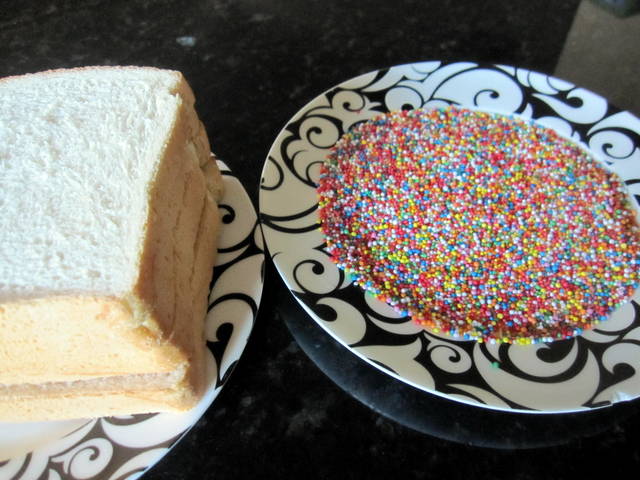 In last week's Australian Get Baked article, reader Kathryn pointed out that I overlooked an iconic Australian (or perhaps New Zealand) delicacy that is hugely popular, particularly at children's birthday parties. It's called Fairy Bread, and it might just change your life.
Ingredients:
Butter or a butter substitute
White bread, sliced
Hundreds-and-thousands (these may be called 'sprinkles' or 'jimmies', depending where you live)
Method
1. Spread the butter on the bread.
2. Coat slices of bread with hundreds-and-thousands. Shake off the excess. Repeat. (I put the hundreds-and-thousands on a plate and then press the bread on top, it's far less messy).
3. Cut bread into triangles or rectangles.
4. Eat.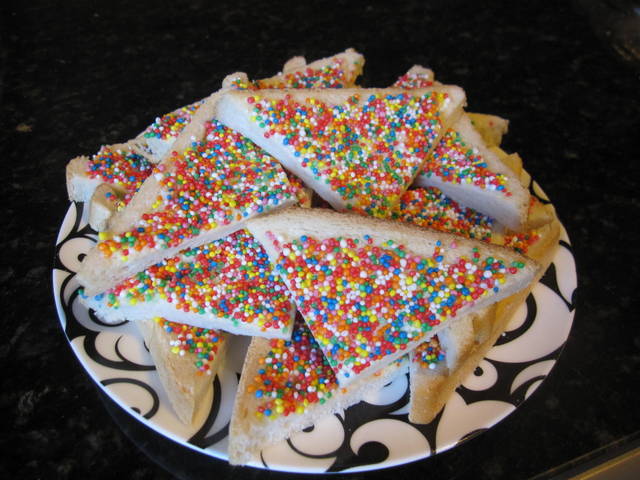 Tostones (Twice-Fried Green Plantains) With Garlic Dipping Sauce
by Alex
If you can't tell by looking at me that my family heritage is Puerto Rican (sidenote: you can't), you can definitely tell by my cooking. I can cook the hell out of this unit. Most of the recipes I know or I've made the most were my grandmother's recipes, straight from Poncé. The easiest and by far the tastiest and crowd-pleasiest recipe of them all is twice-fried green plaintains, known as "tostones".
First, for a background soundtrack, I recommend the Tito Puente station on Pandora. Got that going? I'll give you a minute… okay, now we can get started.
This is your setup:
Ingredients:
green plantain(s)
a small onion
garlic
one lemon
cilantro (not pictured)
olive oil and salt – for the dipping sauce
Sidenote: the flavor of plantains varies greatly with how ripe or not it is. The yellower and darker the skin, the sweeter and gooey-ier your plantain will be when cooked. If the skin is green, the plantain is starchier and will be more like a cooked potato or something than a sweet banana. That's what we're going for here. You want the greenest plantain you can find. Unfortunately, my plantain is not at all as green as I'd like it to be. Neverless, I proceeded onward because I was really hungry.
So first, peel your plantain. Keep those peels, we're going to need them later!
Also, while you're doing this, fill a sauteé (or frying) pan with vegetable oil until it's about ¼ of an inch in depth. I know that may sound awful to your arteries, but we're frying these suckers so you have to be down with this.
Cut the plantain into pieces that measure no more than an inch in width. I think even some of mine ended up too big. Err on the side of smaller pieces, would be my advice.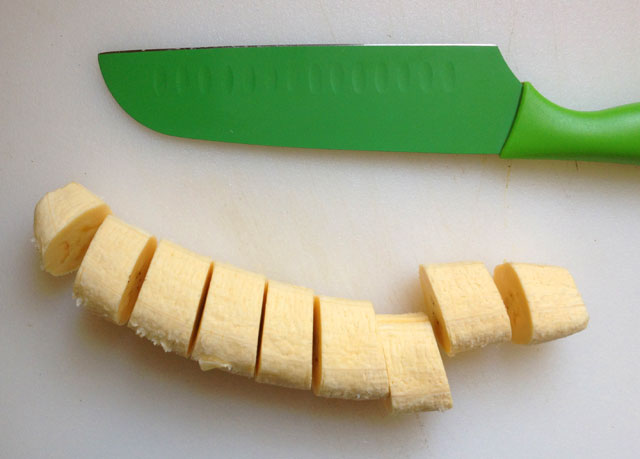 When the oil in your pan is medium-hot, throw them in there (not literally) and brown them up a bit. They're not going to cook fully through the first time around.
Remove them and place on a paper towel to cool, because now's a good time to make the dipping sauce.
And let me tell you – you can't fuck this up. It's so easy. I didn't measure anything. Also I didn't have cilantro and the dip was still awesome.
Throw all that stuff into a food processor – the onion (mine was big so I did half), some garlic, the juice from one lemon, cilantro, salt and a touch of olive oil and just pulse it until it's combined. Boom done. Make sure you taste it and add extra of whatever you think.
What you get is this awesome lemony garlicy sauce. It's awesome. Set the dip aside.
It's time to smash/squash the plantains. That's why we saved the banana peels from before! This is what this process sort of looks like: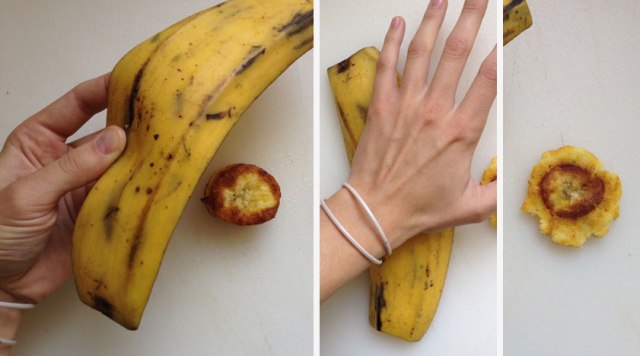 Get some heat under your frying pan while you're doing this. You want it to be really hot and ready to go as soon as you're done smashing your last piece.
Fry the plantains again. This time will be much quicker. You're looking to brown and crisp them up. Salt them as soon as you take them out of the oil and place them on the paper towel.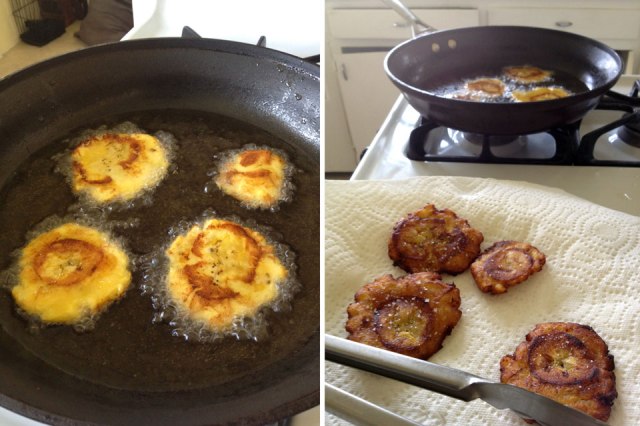 Here's our final product! It's definitely a great side dish or party snack or something of the sort. Except maybe if it's a make-out party… the onion/garlic would not be appropriate for that situation. But it would be very appropriate for every other situation in life. Promise.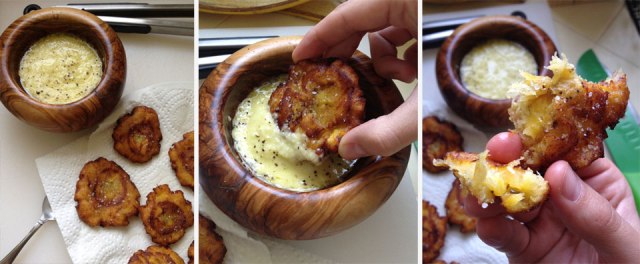 Share your favorite dishes from your homeland in the comments!