+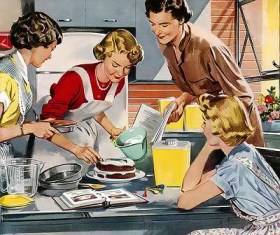 Did you know there is a Vegan Camp? There is! (And it sort of looks like a drag!) That's not what this post is about because obviously all things A-Camp are awesome.
This A-Camp we will once again be offering a Vegan/Vegetarian Life event hosted by Rachel, Sarah Croce, Stef and me where we will share recipes, answer questions and truth be told who knows what else at that altitude. (Especially if Hanna Hart wanders over!)
And just for kicks, we're also bringing some of our favorite cookbooks including the classic Moosewood cookbook, all things Isa and my pick the Teany cookbook. What is your fave vegan cookbook? SHARE AND TELL ya'll.
For this Get Baked! check out a few of our favorite Fall and Camp-esque recipes for you to try at home. On to the recipes!
TEXAS CAVIAR
by Rachel
(from the Yellow Rose Recipes cookbook)
2 cans black eyed peas
1 can black beans
1 bunch scallions/green onions, sliced
fresh parsley, chopped
cilantro, chopped
2 Tbs olive oil
2 Tbs red wine vinegar
1 lime's worth of juice
1 tsp jalapeño juice from a jar of pickled jalapeños
1/2 tsp honey/agave
1 clove garlic, minced
2 pickled jalapeños, chopped
1/4 tsp salt
1/4 tsp cumin
dash of cayenne
Directions:
1. Mix beans (drained), scallions, cilantro and parsley in a bowl.
2. In a smaller bowl, mix oil, vinegar, lime, jalapeño juice, honey, garlic, jalapeños, and spices in a smaller bowl. Stir really well.
3. Pour over and stir into beans, and then let sit in the fridge for an hour before serving. Delicious!
Never Fail Vegan Chili
by Stef
I got a vague version of this recipe off the internet a long long time ago and then gradually adapted it to keep adding more delicious things.  Now it's become a mainstay of my poorest weeks, because it makes so much chili and is so versatile.  You can have it with chips!  You can have it over rice!  You can keep adding spicy stuff to it until your heart explodes!  This is great for feeding a lot of people, or feeding yourself for a very long time.
I suspect this can also be made over a fire or grill situation, for all those times you find yourself camping in the woods with a lot of heavy cans of beans and a block of tofu.
Ingredients:
4 cloves garlic, diced
3 tbsp extra virgin olive oil
handful dried arbol/chipotle peppers (optional)
1 medium-sized yellow onion, diced
1 package of white mushrooms, sliced
1 package extra firm tofu, crumbled
1 green bell pepper, diced
1 yellow bell pepper, diced
1 tsp cumin
2 tbsp or more chili powder
a whole lot of cayenne powder
14-16 oz plain canned tomato sauce
28 oz diced tomato, with liquid
2 28 oz cans of red kidney beans, drained
14 oz can black or pinto beans, drained
Directions:
1.  Start by heating up the olive oil in your pot on medium high.  Add diced garlic and stir.  When that's starting to cook, add your dried peppers (if you have a high spice tolerance) and your onion.  As the onions become transluscent, add the mushrooms.  This is a crucial moment for your chili, when the onions and mushrooms are reaching peak deliciousness, so let them cook for a bit.  When they're softening, crumble in your tofu (the firmer the better), and then finally your diced bell peppers.
2.  Sprinkle in cumin, chili powder and cayenne.  This isn't really an exact science; all of these things are delicious.
3.  Add canned tomato sauce, diced tomato and finally the beans.
4.  Bring the heat down to low and simmer for about 45 minutes, stirring often.  I'm sort of a masochist so I usually add a few drops of this insane hot sauce called Beyond Death Sauce, but maybe you value your stomach lining.
5.  The chili is going to start smelling SO GOOD but really, you should wait 45 minutes and ideally give it time to cool.  Honestly, it's best the next day when the flavors have had loooots of time to seep into the tofu, but you won't want to wait.  Serve hot.
Campfire Banana Boat
by Jamie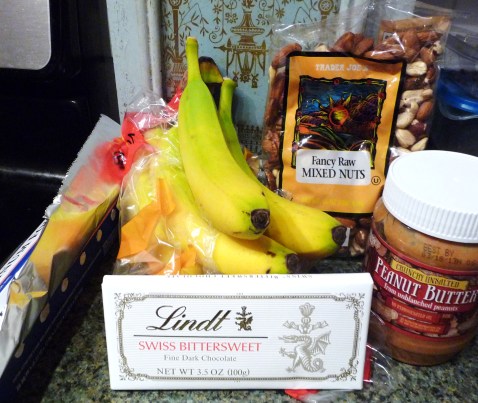 Apparently this is a campfire classic, but in truth I learned about it last week. I'm super into it and you will probably want to make it as soon as you finish reading this post.
Sorry, there are no pictures of what this treat looks like after it's been cooked because apparently there is virtually no way to photograph it without it looking like a finger painting project of a two year old.
But it's delicious! Trust me!
Directions:
Cook temp: 300 degrees
1. Gather your ingredients for the filling of your banana boat. Chocolate pieces, various types of chocolate/carob chips, nuts, peanut butter, Oreos, marshmallows – all delicious options!
2. Cut out the middle of your banana WITHOUT REMOVING THE PEEL.
3. Fill the center of your boat with goodies.
4. Replace the peel over the top of your banana.
5. Wrap banana in foil and place in oven or as the case may be, campfire.
Cook time will vary but will probably be around five to ten minutes. This baby can burn quickly so check after five minutes.