When I was growing up and we ate a lot of Working Single Mom fare, which as I remember was mostly frozen fish sticks, my mom had a regular dinner dish that I cannot recall in specific but which I loved. I think it was mostly peanut butter on ziti? Probably there were other things involved? Sometimes my mother reads these articles, so maybe she'll enlighten me. Anyways, it was delicious, but by the time I grew up I knew it was not a food Real People ate. EXCEPT, AND THEN, I found out that you could totally still eat peanut noodles as a real thing! Glory be. I have been doing this now every day for like a week, because it is a lunch that is delicious, can integrate many vegetables without being a salad, and also has a ton of protein, thereby keeping me full until like 8 PM. Way to be, peanut butter!
This is less of a "recipe" than a collection of ingredients which I think are good, and suggested amounts of each of them. Do not feel compelled to follow them closely! I have an unhealthy relationship with rice vinegar, so maybe I put in more than you would. Feel free to ramp up the sriracha if that's your thing. This probably makes two normal-person servings; I eat the whole thing myself in one sitting because I'm a boss/#YOLO.
PEANUT NOODLES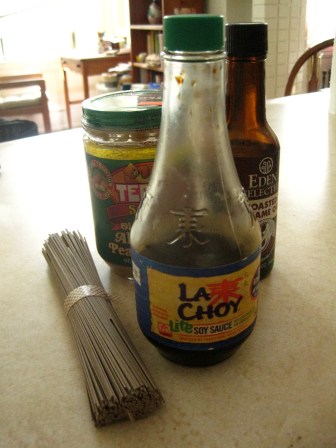 Ingredients:
Soba noodles (this is what I use! Udon noodles would probs be ok. I won't tell anyone if you use, like, spaghetti.)
1/4 cup smooth peanut butter (I like the hippie natural kind, unsurprisingly)
1/4 cup warm water
1/8 cup soy sauce
1/8 cup rice vinegar
2 tsp ginger garlic paste
1 tsp sesame oil (or more! you know, depending on your peanut butter consistency.)
An Amount of sriracha
Preferred Noodle Accessories. I like:
peas
firm tofu
broccoli
red bell pepper
avocado if I'm feeling fancy
1. Put a pot of water on to boil. Once it does boil, add in your soba noodles. (If using other noodles, you will have to make your own way in the world w/r/t cooking them.) If you are dealing with noodle accessories that are frozen (like my peas and broccoli usually are), then maybe also add them to the water when you add the noodles.
2. While you are waiting for the water to boil, chop up the rest of your noodle accessories into bite-sized pieces.
3. Also mix your sauce! It is pretty self-explanatory. The key is finding the best cooking utensil to mix the relatively solid peanut butter with relatively liquid other ingredients. I recommend a whisk. (Also, I think of peanut butter as being relatively solid, but I'm not allowed to have it on planes? Except one time I did bring a jar of peanut butter through security, but then my gate was changed, and I had to go through a different gate, and the second time they took it away. That seems unfair? Anyway.) You can mix it in a separate bowl and then add it to your noodles; if you are feeling bold and sassy, you may also mix it in the same bowl you plan to eat out of, add your noodles on top of the sauce and toss vigorously.
4. Depending on what kind of noodles you use and how thin they are, they probably only need to cook for a few minutes. Like three. After that amount of time, strain whatever's in the pot. If you're okay with eating warm peanut noodles (delicious!) then mix in a bowl with your Noodle Accessories and sauce, and you're good to go. If you want cold noodles (delicious!), run the strainer under cold water in the sink for a couple minutes, and then mix with your Noodle Accessories and sauce. Hurray, you're good to go! If you are interested in garnishing, scallions, sesame seeds, or crushed peanut would all be appropriate.