Fish and greens, my friend. Fish. And. Greens. You can't really go wrong with this combination; it's really basic, really easy and super nutritious.  Don't be afraid of working with fish—it's a bit delicate, but it's forgiving. I've been on a bit of a fish kick lately and make Riese eat one of these dishes at least once a week, and let me tell you, she is not the least bit tired of either of them not one bit nosirree.
I most definitely recommend using fresh fish over frozen, but I live on the west coast and am spoiled. If it's not easy or affordable for you to buy fresh, you can also use frozen; just thaw well in advance and do your best to get the excess moisture out before cooking.
Tilapia with Sauteed Kale and Lemon Butter Sauce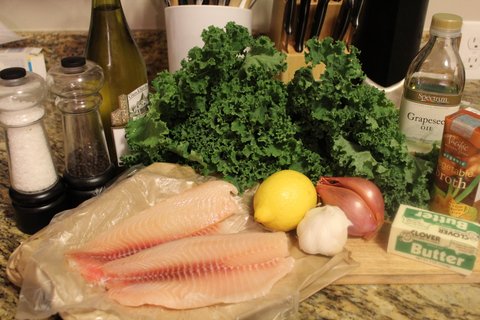 Ingredients!
(Serves 2)
2 bunches of kale, washed, stems removed, chopped or torn into largish pieces (this seems like so much kale but relax)
2 tilapia filets (or any white fish)
2 shallots
4-5 cloves of garlic
1/2 cup of vegetable broth
3-4 tablespoons of butter
A lemon (seedless if you can, those things are a pain)
White wine
Salt and pepper
Directions!
Pour a couple glugs of olive oil into your biggest pan and heat it to medium-low (my burners get freakishly hot so I have to err on the lower heat side; if medium-low is really not very hot for you then go with medium heat). Thinly slice one shallot and 3-4 cloves of garlic and gently fry them in the oil for a minute or two until the shallots start to get translucent — try not to let it brown but if it does it's not the end of the world. Throw in the kale in bunches and toss it around in the oil so that it all gets coated and starts to wilt. Add more kale as you go. Season with salt and pepper and keep tossing it for a few minutes. Pro tip: salt food from high above so that you get an even salt distribution (it doesn't matter so much in this particular situation but I'm talking in general). I like to use kosher salt in cooking because it's not as salty and I like pinching it and sprinkling it from above; it makes me feel fancy.
Once all your kale is in and you've got a little more space, pour in a few splashes of white wine and stir it around. Let that mostly evaporate and then add the vegetable broth. Turn the heat down to low/simmer, stir it all around and let it cook for a little while like that, stirring occasionally. Add salt/pepper to taste as you go. Total time from this point will be anywhere from 10-15 minutes. I try not to let it get too weird and brown but it'll taste good no matter what. At some point during this process, squeeze lemon juice over it and stir it around again.
Once you've got the kale on to cook, get your fish out. Pat the filets dry with paper towel to absorb any excess moisture and season them on both sides with salt and ground pepper. Pour some oil into a pan and heat it on medium-to-medium-high. Once the oil is glistening, put your fish in; give it 3-4 minutes on the first side then flip it. When it's been on the second side for a minute or two, splash some white wine in the pan and let it absorb into the fish.
In a small pan, heat a little bit of butter on medium and then throw in the remaining clove of garlic, minced, and about 2 tbsp of finely diced shallot. Let that sizzle gently for a minute or so (again, don't brown it), then splash in about 1/4 – 1/3 cup of white wine (just eyeball it it's fine). Let the wine reduce by about half and then add your 3-4 tbsp of butter, stir it around until it melts, then squeeze in the juice of half a lemon. Turn the heat down a little and let that reduce a little more. Taste it, it'll be stupid good, add salt if you want.
Using tongs or a slotted spoon, make a small pile of kale in the center of a plate. Place one piece of fish on top and drizzle with sauce.
Bam.
Pan-seared Salmon with Teriyaki Glaze
My original source for this recipe was this guy, who can seemingly afford way more salmon than your average mortal, which is cool for him. This recipe is so delicious that I make it at least once a week, and the glaze is multipurpose and equally fantastic in vegetarian contexts.
While the ingredients list might give you pause if you don't already have most of these things in your kitchen, these are all good investments and after you make this once you'll most definitely make it again, meaning you'll make use of that mirin in good time, friend.
I've made this with a variety of cuts of salmon, but the best by far for pan-searing is a nice thick center cut filet, so make this on a night that you've got the coin and are able to buy a nice piece of fish.
Ingredients
Fish:
(Serves 2, with leftover glaze)
6-oz salmon filets, pin boned
Oil (grapeseed or canola or whatever, honestly)
Salt and pepper
Glaze:
1/4 cup soy sauce
1/4 cup mirin
1/4 cup sake
1/4 cup brown sugar
3-4 cloves garlic, thinly sliced
Thumb-sized piece of fresh ginger, peeled and thinly sliced
Directions:
Start with the glaze: peel and slice your ginger and garlic and throw them in a medium-sized pan. Add the sugar, soy sauce, sake and mirin and turn the heat to medium. Whisk it around a little to help dissolve the sugar as it heats. Once it starts to foam and bubble turn the heat to low and let it simmer. I like to periodically crush the ginger bits with the end of my whisk. Let it reduce until it's thick enough to coat the back of a spoon, about 15 minutes.
Meanwhile, take your fish out of the fridge and press it on all sides with paper towel to remove excess moisture. Season both sides with salt and freshly-ground pepper. Cover the bottom of a cast-iron pan with oil and turn the heat to medium-high. I use grapeseed oil for its high smoking temperature but just about any oil will do.
On oil: people tend to be scared of using too much oil, but it's better to have too much than too little. The food won't actually absorb more oil just because you've used more, but too little oil can mean poor results. You can always pour off what you don't use or use it again!
Once the oil starts to shimmer (but not smoke), add the fish flesh side down and don't move it for at least 3-4 minutes.  Monitor the heat and turn it down if it starts smoking. Once you have a nice sear the fish will release from the pan's surface on its own. Flip it over and continue to cook on the skin side for 2-3 minutes or until cooked to your liking. If possible, move it to a different part of the pan when you flip it because it will be hotter there than where the fish was just sitting.
Once the glaze has reached the desired consistency, strain it through a fine mesh strainer into a small bowl, pressing against the garlic and ginger bits. Transfer the fish to plates and finish with a few spoonfuls of the glaze.
I like to serve this with a bare-bones salad of mixed greens with finely chopped green onion and toasted sesame seeds, dressed to your liking. Tonight I was lazy and used a store-bought dressing (this one), but it's also quick and easy to make your own dressing at home, like this ginger-miso dressing. Enjoy!