Sometimes you want to be fancy and use the freshest ingredients and make the best food possible, and sometimes you want to make a giant pot of something quick that will taste exactly the same for the next five days of your lunch without you having to think about it. This soup is for those times. (It also tastes great.)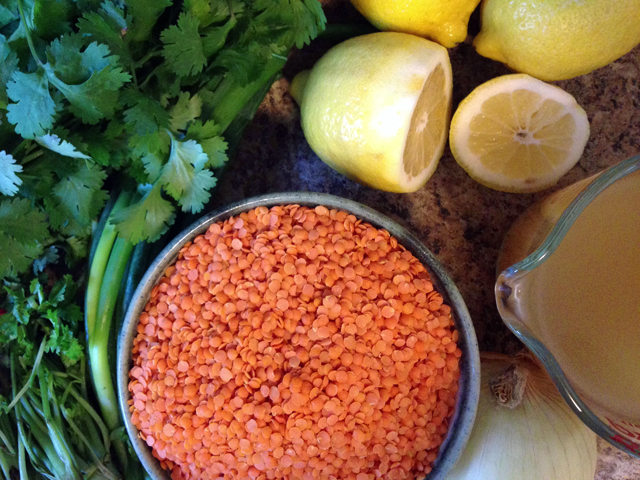 Lentil Soup
Ingredients
2 cups red lentils
4 cups vegetable stock
1 cup water
3 bay leaves
2 tbsp olive oil
1/2 onion, chopped
2 scallion whites, sliced
4 celery stalks, chopped
1 tbsp ground cumin
3 lemons worth of fresh lemon juice
1/2 cup cilantro, chopped
4 cups spinach, washed
Directions
1. Put the lentils in a large pot, and cover them with stock. Add the bay leaves (if you have a spice ball, this is a good time to remember to use it). Bring it all to a boil and then let it simmer, uncovered, for about 30 to 40 minutes, or for however long it takes for the lentils to get pretty soft.
2. While you wait, heat the olive oil in a medium-sized pan. Add the onion and scallions and cook over very low heat for about 10 minutes. Then add the celery, sprinkle in the cumin, stir and cook for about five minutes. It's okay to add more oil if you need to, or a quick splash of water if things are really sticking.
3. After five minutes, add everything in the pan to the lentils. Also add the lemon juice. Fish out the bay leaves if you can find them. Season with additional olive oil, lemon juice, salt or freshly ground black pepper to taste.
4. If you're a big fan of pureed soups, just go ahead and puree it. Let it cool for a bit and then either act like a magician with a hand blender or worry about accidentally wrecking your kitchen with a normal blender (not all of us are skilled with lids). You can adjust the consistency with a bit of extra stock, or with water. Put the soup on low to reheat it when you're done. If you don't want to puree it, just take it off the heat.
5. Serve over handfuls of spinach and top with cilantro.