You may recognize Rhiannon Argo from her work with Sister Spit, but don't worry if you don't know her yet. You will. Rhiannon Argo previously published the Lambda-award winning novel, The Creamsickle, and has just started a new queer feminist press, Moonshine Press.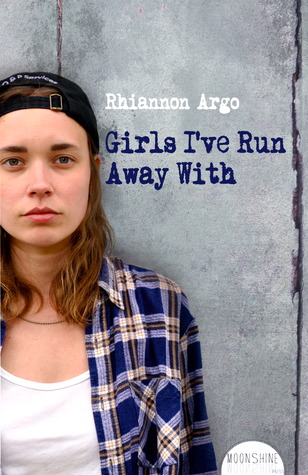 Her newest book, Girls I've Run Away With, is the story of a queer teenager in the mid-90s whose life turns completely upside-down after her sister is committed to a mental institution, she falls in love with her best friend, gets shipped off to live with some crazy Christians in Oregon, and then runs away. I don't want to tell you much more than that because I need you to read this book.
In the interest of full disclosure, I loved this book before I opened it. The cover charmed me right away with its portrait of a girl wearing flannel and a backwards cap. Basically I want this girl to call me, is what I'm saying.
Honestly, I typically hate stories about teens with hard lives doing drugs and running away and fucking up their lives. It makes me uncomfortable because I've lost people very close to me this way. I think most of us have. But there's something about this Girls I've Run Away With, and the way its protagonist, Lo, is so naive but at the same time so aware of how fucked up everything is.
I think Michelle Tea's blurb on the back of the book explains this perfectly:
Rhiannon Argo captures the tough reality of queer teens with such playful sweetness you almost forget to worry about them as they take off on a string of outlandish, take-no-prisoners attempts to save themselves from a world of cruddy grown-ups hell-bent on killing beauty and love.
You just trust Lo to get through it because she makes you believe she's tough. She's got this. But at the same time, she's 16 and scared and really bad things are happening to her, and you just want to shake her by the shoulders and tell her to open her eyes. It's no use, she probably wouldn't listen. And who can blame her? She's in love.
The strength of this story is Lo. Lo is that girl you had a secret crush on in high school, the one who could skate and wore baggy shorts. And with everything she goes through, even in her moments of clarity and especially in her moments of naivety, you genuinely care about her. Her voice, and this is true of the tone throughout the book, is so believably young, it is as though you are watching yourself as a teenager make some questionable decisions because you were there once, or maybe you are there, and maybe like Lo, you've fallen for this stray cat of a girl who dyes her hair with Manic Panic and wears Doc Martens and talks to you about her poetry. Girls I've Run Away With is the giddy excitement of adventure, the fresh feeling of being young, and the overwhelming melancholy of being in love with a wild-hearted girl whose never-ending adventure only gets more and more dangerous.
Argo is currently working on a sequel to Girls I've Run Away With, and it's a damn good thing, because Lo's adventure doesn't ends on the last page of the book. We end on a precipice, and our feet are on solid ground, but the edge is right there. Who knows?
You can buy Girls I've Run Away With through Moonshine Press' website or on Amazon.