Disclaimer: I have no real claim to green tomatoes. The farthest south I ever lived was Doylestown, Pennsylvania. The first time I ate a green tomato in any form was when I was roughly fourteen and went with my dad to visit Oklahoma and ate at someplace called something like Annie's Fry Shack. I don't even remember it.
I am here to report the facts, though, and the facts are as follows: as delicious as ripe summer tomatoes are, green tomatoes are even better. They're tangy and surprising and delicious and you won't be able to find them in a few months, so get on it now.
There are many ways to eat green tomatoes, and I suspect that all of them are delicious. For instance, I can speak to how good green tomato chutney is, and I have even heard of a vegetarian green tomato version of mincemeat pie. But for now, we will focus on two tried and true (to me) versions of green tomatoes: fried, and pickled. Again, I will reiterate that I wasn't raised eating this, so I am probably definitely wrong about the best way to make it, and am excited to be corrected in the comments so I can eat green tomatoes better harder faster stronger.
FRIED GREEN TOMATOES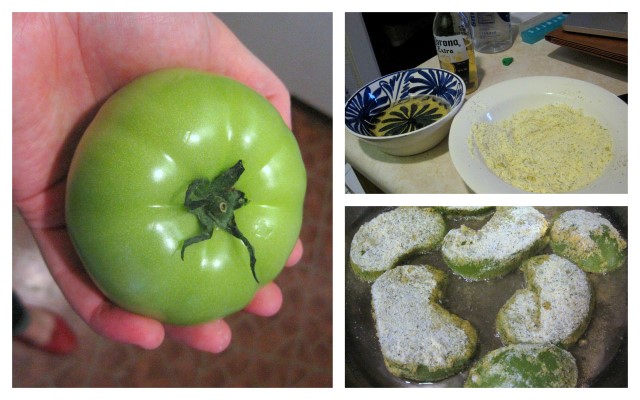 Ingredients:
Desired number of green tomatoes
Cornmeal
White flour
Dill
Salt
Pepper
Garlic powder
1. Using a knife (preferably a tomato knife, but a paring knife if you don't have one, you philistines) carve out the stem situation from your tomato. Then slice into 1/4 inch slices.
2. Set up a breading station, which usually means two sort of shallow bowls, and one flat plate. Fill the first plate with a liquid; some sort of milk, or soymilk or almond milk, are recommended. I used Corona, because I haven't had any almond milk in the house in months but i do have cheap beer. Judge away. In the second bowl, have your cornmeal/flour/spice combination. I'm not going to tell you amounts. You have to follow your heart. The dill is all my invention, honestly. Prefer paprika? White pepper? Go for it.
3. Anyways, as is probably obvious: Put your slices of green tomato first in the liquid, then in the breading mixture, then on the plate. Have a frying pan of canola oil over medium heat on the stove. I'm not going to tell you how much canola oil. Your call. I put plenty, because in the bastardized words of William Stafford, fried foods should be fried, and healthy foods should be healthy. The darkness around us is deep, etc.
4. Once all your slices are coated in flour/cornmeal mixture and your oil is hot, drop them in! Hopefully there's some sizzling action. Let them cook for some amount of time on one side — maybe five minutes, or until the breaded coating is a nice golden brown. Then flip them with a spatula and let them cook for less time on the other side. I trust you on this.
PICKLED GREEN TOMATOES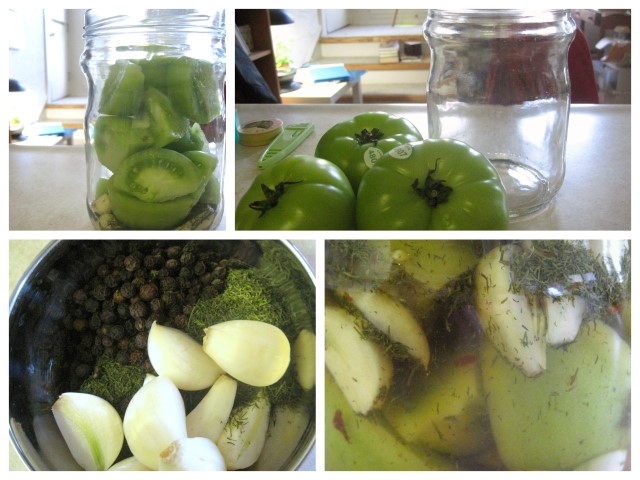 via Amazing Ribs
Ingredients:
1 cup distilled white vinegar
1 1/4 cup distilled water
3 tablespoons kosher salt
1 pound firm green tomatoes (about 5 plum tomatoes or 2 regular green tomatoes)
1/2 serrano chile, stem removed, or 1/2 tsp red pepper flakes
6 medium garlic cloves, peeled and sliced in half
4 tablespoons dill seeds
1/2 tablespoon whole black peppercorns
1. Take a large, clean jar (you can use a real canning jar if you want, but it's okay if you don't) and put in your garlic, pepper, dill, and serrano and/or red pepper flakes. If we were doing real pickling, we'd sterilize the jar and stuff, but because I'm terrified of botulism, these are just refrigerator pickles and the jar just has to be regular amounts of clean. Confession at this point: I don't own any dill seeds and never have, so I just use dried dill. My pickles have always still been delicious.
2. Slice your tomatoes into quarters (mine were big tomatoes, so I cut them into eighths). Arrange inside the jar in such a way that you can fit as much tomato as possible.
3. In a nonreactive (glass, porcelain, or stainless steel) container, heat the vinegar, water, and salt together until the salt dissolves. I don't have a nonreactive stovetop pot, so I usually put all this in a Pyrex container and microwave it. You do what you have to do.
4. Once the salt is dissolved, pour the hot brine over the tomatoes until the jar is full, and close the lid. Ta da! Wait until this cools, and then stick it in your fridge for a few weeks, shaking occasionally to redistribute all the briny goodness. I usually wait for two weeks, and then get too impatient and eat all of them at once and make myself sick but have no regrets. And then you just have a jar full of brine! Which you can actually do a lot with, and also you can feel free to just re-use it with more tomatoes (or cucumbers) at least once. Pickling: the gift that keeps on giving! Or pickling! Or whichever!