Hey-o. So how'd your cornish game hens turn out? Phenomenally, I trust. I bet afterwards you were standing in your kitchen, staring disdainfully at a heap of vegetable trimmings and hen carcasses, thinking "What in the name of Peggy Olson am I supposed to do with all this shit now, huh? Thanks for NOTHING, Autostraddle!" WELL. Rather than filling your compost bin with refuse and tears, you would be wise to take all of that mess and make a bangin' chicken stock!
Homemade stock is easy, it's cheap, and it's infinitely more delicious than anything you can get at the store. I saved the vegetable trimmings and bones from the hen earlier this week, and also had a chicken carcass leftover from a delicious Greek lemon-chicken stew that I made using this buzzfeed recipe. To supplement all this, I picked up a chicken spine at Whole Foods earlier tonight for under a dollar. I think it's nice when all the different birds can end up in the same stock together.
Ingredients
Chicken carcass and bits, blanched and refreshed
1 medium onion, studded with 2-3 whole cloves
Whites of 2 leeks, chopped
2-3 carrots, chopped
2-3 celery stalks, chopped
2 cups button mushrooms, chopped
1 bouquet garni (leek leaf, bay leaves, thyme sprigs, parsley stems)
2 1/2 quarts of water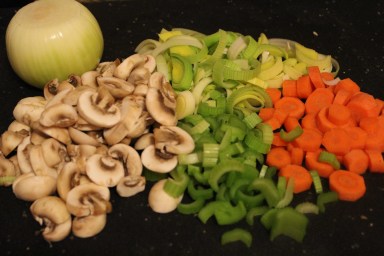 Start by ensuring your chicken bones and bits are all ready to go. If you want to be extra diligent, blanch them first by tossing them in boiling water for a few minutes (I did not do this). Throw them in your biggest sauce pot and add your chopped carrots, celery, mushroom, leeks, and bouquet garni. Peel your onion and stud it with 2-3 whole cloves and toss that in.
A "bouquet garni" is a seasoning bundle that consists of a bay leaf, 2-3 thyme sprigs, and a few parsley stems wrapped in a leek leaf and tied with a string.
Cover the whole mess with 2-3 quarts of cold water. Bring to a boil. Once it's boiling, skim the surface of the stock to remove impurities. Lower the heat to a simmer and monitor, skimming the surface as necessary, for 1 1/2 hours. Contrary to what you might think, stock isn't better the longer you leave it; you shouldn't leave this stock on for more than 1 1/2 to 2 hours.
Prepare an ice bath. When your stock is ready, turn off the heat and strain it through a wire mesh sieve into a large bowl over your ice bath; this will lower its temperature quickly and reduce the risk of bacteria.
Once cooled, separate it into containers. It will keep for about a week in the fridge and about a month in the freezer. Use it in any recipe that calls for chicken stock and be amazed by the difference!